This lovely handmade campervan is for sale (NOW SOLD)
One of our wonderful owners is selling a Quirky Camper! It doesn't happen very often so don't miss your chance to own Māhau – Māori meaning: cabin/hut – a very cool, stylish camper that combines log cabin cosiness with a hip cafe vibe. This van is in Queenstown and yours for $19k NZD or nearest offer! So let's talk details…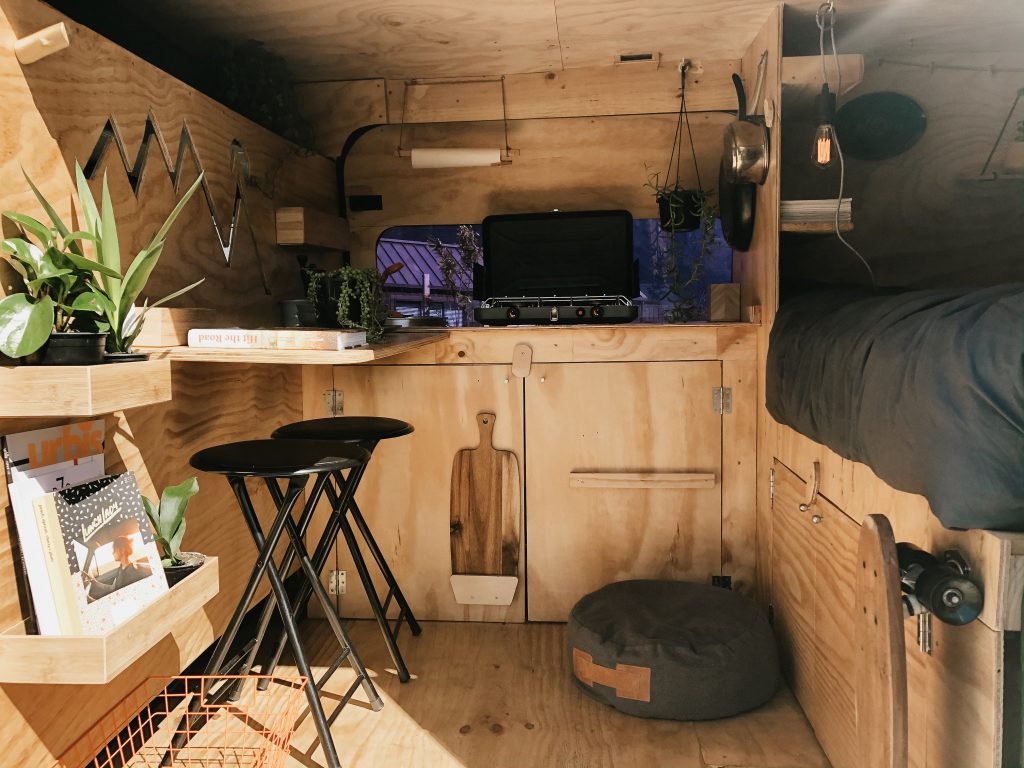 All about the vehicle
Māhau is a 2001 2.5L Ford Transit (mid roof) – diesel, manual drive – with only 260k on the clock so plenty of life in him yet! The rego and COF* have just been renewed. *A COF is required if you plan to rent the van out; if it's for personal use only, a WOF is sufficient.
The bodywork and cab have some blemishes representative of his age, but in our opinion Māhau still looks great. He has remote central locking and comes with two keys. Up front in the cab there are three seats and a 12v power outlet.
The living space
The clever layout makes the van feel bigger
The main cabin area has a clever layout which means that even with a fixed bed, the kitchen/dining area feels spacious. We love the mountain design cut through the plywood divider that provides a connection to the cab.
The interior height is 1.6m and in terms of kitchen, Māhau has a portable 2 burner LPG gas stove, a portable cooler (in the large storage cupboard) and an in-built sink made from a galvanised bucket! Oh so quirky! To dine or read the papers, just pull up a stool at the counter! For safety there are smoke and gas alarms.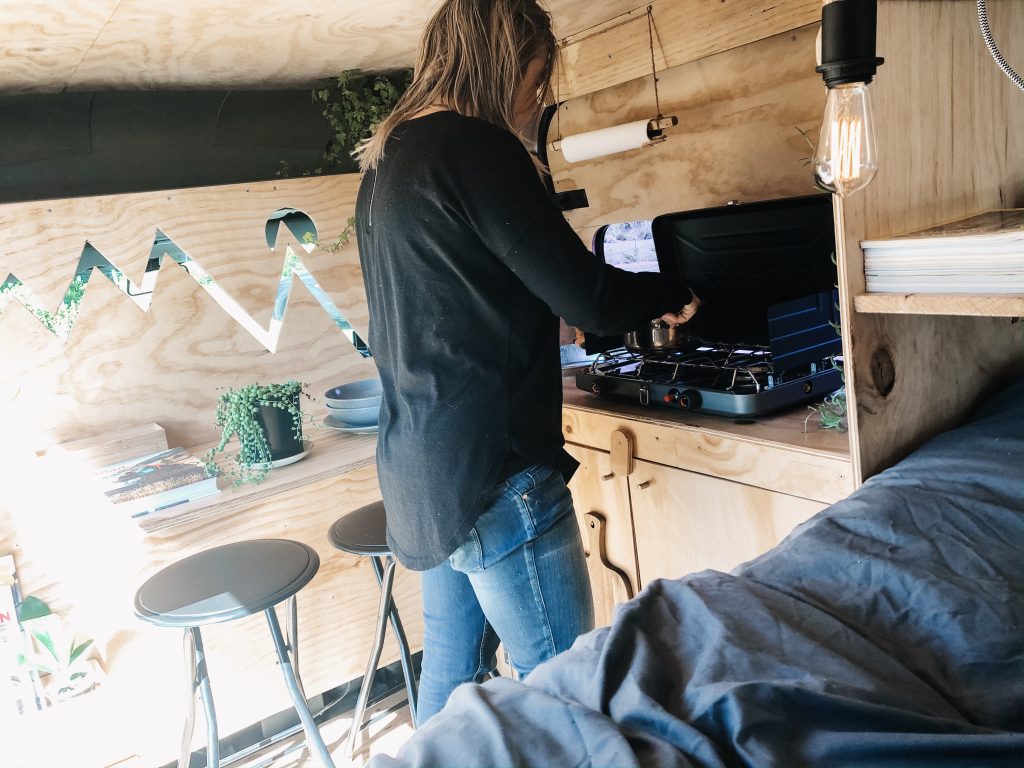 The comfy bed is perfect for two
Māhau has a full queen-size bed 1.5m (5'0") x 2.0m (6'6") with real mattress… an absolute luxury and no compromise on sleeping space and comfort here! There are also storage areas overhead and under the bed.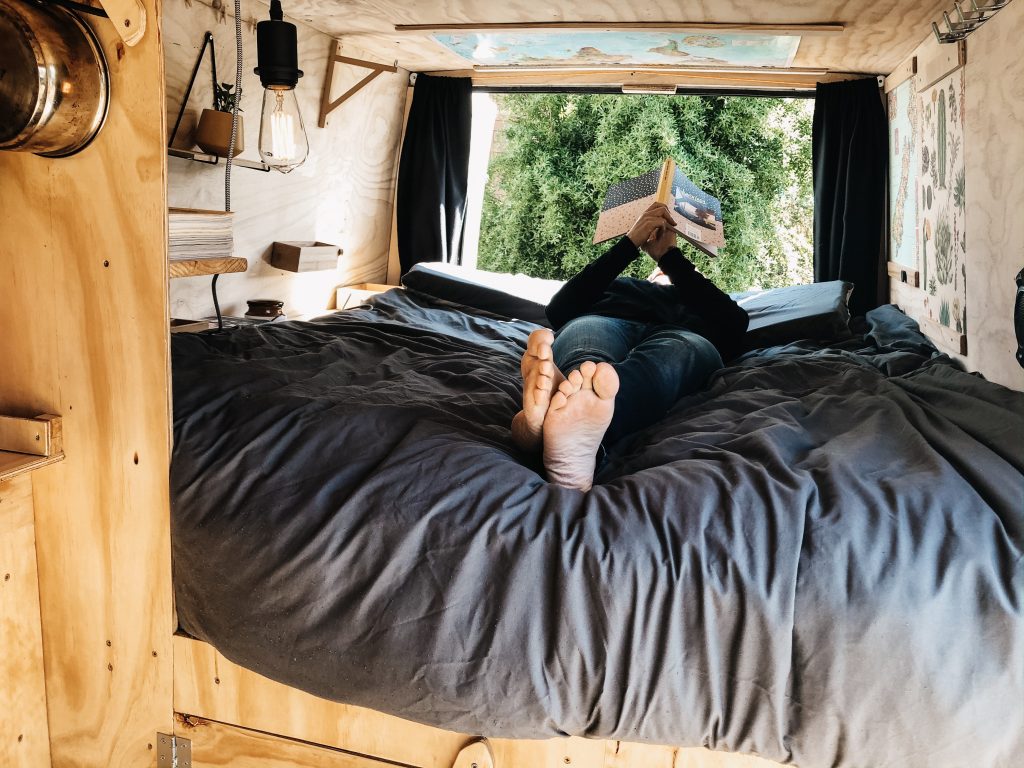 The power system
You can plug in your devices and gadgets into USB and 230V sockets (using the inverter) and you can stay off-grid courtesy of the leisure battery. There is a dual battery isolator that charges the leisure battery as you drive.
Is it self-contained?
The van is certified self-contained (CSC) for two people and has 25L fresh and waste water containers. The kitchen sink has an electric pump 'tap' which can double as an outdoor showerhead! The portable toilet is stored under the bed.
Recoup your costs by renting out your campervan with Quirky Campers
We'd love to keep Māhau as part of the Quirky Campers NZ family – continuing to attract customers who want to hire him out – which means you could be recouping your costs when you're not using it and potentially break even in less than 2 years… all while you have your very own bach on wheels!
And it's no effort to do! Check out the campervan rental listing on our website… it would just be a case of updating his new home location! And read about renting out your campervan.
Find out more about buying this campervan
If you're interested in owning this lovely campervan, contact the campervan's owner Jeremy directly at jsmith.nz@gmail.com