Woody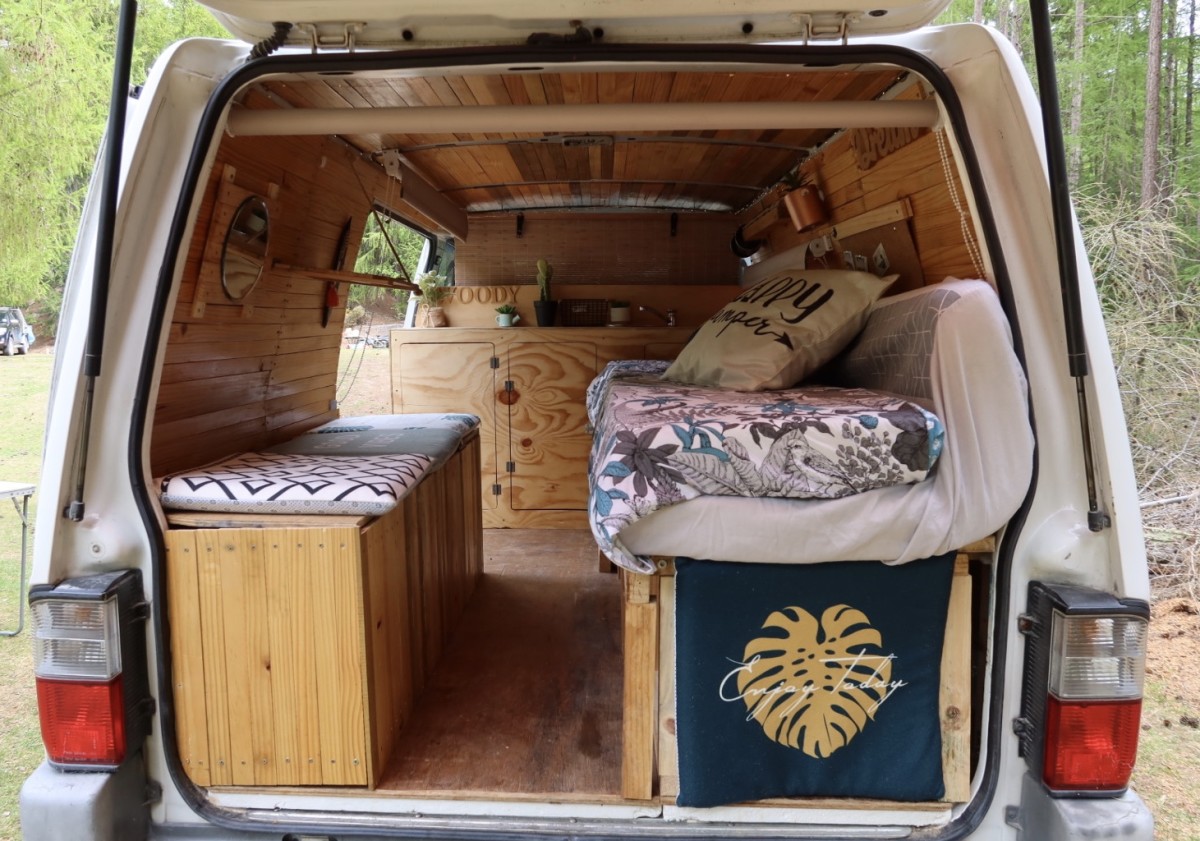 Queenstown
3 Belted seats 2 Adult berths
As Woody would happily tell you "you have a friend in me"! He's full of handmade, upcycled charm, easy to drive and park... and handles like a car. Just like a good friend he's a reliable chap and has a 1.8L petrol engine which means he's pretty economic fuel-wise and perfect for the more budget-conscious traveller. So get on board and say "Yee-haw! Giddy-up partner!"

Note: Woody, like all our compact vans, has a minimum 2 night hire. And while the standard pick-up time for Quirky Campers is 2pm with drop-off at 12 noon on the last day, for Woody standard pick-up time is 4pm and drop-off at 2pm. Please contact us if you require alternative arrangements.
Essential Information
Hob
Kitchen Sink
Toilet
Inverter
Pet Friendly
Waste Tank Capacity: &nbsp25 litres
Water Tank Capacity: &nbsp25 litres
About the Campervan
Location: Woody lives in Lower Shotover approx. 5km from Queenstown airport and 10km from Queenstown itself. Woody may be able to be brought to a convenient location for pick-up/drop-off by arrangement and for a small fee.
In The Cab: 3 seats in cab up front (with 3-point seat belts); the middle seat folds down providing cup holders and a small table and there's a thermal sun visor for the windscreen to keep the heat down.
Kitchen Area: The interior height is 1.1m and in terms of cooking, Woody contains all the equipment you need (pots, frying pan, plates, bowls, mugs, cups, cutlery, utensils, bread board, chopping board etc.) as well as a spice rack and basics such as salt, pepper and oil. Cold food can be stored in the chilly bin and/or cooler bag and to cook there's a portable camping stove (which is recommended for outdoor use).
Living/Sleeping Area: Woody has a convertible bed and when made up it's a generous 145cm wide and 180cm long. There are tinted windows for privacy as well as a high quality black-out roller blind for a good sleep. In terms of living space, Woody features lots of shelving and storage areas, a small drop-down desk, mirror, handy cork pin board as well as travel books and board games for you to enjoy.
Water Facilities: Like all Quirky Campers in NZ, Woody is certified self-contained. There are 25 litre fresh and grey water tanks, a hand pump tap and small sink in the kitchen area, and a portable toilet.
Electrical/Lighting and Audio Equipment: You can light Woody up with solar- and battery-powered lights and there's an inverter to turn 12V into 230V so you can plug in your charger or use the hairdryer - and there's also a USB phone charger. Woody has a leisure battery and also comes with a lead (with RCD) to connect to powered campsites and be run into the van in order to plug in devices/appliances.
Type of Heating: Insulated but no other heating aside from cab heater.
Outside: Woody comes with an outdoor table and chairs, Bluetooth speaker, a frisbee, umbrellas, a picnic mat, clothesline and pegs and a solar shower pack.
Conversion Story: We had been thinking of buying a campervan to convert it for a while as we love camping and adding a campervan to our lifestyle sounded like a good plan. Mat heard that one of his workmates was selling his van… that same day we went to meet Woody and two days later, Woody was at home with us! It was our first campervan, and maybe because of that, the most special. Mat did all the conversion himself and it took him 2 months. I helped him, but to be honest, he was the genius behind Woody. Then came Buzz and Jessie, but that's another story. The best way to get to know this magical island called New Zealand is in a campervan. We invite you to create your own wonderful memories with one of ours! - Consuelo
Pick up / Drop off Times
| - | Pick up | Drop off |
| --- | --- | --- |
| Sunday | By arrangement | By arrangement |
| Monday | By arrangement | By arrangement |
| Tuesday | By arrangement | By arrangement |
| Wednesday | By arrangement | By arrangement |
| Thursday | By arrangement | By arrangement |
| Friday | By arrangement | By arrangement |
| Saturday | By arrangement | By arrangement |
When would you like to go?
Sorry, there was a problem...
Vehicle Spec
Vehicle Type: Converted Van
Make: Nissan
Model: Vanette
Year: 2005
Vehicle Length: 4.4 metres
Vehicle Height: 2 metres
Transmission: automatic
Fuel Type: petrol
Registration: emailed when you book
Note: The hire of this vehicle is arranged by Quirky Campers ltd acting as the agent on behalf of Woody's owners. We make every effort to ensure that all the vehicles listed with us are of a high standard but cannot guarantee the condition of the vehicle. If you experience any problems please notify us as soon as possible.