Brendan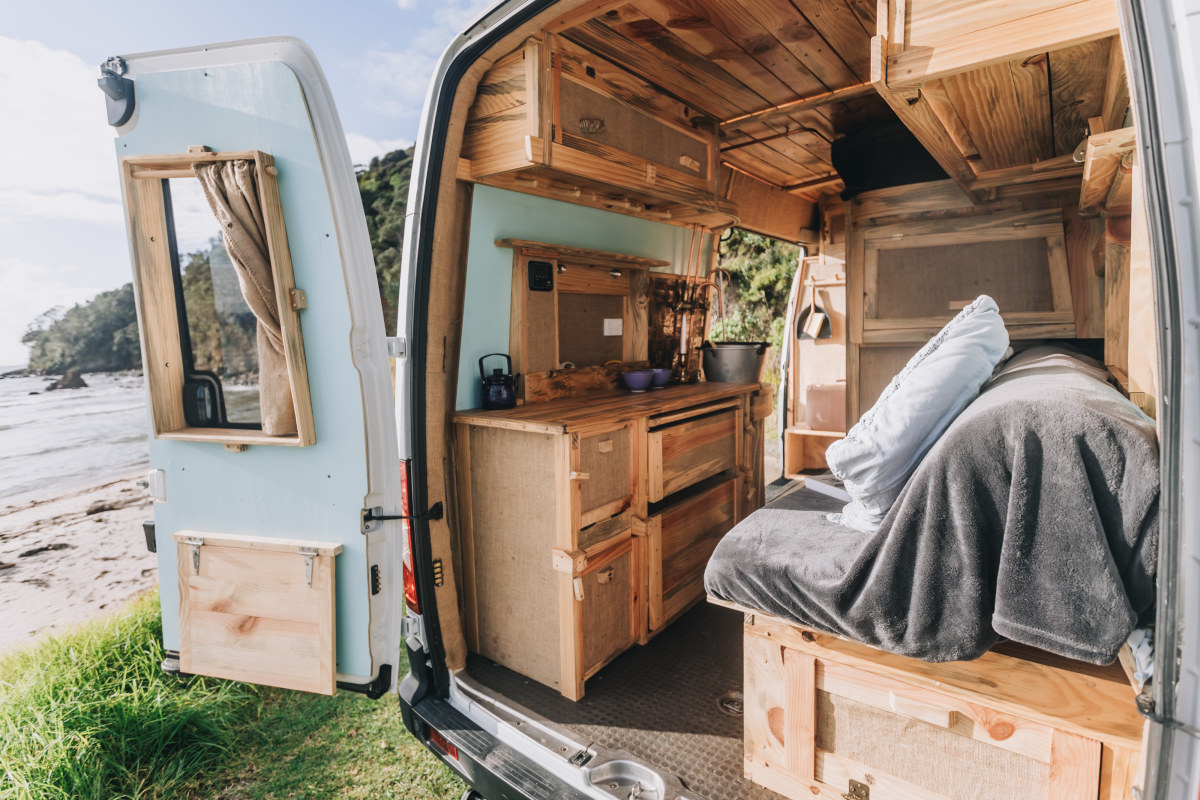 Kuaotunu, Coromandel Peninsula
3 Belted seats 2 Adult berths
From his very conception Brendan was designed and built for two, with comfort, lazy days and snuggly nights in mind. Not only does he look spectacular, he smells of freshly milled timber, which automatically transports you to another place. He hails from the Coromandel and all the timber that makes up Brendan's interior is 'Pinasta Pine' that was felled, milled, dried and dressed locally in the Coromandel.

Brendan is fully insulated to keep you warm on chilly nights and cool in the summer heat with the addition of a thermostat controlled roof vent that even works in the rain to keep fresh air flowing. Brendan is so cosy with various storage spaces and a couple of secret cubby holes too.

Don't be fooled by his rustic interior, Brendan is packed with cool features. Have that hot shower after a long day... or a long shower after a hot day! Put the bed down and have an afternoon nap before getting the BBQ heated, table assembled and salad tossed! Take a load off and treat yourself to a taste of the good life, pure and simple.

Note: Brendan has a minimum 4 day hire for most of the year and 7 days during the summer.
Essential Information
Hob
Dining Table
Refrigerator
Kitchen Sink
Inside Shower
Toilet
Ceiling Fan
Awning
Solar
Reversing Camera
Inverter
Pet Friendly
Double Beds: &nbsp1
Waste Tank Capacity: &nbsp62 litres
Water Tank Capacity: &nbsp78 litres
About the Campervan
Location: Brendan lives in Kuaotunu on the Coromandel Peninsula. If you are travelling from Auckland, there is a shuttle bus available from Go Kiwi Shuttles (https://www.go-kiwi.co.nz/shuttle-from-auckland) and if you're driving your own car, it can be safely parked at the property (off-road) while you're away.
In The Cab: 3 seats in cab up front (with 3-point seat belts); reversing camera; storage with the cleaning supplies.
Kitchen Area: The interior height is 1.8m so most people can stand up comfortably. There's a 30 litre fridge tucked underneath the bed and an old jam-pan works as the kitchen sink. Oh so quirky! Cutlery, crockery, glasses and mugs for two, a range of utensils, 2 pans and a fry pan all with lids, mixing/serving bowl, kettle and some condiments. To cook there's a two burner camp stove which must be used outside... Brendan comes with a handy trestle table for this purpose.
Living/Sleeping Area: Brendan has a clever couch/bed system, and when out for sleeping is 1.2m wide and 1.9 long with a comfy mattress and protector. Note: we list bedding and towels as Extras at the booking stage in case guests prefer to bring their own. There are coffee sacks on all windows for complete privacy. For those rainy days, there are some interesting books.
Water Facilities: Like all Quirky Campers in NZ, Brendan is certified self-contained. There are 78 litre fresh and 62 litre grey water tanks (with tank level gauge). Hot water via a heat exchange hot water cylinder. There is a flushing swivel chemical toilet.
Electrical/Lighting and Audio Equipment: Brendan has a 300w solar panel on his roof, and a 2200w inverter, this gives On-Grid/Off-Grid capability. 240amp – hours of battery power for all your charging needs. Or, if you want to pitch up on a camp site, he has electric hook-up so you can use the multiple 230v sockets. Brendan comes with a Bluetooth stereo (in the cab) and Bluetooth speaker so you can play your own tunes… useful in places where there is no radio reception!
Type of Heating: Fully insulated.
Outside: Brendan has a gas stove for cooking in the great outdoors or under the large (3m x 2m) awning, outside chairs and a gorgeous trestle table (included with the hire price).
Conversion Story: While searching for a van to buy, Tracy was communicating with a Salesman from LDV, upon deciding to purchase our LDV V80 Biggest, we both took the trip to the yard to pick up our van. In the true form of '6 degrees of separation' it transpired we had a very personal mutual connection with the Salesman, 'Brendan'. It so happens Brendan has the voice of an angel and will be giving our 'Brendan' a special blessing before he becomes a Quirky Camper.
We had the intention of creating a home away from home. Having met an amazingly, talented local woodworker with experience in campervan conversions, and having seen a small conversion he had done, we realised immediately he was our man to bring Brendan to life. He has exceeded expectations and we are delighted with the finished result. It gives us great pleasure to be part of Quirky Campers and to enable other people to experience the same freedom and true R&R (rest and relaxation) - Sharon & Tracy
Pick up / Drop off Times
| - | Pick up | Drop off |
| --- | --- | --- |
| Sunday | By arrangement | By arrangement |
| Monday | By arrangement | By arrangement |
| Tuesday | By arrangement | By arrangement |
| Wednesday | By arrangement | By arrangement |
| Thursday | By arrangement | By arrangement |
| Friday | By arrangement | By arrangement |
| Saturday | By arrangement | By arrangement |
When would you like to go?
Sorry, there was a problem...
Vehicle Spec
Vehicle Type: Converted Van
Make: LDV
Model: V80 Biggest
Year: 2018
Vehicle Length: 6.2 metres
Vehicle Height: 2.6 metres
Transmission: automatic
Fuel Type: diesel
Registration: emailed when you book
Note: The hire of this vehicle is arranged by Quirky Campers ltd acting as the agent on behalf of Brendan's owners. We make every effort to ensure that all the vehicles listed with us are of a high standard but cannot guarantee the condition of the vehicle. If you experience any problems please notify us as soon as possible.