Cliff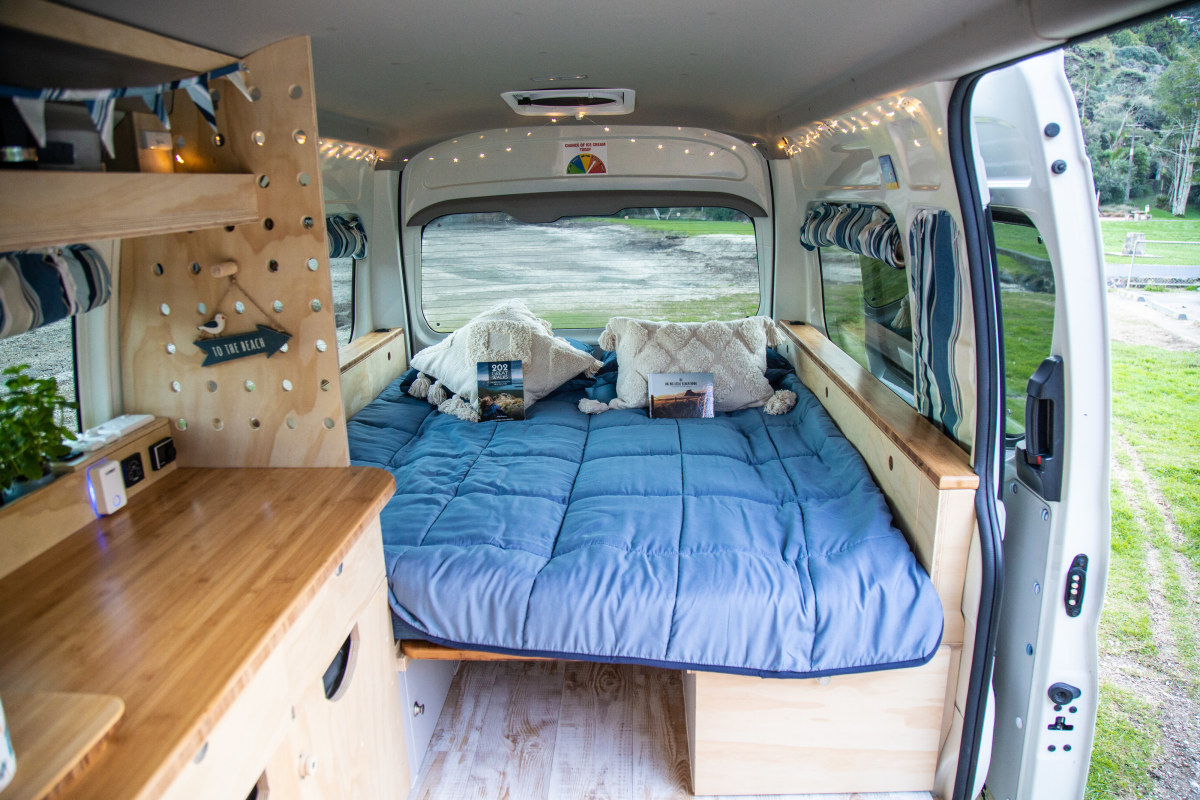 Auckland
2 Belted seats 2 Adult berths
Cliff is a gorgeous and luxurious rolling beach-hut… such a cool character! The more you look, the more you discover. He makes you want to head to the seaside, park up and enjoy some fish and chips! Cliff is the perfect balance of practical and fun… we especially love his deck-chair stripe blinds and personalised mugs!
On the functional side of things, let's talk about the seating and table. This is some serious space… definitely office-on-wheels potential! And once the work is out the way, kick back and select a nice drop from the wine rack, cook up a storm (because you can store a feast in Cliff!) and just relax.

Note: Cliff, like all our larger vans, has a minimum 3 night hire. And, while most of our vans are pet-friendly, Cliff is for human travellers only!
Essential Information
Air Conditioner
Hob
Heater
Dining Table
Refrigerator
Kitchen Sink
Outside Shower
Toilet
Ceiling Fan
Awning
Solar
Reversing Camera
Audio Inputs
Radio
Double Beds: &nbsp1
Waste Tank Capacity: &nbsp35 litres
Water Tank Capacity: &nbsp35 litres
About the Campervan
Location: Cliff lives in Oratia approx. 25km from Auckland airport and Auckland CBD. If you're driving your own car, it can be safely parked at the property (off-road) while you're away.
In The Cab: 2 seats in cab up front (with 3-point seat belts); reversing camera, parking beepers and USB ports for charging phones. Also satnav, cruise control, lane assistant, blind spot monitors.
Kitchen Area: The interior height is 1.63m. Cliff has a portable two-burner gas camping stove and grill which can be used inside or on the drop down table outside. He has a super generous fridge/freezer (75L capacity) as well as a wine rack! Cutlery, crockery, glasses and mugs for two; knives, a wide range of utensils, 3 pans with lids and a fry pan, mixing/serving bowls, sieve and measuring cups, stovetop kettle and coffeemaker. Cliff also has a variety of spices; coffee, tea, herbal tea, sugar, oil, salt and pepper. Cliff also comes with placements, coasters and food storage containers, foil/eco-friendly food wrap.
Dining/Living/Sleeping Area: Cliff has two long and comfy bench seats facing each other with a large table for working or dining. With the length of sofas, you can also enjoy them as day beds without any assembly! For sleeping the gas-lift, height adjustable table is pushed down and two additional bed base sections fit into place to create a very comfortable bed (155cm wide x 185cm long) which is queen size width and about the same length as a standard bed. There are two bedding options if you're not bringing your own: standard or deluxe (same price). Deluxe means "Duvalays" (duvet sleeping bags) which include an extra mattress layer and if you want to go "twin" rather than "double", they can be configured to suit.. perfect for friends or couples! But the Duvalays take up more space than the standard bedding which might be fine for a short trip but you may value the storage space more for longer trips. Note: we list bedding and towels as Extras at the booking stage in case guests prefer to bring their own. There are black-out blinds (as well as tinted windows) for complete privacy. Cliff also comes with books and games to keep you entertained whatever the weather!
Water Facilities: Like all Quirky Campers in NZ, Cliff is certified self-contained. There are 35 litre fresh and grey water tanks (with tank level gauges) and an electric pump tap and sink in the kitchen area. The portable toilet is stored under one of the bench seats. Cliff also has the option of adding a gas-heated outdoor shower and ensuite shower tent for the ultimate glamping experience.
Electrical/Lighting and Audio Equipment: Cliff has a solar panel on his roof which feeds the leisure battery inside to power the lights, fridge, diesel heater, water pump and USB sockets so you can be entirely self-sufficient. Or, if you want to pitch up on a camp site, he has electric hook-up so you can use the multiple 240v sockets.
Type of Heating: Diesel heater
Outside: Outside chairs and a table are available as optional extras.
Conversion Story: Our first Campervan experience was with Ivan, the Quirky Camper. It was love at first gear! We had a fabulous long weekend at the beach; reading, walking and brewing a cuppa wherever we could pull the van off the road. Soon after that we hired a flashy RV for a 2 week Christmas trip. While it had lots of mod cons and comforts, we really liked the handmade and unique style and rented twice more from Quirky before taking the plunge for ourselves (once more in Ivan and once in Barbara).
Cliff the Camper has been a long time dream for us. We watched a couple of seminars by Quirky Campers NZ - one on converting a van and one on renting out through QCNZ. We had a little think, wrote a business plan and set ourselves up to make a new business that allowed us to build and enjoy our own van, allow that to pay itself back sooner and help other people have fun holidays of their own. We had a look around for an already converted van, and nothing took our fancy. They were all either 'white boxes on wheels' or a little older than we would like for a camper conversion. We had a look around for vans that were newer (1-3 years old) and had all the mod cons and safety features that we were enjoying in our new car. We knew that we didn't want anything too big or that we had to cut windows into. So we settled on the new Toyota Hiace ZX, with lots of lovely windows and easy to drive. Finding one was a little harder - they were selling like hot cakes, and after a little drive to Taupo, the deal was done.
Design wise, we knew that we had 2 basic options - a permanent bed or a converting design. We knew that we wanted to be able to sit at the back doors, look at the view and be able to take our businesses on the road, so we decided to choose a converting sofa/table design. The only sensible option was for an L-shaped kitchen at the front. I sketched up my ideas before starting conversations with a professional van builder. He took my ideas and added some useful ideas and practical considerations and we came up with a base design. The wine rack idea wasn't mine, but it was genius! Having a big fridge is important to me - I wanted to be able to stay in the wilderness for a while between trips to the shops. We chose a big chest fridge freezer (cold G&T and ice cream are also important). That meant that we compromised on some space elsewhere in the kitchen, but we have room for everything that we need.
The design and theme idea came from my mother in law's beach hut on the Essex coast in the UK. My husband and his sisters and their friends had beach hut days out every year as kids and had lots of fun. The style and culture of beach huts is a little like campervans - from the stylish and minimalist to the kitsch to the eclectic. If you can imagine it, then someone has probably built it!! I found a lovely fabric that reminded me of traditional stripy deck chairs and the colour scheme all followed. I found beach hut stencils and mugs and a knitted seagull in the UK and just had to have them. I bought myself a sewing machine and taught myself how to use it, and made all the blinds. I also did all the painting and finishing off once the build was complete. Because my mother-in-law had such a big influence on Cliff the Camper, she was given his naming rights. As usual, she hit the nail on the head - what do you call a man with a seagull on his head? And so he is Cliff! – Kirsten & Will
Pick up / Drop off Times
| - | Pick up | Drop off |
| --- | --- | --- |
| Sunday | By arrangement | By arrangement |
| Monday | By arrangement | By arrangement |
| Tuesday | By arrangement | By arrangement |
| Wednesday | By arrangement | By arrangement |
| Thursday | By arrangement | By arrangement |
| Friday | By arrangement | By arrangement |
| Saturday | By arrangement | By arrangement |
When would you like to go?
Sorry, there was a problem...
Vehicle Spec
Vehicle Type: Converted Van
Make: Toyota
Model: Hiace ZX
Year: 2019
Vehicle Length: 5.9 metres
Vehicle Height: 2.4 metres
Transmission: automatic
Fuel Type: diesel
Registration: emailed when you book
Note: The hire of this vehicle is arranged by Quirky Campers ltd acting as the agent on behalf of Cliff's owners. We make every effort to ensure that all the vehicles listed with us are of a high standard but cannot guarantee the condition of the vehicle. If you experience any problems please notify us as soon as possible.