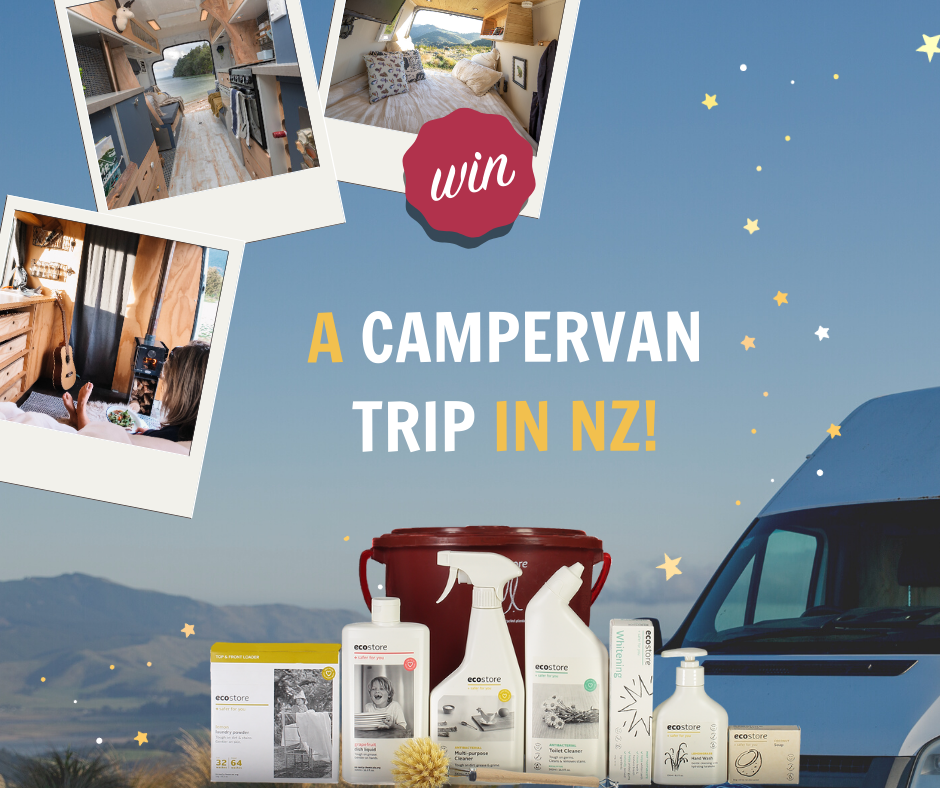 1. All entries must be received by 11:59pm, 5th December 2019. No entry details submitted after this time will be valid. 2. Entry is open to New Zealand residents aged 18 or older, but excludes employees of Quirky Campers and ecostore, their immediate families, anyone connected professionally with the prize draw, or any person where entering this competition breaches any law or regulation of the jurisdiction in which they are resident.
2. The competition is free to enter – no purchase or marketing newsletter opt-in is necessary.
3. Condition of entry includes liking and following the ecostore Facebook and Instagram pages. Plus liking and commenting (tagging a friend) on the competition post(s). You are welcome to apply multiple times by entering on all platforms (QCNZ and ecostore Facebook and Instagram pages)
4. The prizes from ecostore are subject to availability and include:
Beach, Bach & Boat bucket retails for $43.99 and contains:

Lemon Laundry Powder 1kg
Grapefruit Dish Liquid 500ml
Lemongrass Hand Wash 250ml
Citrus Multi-Purpose Cleaner 500ml
Eucalyptus Toilet Cleaner 500ml
ecostore wooden Dish Brush
Toothpaste Whitening 100g
Coconut Soap 80g
all packed in a handy recycled plastic bucket with a lid.
3 night weekend campervan hire with a Quirky Camper located in New Zealand (3 options available – Ivan, Mahara or Kākāpō)
5. Campervan hire with Quirky Campers NZ must be redeemed between 14 April 2020 to 23 Oct 2020. The campervan will need to be collected and returned to its original location. Prize does not include fuel, transport or flights. Winner must be over 18 and drivers must be over 21 years of age, legally allowed to drive in NZ (not disqualified) and have held a full licence for a minimum of 2 years. Prize will be subject to Quirky Campers' usual booking conditions, which include providing a deposit of $500 to secure against any damage to the vehicle and accepting the standard excess (maximum you pay in the event of damage) of $1000 but may be higher based on the answers to the Quirky Campers driver suitability questions. If you cancel your trip within 28 days of booking, you will not be able to rebook.
6. If a winner doesn't claim a prize within 28 days of being notified, or if a winner isn't available to take up the prize, we may award the prize to another entrant (or not award the prize at all) without liability to the winner.
7. The prizes are strictly non-transferable to another person or trip and non-redeemable for cash
8. The winner will be chosen at random from all those who entered the competition, and they will be notified by email by the organisers within 28 days of the closing date.
9. Quirky Campers NZ and ecostore's decision is final.
10. Quirky Campers, ecostore and its affiliates reserve the right to amend or withdraw the prize draw and any of the prizes in the event of any unforeseen circumstances outside their reasonable control. Prizes are subject to availability. In the event of unforeseen circumstances, the promoter reserves the right to substitute alternative prizes of equivalent or greater value. No correspondence will be entered into.
11. The ecostore beach, bach & boat bucket will be dispatched to the winner from ecostore to an address in NZ, unless otherwise stated. ecostore will not be liable for any prizes which are lost, delayed or damaged while in transit for reasons beyond our control.
12. Should a winner's contact details change, it is their responsibility to notify us.
13. We reserve the right to request proof of a winner's identity in the form of a passport or driver's license and proof of address in the form of a utility bill. In the event that a winner can't provide us with proof of identity reasonably acceptable to us, we may withdraw the prize and select another winner.
14. Neither we nor our contractors accept any responsibility whatsoever for any technical failure or malfunction or any other problem in any telephone network or line, system, server, provider or otherwise which may result in any online entry being lost or not properly recorded.
15. We reserve the right to disqualify any entrant who uses multiple names and to require them to return any prize they may have won. Entrants may not enter or participate as part of a syndicate or on behalf of any other person, syndicate, group, society or company. You may not enter the competition using automated entry software or any other mechanical or electronic means that permits any person to enter the competition repeatedly.
16. Entry implies acceptance of these terms and conditions.
17. Ecostore and Quirky Campers reserve the right to amend these terms and conditions or cancel or amend the promotion at any time without prior notice.
18. Except for any liability that cannot by law be excluded, including the Non-Excludable Guarantees, ecostore and Quirky Campers (including their respective officers, employees and agents) are not responsible for and excludes all liability (including negligence), for any personal injury; or any loss or damage (including loss of opportunity); whether direct, indirect, special or consequential. To the extent that ecostore and Quirky Campers cannot disclaim their liability you agree that ecostore and Quirky Campers liability will in any case be limited to the value of the prize.
19. This promotion is in no way sponsored, endorsed or administered by, or associated with, Facebook or Instagram. Entrants understand that they are providing their information to the ecostore and Quirky Campers and not to Facebook or Instagram. The information an entrant provides will only be used for the purposes outlined in these terms and conditions. Any questions, comments or complaints about this promotion must be directed to the ecostore and Quirky Campers and not to Facebook or Instagram.