This lovely low-mileage, high-roof campervan could be all yours
Our friend, Rosie, is selling her forest-inspired campervan so here's your chance to own a professionally-converted, low-mileage campervan and hit the road! This van was fit out by Vanlifer in 2021 and has since had some additional features added to create a feeling of camping in the woods… we love those live-edge timber partitions!
The van is located in Parakai nr. Helensville, Auckland with flexibility on viewings up to 26 February.
It's yours for $49k NZD or nearest offer so let's talk details…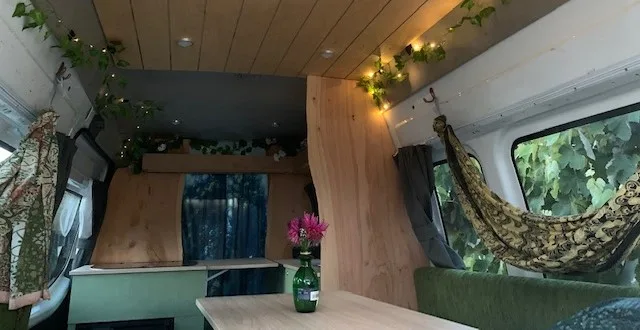 All about the vehicle
It's a 2015 Nissan NV350 – 2.5L petrol, automatic – with just over 84k kilometres on the clock (AA verified). So with it's low-mileage and hard-to-find high roof, this is a van with plenty of space and life! The empty vehicle alone is worth about $35k so it's a good deal for a ready-to-go bach-on-wheels!
The rego is valid until end of March 2023 and the WOF is valid until November 2023. The van has been well maintained (new battery in 2021) with careful use and regular servicing (last one was November 2022)… and runs like a dream.
The bodywork is in great condition. It has remote central locking and comes with two keys. Up front in the cab there are three seats – the centre seat folds down and has storage and cup holders. There's also a stereo and reversing camera.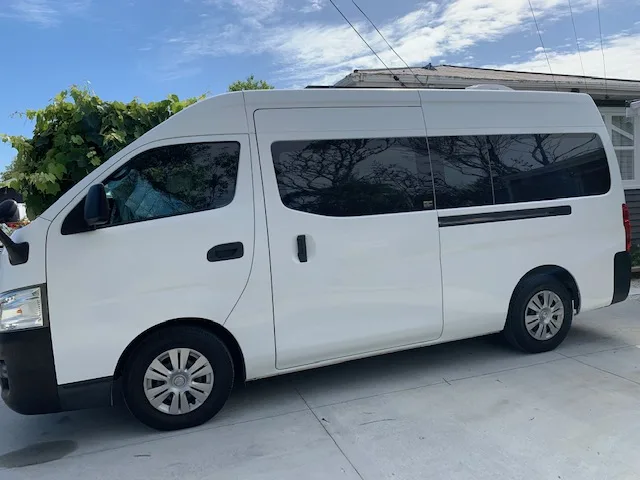 The kitchen/living/sleeping area
A solid start – and a touch of whimsy!
The van has wood-effect vinyl floor covering and has been insulated with thermal eco-wool. It's been fit out with a lovely timber ceiling and birch plywood cabinetry. Solid wood shelves have been fitted to increase the available kitchen storage and the addition of the macrocarpa partitions is a lovely touch that gives this van a little magic.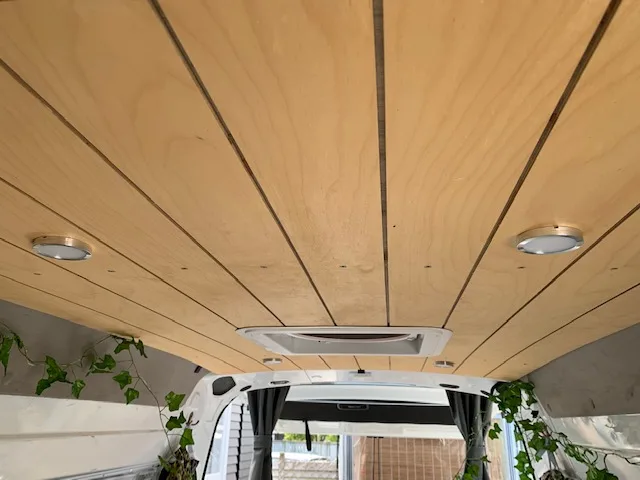 Meals on wheels
A layout that combines a decent-sized kitchen area with access to the cab can be hard to find… so this design works brilliantly, with the drop-down countertop. We love that calming pale green paint choice too – it goes so well with the timber and forest-theme.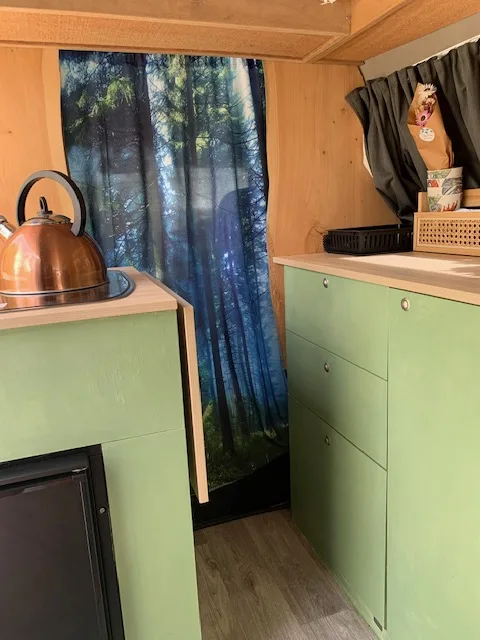 The interior height is 1.63m and in terms of kitchen facilities, this van has a built-in Dometic 3-burner gas cooker and a 12v Iceco 49L compressor fridge with small freezer compartment. There's also a good-sized sink with electric pump tap and and plenty of storage in the drawers. The van comes with all the plates, cutlery, glasses and cookware as desired.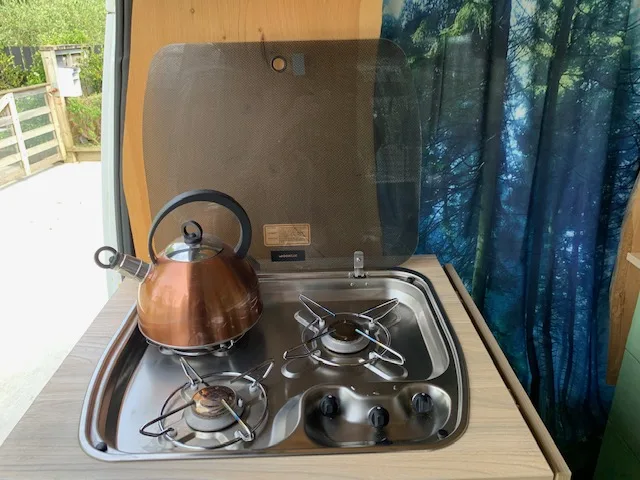 Flexible seating
The seating arrangement in this van means you can maximise space for company with the two long bench seats… or go for a cosy U-shaped seating area, which also creates a daybed across the back of the van and minimises effort in making up the bed. There's a removable swivel table for dining or working and extra storage under the bench seats.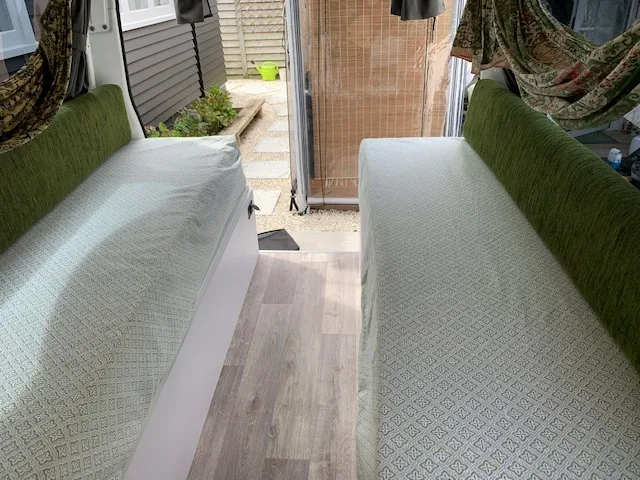 Night night!
As if this van didn't have enough great features, when it comes to getting a good nights sleep, the seating area converts into a queensize bed! It's 153cm wide x 203cm long – so this is a great van for taller people – and has a 20cm deep memory mattress. The windows are tinted for extra privacy and the upholstery is all custom-made. There are LED and seed lighting for a gorgeous, relaxing ambience… and for those warm nights, the Maxxair roof van brings welcome air circulation, pulling in the cooler outside air. It's also great in reverse when cooking, working like an extractor fan!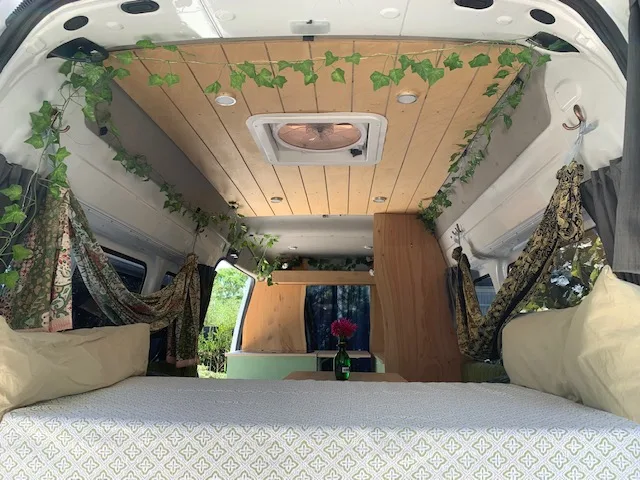 The power system
This campervan has a 120Ah AGM leisure battery and a 110w solar panel for recharging it – the leisure battery is also charged by the engine while driving. This 12v system provides ample power for charging devices using the USB (x3) and 12V (x1) sockets, the electric water pump, fridge, roof fan and LED spotlights but if you want to use 240V appliances, there's also the external hook-up and cable for use on a powered campsite. Once connected, the two mains power outlets spring into life… in case you can't live without your hairdryer or coffee machine 😉
Is it self-contained and certified for safety?
This van is certified self-contained (CSC) (valid until February 2025) for two people and has 24L fresh and waste water containers stored under the sink. The portable toilet is stored under the bed and is easily accessible at all times.
The campervan also has both a gas safety certifcate and an electrical warrant of fitness, as well as a carbon dioxide alarm, smoke alarm, fire blanket and fire extinguisher.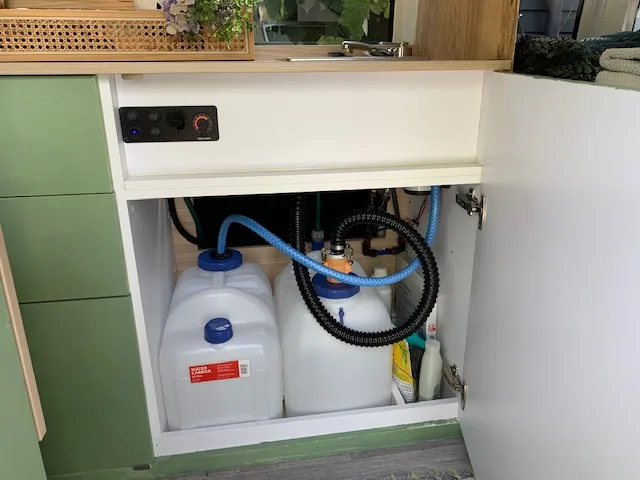 Recoup your costs by renting out your campervan with Quirky Campers
If you like the look of this van and want a return on your investment then you could consider making it part of the Quirky Campers NZ family! Renting it out to our caring, responsible customers means you'd recoup your costs when you're not using the van yourself and potentially break even in 2 – 3 years. All while you have your very own bach on wheels! Sound good? Find out more about renting out your campervan.
Find out more about buying this campervan
There a number of extras that can be included if wanted (solar camping shower, camping chair, storage baskets etc.) so if you're interested in owning this campervan, please contact Rosie at rosiejoystanton@gmail.com or on 0272067661.