This rather special campervan could be all yours
Leandro and Noémie are selling their stunning self-built campervan, Moana, as they are moving overseas. This is a freshly converted van and given they've been running a woodworking business (Inkao Workshop), a high quality build is practically guaranteed… but it's the gorgeous bespoke features and details that make and this van is an absolute stand-out.
Moana will be available to own from or before 13 March 2023 with viewings possible in Auckland 20 – 22 January or early March. Viewings may also be possible while Leandro and Noémie are travelling back from the South Island at the end of February/early March.
Moana is yours for $30k NZD or nearest offer so let's talk details…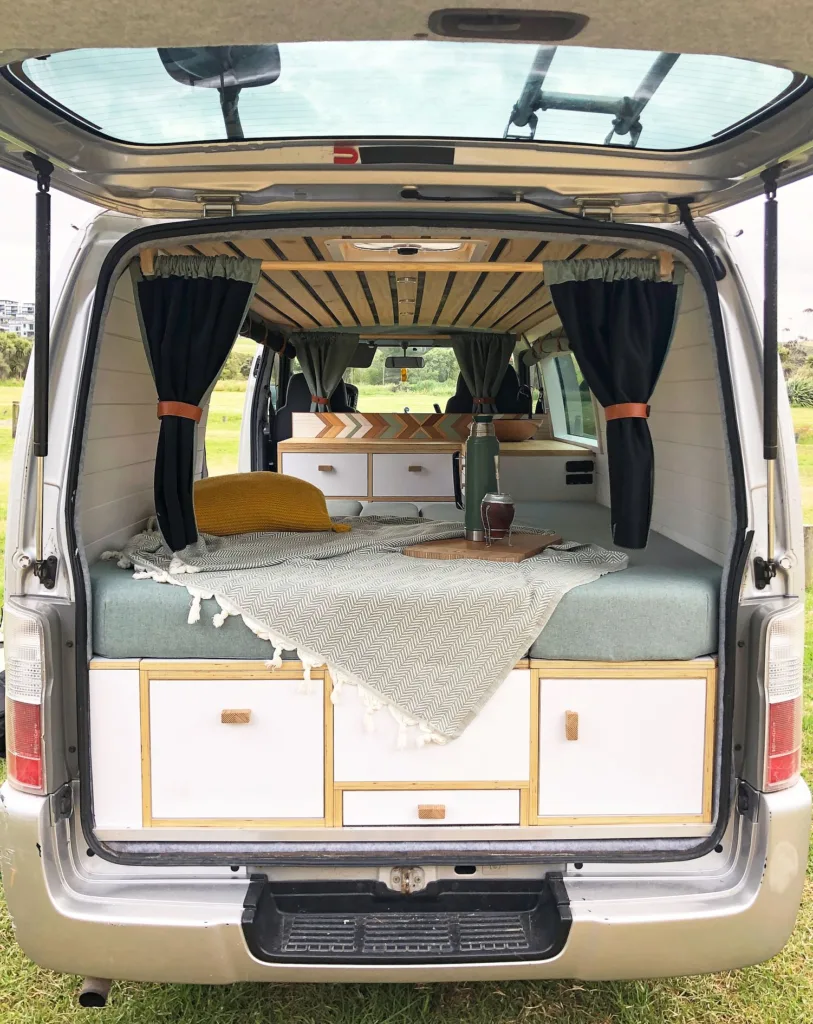 All about the vehicle
Moana is a 2007 Nissan Caravan – 2.0L petrol, automatic – which will have about 200k kilometres on the clock once Leandro and Noémie complete their travels. The rego is valid until end of March 2023 (but a further 6 months will be added) and the WOF is valid until December 2023. Moana has a chain belt and has been running like a breeze since purchased in 2020. She was imported in 2017 with one previous owner and was fully serviced this month (January 2023).
The bodywork and cab have some blemishes representative of her age, but in our opinion Moana is in great condition. She has remote central locking and comes with two keys. Up front in the cab there are three seats – the centre seat folds down and has storage and cup holders.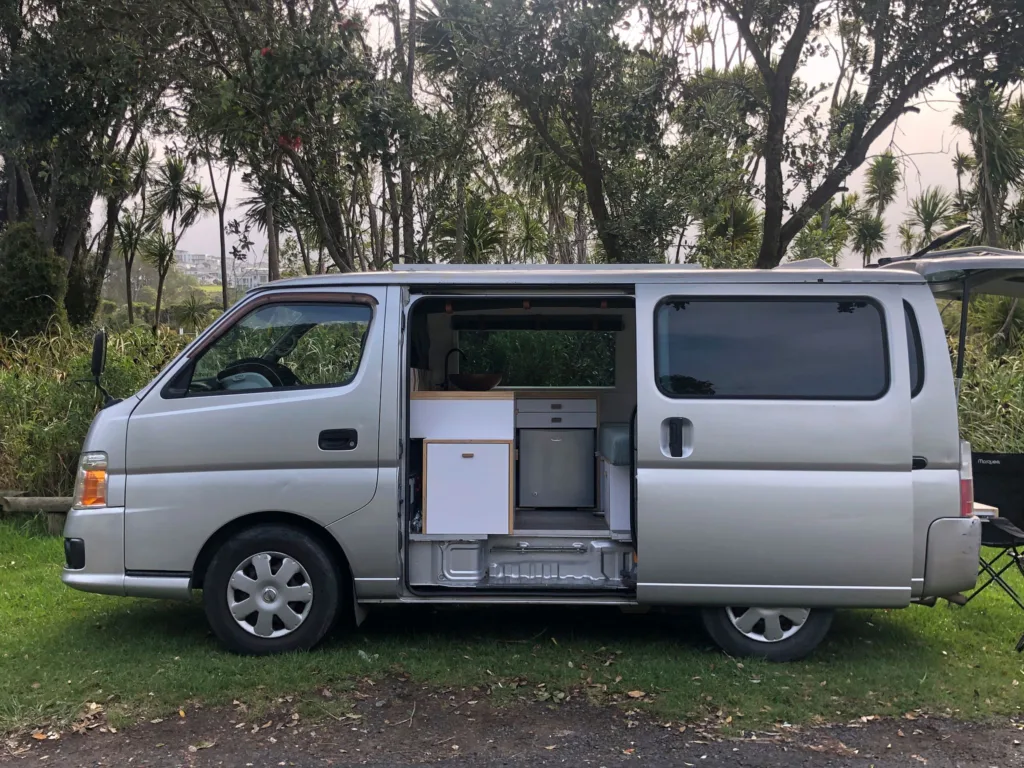 The kitchen/living/sleeping area
A van with great bones
Moana has ever-practical vinyl plank flooring and insulated walls and ceiling. We love the tongue 'n' groove white-washed timber walls and check out the stylish timber ceiling. There's also grey felt on the remaining wall space for a lovely neat and soft finish.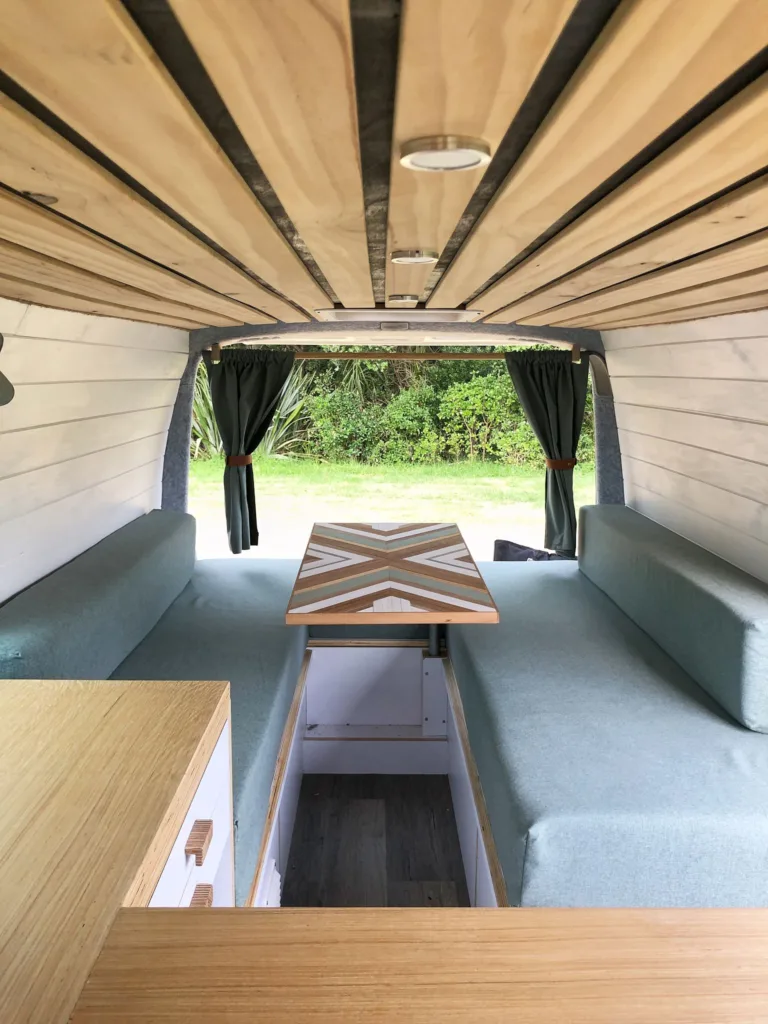 All the cabinetry has been built with high quality 18mm white laminated plywood (not MDF) for a modern and lasting result so you're going to get plenty of years of enjoyment from this beauty.
Cooking up a storm
The interior height is 1.3m and in terms of kitchen facilities, Moana has two single-burner portable butane gas stoves (one in the pull-out kitchen and a spare) and a 12v 50L compressor fridge with small freezer compartment. There's a gorgeous sink with electric pump tap and a stunning handcrafted splashback plus plenty of storage in the drawers. We adore those patterned plywood handles!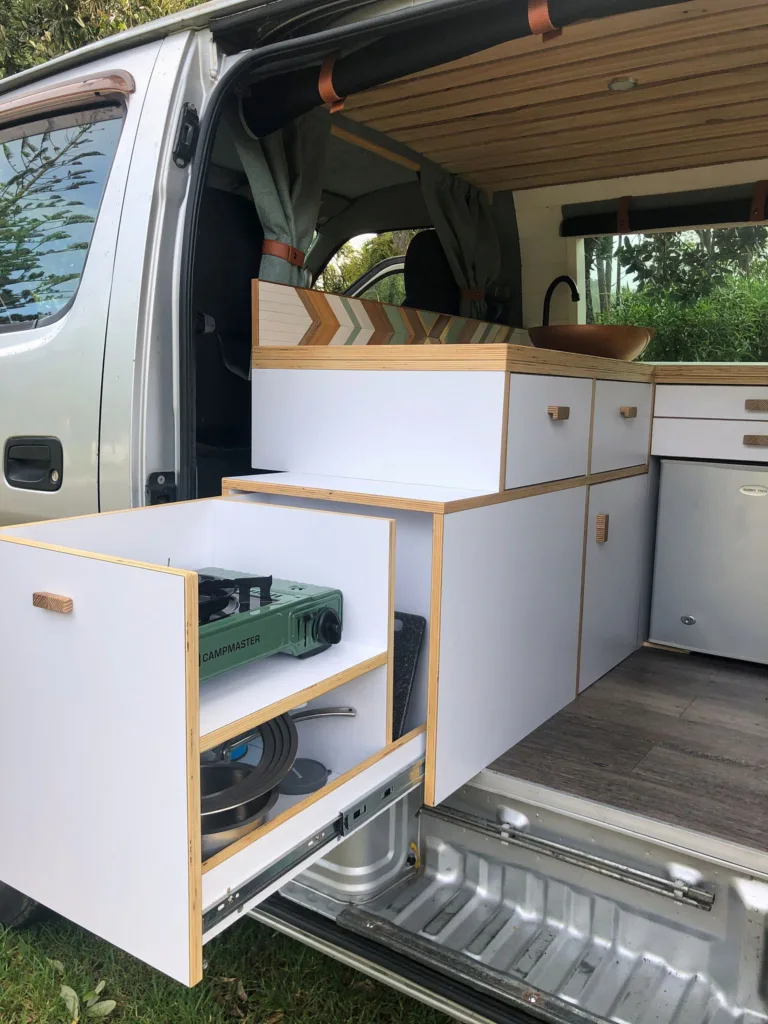 Sociable seating
Moana has a U-shaped seating area and a beautifully handcrafted wooden mosaic swivel table – so plenty of room to invite the neighbours over (and watch them swoon!). The squabs are made from 15cm deluxe memory foam so make for very comfy seating… and sleeping. There's also heaps of storage under the bench seats and pull-out drawers at the front and back.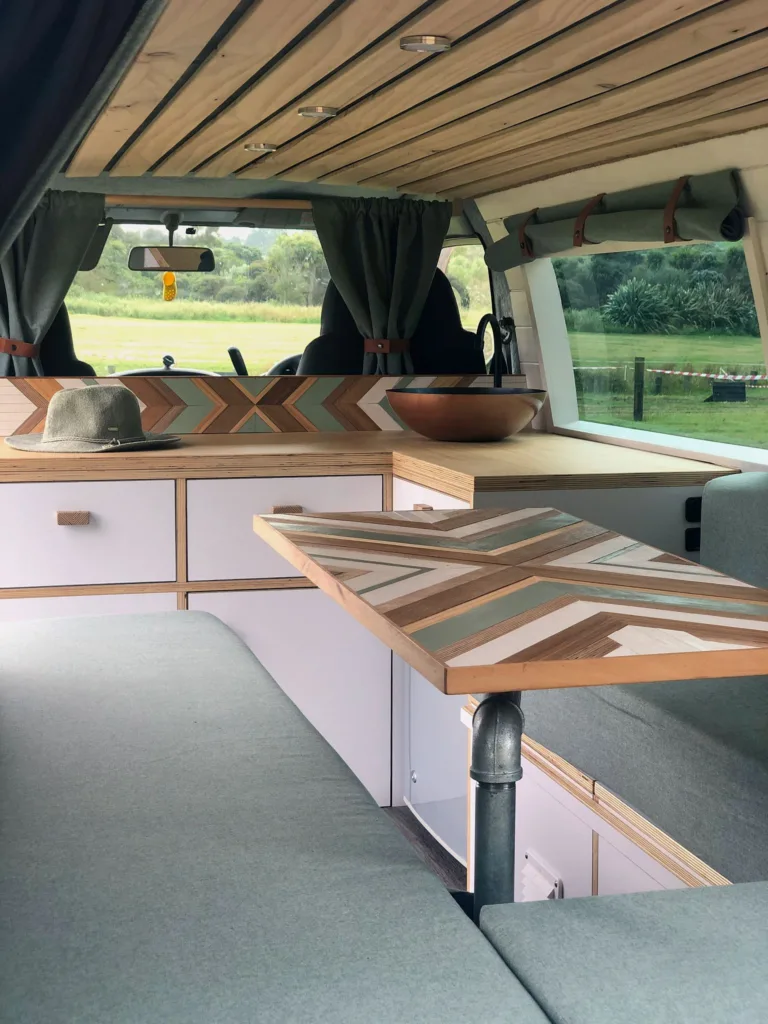 Let's go outside!
Sitting (or working) inside is nice but when the weather's good it's great to relax outside… and the convenient pull-out table at the rear is so cute. There's also a rear mountable awning (2m x 3.2m) to keep you shaded.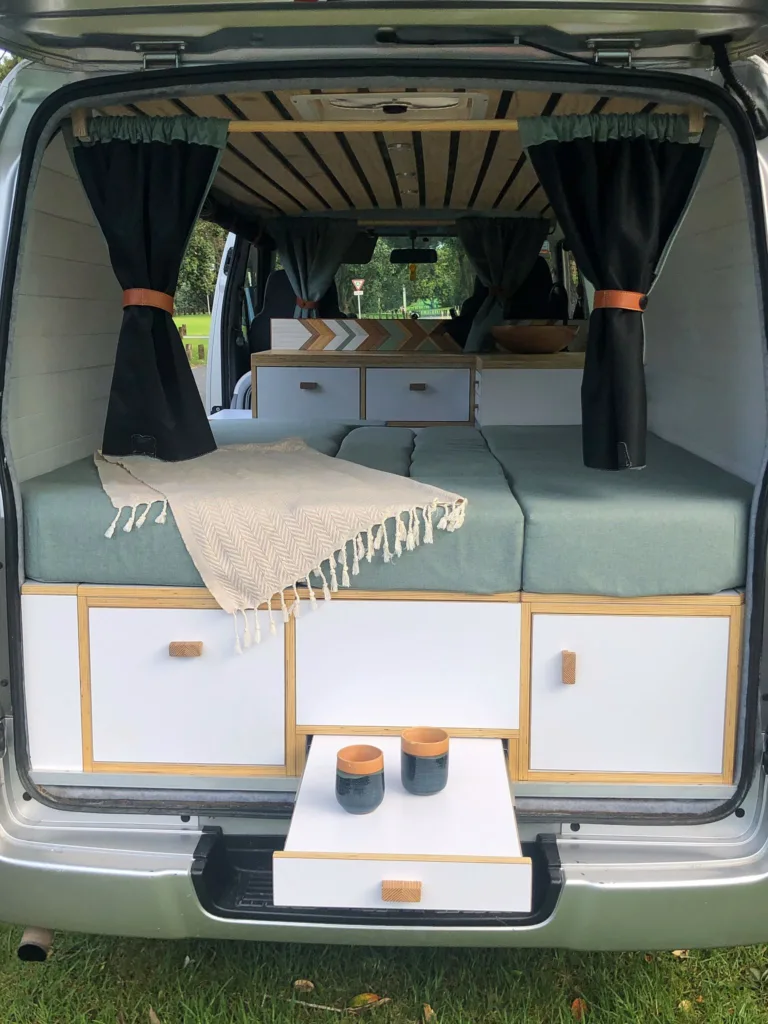 And so to bed…
When it's time to sleep, Moana's convertible bed measures 150cm wide x 165cm long – so a little shorter than a standard double bed – however, there's an extension which means it becomes 190cm long (across approx. 2/3 of the total width). The upholstery is all custom-made… and day becomes night effortlessly with the roll-down blinds.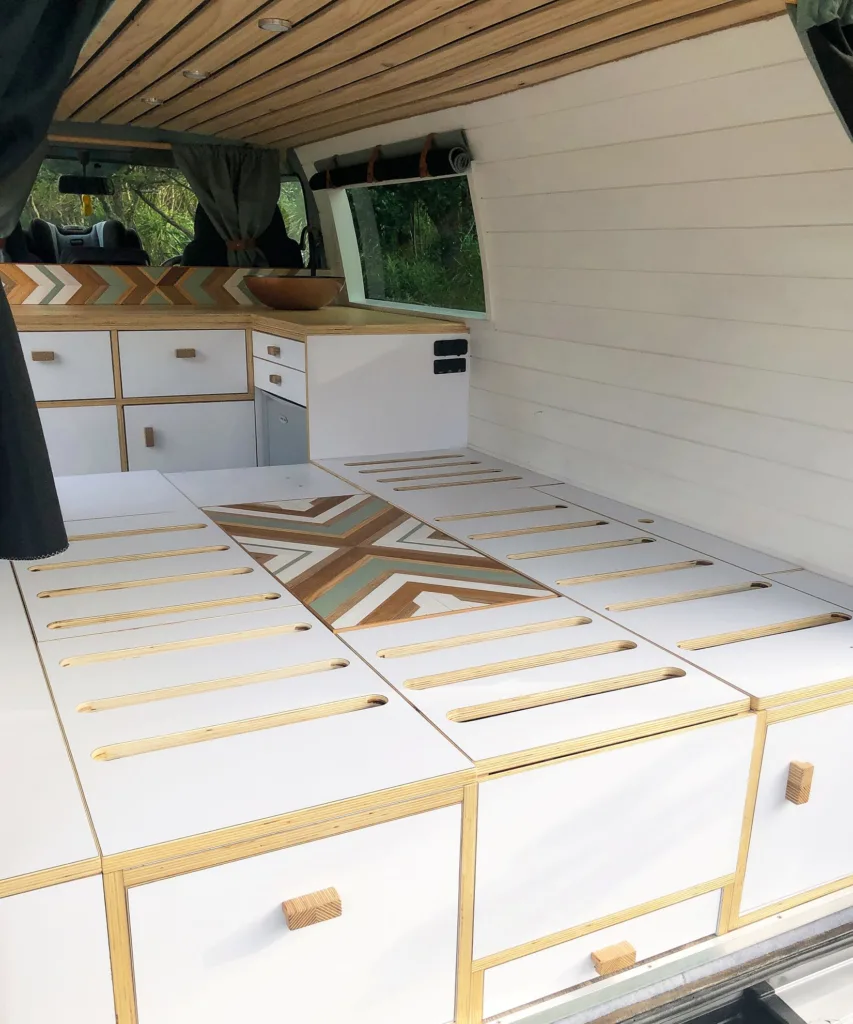 The power system
Moana has a 120Ah LiFePO4 leisure battery and a 240w solar panel and Epever charge controller. She also has a Victron DC/DC Smart Charger to charge the leisure battery when driving (Bluetooth app also available to monitor the charge on your phone). This 12v system provides ample power for charging devices using the USB ports (4), the electric water pump, fridge, roof vent, LED spotlights (3) and even an outdoor shower!
Adorable toddler-friendly features
Ready for cuteness overload? Leandro and Noémie are travelling with their 14-month old and have integrated some fabulous features. One part of the bed flips into a busy-board to play with, there's a little square removable squab to fit a small camping chair when the little one is eating inside… and bathtime is made easy and fun in the tub!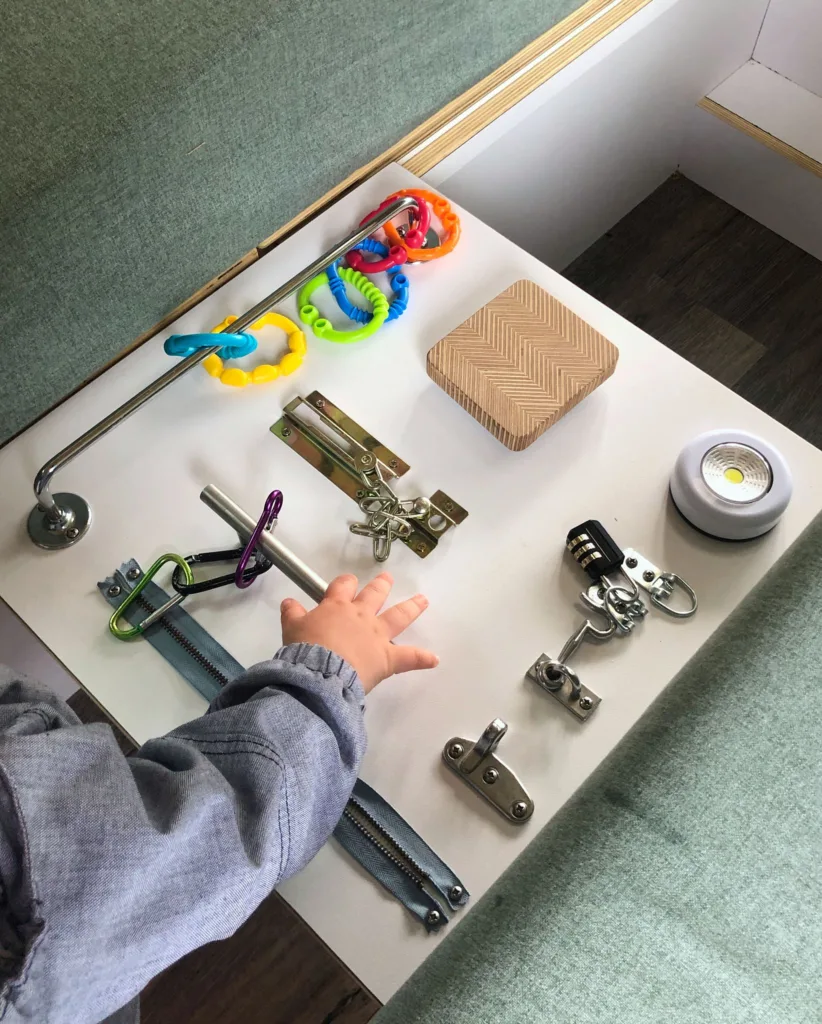 Is it self-contained?
Moana is certified self-contained (CSC) (valid until December 2026) for two people and has 25L fresh and waste water containers stored under the sink and accessed by a bottom cupboard. The portable toilet is stored in front of the water tanks so when you open the cupboard door it's easily accessible.
Recoup your costs by renting out your campervan with Quirky Campers
If you like the look of Moana and want a return on your investment then you could consider making her part of the Quirky Campers NZ family! Renting her out to our caring, responsible customers means you'd recoup your costs when you're not using Moana yourself and potentially break even in less than 2 years. All while you have your very own bach on wheels! Sound good? Find out more about renting out your campervan.
Find out more about buying this campervan
Leandro and Noémie will only have used this camper for two months before selling it and all the camping gear will be included if wanted (chairs, toddler hiking backpack, baby bath, extra table, cooking/cutlery set, bedding, mat, sun shelter and snow chains). If you're interested in owning this incredible campervan, please contact Noémie at noedurandp@gmail.com or Leandro on 027 507 5787.