10 Best UK Wild Swimming Spots
Have you ever felt the exhilarating rush of diving into cool water on a hot summer's day? Or perhaps dipping your toe in nature's natural hot tub, a warm rock pool? After spending over a year confined indoors, there has been a huge spike of interest in wild swimming.
Known to not only offer physical benefits but also encourage mental wellbeing, boosting dopamine levels and increasing the release of endorphins. There really is nothing quite like immersing yourself in a body of water and feeling completely and utterly free.
So trade in those worn out joggers for your beloved trunks and get ready to dive right into our 10 favourite spots to swim in the UK.
Borrowdale
Coordinates: 54°28'23.8″N 3°10'23.5″W
Tucked away within the picturesque Lake District countryside, is this hidden gem of a spot. Above High House Tarn on Glaramara, this wonderful lake not only offers you a stunning place to swim, but breathtaking views.
---
4 Waterfalls Walk, Brecon Beacons
Coordinates: 51°47'12.7″N 3°33'36.9″W
Hikers rejoice! The 4 Waterfalls Walk is a hike consisting of 7.2 kilometers of trail and 4 stunning waterfalls. There are a number of wonderful swimming opportunities, especially for those that don't mind venturing off the beaten track. Located near Ystradfellte in the Brecon Beacons National Park, this is a great spot for family fun adventures.
---
Three Shires Head
Coordinates: 53.2137° N, 1.9874° W
This peaceful spot along the River Dane is where the counties Derbyshire, Staffordshire and Cheshire meet. The entire circuit is around 4 miles long and is surrounded by mini waterfalls, mature woodland and sheep. On a sunny day you could even take along a picnic with you, just make sure you don't swim on a full stomach! 
---
Loch Striven
Coordinates: 55.8819° N, 5.0673° W
Crystal clear waters, mountain views and refreshing temperatures. On a good day you'll be joined in the water by an abundance of sea life including seals and dolphins. This spot located on the Scottish west coast is ideal for open water swimmers and divers. There's even room for you to stay overnight in your campervan or tent.
---
Kisdon Force
Coordinates: 54.4043° N, 2.1579° W
Ee by gum, this next place is guaranteed to inject excitement into your day. With two plunge pools and epic waterfalls, this swimming spot may be more difficult to access than others but worth the climb.
---
Lake Windermere 
Coordinates:  54.3739° N, 2.9376° W
Next up is Britain's largest natural lake located in the Lake District. At 10.5 miles long, almost a mile wide and approximately 220 feet deep, there is plenty to explore. Surrounded by astounding mountain views and quaint villages, there's also plenty to see! 
---
Woody Bay 
Coordinates:  51.2276° N, 3.8958° W
With irresistible crystal blue waters, striking sea views and warm rock pools – this next spot is arguably one of the most scenic coastal swimming spots in the UK. Accessed via a mile long bendy path, with a spectacular park up towards the top, you can start your days freshen up in the waterfall. 
---
Kailpot Crag, Ullswater, Lake District 
Coordinates: 54°34'29.6″N 2°52'50.5″W
Accessed via a footpath surrounded by pine trees, Kailpot Crag is home to crystal clear waters and some pretty epic swimming bays. There will be no going in slowly, as you can jump straight in from the rock at the side. 
---
Hampstead Mixed Pond
Coordinates: 51.5608° N, 0.1629° W
Perfect for those looking for a quick city centre escape, Hampstead Mixed Pond is just a short tube ride from London and will trick your mind into believing you're a million miles away from the electric buzz of city life.
---
Tryfan Mountain
Coordinates: 53°06'49.3″N 4°00'41.3″W
Nestled next to Tryfan mountain in the Ogwen Valley is this awe-inspiring swimming spot. Finish your mountain hike with a refreshing dip surrounded by mountain peaks and panoramic views. 
---
Tips for wild swimming
Whilst wild swimming is freeing and fun, it can also be dangerous. So before you dive right in, here are some tips to help you stay safe in the water.
Swim in groups
As tempting as it may be and no matter how enticing the water is, it's always safer to avoid swimming alone. Also, wild swimming is way more fun when you have someone else there to splash, am I right?
Know the speed of the current
Before getting in, make sure you check the speed of the current and be aware of the undercurrent. If you're unsure, one way to test just how fast the water is moving would be to throw an object such as a stick into the water and see how fast it moves.
Don't jump in until you have checked the depth and any obstructions such as rocks etc.
With wild swimming comes spontaneity and jumping right in from a rock or a cliff can give you a rush like no other but before you take the leap, it's crucial you know exactly what you're driving into by checking the depth of the water and what's underneath.
Have warm clothes at easy reach
Unlike most swimming pools, wild waters do not come with heating installed. Once you're in, your body will most likely adapt to the temperature, but once you're out make sure you have a towel and warm clothes at easy reach.
Always know where to get out
In most cases, you are able to exit the water the same way you entered it, but for those who are jumping in from above or plan to swim a distance, it's important to have at least 2-3 safe exit spots highlighted in your mind.
For more wild swimming safety tips, visit check out the Wild Swimming health, safety, risks and dangers post by wildswimming.co.uk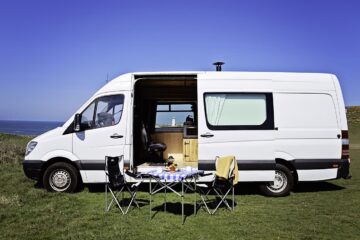 Choosing a vehicle for your campervan conversion One of the first questions we're asked by people looking to convert a panel van to a …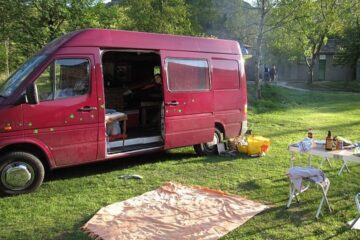 Lindsay, who owns Quirky Campers with her husband David, shares what she learned about camper awnings when she decided their van Bella (pictured) needed …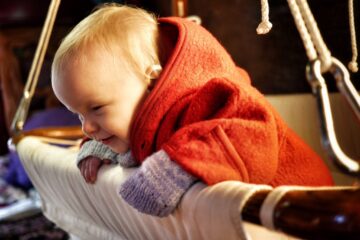 Lindsay and David ffrench, who run Quirky Campers, know a thing or two about going on a campervan holiday with kids – they have …