Conversion Tent – What's On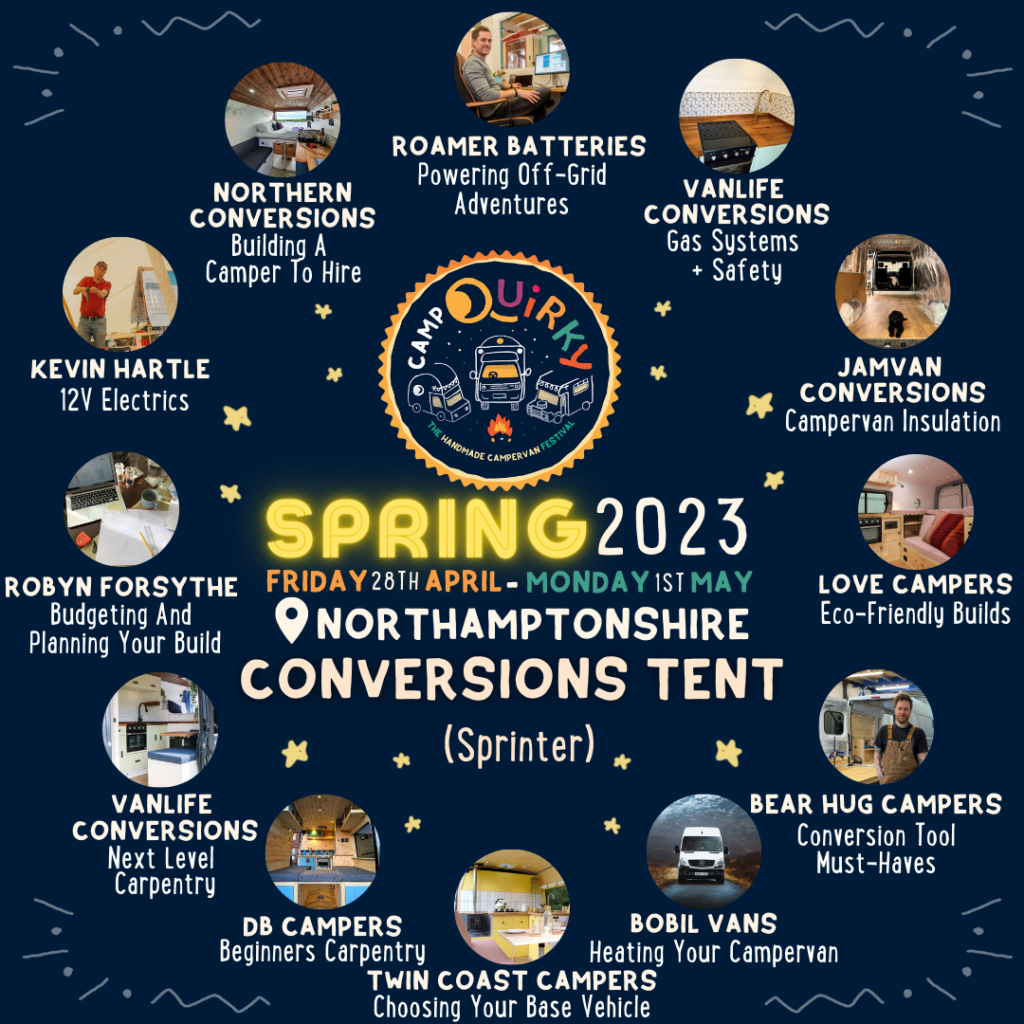 If you're interested in converting a campervan or looking to upgrade parts of your existing build, you'll find all the information and tools you need in our sprinter tent. Van crafting experts are invited to share their knowledge with topics ranging from choosing the perfect base vehicle all the way through to campervan insulation.
So whatever stage you're at in your van-build journey, be sure to pop into our Sprinter (conversion) tent to pick the minds of these van-build geniuses!
Budgeting & Planning Your Build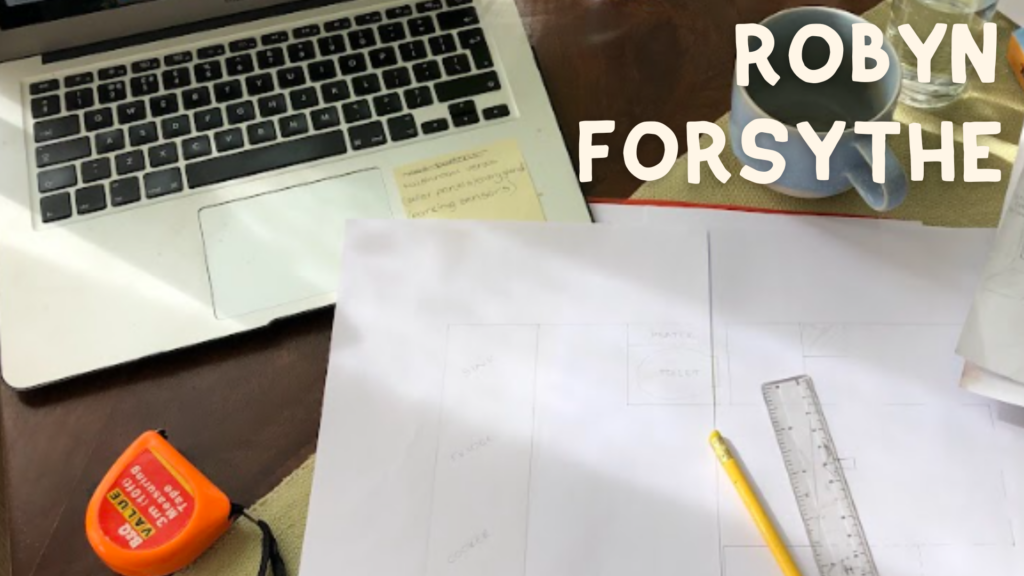 Having worked in film & TV budgeting for over a decade, Robyn decided to turn her hand to self-build campervans in 2020. She applied her budgeting skills to the build of her camper "Vannabelle", and is here to share her hints and tips on how to accurately predict the cost of your build, and how to stay on track throughout the process. If you would like to know how much a campervan build may cost or how to best budget and plan your build, this talk is for you.
---
Eco-Friendly Builds
Love Campers are committed to sustainability and providing off-grid camper conversion options that will help you holiday in a responsible way. For those who already have a campervan, they can help you find ways to "green" your campervan without costing the earth. So if you're interested in how you can make your campervan adventures more eco-friendly, this is a talk you don't want to miss.
---
Gas Systems & Safety & Next Level Carpentry
Van Conversions are a veteran-owned, family-run company with multiple years of experience in converting panel vans into dream living spaces. They are passionate about living a life full of experiences, and freedom and embracing the vast amount of nature to explore in this world. They love to facilitate their clients to take their homes into the wild and enrich their lives with experiences. Whether it is a mobile weekend holiday home you seek or the full-time off-grid life, Van Conversions can make it happen!
---
Conversion Tool Must Haves
Bear Hug Campers use quality materials and high-spec parts to design and build an expertly-crafted van conversion tailored to you from the ground up. They pride themselves in having a very high quality, neat finish in every part of the conversion. Bear Hug Campers run a productive and professional wood workshop and are starting to make a name for themselves with their super clean scandi cabinetry style but are equally comfortable with the more classic modern-vintage style. Visit their workshop to get an insight into all the tools you'll need to bring your build to life.
---
12V Electrics
Kevin took early retirement in 2018 after spending most of his career in the automotive industry working as a professional engineer. He began self-building vans for personal use a few years prior to retiring and found that people would often ask for advice on aspects of campervan building, such as 12V electrics and solar power. He is keen to share his knowledge with others and give them the confidence to be able to tackle installations on their own campervans.
---
Campervan Insulation
Meet Jess and Sam, travel enthusiasts, vanlife dreamers, and making stuff happeners! They both have over 15 years of professional design experience and all the tools, techniques and layouts to get you on your way to owning your own little piece of vanlife. Their design services range from design consultancy to full conversion builds. They also just love talking about vans, trips, and ideas for new vans or new trips. This year at Camp Quirky, they'll be discussing all the ins and outs of campervan insulation.
---
Building a Campervan for Hire
Laura and Marrick have 3 campervans for hire on Quirky Campers and all are exceptionally popular with very eye-catching interiors. With experience not only as Quirky Camper owners but also as converters, Northern Conversions has a wealth of tips and tricks to help you convert a campervan to a list for hire.
---
Choosing your base vehicle
Twin Coast is headed up by founder and master builder Jack. Jack has been working on vehicles and designing transport interiors for over a decade beginning with his degree in Transportation Design. Since then he has designed for global brands such as Ford, Renault and Singapore Airlines. With a passion for travel, sustainability and tiny homes, Jack began Twin Coast Campers and has had great success in building campers for a variety of customers and their unique needs.
---
Beginners Carpentry
DB Campers, based in Yorkshire, are able to take your vehicle and turn your Vanlife dream into a reality. Both Dale and Jack have over 12 years of experience as fully qualified carpenters and everything in our conversions is bespoke and handmade. Following the completion of their own off-grid campervan conversions and, having completed a variety of custom conversions for others, DB Campers have the passion, experience and skill to create your bespoke campervan conversion. This year they'll be running a beginners' carpentry workshop.
---
Heating Your Campervan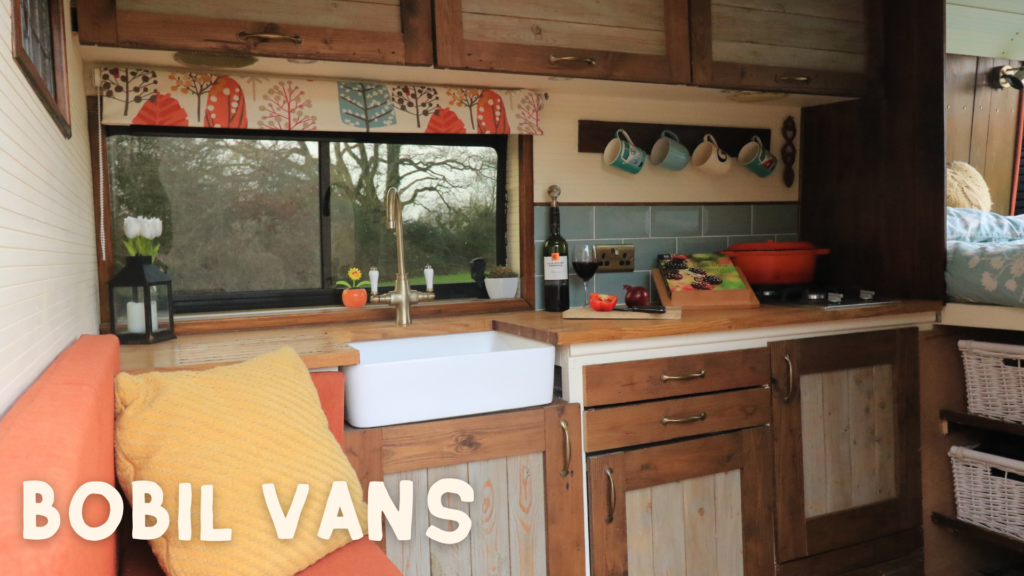 Bobil Vans specialise in creating home on wheels, designed to be so cosy you'll never want to leave your van! Their North Somerset workshop is nestled in the trees, which gives them all the inspiration they need to create beautifully crafted getaway vehicles. They'll be sharing all their campervan heating knowledge with you so you can stay toasty in your camper all year long.
---
Powering Off-Grid Adventures
Steve is the founder and CEO of Roamer, a UK-based lithium battery company. Steve has also designed over 300 off-grid electrical systems for campervans and boats so will be talking through how to choose and install the necessary components such as solar panels, inverters, chargers and of course batteries.