Diversify Vanlife UK Tent – What's On
The Transformer tent is the newest addition to Camp Quirky. Our DV UK tent is a safe space for underrepresented individuals within the vanlife community to have their voices heard. In this tent, inspirational people share their stories and outdoorsy/vanlife tips.
This year's DV UK speakers will be covering a wide range of topics including solo female travel, vanlife with cats and earning money on the move. We're also super excited to introduce Camp Queerky, a safe space for LGBTQIA+ individuals, POC, disabled folk, and allies to come together, make friends and share stories around a roaring campfire.
DV UK Mixer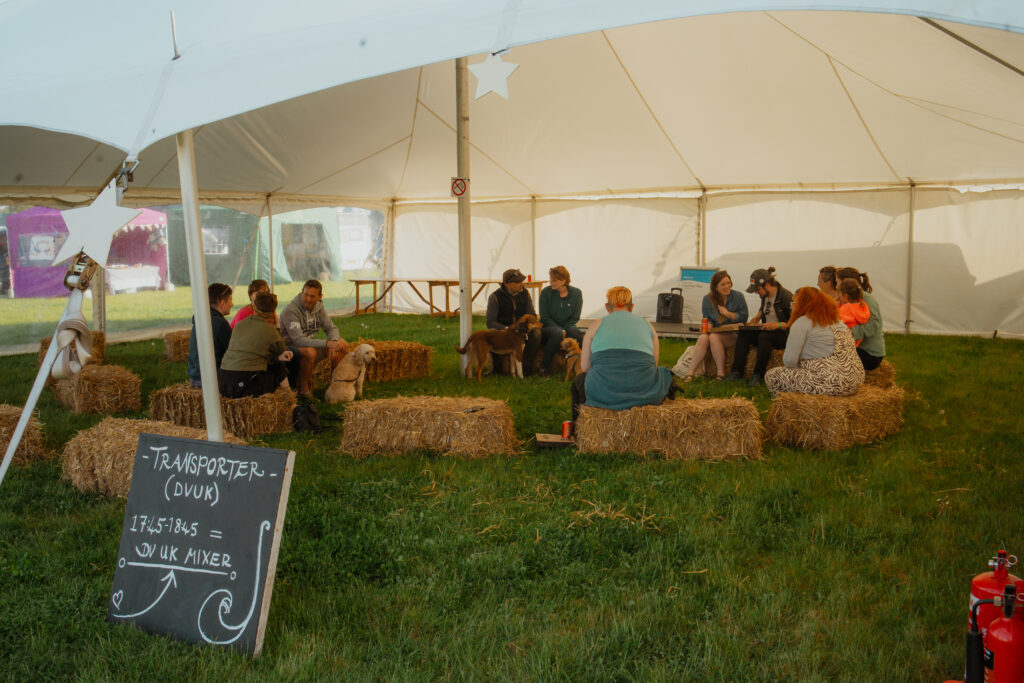 On Friday we'll open up the tent with our annual DV UK mixer. We welcome the whole community to come in, introduce themselves and mingle ahead of a fun-filled weekend.
---
Solo Female Travel
Lucy is the backpacker-turned-vanlifer behind the solo female adventure travel blog, Absolutely Lucy. She's travelled solo to over 40 countries and now splits her time between exploring new countries and vanlife trips in her camper van, Fortuna, in the UK. She's a big fan of festivals, cold water dips and wild adventures. Lucy will be returning this year to discuss all aspects of solo female travel.
---
Self-Defence Class
Teia wildly combines being a full-time van lifer and mixed martial art practitioner with over 20 years of experience to help fellow van enthusiasts travel with more safety and confidence. This year she will be running two self-defence classes targeted towards solo vanlifers.
---
Single Mum Travels
Delanie is a single mum in her 40s, who after becoming obsessed with the whole vanlife movement, decided to buy Penny Pilote a 2006 Fiat Pilote city van in July 2022. So Delanie and her son have travelled to the Scottish Highlands, France, Spain & Portugal and recently returned from a stint in Belgium. Delanie has been on living on the road full-time whilst 'road schooling' her 7 year old son. Delanie hopes to inspire others and prove that being a single parent doesn't limit you from adventures!
---
Vanlife with Cats
Meet Arla and Josie, who have lived in their self-converted sprinter van full-time with their cat Lennox since May 22. They have been enduring winter vanlife in the UK for the last 6 months and will be at Camp Quirky to talk about having a cat in a van, from training, and adventure stories to some funny moments along the way, cat lovers, you're not going to want to miss this one!
---
Creating Diversity Within Wellness
Tilly first was introduced to yoga in 2012 and after continuing the practice quickly noticed many physical and mental changes within her body as well as in everyday life. She feels passionate about creating space for POC to feel safe and welcomed and would love to see the wellness space diversified. Tilly's coaching philosophy is that Yoga is for everybody and that by connecting to ourselves on a deeper level we can truly strengthen our mental health, courage and fearlessness.
---
Introduction to Rock Climbing
Kumbi describes herself as a "fun-loving adventurous black woman." Born and raised in Zimbabwe and now living in Birmingham, Kumbi has worked in the NHS for over 20 years as a Senior Nurse and is passionate about equality and inclusion, climbing, wild swimming, hiking, cycling and being outdoors. Rocking a plus-size figure, she has struggled for the last 15 years to find appropriate technical clothing that suits her – often having to be creative and/or settle for unsuitable (and unsafe) outdoor gear. Frustrated by this, Kumbi Co-Founded Every Body Outdoors: fighting for clothing, gear and representation for plus-size bodies in the outdoors. Kumbi will be discussing her journey to loving the outdoors in the DV UK tent, along with an introduction to rock climbing.
---
Vanlife Begins at 50
Ade & Becks and Beej & Beth have known each other for many years and have done lots of trips away in their vans together. Now in the "prime" of their lives with kids almost out of the way, and a bit more time on their hands, the group have been thinking about longer trips together, eating and drinking healthily whilst on the road, things to do, how to overcome the issues that are bound to arise, and having our doggy companions on our journeys. Van Life Starts at 50 really does sum up what these four are all about and they can't wait to share their stories with you at Camp Quirky!
---
Creating Authentic Content on the Road
Say hello to Shannon. A photographer, traveller and coffee lover. Two years ago, she bought her first van and converted it into a little micro camper. She's spent the last couple of years travelling through the UK and europe. Through winter she took a break from vanlife and went to work in the French alps. But since returning has bought a new, bigger van and is looking forward to converting it for another summer of travels. Shannon will be providing tips on creating authentic content on the road, something she does brilliantly over on TikTok.
---
Diversity Within the Triathlon World
Kelly smith is a wild camper, community leader in hiking and, founder of The Black Tri Tribe a triathlon club for POC. Kelly will be joining us this year to discuss creating diversity within the triathlon space.
---
Earning on the Move
Meet Jenna, one part of @SlowlyWilding and also @thejennawinters. She has been travelling full time with her family for over 2 years and once they had started vanlife, she knew she needed to find a way to make money online so she could support her growing family & keep the freedom, nomadic lifestyle that they love. She is so excited to be speaking at Camp Quirky to share advice on how to come up with a profitable business idea, her top 6 paying business models and the 'Freedom Foundations', the foundations to any successful online business, that she talks all her clients through so they can start signing consistent clients and making money on the move.
---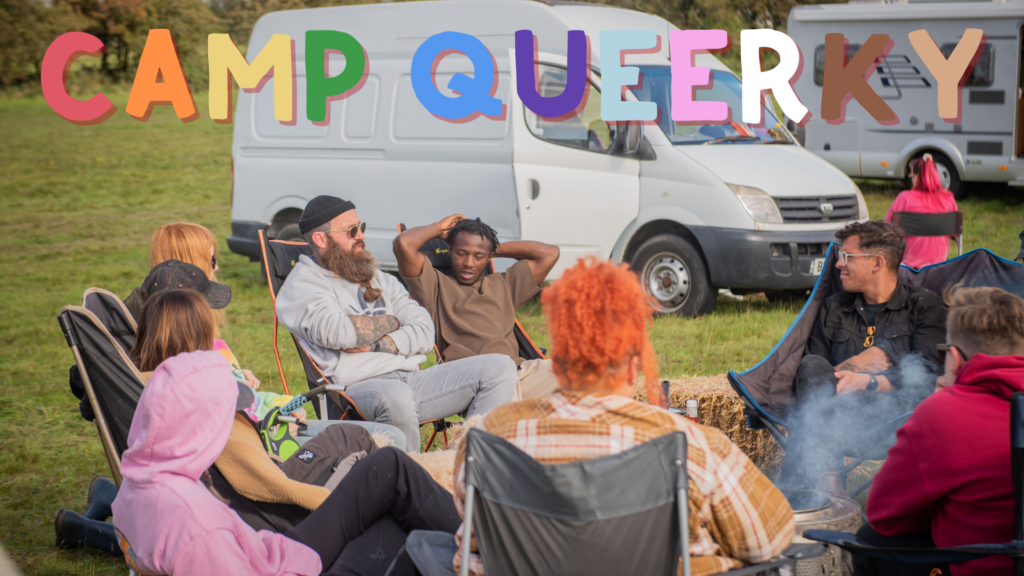 Introducing Camp Queerky
Where it began
It all started last year when DV UK members Bobby & Courtney joined us at Camp Quirky. As two people who prefer to choose when they dip into the action, they claimed a quiet corner of the field and brought it to life with an LGBTQIA+ flag, lights and a beautiful sense of community. Thus Camp Queerky was born!
What is it?
Camp Queerky is a camping area dedicated to LGBTQIA+ individuals, POC, disabled folk and allies. A place where like-minded people can have open and deep conversations around the campfire, hang out and have fun over the weekend and ultimately make bonds for life!