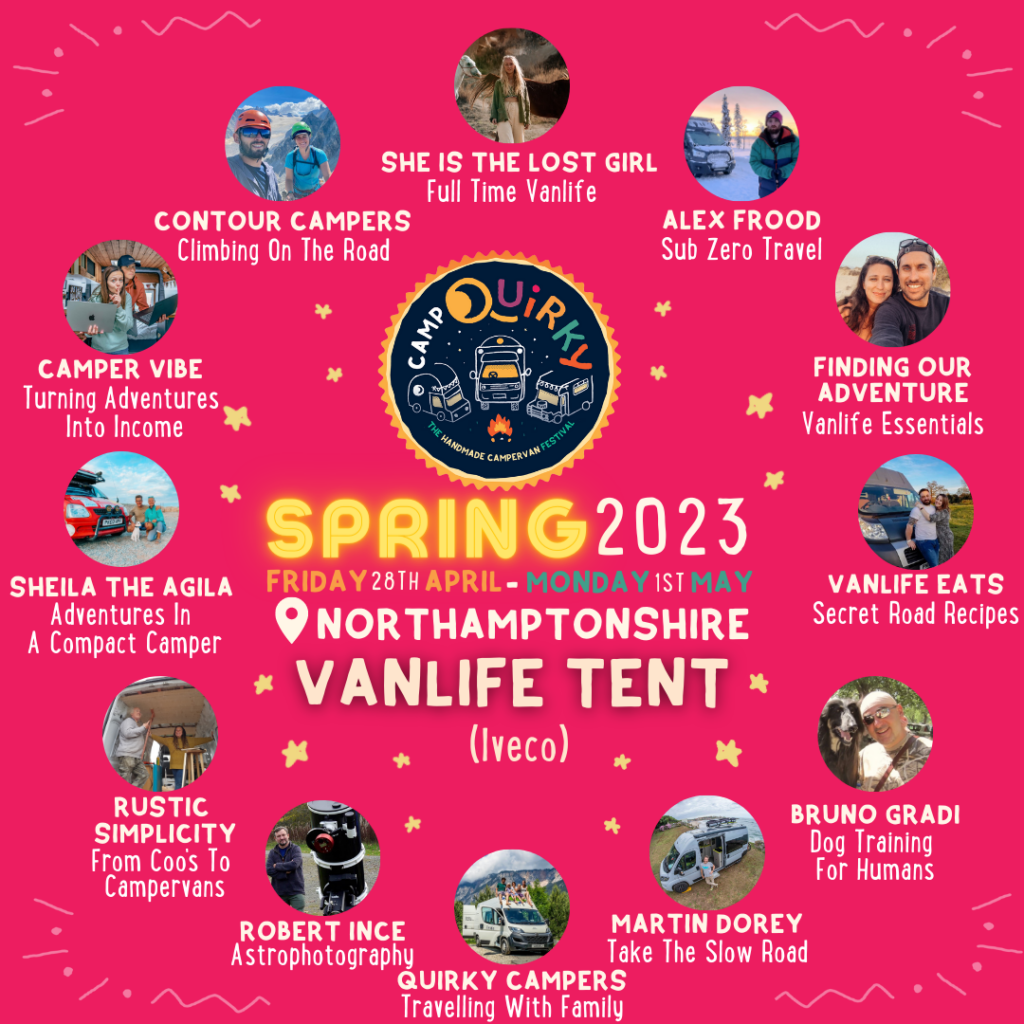 Enjoy talks from your favourite vanlifers covering everything from travelling on the road with little ones to living on the road full time. This year, the vanlife tent is bursting with knowledgeable nomads sharing their first-hand experiences, tips, tricks and everything in between. So whether you're somebody who is dreaming of a life on the road, a vanlife novice, or a campervan wizard, the vanlife tent has something for you. Read below to find out who and what you can expect from Camp Quirky 2023 vanlife tent line-up. 
Full-time Vanlife
Beth began travelling in 2014 with what she thought would be a short holiday. She's now been travelling around the world full-time for seven and a half years, taking photographs, writing about the places she's been and immersing herself in new cultures. Her favourite thing about Camp Quirky last year was making new friends and getting to know the amazing people in this very welcoming community. She felt the weekend was so chilled and the music and workshops were brilliant. Beth is looking forward to making new friends, getting inspired by the workshops and eating some amazing food in the sunshine (hopefully) with like-minded people.
---
Turning Adventures Into Income
Meet Em & Lou, better known as Camper Vibe, who explore the world full-time in their self-built campervan along with their dog AJ and cat Summer. They are the proud creators of a popular YouTube travel series, with new content every Sunday and are excited to be appearing at Camp Quirky to share advice on how anyone can turn their adventures into income through social media and photography, just like they have! Em and Lou will be covering everything from how they've done it, pros and cons, tips for YouTube, equipment, the art of storytelling, understanding your audience, working with brands, the impact it has on your own life and travel as well as including a Q&A to help with any questions!
---
Sub Zero Travel
Alex Frood is a professional expedition leader and photographer; he has spent the last decade leading expeditions for clients and doing reconnaissance work all over the globe. However, over the last few years, he's combined his love of travel and his nomadic lifestyle into something else; three years ago, he started building a new van which was to be his home with the idea in mind that he wanted to use it to facilitate more of his extreme travel in his free time. He documents his van build and extreme travel on his YouTube channel, "Mispronounced Adventures". Two of his most popular series are about Arctic vanlife where he took his van to some extraordinary locations with temperatures down to -31℃. Come listen to Alex's presentation, talking about his Arctic adventures and how he built and prepared his van to work and live comfortably in such an extreme winter environment.
---
Taking The Slow Road
Say hi to Martin, a lifelong camper and campervan owner, surfer, writer and photographer. He's owned a series of campervans including a Renault 5 Extra Van, a VW Type 2, three VW Type 25s, a Type 5 California, and Crafter and Ducato conversions. He presented BBC2's 10-part series 'One Man and His Campervan' in 2011. His most recent work is a series of best-selling books about 'Taking the Slow Road' which was inspired by his own campervan adventures. The series has now covered England and Wales, Scotland, Ireland, France and Spain and Portugal. He's also an environmentalist and has written a series of books about plastic and climate change. He founded a litter-picking charity and was awarded an MBE this year for services to the environment.
---
From Coo's to Campervans
Discover more about the creative brains behind the 'Queen of the Quirk' at Camp Quirky! Rustic Simplicity campervans began in a tiny workshop in a quiet corner of Scotland, almost by chance. From an inauspicious pile of sad-looking firewood, they discovered gold. which eventually led to the creation of the indisputably rustic "Queen of the Quirk, 'Frida'. Join James and Anita, in the vanlife tent where we will share the story of their humble beginnings, and where they have got to – 35 campervans on with the passion still burning they will also be bringing an eclectic mix of vans, along with their owners for you to take a look around – so exciting!
---
Secret Road Recipes
Mark and Sophie are the legends behind Vanlife Eats – a social platform created for vanlifers to share their culinary creations and act as inspiration to get your cooking juices flowing while out on the road! There's something we all have in common, and that's the need to eat. Whether that's parked up on a beautiful beach gazing across the azure seas, refuelling yourself for a day hiking or climbing, or if it's just a date night on the drive in the van, food can be such an amazing part of those experiences. If you have a passion for vanlife and food then make sure you head to our Vanlife Tent where Mark & Sophie will be cooking an authentic, secretive Italian dish perfect for life on the road, as well as showing off some of their essential vanlife kitchenware!
---
Vanlife Essentials
Jonny & Hannah, also known as Finding Our Adventure, have been travelling together for more than a decade now. In 2014 they took their first multi-month trip to South Africa. In 2017 Finding Our Adventure was born as they travelled South East Asia for 6 months and in 2021 they were able to make full-time travel their jobs, which have been incredible. They currently travel with their two cats Tia and Sky in their Ford Transit campervan documenting everything on Instagram, Youtube, Tiktok and our website. They are looking forward to sharing all of their knowledge and experience from a life on the road and what they think are essential items for travel and van life.
---
Adventures in a Tiny Camper
Join Doug & Alex to talk all things compact campers at Camp Quirky 2023 'The Compact Camper Couple'. Whilst working in healthcare throughout the pandemic, they decided they needed an adventure and converted their tiny 1.2 litre Vauxhall Agila into their own little bespoke camper car named 'Sheila the Agila' and set off on their rally to raise money for charity. Covering 40+ countries across Europe, Asia and Africa in 100 days, they challenged themselves and Sheila on some of the world's most incredible roads/non-roads and proved that they can experience Vanlife and world travel on an incredibly low budget. On their adventure, they also picked up a permanent hitchhiker in the form of 'Tagha', a 6-week-old Moroccan stray puppy that they nearly ran over. Now she's a new addition to their tiny family. They are now starting their own business to give little cars a new lease of life by turning them into tiny car campers.
---
Astrophotography
Robert Ince is a well-known amateur astronomer and professional scientist. He was the resident astronomer and manager of the Scottish Dark Sky Observatory (SDSO) in the Galloway Forest Dark Sky Park (GFDSP). Robert is now working with the parks authorities and similar agencies to develop astronomy tourism, provide astronomy outreach events and increase light pollution awareness from his camper van all across the North of England.
---
Dog Training For Humans
Bruno, founder of Dog Training For Humans is back at Camp Quirky for '23'. He believes every dog is the product of its environment and states "There is no such thing as a "bad dog" – the character and actions of a dog mirror the personality and habits of its owner, thus any valid training should begin with examining what we do right, and not what the dog does wrong. When things look bad, it's not easy being your own coach, your encouragement, motivator or provider of emotional support." At Dog Training For Humans, they have pledged to do their best to help you out on your journey to becoming a splendid dog owner, whether at home or on the road. Join Bruno as he shares his philosophy on dog training with you in our Vanlife Tent – Dogs are a big part of vanlife for many, after all!
---
Lindsay & David
Quirky Campers co-founders will be taking to the vanlife stage this year to discuss travelling with family. Regularly hitting the road in their campervan Frida with their three children, Lindsay and David have plenty of tips and tricks up their sleeves from packing essentials to how much you need to plan before taking a trip. No matter what type of family you're travelling with, whether you're a budding, small or big family – you do not want to miss this!
---
Caitlin & Tom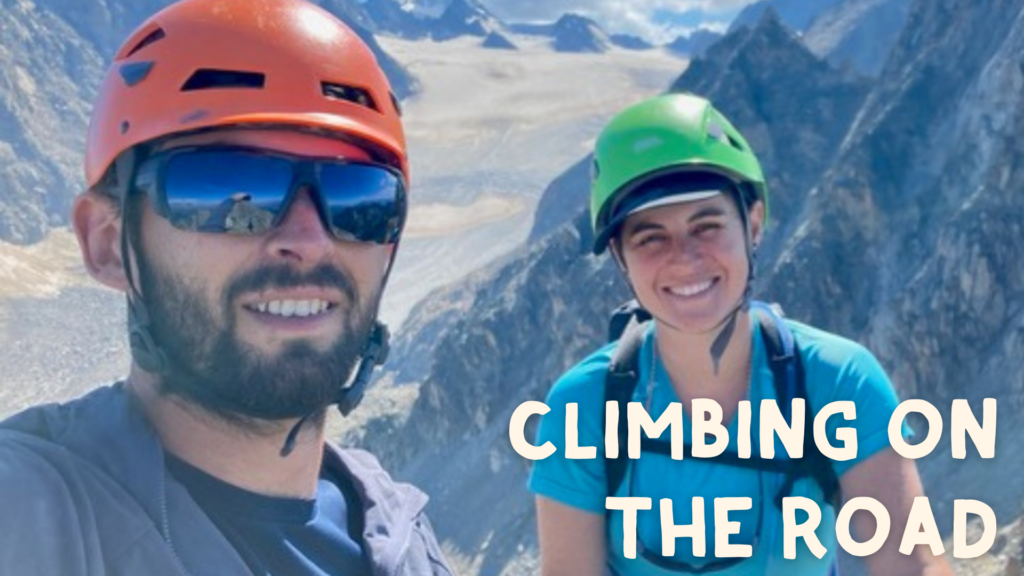 Love climbing? Love vanlife? Since living and travelling full time in their campervan, Caitlin and Tom have taken many climbing trips around the UK and Europe, including a 3-week mountaineering trip to the Alps last summer. The faces behind Contour Campers conversion company (and owners of Quirky rentals 'Wensley' and 'Xanthos'), they are also keen cycle tourers and backpackers and are experts at creating a campervan with lots of room for kit storage, while also considering things like places to hang wet gear, storing muddy boots and how to dry gear in between big days out (such as on a winter climbing trip to Scotland!). Join Contour Campers as they discuss the ins and outs of combining climbing with vanlife in our Vanlife Tent at Camp Quirky 2023!