EX - Baloo - Derby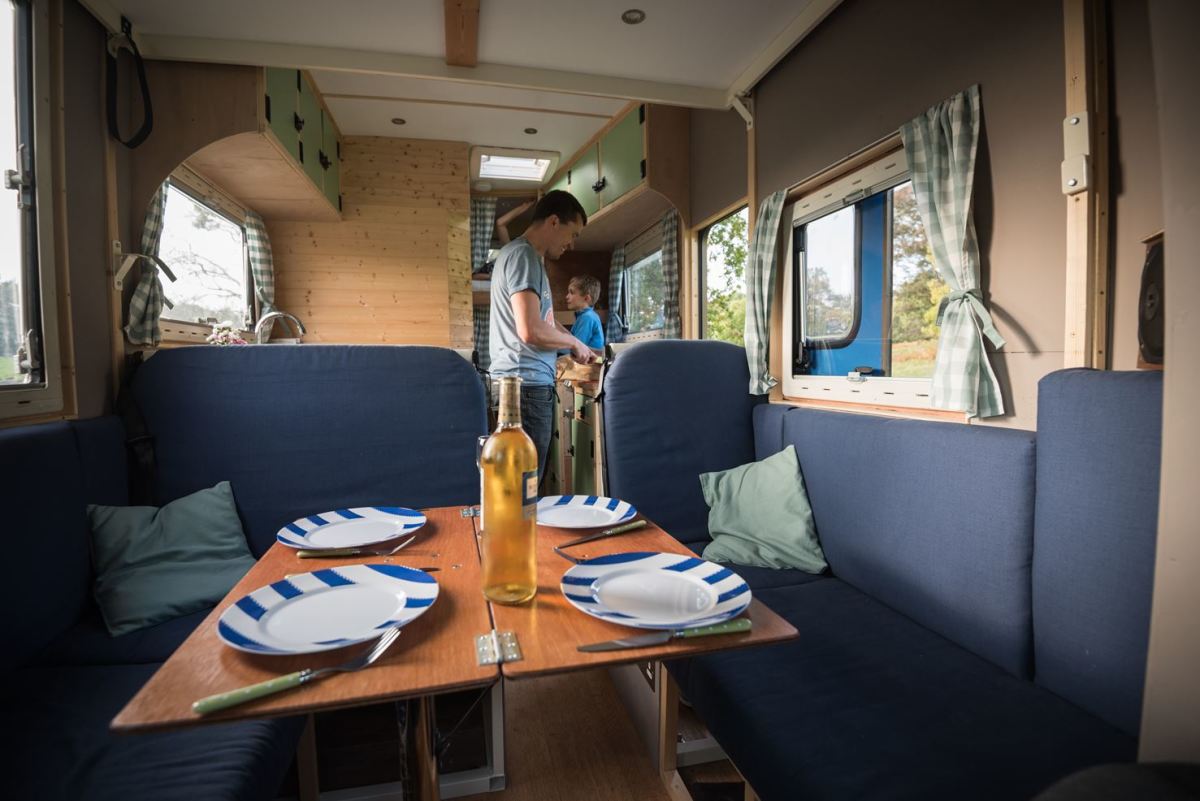 Derby
5 Belted seats 6 Adult berths
Just like his namesake, Baloo is big and friendly. And with a toilet, shower, complete kitchen and enough beds for 6, he is the ultimate companion for any journey. With a van this versatile you could go anywhere, with anyone! Whether it's surfing, cycling, skiing, or simply taking life easy, there is plenty of room for you, your mancubs and all your jungle friends. With the functionality of a modern day motorhome and the style and charisma of a country cottage, Baloo is bound to bring a song to your heart. His huge storage area is accessed externally and he has a shower on the outside so you can leave all trace of your muddy adventures outside and step into your wonderfully cosy home on wheels.
Essential Information
Hob
Heater
Dining Table
Oven
Refrigerator
Kitchen Sink
Outside Shower
Toilet
Solar
Reversing Camera
Extra Storage
CD Player
Audio Inputs
Radio
Inverter
Gas Capacity: &nbsp13 litres
Toilet Capacity: &nbsp20 litres
Waste Tank Capacity: &nbsp55 litres
Water Tank Capacity: &nbsp55 litres
EU Travel Allowed
About the Campervan
Description of Beds: two doubles and two single bunks

Description of Seating: Drivers swivel seat with 3 point seatbelt. Front passenger swivel seat with 3 point seatbelt. Three rear passenger seats with 3 point seatbelts.

About the area: Baloo lives in South Derby Close to the M1 and A50/M6 for easy access to Peak District, Lake Distric, Northern England and Scotland

Parking: Off street parking

Cooking Equipment: Cheese grater| frying pan | small mixing bowl | large mixing bowl | tiered saucepan (with 2 steamers) | medium saucepan | small saucepan | colander | stove top kettle | collapsible bucket with lid | dustpan & brush | cutlery (6x knives, forks, spoon, teaspoon) | enamel oven dish | large enamel oven dish | 6 large plates | 6 small plates | 6 bowls | 4 plastic children's plates | 4 plastic children's bowls | 4 mugs | 6 melamine mugs | cling film | foil | peeler | tongs | tin opener | slotted spoon | large spoon | chef knife | bread knife | slotted spatula | sieve | small chopping knife | jug | chopping board | wooden spoon | tea towels | food bags | salt & pepper.

Water Facilities: 55 litre under slung fresh water tank 55 litre under slung grey water tank

Audio Equipment: CD head unit with front and rear speakers

Type of Heating: Gas Heater

Conversion Story: Baloo was originally a British Gas van used to insulate homes in Scotland. The conversion was carried out by Ben and Katherine over a period of 4 months. Having viewed a number of 'plastic' motorhomes and small transit style campervans they wanted a spacious and airy campervan with a 'country cottage' feel. Lots of large 100x60cm windows have been fitted to bring the outside inside. The 7ft 3inch internal height gives a great feeling of space. On rainy days the upper double bed can be lowered to create a second 'lounge' or kids den while the dining area still has the head height for a seated adult underneath. Air suspension has been fitted to smooth the ride. The external shower is perfect for washing off salt water, cleaning muddy bikes and waterfights !
Pick up / Drop off Times
| - | Pick up | Drop off |
| --- | --- | --- |
| Sunday | 9:00AM - 5:00PM | 9:00AM - 5:00PM |
| Monday | 9:00AM - 5:00PM | 9:00AM - 5:00PM |
| Tuesday | 9:00AM - 5:00PM | 9:00AM - 5:00PM |
| Wednesday | 9:00AM - 5:00PM | 9:00AM - 5:00PM |
| Thursday | 9:00AM - 5:00PM | 9:00AM - 5:00PM |
| Friday | 9:00AM - 5:00PM | 9:00AM - 5:00PM |
| Saturday | 9:00AM - 5:00PM | 9:00AM - 5:00PM |
Note: Campervan Hire prices are per 24 hours. The default pick up and drop off time is 2pm. If you request a pick up or drop off outside of this, the owner will quote you for the additional time. Typically this is £12.50 per additional hour.
Vehicle Spec
Vehicle Type: Campervan
Make: Vauxhall
Model: Movano Loloader
Year: 2010
Vehicle Length: 7 metres
Vehicle Height: 3.1 metres
Length with hitch: 7.5 metres
Max Laden Weight (MAM): 3500 kg
Payload: 600 kg
Transmission: manual
Fuel Type: diesel
Registration: emailed when you book
Note: The hire of this vehicle is arranged by Quirky Campers ltd acting as the agent on behalf of EX - Baloo - Derby's owners. We make every effort to ensure that all the vehicles listed with us are of a high standard but cannot guarantee the condition of the vehicle. If you experience any problems please notify us as soon as possible.
Reviews
This van hasn't yet received any reviews.