Bianca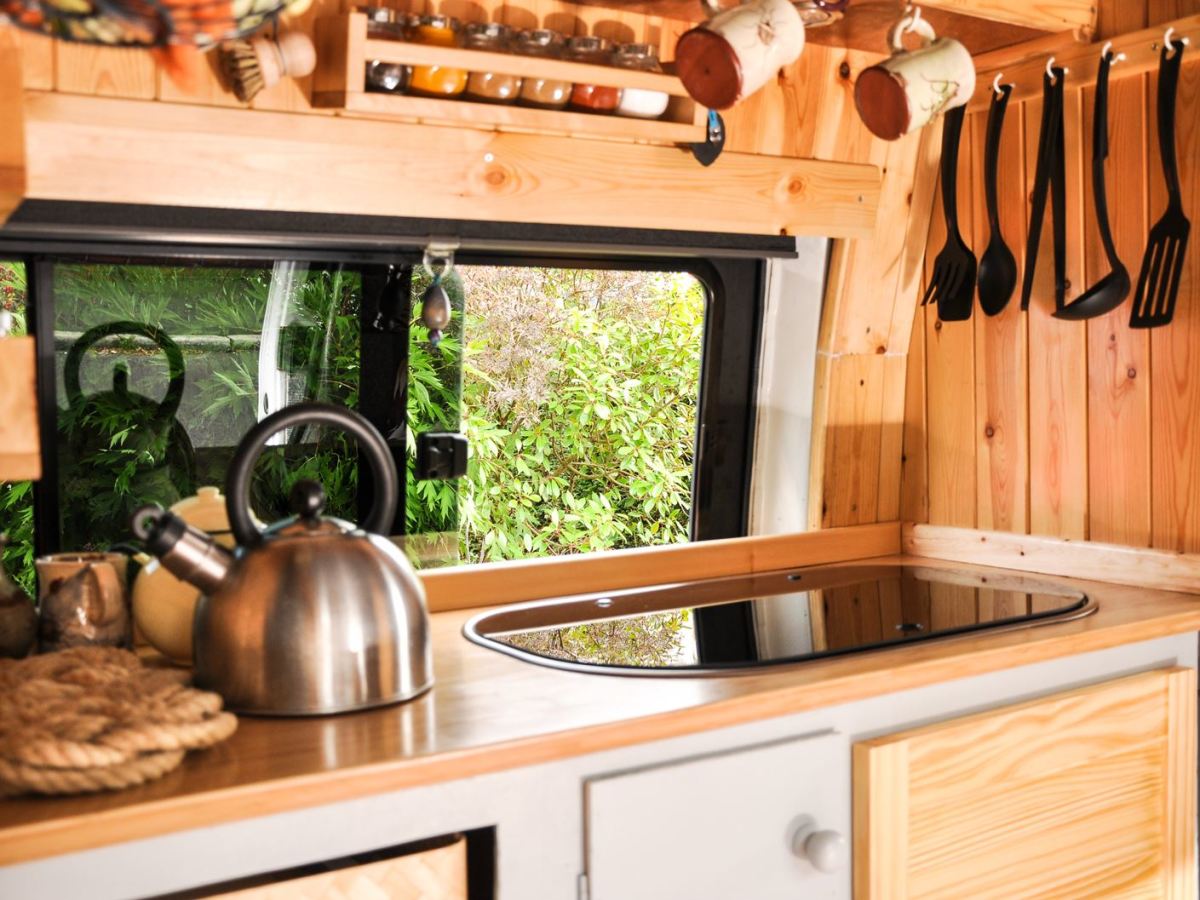 Sheffield
3 Belted seats 2 Adult berths
Bianca is a traveller! She's seen the world and takes it all in her stride. Her role in life is to connect you to the outdoors and enable you to get close to the things you love doing; be that walking, cycling, climbing or mountain biking. In fact, you can add a bike rack to your hire as an optional extra. This campervan hire Sheffield is ideally placed to help you explore the Peak District, the North of England and Scotland, with abundant storage for any gear you need to bring along. At the end of the day she's a cosy den where you can cook, eat, plan the next day's adventures and sleep soundly so you can get up and do it all again! She also loves a good festival and is very well insulated - so you are guaranteed a great night's sleep whatever time the party outside finishes!
Essential Information
Hob
Refrigerator
Kitchen Sink
Solar
Extra Storage
EU Travel Allowed
About the Campervan
Description of Beds: Fixed double bed - this runs across the vehicle and is 1.8m x 1.2m

Description of Seating: There are three forward facing front seats with 3 point seat belts

About the area: Bianca is based in the south west of Sheffield on the edge of the Peak District National Park. In twenty minutes you can reach the lovely villages of Hathersage, Grindleford or Eyam; all great centres for outdoor activities such as walking, climbing and mountain biking. Sheffield is just over 2 hours by train from London. We are a short taxi ride from the station.

Parking: Street parking

Cooking Equipment: Bianca has as great kitchen with two-burner hob, sink and fridge. She is really well equipped with utensils and cookware including: 4 tumblers | 4 wine glasses | Bottle opener | Corkscrew | Enamel coffee pot | Enamel tea pot | Medium Bodum Cafetiere | Bialetti espresso maker | Large whistling kettle | Small cream jug | Large milk jug | 4 mugs | 1 small thermos flask | 1 medium pan with lid | 1 medium steamer | 1 colander/strainer | 1 small stainless steel milk pan | 1 small enamel milk pan | 1 small non stick frying pan | 1 large chopping board | 1 bamboo salad bowl | 1 fruit basket | 1 fly proof food cover | 4 plates | 4 each of: knives, forks, spoons, teaspoons | 1 large and 1 small sharp knife | 1 cheese grater.

Water Facilities: 2 x 25L containers with electric pump feeding the kitchen sink

Audio Equipment: The cab has a Sony radio / cd player with aux in and Bluetooth. The accomodation has a small but powerful Bluetooth speaker that can be paired with phones etc.

Conversion Story: Bianca started her working life shifting furniture in Leeds. Jane bought her because she was fed up of having her tent blown away in the Scottish highlands! She has been in Jane's family for eight years and has taken her owners away for months on end-as far as the Dolomites, Copenhagen, Portugal and Southern Spain. In between her travels she has been slowly and carefully converted. After each journey new tweaks and improvements have been made to make her more comfortable and user friendly.
Pick up / Drop off Times
| - | Pick up | Drop off |
| --- | --- | --- |
| Sunday | 9:00AM - 5:00PM | 9:00AM - 5:00PM |
| Monday | 9:00AM - 5:00PM | 9:00AM - 5:00PM |
| Tuesday | 9:00AM - 5:00PM | 9:00AM - 5:00PM |
| Wednesday | 9:00AM - 5:00PM | 9:00AM - 5:00PM |
| Thursday | 9:00AM - 5:00PM | 9:00AM - 5:00PM |
| Friday | 9:00AM - 5:00PM | 9:00AM - 5:00PM |
| Saturday | 9:00AM - 5:00PM | 9:00AM - 5:00PM |
Note: Campervan Hire prices are per 24 hours. If you request pick-up at an earlier time than your drop-off time the owner will quote you for the additional hours. Typically this is £12.50 per additional hour.
Vehicle Spec
Vehicle Type: camper-van
Make: Mercedes-Benz
Model: Sprinter
Year: 2006
Vehicle Length: 6 metres
Vehicle Height: 2.5 metres
Max Laden Weight (MAM): 3500 kg
Payload: 770 kg
Transmission: manual
Fuel Type: diesel
Registration: emailed when you book
Note: The hire of this vehicle is arranged by Quirky Campers ltd acting as the agent on behalf of Bianca's owners. We make every effort to ensure that all the vehicles listed with us are of a high standard but cannot guarantee the condition of the vehicle. If you experience any problems please notify us as soon as possible.