Elvira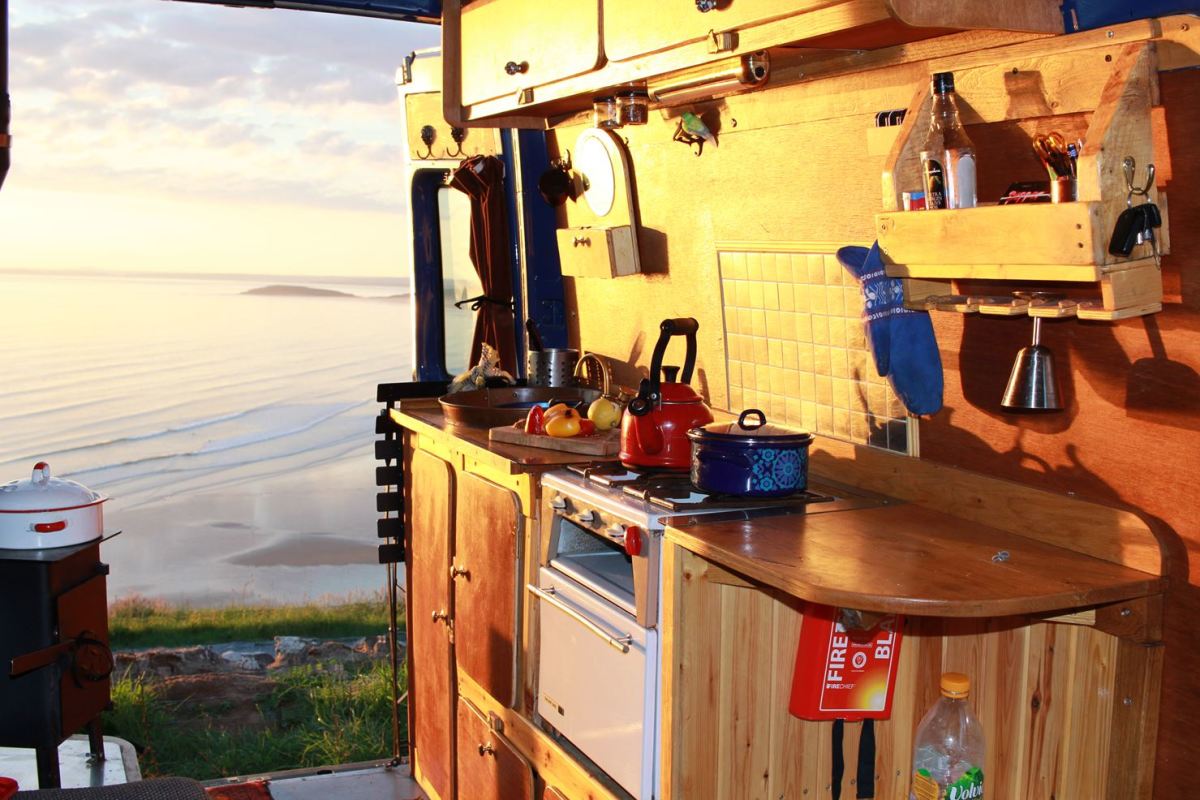 Bristol
3 Belted seats 2 Adult berths
Elvira is a van for adventurers and free spirits. She's been hand-converted super creatively, with a myriad of reclaimed materials. You'll make your meals on a vintage enamel stove, drink from metal wine goblets, and brush your teeth in a copper sink that used to be a preserving pan. There's lots of storage space, three belted seats and a super cosy bed for two. The bed folds away to give oodles of space in daytime so you can draw, make music, pull on your hiking boots or get your festival glad rags on. In the evening, pull the velvet curtains, relax onto the sumptuous cushions, and keep warm with the gorgeous wood burner. There's room for one or two people to stretch out, or for many more to sit and socialise. We particularly love the multi-coloured lighting that lets you choose the perfect hue for the atmosphere you want.
Essential Information
Hob
Heater
Oven
Kitchen Sink
Extra Storage
EU Travel Allowed
About the Campervan
Description of Beds: Foldout extra wide double bed

Description of Seating: 3 front facing seats including drivers seat 2 rear facing seats suitable for shorter journeys, adults only. (not suitable for smaller children in the back).

About the area: Elvira lives outside my house in Easton in Bristol. We are about 10 mins walk from Lawrence Hill Station or half an hour from Bristol Temple Mead (Main Station). Get in touch to enquire about the cost of being collected.

Parking: Street parking

Cooking Equipment: 2 x saucepans | 1 x large frying pan | 2 x oven dishes | 1 x chopping board and bread knife | 1 x grill tray | 1 x bottle opener | 1 x opinel knife | 2 x enamel cups | 2 copper drinking cups | 2 x wooden bowls | 2 x enamel bowls | 3 x enamel plates | 3x knives, forks, spoons, tea spoons | 1 x wooden spoon | 2 x metal wine goblets | 1 x cheese grater | 3 x sharp knives | 1 x table cloth | 1x tea towel | 1x Le Creuset kettle | 1 x coffee plunger | Fireside equipment: Tongs and poker for woodburner | Fire Safety: Fire extinguisher | ABC Fire blanket for pan fires | Smoke alarm | Carbon monoxide alarm | Games: Pack of cards | wooden chess set.

Water Facilities: 20L portable container with brass galley pump

Audio Equipment: The stereo runs off leisure battery with speakers in front and rear. Can play CDs or line in from mobile phone. Mini jack cable provided.

Type of Heating: Woodburner

Conversion Story: Elvira was born to a Hungarian teacher with a family history of artisans; embroiders, tailors and painters. Much of her wood work has been salvaged from reclamation yards or found on the streets of Bristol. Her copper sink started life as a jam making pot, her cutlery drawer was an antique till, her shelving a wooden crate and her steel was found leaning against a derelict house. Most of her brass features are from barge and marine outlets which give the interior a boaty feel. She began life in a snowy field in Shropshire, then was later upholstered lovingly by her talented brother and refined during the winter nights by her owner after a long day teaching. Elvira's luxurious fabrics give her a very cosy but theatrical feel with red velvet curtains and ambient lighting. Her details include brass galley pump, mirror and small cupboard for contact lense wearers, cosy wood burning stove as well as a choice of colours from the ambient strip light that varies from deep blue to red or green stripes.
Pick up / Drop off Times
| - | Pick up | Drop off |
| --- | --- | --- |
| Sunday | 9:00AM - 5:00PM | 9:00AM - 5:00PM |
| Monday | 9:00AM - 5:00PM | 9:00AM - 5:00PM |
| Tuesday | 9:00AM - 5:00PM | 9:00AM - 5:00PM |
| Wednesday | 9:00AM - 5:00PM | 9:00AM - 5:00PM |
| Thursday | 9:00AM - 5:00PM | 9:00AM - 5:00PM |
| Friday | 9:00AM - 5:00PM | 9:00AM - 5:00PM |
| Saturday | 9:00AM - 5:00PM | 9:00AM - 5:00PM |
Note: Campervan Hire prices are per 24 hours. If you request pick-up at an earlier time than your drop-off time the owner will quote you for the additional hours. Typically this is £12.50 per additional hour.
Vehicle Spec
Vehicle Type: camper-van
Make: Mercedes-Benz
Model: Sprinter
Year: 2001
Vehicle Length: 6 metres
Vehicle Height: 2.75 metres
Max Laden Weight (MAM): 3500 kg
Payload: 822 kg
Transmission: manual
Fuel Type: diesel
Registration: emailed when you book
Note: The hire of this vehicle is arranged by Quirky Campers ltd acting as the agent on behalf of Elvira's owners. We make every effort to ensure that all the vehicles listed with us are of a high standard but cannot guarantee the condition of the vehicle. If you experience any problems please notify us as soon as possible.