Zeb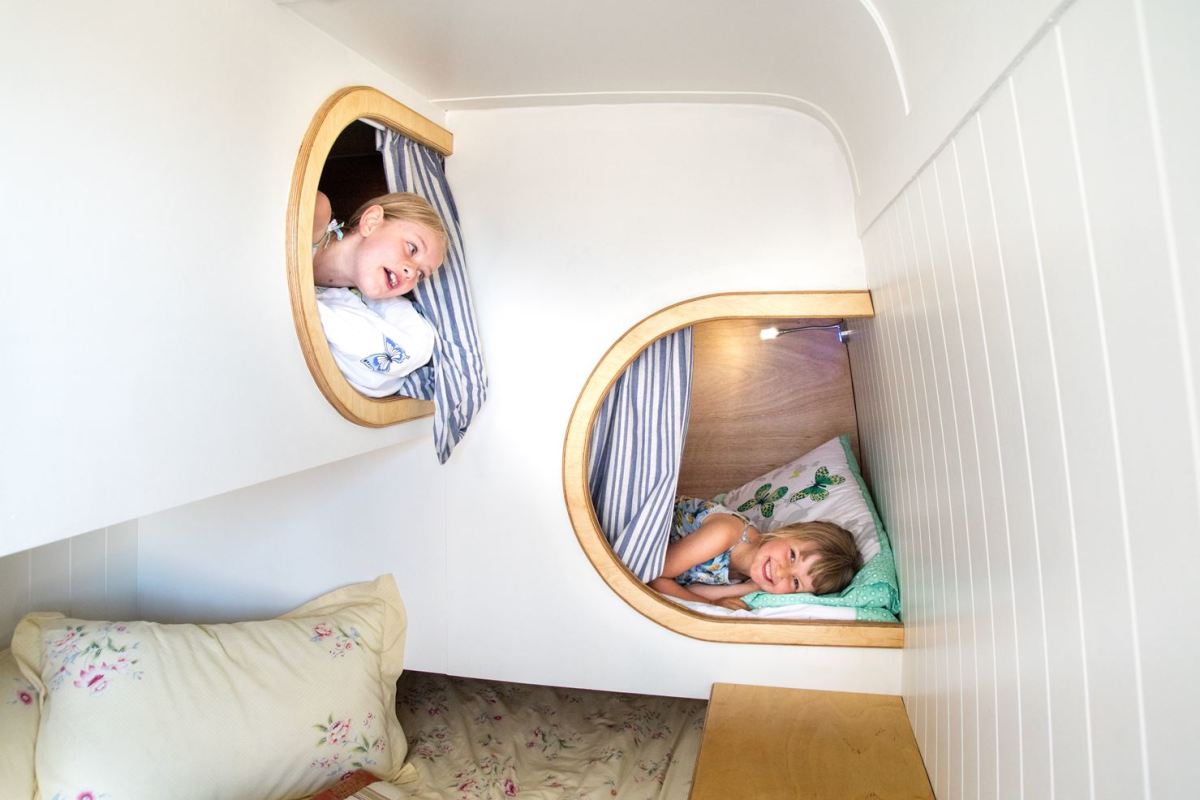 Somerset
4 Belted seats 2 Adult berths 2 Child berths
Zeb is a fabulously functional campervan who is perfect for a practical and beautiful chilled out family holidays in the South West and beyond. From the moment you step inside his cool, bright and spacious interior you will delight in the modern, fully equipped kitchen, the flexible family seating area, the super cool sleeping pods and the frankly incredible design details like copper pipe taps and French-style tiles. Unlike some other campervans, all of Zeb's beds are fixed, which means no faffing with converting folding seats at the end of a long day's adventuring. With lots of handy & clever storage solutions for all you could possibly need on your road trip, as well as the option to hire brilliant extras such as a fire pit and camping furniture, Zeb has the essentials down for stress-free, fun family trips. Update for 2021: Zeb now comes equipped with solar energy - perfect for off-grid camping.
Essential Information
Hob
Dining Table
Refrigerator
Kitchen Sink
Bike Rack
Solar
Reversing Camera
Extra Storage
CD Player
Radio
Water Tank Capacity: &nbsp70 litres
EU Travel Allowed
About the Campervan
Description of Beds: Standard double (135cm x 190cm) plus 2 bunks each 70cm wide and 170cm and 190cm long. All are fixed permanently and have real mattresses for a comfortable night's sleep. While the kid's bunks are large enough for a small adult, there is a 7 stone weight limit on them.

Description of Seating: There are two swivel seats in the front of the cab. Behind them is a removable table and another 2 seats for the kids. The table makes journeys a breeze as kids are kept busy reading, colouring or playing cards. The seat belts are all 3 point and as the table is removable, is suitable for child car seats.

About the area: Zeb lives in Shepton Mallet about 20 miles south of the M4, Bath and Bristol and a taxi ride from Bristol International Airport

Parking: Street parking

Cooking Equipment: 3 saucepans (1 used as frying pan) with lids | 4 piece cutlery set | 4 piece bowl, plate and deep plate set (enamel) | 2 wine glasses | 4 plastic glasses | 1 kettle | 1 Cafetiere | Salt and pepper grinders | olive oil | bottle opener | tin opener | sharp knives | peeler | gas lighter | Tea towels | dish cloths | scourer | washing up liquid | soap | cling film | tin foil | matches | Collapsible Silicone colander/strainer/steamer | collapsible washing up bowl | 4 coloured chopping boards | cheese board | 4 x mugs | Measuring jug | reusable ice cubes.

Water Facilities: 70 Litre capacity water tank with electric pump activated by on/off switch.

Audio Equipment: Van radio

Conversion Story: We are a family that love to travel and explore so we wanted to create a family-friendly campervan for holidays, short breaks and day trips. A local carpenter completed the conversion for us over the winter of 2018. The layout is so clever and the kids love their sleeping pods. It's great having all of the sleeping areas set up with "real mattresses" without the need to make up beds from seating areas.
Pick up / Drop off Times
| - | Pick up | Drop off |
| --- | --- | --- |
| Sunday | 9:00AM - 8:00PM | 9:00AM - 8:00PM |
| Monday | 9:00AM - 8:00PM | 9:00AM - 8:00PM |
| Tuesday | 9:00AM - 8:00PM | 9:00AM - 8:00PM |
| Wednesday | 9:00AM - 8:00PM | 9:00AM - 8:00PM |
| Thursday | 9:00AM - 8:00PM | 9:00AM - 8:00PM |
| Friday | 9:00AM - 8:00PM | 9:00AM - 8:00PM |
| Saturday | 9:00AM - 8:00PM | 9:00AM - 8:00PM |
Note: Campervan Hire prices are per 24 hours. If you request pick-up at an earlier time than your drop-off time the owner will quote you for the additional hours. Typically this is £12.50 per additional hour.
When would you like to go?
Sorry, there was a problem...
Vehicle Spec
Vehicle Type: camper-van
Make: MERCEDES-BENZ
Model: Sprinter 310CDI
Year: 2012
Vehicle Length: 7.4 metres
Vehicle Height: 2.6 metres
Max Laden Weight (MAM): 3500 kg
Payload: 501 kg
Transmission: manual
Fuel Type: diesel
Registration: emailed when you book
Note: The hire of this vehicle is arranged by Quirky Campers ltd acting as the agent on behalf of Zeb's owners. We make every effort to ensure that all the vehicles listed with us are of a high standard but cannot guarantee the condition of the vehicle. If you experience any problems please notify us as soon as possible.