Freya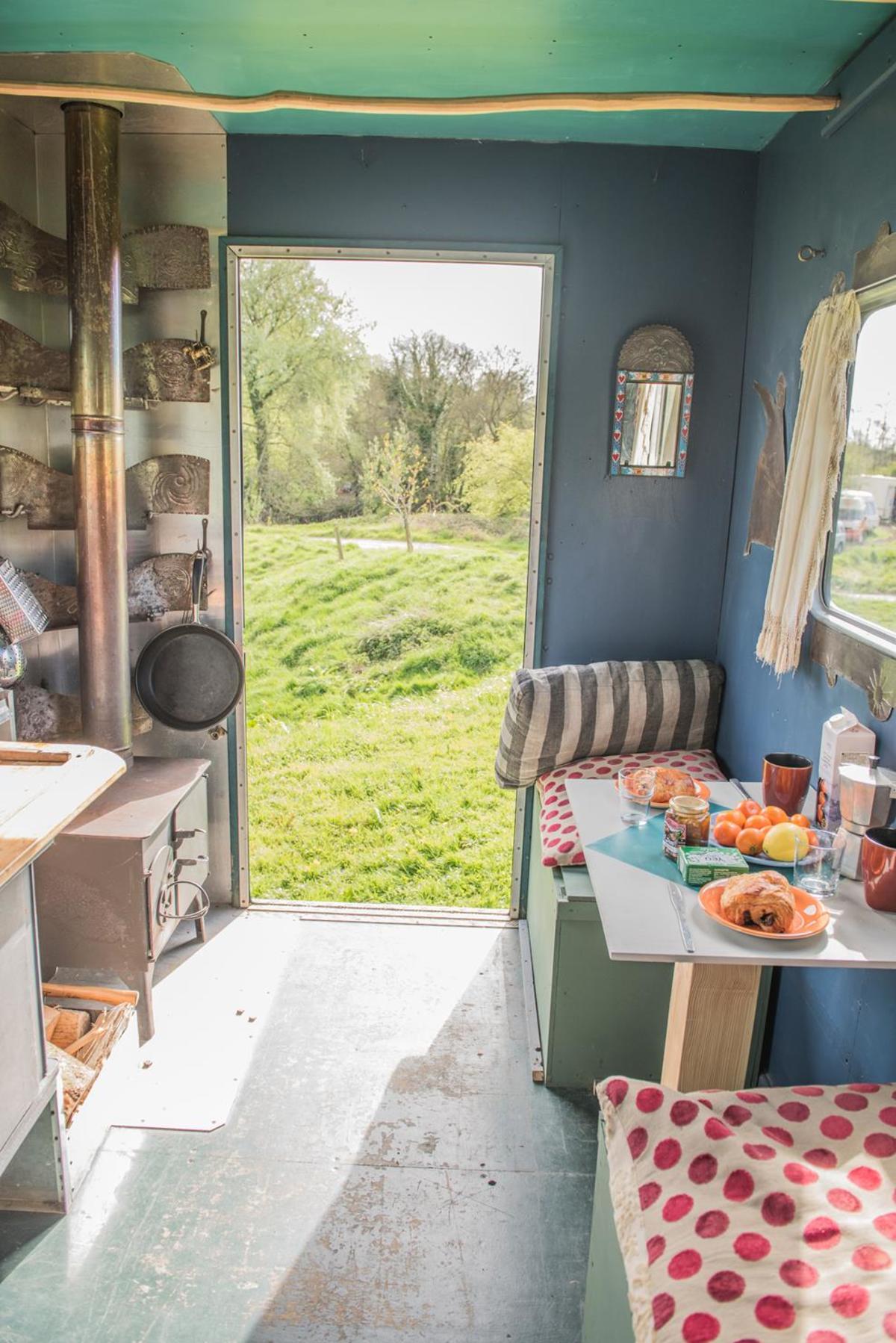 Gloucestershire
3 Belted seats 2 Adult berths 1 Child berths
Freya was born into a travelling theatre and circus performer family – so if you want to live your dream of running away with the circus, this is the camper van for you!

Fresh from a brand new respray, and bedecked from head to toe in eclectic and vintage fabrics and hand-patterned metalwork this bohemian campervan hire is an absolute dream to travel in. On nippy nights, you can snuggle into that cosy bed or curl up with a book by the woodburning stove/oven, and on sunny mornings, throw open the stable door for a fresh air breakfast. This pet friendly camper is the perfect set up for the ultimate festival glamping experience, or maybe take her further afield to some of Europe's most beautiful destinations. Wherever you go, you'll certainly turn heads with this stunning camper van!

If you would like to park up in a rural field in Pembrokeshire, please enquire direct with owner as we have park up available 2 miles from the sea near Newport Pembrokeshire.
Essential Information
Hob
Heater
Dining Table
Oven
Refrigerator
Outside Shower
Toilet
Solar
Extra Storage
Radio
Pet Friendly
EU Travel Allowed
About the Campervan
For long term hire (7 days+), a 10% discount is applied when booking

Description of Beds: Double bed, single bed and small bench bed

Description of Seating: 3 seats in the front

Parking: Street parking

Cooking Equipment: Cupboard full of pans/pots/plates/bowls/glasses/cutlery/some bbq equipment/hob top grill.

Water Facilities: Water buts provided to be filled

Audio Equipment: Tape deck and radio in cab

Type of Heating: Woodburner

Conversion Story: Originally owned by my father, used in travelling theatre around Europe, then spent a few years in my own Circus as living accommodation - I still take her on tour with the Circus in between letting her out.

Extra Information:If you are worried about driving such a large van I can deliver it to a campsite of your choice within 20 miles of the Forest of Dean, for an extra £50. Freya also has a NEW SOLAR SYSTEM INSTALLED! So she now has interior 12 volt lighting and usb charging points with plenty of power!

Warning: The payload of this vehicle is 320kg. This is below the Quirky Campers recommended payload of 370kg for a vehicle with 3 belted seats. Drivers need to be aware that the total weight of driver, passengers and baggage must be below 320kg to keep the vehicle within its legal Max Allowed Mass (MAM) of 3500kg
Pick up / Drop off Times
| - | Pick up | Drop off |
| --- | --- | --- |
| Sunday | 9:00AM - 5:00PM | 9:00AM - 5:00PM |
| Monday | 9:00AM - 5:00PM | 9:00AM - 5:00PM |
| Tuesday | 12:30AM - 5:00PM | 9:00AM - 5:00PM |
| Wednesday | 9:00AM - 5:00PM | 9:00AM - 5:00PM |
| Thursday | 9:00AM - 5:00PM | 9:00AM - 5:00PM |
| Friday | 9:00AM - 5:00PM | 9:00AM - 5:00PM |
| Saturday | 9:00AM - 5:00PM | 9:00AM - 5:00PM |
Note: Campervan Hire prices are per 24 hours. The default pick up and drop off time is 2pm. If you request a pick up or drop off outside of this, the owner will quote you for the additional time. Typically this is £12.50 per additional hour.
When would you like to go?
Sorry, there was a problem...
Vehicle Spec
Vehicle Type: Campervan
Make: Mercedes-Benz
Model: 310 Luton box
Year: 1995
Vehicle Length: 6 metres
Vehicle Height: 3.15 metres
Max Laden Weight (MAM): 3500 kg
Payload: 320 kg
Transmission: manual
Fuel Type: diesel
Registration: emailed when you book
Note: The hire of this vehicle is arranged by Quirky Campers ltd acting as the agent on behalf of Freya's owners. We make every effort to ensure that all the vehicles listed with us are of a high standard but cannot guarantee the condition of the vehicle. If you experience any problems please notify us as soon as possible.