Magic Mike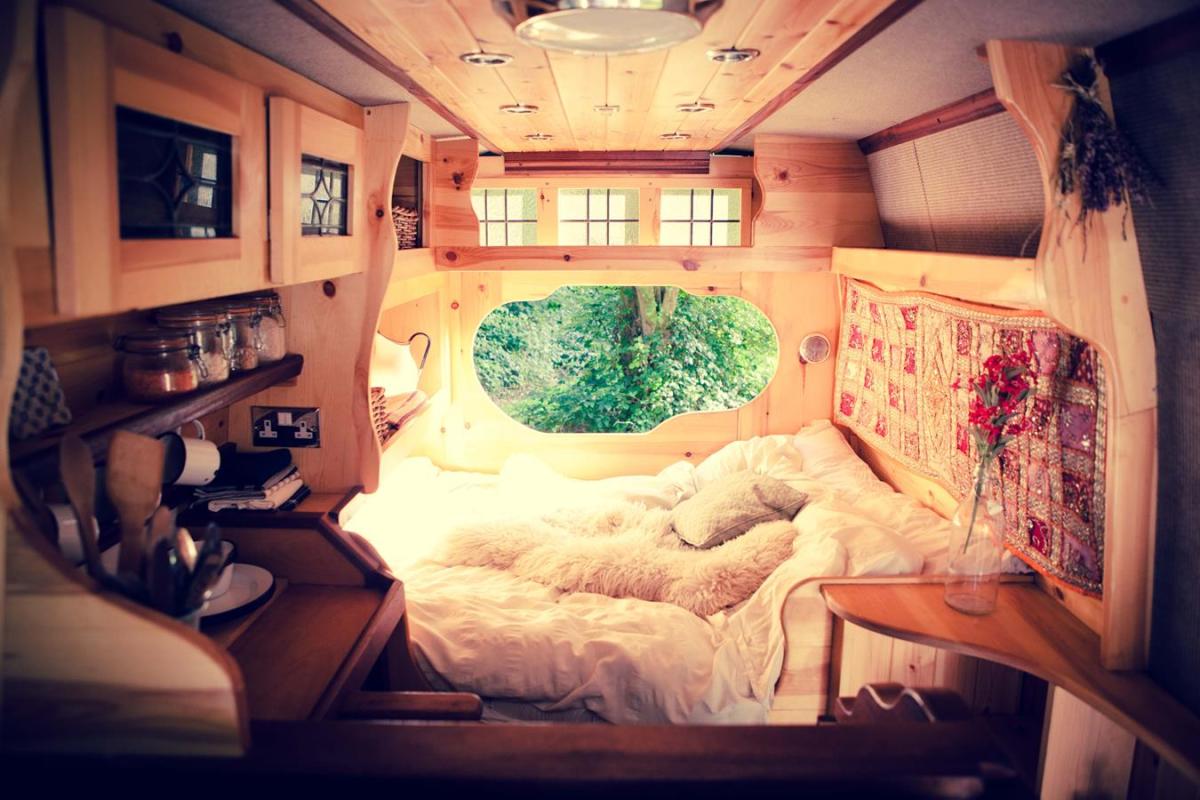 Bristol
5 Belted seats 2 Adult berths
Magic Mike is beautifully handcrafted with a narrowboat vibe, complete with a porthole and a unique wooden frame at the back to give a degree of privacy even with the doors open. If you're looking for rustic charm, Mike has it all, from his chunky woodwork, to the compact kitchen, to the leaded, stained glass cupboard doors and the cosy bed. NB - The bed is a little bit shorter than a standard bed as it's the width of the van. Even though he's not a spring chicken, he's got a lovely feel and you're sure to get admiring comments from your campsite neighbours. With 5 seats including some that swivel they create a comfy socialising space, Mike has room for families and friends if you take a tent as well (and happily there's plenty of storage space for all your gear). Mike has powerful LED lights throughout, diesel-powered heating, 240v mains hook-up, plus running water, grill, and hob. Magic Mike is a great accomplice for any adventure big or small.
Essential Information
Hob
Heater
Dining Table
Kitchen Sink
Extra Storage
CD Player
Audio Inputs
Radio
Inverter
Pet Friendly
Water Tank Capacity: &nbsp20 litres
EU Travel Allowed
About the Campervan
Description of Beds: Short Double bed (5'7" or 1.7m)

Description of Seating: Two swivel captain seat in the front cab and a row of three seats behind. All seats have 3 point belts and all the passenger seats are suitable for child and baby car seats

About the area: Bristol

Parking: There is street parking available at renter's own risk

Cooking Equipment: Cutlery, crockery and cooking equipment for four Washing up bowl and cleaning equipment Spare gas bottle

Water Facilities: 20 litre refillable water container with electric tap

Audio Equipment: Fm/Am Radio and CD player with Aux Line for MP3 players or usb for media and charging

Type of Heating: Diesel Heater

Conversion Story: Magic Mike's owner Bean used to work in festival production and would spend many months in fields onsite. She bought Mike who was then lovingly converted by a great chap called Andy, who used to restore narrowboats ~ hence his narrowboat feel!

Warning: The payload of this vehicle is 290kg. This is below the Quirky Campers recommended payload of 550kg for a vehicle with 5 belted seats. Drivers need to be aware that the total weight of driver, passengers and baggage must be below 290kg to keep the vehicle within its legal Max Allowed Mass (MAM) of 2800kg
Pick up / Drop off Times
| - | Pick up | Drop off |
| --- | --- | --- |
| Sunday | 2:00PM - 2:00PM | 12:00PM - 12:00PM |
| Monday | 2:00PM - 2:00PM | 12:00PM - 12:00PM |
| Tuesday | 2:00PM - 2:00PM | 12:00PM - 5:00PM |
| Wednesday | 2:00PM - 2:00PM | 12:00PM - 12:00PM |
| Thursday | 2:00PM - 2:00PM | 12:00PM - 12:00PM |
| Friday | 2:00PM - 2:00PM | 12:00PM - 12:00PM |
| Saturday | 2:00PM - 2:00PM | 12:00PM - 12:00PM |
Note: Campervan Hire prices are per 24 hours. The default pick up and drop off time is 2pm. If you request a pick up or drop off outside of this, the owner will quote you for the additional time. Typically this is £12.50 per additional hour.
When would you like to go?
Sorry, there was a problem...
Vehicle Spec
Vehicle Type: Campervan
Make: Volkswagen
Model: LT28
Year: 2003
Vehicle Length: 6 metres
Vehicle Height: 2.5 metres
Max Laden Weight (MAM): 2800 kg
Payload: 290 kg
Transmission: manual
Fuel Type: diesel
Registration: emailed when you book
Note: The hire of this vehicle is arranged by Quirky Campers ltd acting as the agent on behalf of Magic Mike's owners. We make every effort to ensure that all the vehicles listed with us are of a high standard but cannot guarantee the condition of the vehicle. If you experience any problems please notify us as soon as possible.