Justin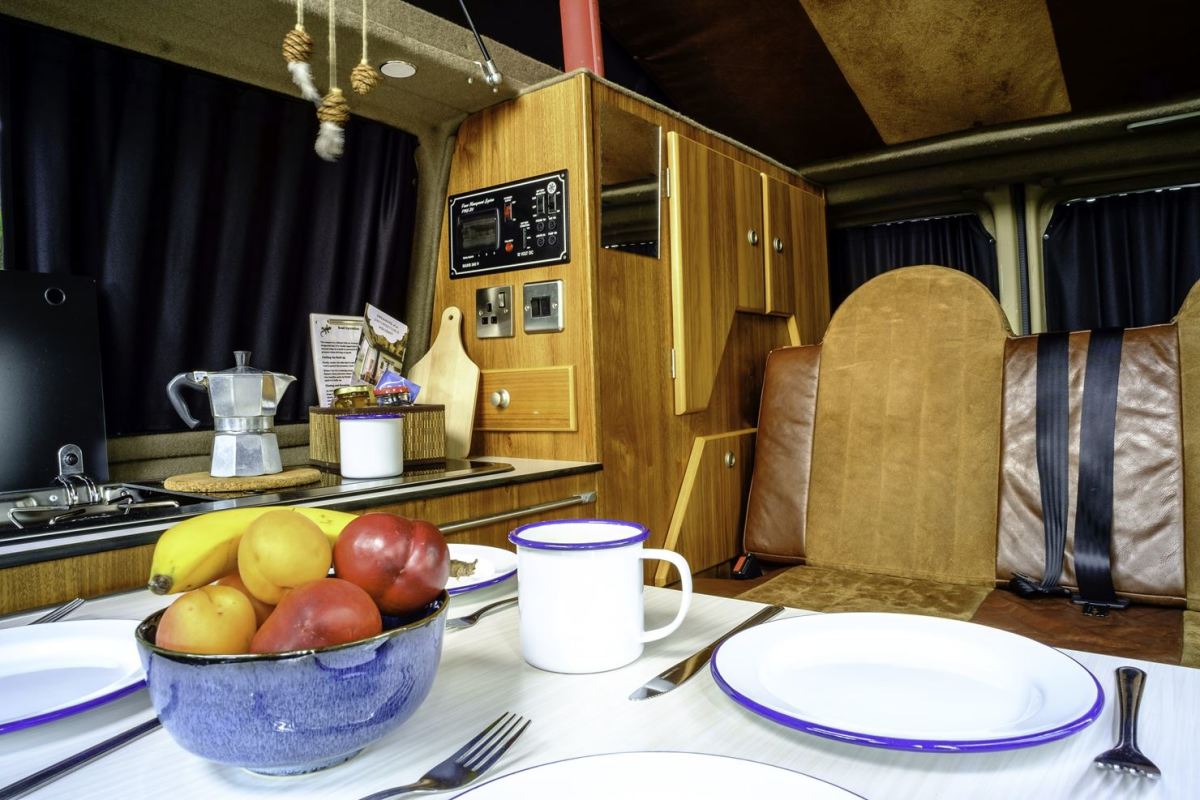 Cambridge
4 Belted seats 3 Adult berths 1 Child berths
Justin is a classic VW T5 who's perfect for a family or a couple's camper van holiday. This campervan hire Cambridge is rearing to transport you on the most awesome of adventures – you just need to decide what to bring, and where you're going! Inside, Justin is like a cool saloon bar with his leather seats and chic wooden counters and storage cupboards. There is spacious storage under the bed, large spaces at the back, a cupboard for clothes, and more storage at the base of the kitchen unit. One of the great benefits of being a compact Volkswagen camper van is that you will be able to take Justin on roads that other camper vans just might not be able to. So, imagine yourself parked up on a secluded Scottish beach, or a tucked away spot on a mountain pass, pop top up, bunting out, BBQ going…. what more could you want from a camper van holiday? Besides, of course, spending it in a van as handsome as Justin!
Essential Information
Hob
Heater
Dining Table
Refrigerator
Kitchen Sink
Outside Shower
Tow Bar
Extra Storage
CD Player
Audio Inputs
Radio
Pet Friendly
Water Tank Capacity: &nbsp30 litres
EU Travel Allowed
About the Campervan
Description of Beds: Sleeping arrangements are a doddle; the rock and roll seats convert at night into a double bed downstairs, and the pop top has a pull down bed that will sleep two children or one adult.

Description of Seating: 2 in the front, 2 in the back

About the area: Justin is living in a vibrant Cohousing community. when he is not away with one of our members you can book it for your own pleasure.

Parking: Off street parking

Cooking Equipment: The fully equipped kitchen itself has a two-burner hob, oven, fridge, and a 30litre fresh water tank. You've also got enough pots, pans and cutlery to feed an army. Well, to definitely feed the 4 of you that will living in Justin! Cutlery, crockery (enameled plates, mugs, bowls of different sizes) pots to accommodate 4 people. Knives | cutting board | grinder | foils | spices | tea towel | kettle | liquid soap | sponge | multi surface cleaner | disposable cleaning cloths | brush | laundry detergent | bedding and bath towels | first aid kit.

Water Facilities: 30l tank under the van usable in the sink

Optional: Lichfield California Drive-Away Air Awning. Ask the owner when booking.
Pick up / Drop off Times
| - | Pick up | Drop off |
| --- | --- | --- |
| Sunday | 9:00AM - 5:00PM | 9:00AM - 5:00PM |
| Monday | 9:00AM - 5:00PM | 9:00AM - 5:00PM |
| Tuesday | 9:00AM - 5:00PM | 9:00AM - 5:00PM |
| Wednesday | 9:00AM - 5:00PM | 9:00AM - 5:00PM |
| Thursday | 9:00AM - 5:00PM | 9:00AM - 5:00PM |
| Friday | 9:00AM - 5:00PM | 9:00AM - 5:00PM |
| Saturday | 9:00AM - 5:00PM | 9:00AM - 5:00PM |
Note: Campervan Hire prices are per 24 hours. The default pick up and drop off time is 2pm. If you request a pick up or drop off outside of this, the owner will quote you for the additional time. Typically this is £12.50 per additional hour.
When would you like to go?
Sorry, there was a problem...
Vehicle Spec
Vehicle Type: Campervan
Make: Volkswagen
Model: T5
Year: 2008
Vehicle Length: 5.3 metres
Vehicle Height: 2.1 metres
Max Laden Weight (MAM): 3000 kg
Payload: 3,000 kg
Transmission: manual
Fuel Type: diesel
Registration: emailed when you book
Note: The hire of this vehicle is arranged by Quirky Campers ltd acting as the agent on behalf of Justin's owners. We make every effort to ensure that all the vehicles listed with us are of a high standard but cannot guarantee the condition of the vehicle. If you experience any problems please notify us as soon as possible.