EX - Mabel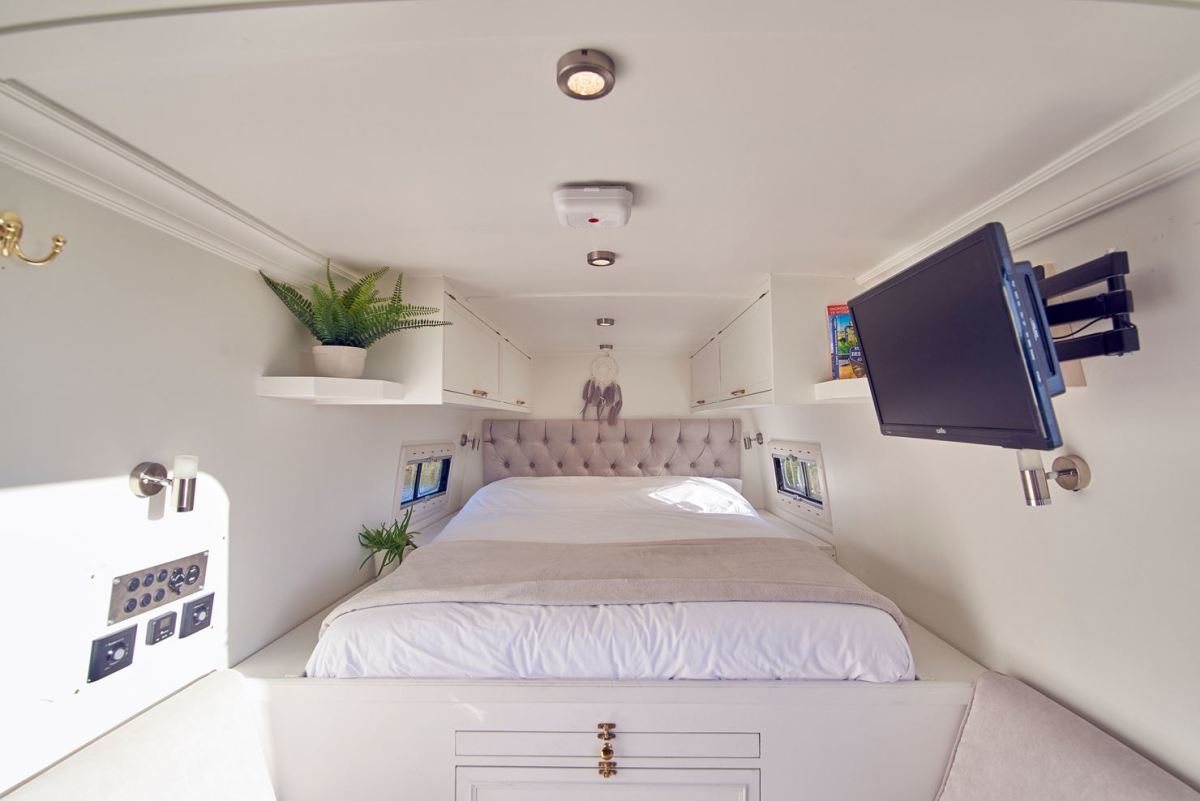 Liverpool
3 Belted seats 3 Adult berths
Mabel is one heck of a cool, classy and downright luxurious camper van. Professionally and newly converted by owner Tom, at Escape Campervan Conversions, this campervan hire Liverpool is like walking into a high-end boutique hotel room. This Mercedes Sprinter camper van has been practically laid out to give you an awesome fixed double bed at one end, sofa seating and optional third birth in the middle, and a stunning shaker style kitchen at the other end. Combined with masses of storage in the form of overhead cupboards and a large garage area, Mabel is perfect for a family-friendly camper van holiday. Blending effortless style with loads of super practical storage and functionality, she is ready to give you a complete home away from home on wheels vibe, as she has a diesel heater for colder nights, running hot water, a TV and DVD player for snuggly film nights, and a portable toilet as an optional extra. She'll make you feel so much at home; you might not want to give her back!
Essential Information
Hob
Heater
Dining Table
Oven
Refrigerator
Kitchen Sink
Reversing Camera
Extra Storage
TV / DVD
EU Travel Allowed
About the Campervan
Description of Beds: standard double fixed bed and single fold out bed. (1750 x 800)

Description of Seating: Standard van seats - Single driver and twin passenger seat in cab.

About the area: Mabel is located at my workshop in bickerstaffe, just off junction 3 on M58. After exiting the motorway head southeast on rainford road towards rainford and take the immediate left turn at the restaurant, Quattros. There is a car park 100 yards up on the left hand side (outside a barn). Park here and call me NOTE!! Sat nav will take you on a goose chase!

Parking: Off street parking

Cooking Equipment: The kitchen feels just like cooking at home with a three-burner hob and oven. You could cook up a full Sunday dinner in there if you wanted to! You've also got a fridge and a freezer onboard, so stick a bottle of something cold in the fridge, go out and have an adventure, then come back to snuggle up in Mabel and watch the sun set as you chill out on the comfy sofas. Cooking equipment includes: Selection of cutlery, Knives, utensils, pots, pans, roasting dish, pizza tray, cups plates and bowls

Water Facilities: 75L fresh water tank in garage area with external filler cap 55L grey water tank slung under van. Drain tap under drivers side door. Consistent water pressure from 12v shurflow diaphragm pump.

Audio Equipment: Bluetooth audio in cab

Type of Heating: Diesel Heater

Conversion Story: Mabel was converted by me, Tom, at Escape Campervan Conversions Ltd. It took me a total time of 16 working days (and nights) to get this van finished as it was started straight on the back of a conversion i did for a customer and needed to be finished in time for Camp Quirky 2019, where we then headed off on a 4 week trip around Europe. The trip was nothing short of amazing and the practicality of huge kitchen area and stupid amounts of storage space made the trip so much more comfortable. Now its time for others enjoy her like we have! She feels super airy and spacious with clean white walls and light furnishings. The cleverly designed storage means you never feel cluttered or crowded, there's definitely enough room for the whole family and everything you could possibly want to bring along for an awesome camper van holiday
Vehicle Spec
Vehicle Type: camper-van
Make: Mercedes-Benz
Model: Sprinter
Year: 2014
Vehicle Length: 7 metres
Vehicle Height: 2.7 metres
Length with hitch: 7 metres
Max Laden Weight (MAM): 3500 kg
Payload: 500 kg
Transmission: manual
Fuel Type: diesel
Registration: emailed when you book
Note: The hire of this vehicle is arranged by Quirky Campers ltd acting as the agent on behalf of EX - Mabel's owners. We make every effort to ensure that all the vehicles listed with us are of a high standard but cannot guarantee the condition of the vehicle. If you experience any problems please notify us as soon as possible.