Meringue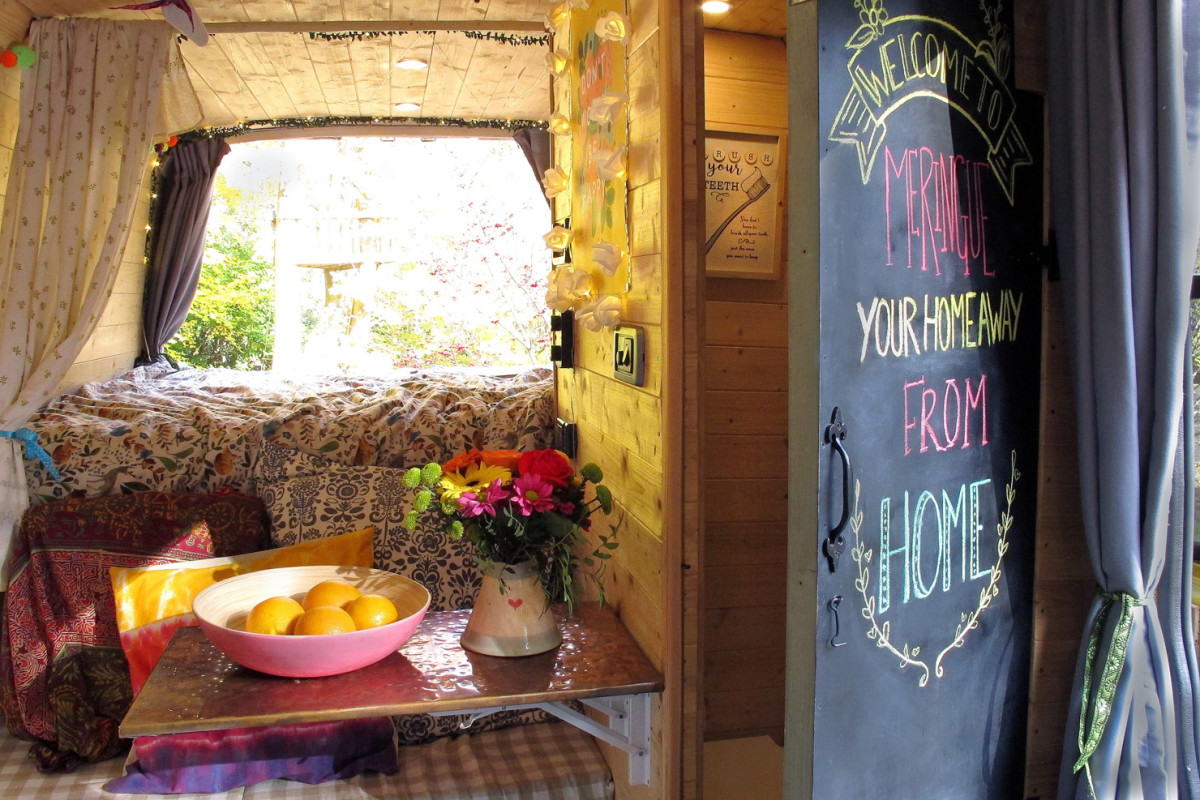 Sussex
3 Belted seats 3 Adult berths
Meringue is a beautifully bohemian campervan based in the stunning countryside of the South Downs National Park in West Sussex, just 40 miles from London. And thanks to her solar panels, solar shower, oven, hob, sink, fridge and full-size German composting loo, this snug rolling home is perfectly equipped with everything you need to have a truly memorable off-grid adventure when you take this West Sussex campervan hire on a family holiday of a lifetime. With eating and sleeping space for three, Meringue is absolutely the perfect snuggly campervan for couples, singles, friends or small families. A Thule bike rack for three bikes is available, and there is loads of storage underneath the bed, as well as five drawers that you can access without needing to go outside to get to your stuff. In fact, with a built-in wardrobe as well as the kitchen cupboards and other storage areas, you certainly won't run out of space for everything you're taking with you on this trip! Meringue will take you out into nature, but you won't feel like you're roughing it at all. For outside living, hire our portable BBQ, camping chairs and outdoor table for a small extra charge. Meringue even has everything you need on board to make a Lemon Meringue Pie in her honour.
* Fuel and camp site fees are of course an additional charge, and cleaning fees are optional while pets are welcome for a small extra fee.
We look after all our guests and always offer a reassuring approach to those who are new to van life, including a full set of bespoke instructional 'how-to' videos to help you maximise the ease and fun of your campervan holiday.
Essential Information
Hob
Heater
Dining Table
Oven
Refrigerator
Kitchen Sink
Outside Shower
Bike Rack
Toilet
Ceiling Fan
Tow Bar
Solar
Extra Storage
Audio Inputs
Radio
Pet Friendly
EU Travel Allowed
About the Campervan
Description of Beds: At the rear you will find a fixed rear double memory-foam bed that measures 177cm x 135cm. Meanwhile, the sofa is transformed into a third berth at night that measures 180cm x 52cm. This has an optional in-built cot which can be easily attached for young infants.

Description of Seating: There are belted 3 seats, all located in the cab next to each other. They are fixed and do not swivel.

About the area: Meringue lives two miles south of Wisborough Green, West Sussex, in the South Downs National Park. This is just 45 minutes drive from Gatwick Airport, 40 miles south of London, 10 minutes from Billingshurst railway station (1.20 to London Victoria), 30 minutes from the historic city of Chichester, and 30 minutes drive from the South Coast with its beaches. Transfers from Billingshurst railway station can be arranged at £15. Local taxis from the railway station are approx £17-20 depending on availability if I am not available to collect you due to school pick ups etc.

Parking: Off street parking

Cooking Equipment: She has 3 hobs and an oven, so pizzas are well and truly on the menu. Cooking equipment includes: A square frying pan| 3 boiling pots (different sizes) | whistling kettle | baking tray. Utensils include: wooden spoon | spatula | 3 forks | 3 knives | 3 spoons | 3 teaspoons | 3 egg cups | 3 plates | 4 mugs | 3 bowls. You will also find all baking equipment to make a Lemon Meringue Pie, together with a recipe and a vintage pie dish.

Water Facilities: 2 x 25 litre jerry cans, one used for fresh water and one for waste. The tap has a switch next to it which turns a submersible pump on/off. The attractive timber-lined WC cubicle offers a top-of-the-range German Kildwick composting loo which is lovely to use, and super easy to clean.

Audio Equipment: There is a radio in the cab which also has an aux audio cable to connect phones, etc

Type of Heating: Her brilliant gas heating system will keep you warm and cosy whatever the time of year.

Conversion Story: Meringue is a converted Renault Master. She was originally used for Spain to UK courier services, so she has seen her share of the European sights, and is undeniably reliable. The 18-month conversion has created a cosy little home that is warm and snug, a bit like being in a log cabin. When the curtains are closed to the world you could be anywhere. Meringue is made up of A LOT of wood, a lot of love and over 3000 screws! The conversion took place mostly in Suffolk, alongside some residential streets in Zone 2 of London. Meringue is equipped with everything you might want or need in daily life, and is ready for any adventure.
Pick up / Drop off Times
| - | Pick up | Drop off |
| --- | --- | --- |
| Sunday | 12:00PM - 5:00PM | 12:00PM - 5:00PM |
| Monday | 10:00AM - 6:00PM | 10:00AM - 6:00PM |
| Tuesday | 10:00AM - 6:00PM | 10:00AM - 6:00PM |
| Wednesday | 10:00AM - 6:00PM | 10:00AM - 6:00PM |
| Thursday | 10:00AM - 6:00PM | 10:00AM - 6:00PM |
| Friday | 10:00AM - 6:00PM | 10:00AM - 6:00PM |
| Saturday | 12:00PM - 5:00PM | 12:00PM - 5:00PM |
Note: Campervan Hire prices are per 24 hours. If you request pick-up at an earlier time than your drop-off time the owner will quote you for the additional hours. Typically this is £12.50 per additional hour.
When would you like to go?
Sorry, there was a problem...
Vehicle Spec
Vehicle Type: camper-van
Make: Renault
Model: Master
Year: 2009
Vehicle Length: 5.9 metres
Vehicle Height: 2.6 metres
Max Laden Weight (MAM): 3500 kg
Payload: 780 kg
Transmission: manual
Fuel Type: diesel
Registration: emailed when you book
Note: The hire of this vehicle is arranged by Quirky Campers ltd acting as the agent on behalf of Meringue's owners. We make every effort to ensure that all the vehicles listed with us are of a high standard but cannot guarantee the condition of the vehicle. If you experience any problems please notify us as soon as possible.