Olive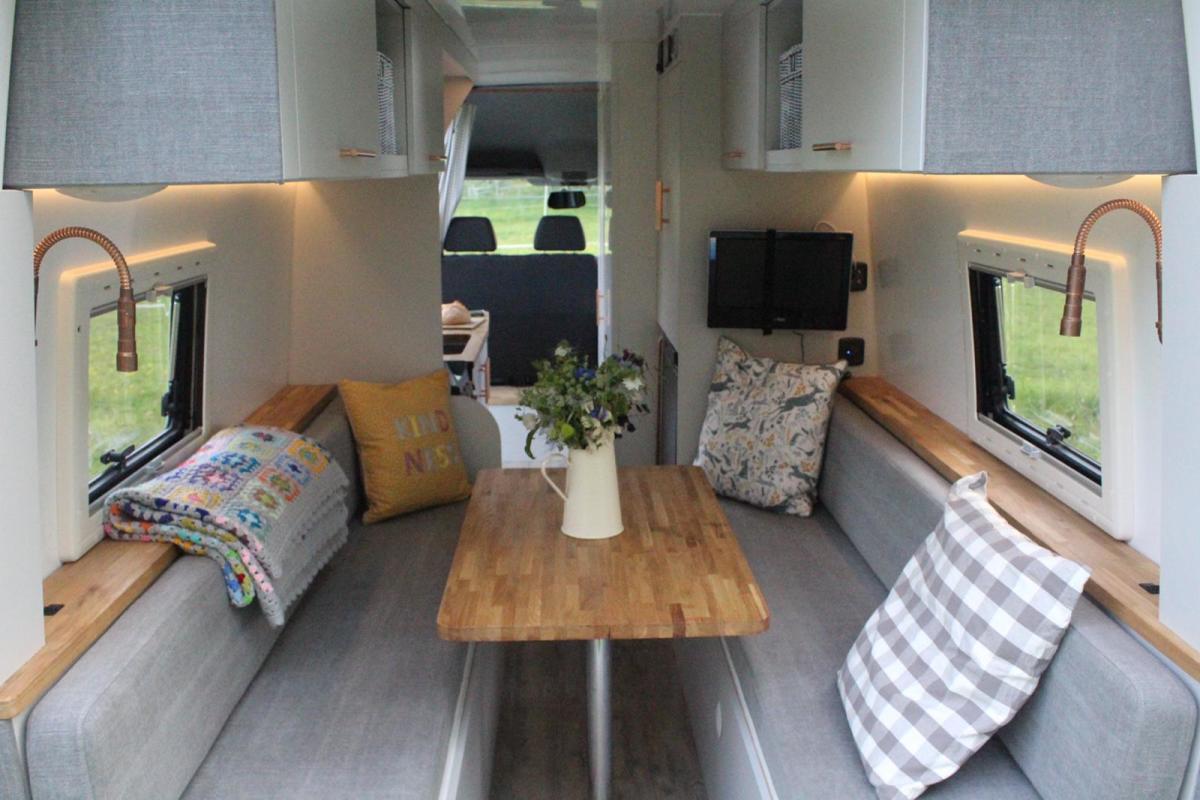 Worcester
3 Belted seats 2 Adult berths 1 Child berths
Olive's owners have taken a Volkswagen Crafter and transformed her into a high-end, top spec camper van that's a beautiful alternative option to factory produced motorhomes. This campervan hire Worcester is a beautifully simple van with a white, grey and copper 'Scandi' style interior. Olive is tasteful, practical and spacious with all the essentials for a feeling of home from home, including heating, hot water, inside shower, toilet, and even a 12v TV! As you would expect, there is a lot of carefully thought out, practical storage space in this large camper van. You can put all of your equipment and clothes under one of the bench seats, in the lockers over the seating area, and under the kitchen counter. Olive even has a half height wardrobe for hanging clothes up. The beauty of campervans is the freedom to explore and seek adventure where and when you like. Olive's practical and beautiful design means that you will definitely get to do that in style.
Essential Information
Hob
Heater
Dining Table
Oven
Refrigerator
Kitchen Sink
Inside Shower
Toilet
Reversing Camera
Extra Storage
TV / DVD
Audio Inputs
Radio
King Beds: &nbsp1
Waste Tank Capacity: &nbsp54 litres
Water Tank Capacity: &nbsp72 litres
EU Travel Allowed
About the Campervan
Description of Beds: Every night you can transform the large seating benches to make up the king-sized bed – this can easily accommodate two adults and a little person.

Description of Seating: 3 belted seats at the front in the cab. 1 drivers seat with arm rest and a bench for 2 passengers. middle seat doubles up as table/drinks holdrs for 2 people travvelling.

About the area: Olive lives in a barn on the farm where we live. Located in Upton Snodsbury just outside Worcester 10 mins from junctions 7 and 6 of the M5. Both train stations in Worcester are within 15 mins of Olive's location and we'd be more than happy to pick you up from there.

Parking: Off street parking

Cooking Equipment: Olive's well-equipped kitchen, complete with oven, means you can cook up a feast, throw the back doors open, sit down at the large dining table and enjoy the view as you tuck in. Cooking equipment includes: Mugs Glass (tumblers,wine and flutes) Plates big and small Bowls Cutlery x4 Tongs,Serving spoon,Spatula,Wooden spoon,Kitchen knives,bottle opener, Tin opener, Scissors. Chopping Board Bread board Frying pan x2 Sauce pan x1 Whistling Kettle Seive Baking tray Tin Foil Cleaning liquid and sponges Surface spray and Kitchen roll Tea, Coffee and sugar Salt and Pepper Cooking oil and general herbs and spices. Tea Towel Oven Glove

Water Facilities: Water to the kitchen (and shower) is provided by a large 72ltr fresh water tank, so you will be able to go quite a few days before needing to fill up again! The fresh water tank will be full for every new rental, 54 ltr waste water tank which will be empty upon a new rental. Toilet Cassette is seperate and will be cleaned and serviced for all new rentals but may need emptying during long hire periods. Blue toilet chemicals are provided along with demonstrations. Electric pump for both hot and cold water switched on at main controls.

Audio Equipment: 12v TV with hard wired 360 degree digital aerial. Built-in Bluetooth audio for simply connectivity and use from any Bluetooth compatible device.

Type of Heating: Gas Heater, Electric Heater

Conversion Story: We were looking to buy a production van conversion inspired by a trip through France in a hired motorhome. However, after walking around both the NEC and Manchester's Motorhome shows we found ourselves unimpressed by the repetitive beige/brown dated interiors and the lack of difference from one van to the next. We then found ourselves looking into buying a base vehicle and converting. We took a lot away from the shows in terms of which appliances to use, layout, regs and storage ideas and have maintained these throughout the build. We wanted our van to compare like for like on paper to the production vehicles but with our chosen materials and finish. 12 months later Olive was born. She was built in my work unit on the farm where she is kept now. Since completing the Conversion we have enjoyed trips to Cornwall, Wales, Isle of wight and Devon/Somerset.Our favourite being Slapton Sands/Torcross in Devon near Salcombe. We highly recommend a wild night there overlooking the beautiful stretch of coastline. However, Olive is parked up the majority of the time, due to our busy schedules, but deserves to be out there exploring!!!
Pick up / Drop off Times
| - | Pick up | Drop off |
| --- | --- | --- |
| Sunday | 2:00PM - 6:00PM | 9:00AM - 12:00PM |
| Monday | 2:00PM - 6:00PM | 9:00AM - 12:00PM |
| Tuesday | 2:00PM - 6:00PM | 9:00AM - 12:00PM |
| Wednesday | 2:00PM - 6:00PM | 9:00AM - 12:00PM |
| Thursday | 2:00PM - 6:00PM | 9:00AM - 12:00PM |
| Friday | 2:00PM - 6:00PM | 9:00AM - 12:00PM |
| Saturday | 2:00PM - 6:00PM | 9:00AM - 12:00PM |
Note: Campervan Hire prices are per 24 hours. If you request pick-up at an earlier time than your drop-off time the owner will quote you for the additional hours. Typically this is £12.50 per additional hour.
Vehicle Spec
Vehicle Type: camper-van
Make: Volkswagen
Model: Crafter
Year: 2014
Vehicle Length: 7 metres
Vehicle Height: 2.8 metres
Max Laden Weight (MAM): 3500 kg
Payload: 420 kg
Transmission: manual
Fuel Type: diesel
Registration: emailed when you book
Note: The hire of this vehicle is arranged by Quirky Campers ltd acting as the agent on behalf of Olive's owners. We make every effort to ensure that all the vehicles listed with us are of a high standard but cannot guarantee the condition of the vehicle. If you experience any problems please notify us as soon as possible.