Quincy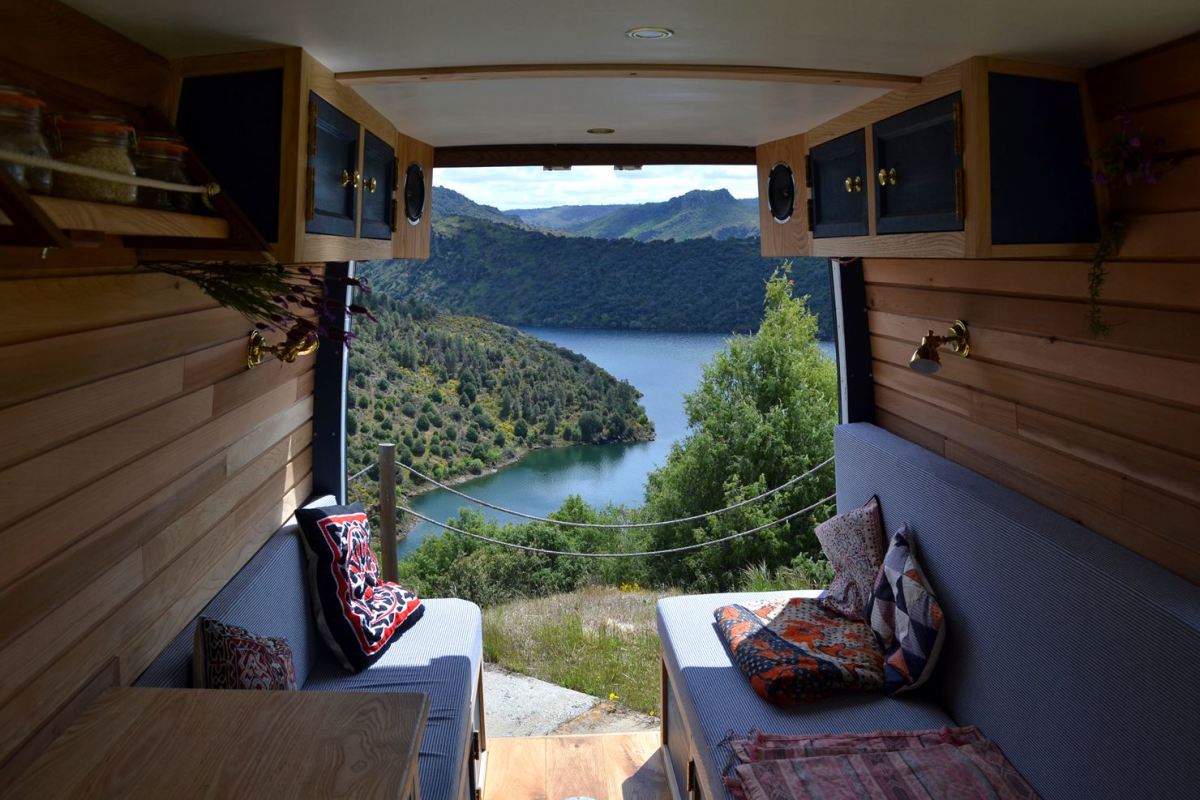 Bristol
2 Belted seats 2 Adult berths
Quincy is a South West based ex Fed-Ex van who is now dedicated to delivering the perfect romantic getaway campervan hire! Her carpenter owner crafted Quincy into one heck of a classy, hi-spec and quality campervan! The gorgeous solid ash worksurfaces are set off by petrol blue cupboards, topped off with the hand-printed fabrics; you'd be forgiven for thinking you were looking at the interior of a very stylish boutique hotel room! Quincy is fully equipped with running water, a comfy double bed, a fridge with a freezer compartment, and a three-burner gas hob. She also has a sound system to rival most houses, gas heating, and giant solar panels, which means you can go off grid in style. Quincy is spacious and beautiful, like a Scandinavian cottage on wheels. All you need to do is bring your clothes, pack them away in the immense amount of storage space, and plan where you want to escape to!
Essential Information
Hob
Heater
Dining Table
Refrigerator
Kitchen Sink
Bike Rack
Ceiling Fan
Solar
Reversing Camera
Extra Storage
CD Player
Audio Inputs
Radio
Pet Friendly
EU Travel Allowed
About the Campervan
Description of Beds: Bench seating pulls out to create a comfy double bed 182cm x 123 cm.

Description of Seating: Two forward facing seats in the cab with seatbelts.

About the area: Quincy lives in Easton in the heart of Bristol. There is excellent access to the M4 & M5 to take you on your way to the South West, Wales or further afield to Europe. There are good public transport links from Bristol Temple meads or if you are feeling energetic it's a half an hour walk.

Parking: Street parking

Cooking Equipment: Three non stick pans | kettle | cutlery for up to four people | chopping board | sharp kitchen knife | peeler | tin opener | spatula | bowls | plates | cafetiere | mugs | teas and coffee. Fridge with small freezer compartment.

Water Facilities: 25 Litre water container with 25L waste water container. Water runs of electric switch tap. (Cold only)

Audio Equipment: A fantastic stereo was a priority in Quincy. She is equipped with two sets of Focal speakers, one set in the cab and one set in the rear of the vehicle built into solid ash speaker boxes. These are powered by a high quality amplifier. The stereo turns on automatically when the engine is turned on. You can also listen to music without the engine on by pressing the button in the electrical cupboard. The head unit plays CDs, of which there is a sample selection to choose from, or you can connect your phone or iPod via the AUX wire.

Type of Heating: Gas Heater

Conversion Story: Quincy started life as a Fed Ex delivery van! She was well maintained but coated in layers of grime. It has taken a year of late nights, a lot of swearing, blood, sweat and tears but we thinks she is pretty special now. Sam is a carpenter, which is very handy. All the beautiful wood is his handiwork. We also bribed/ emotionally blackmailed some very kind family members to check and fit the electrics and our lovely solar system. We wanted to use as many reclaimed materials as possible. We have sourced lots of beautiful timber that was destined for the skip, such as the cedar cladding and the oak floor boards. It has absolutely been a labour of love and a very steep learning curve but we think worth every hour of sanding, planing, painting and potato printing. In our opinion, you'll have a great time if you take her out to the countryside, turn on the stereo and the soft lighting, crack open a cold beer from the fridge and enjoy!
Pick up / Drop off Times
| - | Pick up | Drop off |
| --- | --- | --- |
| Sunday | 9:00AM - 5:00PM | 9:00AM - 5:00PM |
| Monday | 9:00AM - 5:00PM | 9:00AM - 5:00PM |
| Tuesday | 9:00AM - 5:00PM | 9:00AM - 5:00PM |
| Wednesday | 9:00AM - 5:00PM | 9:00AM - 5:00PM |
| Thursday | 9:00AM - 5:00PM | 9:00AM - 5:00PM |
| Friday | 9:00AM - 5:00PM | 9:00AM - 5:00PM |
| Saturday | 9:00AM - 5:00PM | 9:00AM - 5:00PM |
Note: Campervan Hire prices are per 24 hours. The default pick up and drop off time is 2pm. If you request a pick up or drop off outside of this, the owner will quote you for the additional time. Typically this is £12.50 per additional hour.
When would you like to go?
Sorry, there was a problem...
Vehicle Spec
Vehicle Type: Campervan
Make: Mercedes-Benz
Model: Sprinter
Year: 2008
Vehicle Length: 6 metres
Vehicle Height: 2.6 metres
Max Laden Weight (MAM): 3500 kg
Payload: 500 kg
Transmission: manual
Fuel Type: diesel
Registration: emailed when you book
Note: The hire of this vehicle is arranged by Quirky Campers ltd acting as the agent on behalf of Quincy's owners. We make every effort to ensure that all the vehicles listed with us are of a high standard but cannot guarantee the condition of the vehicle. If you experience any problems please notify us as soon as possible.