Rene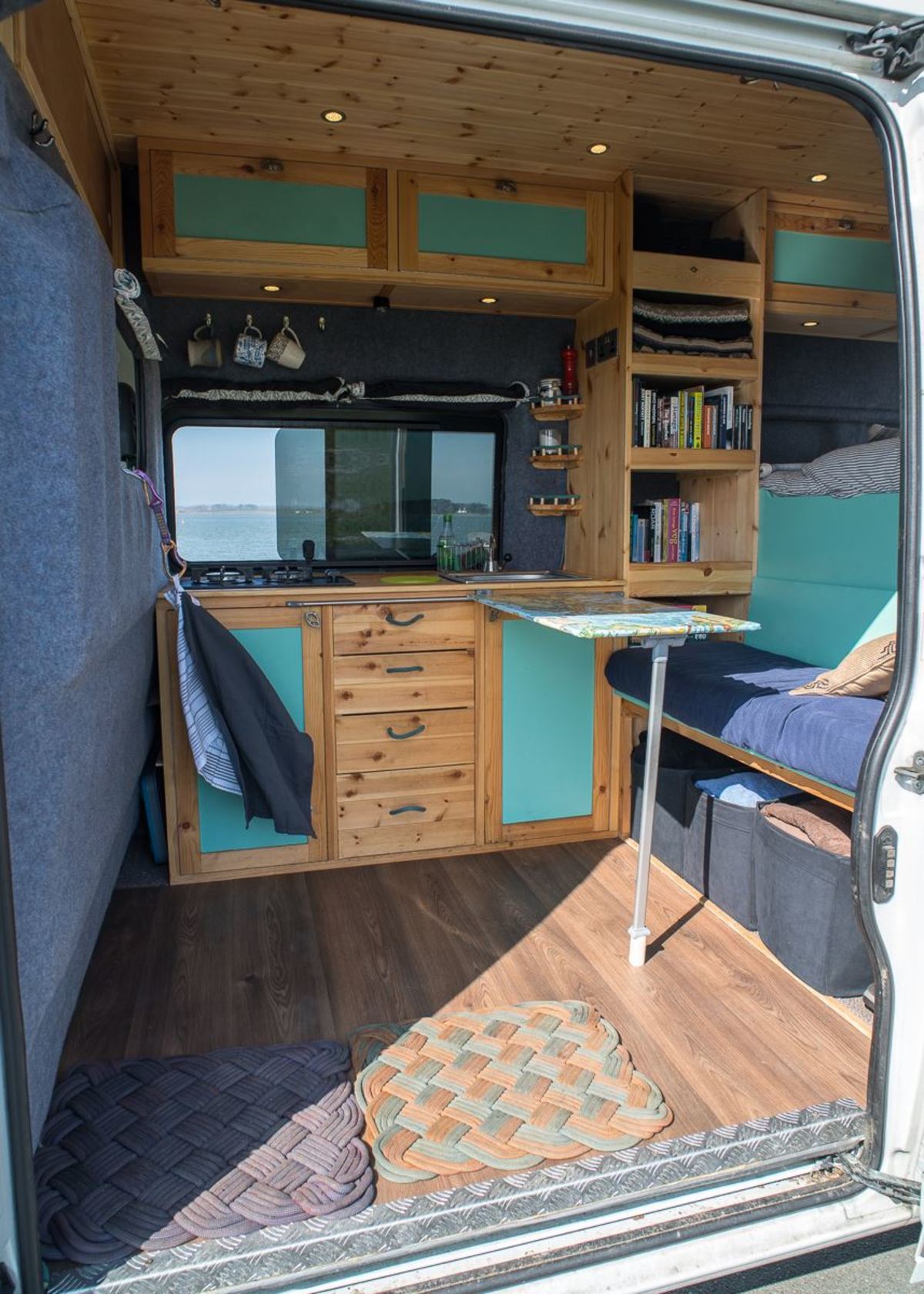 Llanberis
3 Belted seats 2 Adult berths
René is a campervan made for adventure. This roomy 2-berth Snowdonia campervan rental will blow you away with the sheer amount of storage for every conceivable activity from rock climbing to surfing to mountain biking. Three people can settle down on the sofa at the front, and chill out with a view to the Snowdonia mountains and coast! René's fresh colour scheme compliments the bespoke carpentry and joinery that has been done in this camper van. From bookshelves to skylights the attention to detail and craftmanship is obvious. René is fully equipped with solar panels on her roof so you can charge up your electrics and make the best of an off-grid lifestyle campervan holiday and have a truly epic road trip in North Wales. Create your own holiday adventure with this campervan hire - with so much to see and do in the region, you definitely won't be wanting to give her back once you've settled in and made her your home on wheels!
Essential Information
Hob
Dining Table
Kitchen Sink
Outside Shower
Tow Bar
Solar
Extra Storage
Audio Inputs
Inverter
Pet Friendly
Water Tank Capacity: &nbsp40 litres
EU Travel Allowed
About the Campervan
Description of Beds: Double transverse bed with a memory foam mattress

Description of Seating: 3 seats in the cab (including the driver's seat)

About the area: René lives in the mountain village of Llanberis, nestled in the Snowdonia National Park in North Wales. The closest train station is Bangor, which is approximately a 25 minute taxi ride away. It may also be possible to pick René up from Bangor on request. Llanberis is easy to get to, just off the A55. There are plenty of van spots and campsites in the area so you'll never be short of somewhere stunning to stay. Don't forget to try out the amazing cafés that are dotted around Snowdonia - like 'Mafon' in Llanberis and 'Caban' in Brynrefail. Snowdonia is an adventure playground for those who love the outdoors, there is no shortage of hikes, mountain runs, and crags to climb at here! If you're into surfing then Anglesey and the Llyn Peninsula offer some great waves, and plenty of spots to fall asleep by the sea.

Parking: Street parking

Cooking Equipment: You can cook up a feast on the hob, looking out of the side window, or brew up with water that's provided from two 20l containers. Cooking equipment includes: Dining set for 4 people | salad bowl | mugs | glasses | large and small pans | frying pan | cafetiere | kettle | hob toaster.

Water Facilities: Two 20l portable containers connected to an electric

Audio Equipment: Bluetooth and aux in the cab; stereo system with aux in the living area.

Conversion Story: René started life as a groundsman's vehicle. Her owners (Rosemary and James) bought her with the intention of converting her into a campervan, which would become their full time home. They both took several months off work to complete the conversion using James' dad's workshop. James' dad is a bespoke joiner and he came in very handy when they needed help - with cupboard doors and drawers in particular! Both owners are keen rock climbers and have upcycled used climbing gear in the interior. The couple travelled, and worked in René (in fact Rosemary finished up her PhD by working from the van!) until settling in Llanberis, North Wales. René was built for adventure, so functionality and storage space were a priority - you'll find plenty of space to store climbing gear, bouldering pads, bikes and surfboards etc. in this van!
Pick up / Drop off Times
| - | Pick up | Drop off |
| --- | --- | --- |
| Sunday | 9:00AM - 5:00PM | 9:00AM - 5:00PM |
| Monday | 9:00AM - 5:00PM | 9:00AM - 5:00PM |
| Tuesday | 9:00AM - 5:00PM | 9:00AM - 5:00PM |
| Wednesday | 9:00AM - 5:00PM | 9:00AM - 5:00PM |
| Thursday | 9:00AM - 5:00PM | 9:00AM - 5:00PM |
| Friday | 9:00AM - 5:00PM | 9:00AM - 5:00PM |
| Saturday | 9:00AM - 5:00PM | 9:00AM - 5:00PM |
Vehicle Spec
Vehicle Type: camper-van
Make: Citroen
Model: Relay
Year: 2016
Vehicle Length: 6 metres
Vehicle Height: 2.76 metres
Max Laden Weight (MAM): 3500 kg
Payload: 640 kg
Transmission: manual
Fuel Type: diesel
Registration: emailed when you book
Note: The hire of this vehicle is arranged by Quirky Campers ltd acting as the agent on behalf of Rene's owners. We make every effort to ensure that all the vehicles listed with us are of a high standard but cannot guarantee the condition of the vehicle. If you experience any problems please notify us as soon as possible.