EX - Goldie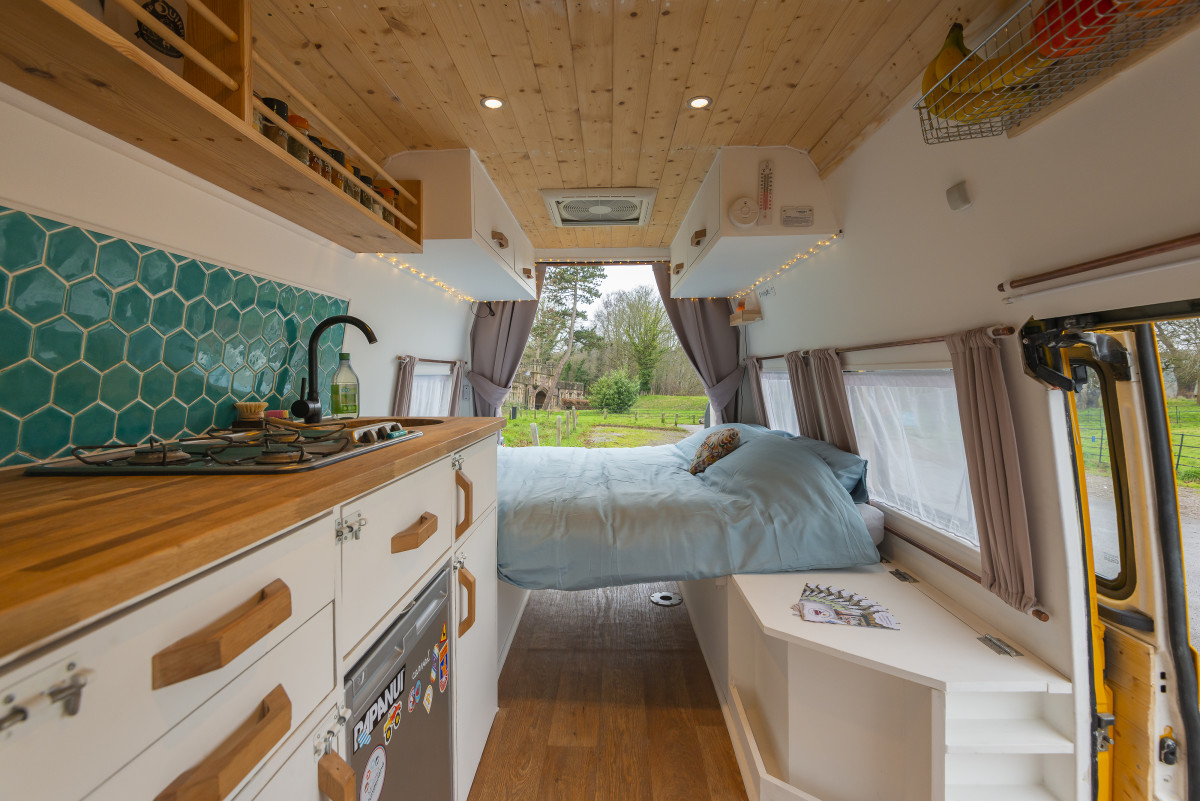 Iron Acton
3 Belted seats 2 Adult berths
Goldie is a gloriously bright campervan with cool, modern and funky urban interior stylings. The super comfy bench seats at back of Goldie convert into a large double bed at night. With side and rear windows, there's nothing better than waking up to a remote sunrise, sticking the kettle on the gas hob and taking in an off-grid view that's yours to explore! There's tonnes of storage under the seats and over the bed, as well as in the beautifully crisp kitchen where you'll love the teal hexagon tiles and the large expanse of work surface to cook up a feast to enjoy around the equally large dining table. Pet friendly Goldie is based in Bristol, so perfectly located to head to the beaches of Cornwall, the mountains of Wales, or the New Forest.
Essential Information
Heater
Dining Table
Refrigerator
Kitchen Sink
Outside Shower
Ceiling Fan
Awning
Solar
Reversing Camera
Radio
Inverter
Pet Friendly
Gas Capacity: &nbsp25 litres
Waste Tank Capacity: &nbsp40 litres
Water Tank Capacity: &nbsp90 litres
EU Travel Allowed
About the Campervan
Description of Beds: The rear bench seats convert into a large double bed at night; perfect for snuggling up in, and watching the stars as you settle in for the night.

Description of Seating: Two large bench seats with storage underneath. Outdoor table & chairs included.

Cooking Equipment: The spacious kitchen is a dream to cook in, with a three-burner gas hob, sink, and fridge which is perfect for chilling a bottle of wine, ready to enjoy under the awning. Included in the van is
Cutlery, crockery and plastic glassware for 4 | pans and lids | frying pan | chopping board | cheese grater | collapsible sieve | jugs | bowls | teapot | cafetiere |
Utensils include: Tongs | whisk | kitchen scissors | can opener | slotted spoon | spatula | spaghetti spoon | electric lighter | bread knife | large and small knife | bottle opener | potato peeler |
Essentials also included: tea | herbal tea | coffee | oil | selection of herbs & spices
Handy items: pack of cards | dustpan and brush |
Local produce hamper included in each hire, tea, coffee, jam, bread etc all from our local zero waste shop! Please let us know any dietary/tea requirements.



Water Facilities: There is a 90L freshwater, and 40L grey water tank. A Thetford porta-potty can be hired as an optional extra. The water tank will be filled before each adventure.

Conversion Story: Our gorgeous girl Goldie was dreamt up one night while on holiday in Croatia, as we tried to find a way of making full time travel a possibility.
Upon returning home we immediately set about looking for the perfect vehicle to turn into our tiny home on wheels and not long after, we discovered Goldie. Back then, she was a minibus for school children!

We spent nearly ten months converting her into a beautiful and functional living space that could transport you anywhere in the World! Once complete, her maiden voyage would take her all across Europe during a 5-month trip.

We have had an incredible time travelling in Goldie and we have made some beautiful memories. So much so, we have decided to buy something a little bigger, convert, and live in full time! So, now it is time for you to make your own incredible memories with Goldie!
Pick up / Drop off Times
| - | Pick up | Drop off |
| --- | --- | --- |
| Sunday | 2:00PM - 9:00PM | 10:00AM - 12:00PM |
| Monday | 5:00PM - 7:00PM | 5:00PM - 7:00PM |
| Tuesday | 5:00PM - 7:00PM | 5:00PM - 7:00PM |
| Wednesday | 5:00PM - 7:00PM | 5:00PM - 7:00PM |
| Thursday | 5:00PM - 7:00PM | 5:00PM - 7:00PM |
| Friday | 5:00PM - 7:00PM | 5:00PM - 7:00PM |
| Saturday | 2:00PM - 9:00PM | 10:00AM - 12:00PM |
Vehicle Spec
Vehicle Type: camper-van
Make: LDV
Model: Convoy
Year: 2005
Vehicle Length: 5.8 metres
Vehicle Height: 2.75 metres
Max Laden Weight (MAM): 3500 kg
Payload: 720 kg
Transmission: manual
Fuel Type: diesel
Fuel Efficiency: 27 mpg
Registration: emailed when you book
Note: The hire of this vehicle is arranged by Quirky Campers ltd acting as the agent on behalf of EX - Goldie's owners. We make every effort to ensure that all the vehicles listed with us are of a high standard but cannot guarantee the condition of the vehicle. If you experience any problems please notify us as soon as possible.