Esteban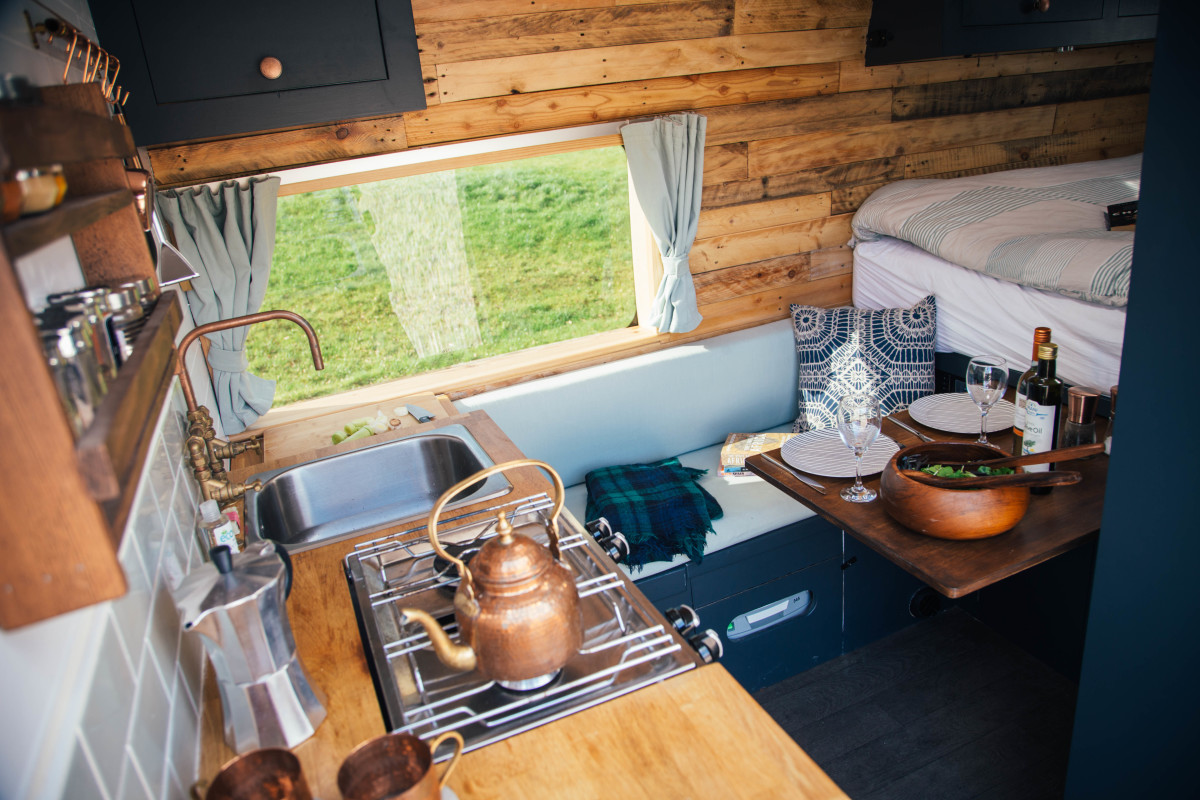 London
3 Belted seats 2 Adult berths
Esteban is a super stylish, rustic chic luxury campervan conversion which has been kitted out with a really top end finish. If you are looking for essentially a rolling boutique hotel, then we think this campervan hire in London is perfect for you!

This freshly converted 2-berth camper has a fixed super king bed at the rear, complete with hotel-grade Hypnos mattress. If you do manage to drag yourself out of this snuggly space, you'll love living and chilling out in the rest of Esteban's fresh, cosy and cool interior. He's been designed with ultimate comfort and style in mind, including hot water, a bluetooth sound system, fridge and a fully-equipped modern kitchen. His diesel heater will keep you cosy on winter nights and his outdoor shower is perfect for when he takes you to the beach. Esteban's large solar panels allow him to run completely off-grid so he can take you on any adventure and even make you a smoothie in the morning! With a spacious interior, copious storage and a full-length wardrobe, Esteban isn't just made for a weekend, he's made for life.
Essential Information
Hob
Heater
Dining Table
Oven
Refrigerator
Kitchen Sink
Outside Shower
Solar
Audio Inputs
Radio
Inverter
Pet Friendly
Gas Capacity: &nbsp25 litres
Waste Tank Capacity: &nbsp10 litres
Water Tank Capacity: &nbsp90 litres
EU Travel Allowed
About the Campervan
Description of Beds: Esteban sleeps two adults, but in a super king size bed, there's always room for an extra little one.

Description of Seating: Three belted seats in the front (including driver) with head rests.

About the area: Esteban lives in Maida Vale, NW London and is parked on a quiet residential street. An easy walk from Maida Vale or Warwick Avenue tube stations.

Cooking Equipment: Esteban was set up to live in comfortably full time and the kitchen reflects that. You will find a two-burner gas hob and oven/grill alongside a spacious fridge and all the kit you would expect in any well-equipped kitchen: kettle | 2 saucepans (one large, one small) | 2 frying pans (one large, one small) | wok | 3 baking trays | 5 kitchen knives | chopping boards | fish slice | spatula | spoons of various shapes and sizes | peeler | masher | corkscrew | percolator coffee maker | can opener | sieve | salad bowl | crockery and cutlery for 2 | tumblers, wine glasses and mugs. And there is also the option of adding a NutriBullet for those breakfast smoothies!

Water Facilities: Esteban has a 90 litre underslung fresh water tank, filled by hose at the side of the van. This, powered by the pump, feeds the kitchen taps and shower. A water heater (runs on gas or electric) provides hot water to both. Under the sink there is a 10 litre waste water tank, or the option to drain straight to the ground.

Audio Equipment:Esteban has a built-in surround sound wireless stereo system. Connect via bluetooth, USB drive, aux plug-in, DAB or analogue radio. There is the option of adding a portable bluetooth speaker as well for outdoor use.

Type of Heating: Diesel Heater, including timer and thermostat options.

Conversion Story: Esteban has spent much of his life as a Wilko's delivery van, dropping all those things you never knew you needed up and down the country. In early 2019 Sam and Raisa acquired him after a long and thorough search (not many vans have 6'5" standing room!) and he was whisked up to Leo, Susie and their amazing team at Studley Campers to begin the conversion.

As the owners were planning a 6 month trip around Europe as his first outing, the vision was always for a comfortable living situation rather than a basic weekend van, but we quickly found saying 'yes' to those luxury extras was far easier than 'no'! It's thanks to this attitude that Esteban ended up with an underslung fresh water tank, underslung LPG tank for super-convenient and cheap gas refuelling, and a generous solar setup.

The design is based on a 'rustic chic' philosophy: we didn't want him to feel too smart - he's an adventurer after all - but we also wanted him to stand out with a luxury feel. Reclaimed pallet wood walls and a copper and charcoal grey colour scheme combine to create the desired effect.
Pick up / Drop off Times
| - | Pick up | Drop off |
| --- | --- | --- |
| Sunday | 8:00AM - 8:00PM | 8:00AM - 8:00PM |
| Monday | 8:00AM - 8:00PM | 8:00AM - 8:00PM |
| Tuesday | 8:00AM - 8:00PM | 8:00AM - 8:00PM |
| Wednesday | 8:00AM - 8:00PM | 8:00AM - 8:00PM |
| Thursday | 8:00AM - 8:00PM | 8:00AM - 8:00PM |
| Friday | 8:00AM - 8:00PM | 8:00AM - 8:00PM |
| Saturday | 8:00AM - 8:00PM | 8:00AM - 8:00PM |
Note: Campervan Hire prices are per 24 hours. If you request pick-up at an earlier time than your drop-off time the owner will quote you for the additional hours. Typically this is £12.50 per additional hour.
When would you like to go?
Sorry, there was a problem...
Vehicle Spec
Vehicle Type: camper-van
Make: Citroen
Model: Relay
Year: 2013
Vehicle Length: 6.4 metres
Vehicle Height: 2.9 metres
Max Laden Weight (MAM): 3500 kg
Payload: 180 kg
Transmission: manual
Fuel Type: diesel
Fuel Efficiency: 30 mpg
Registration: emailed when you book
Note: The hire of this vehicle is arranged by Quirky Campers ltd acting as the agent on behalf of Esteban's owners. We make every effort to ensure that all the vehicles listed with us are of a high standard but cannot guarantee the condition of the vehicle. If you experience any problems please notify us as soon as possible.