Coq O'Van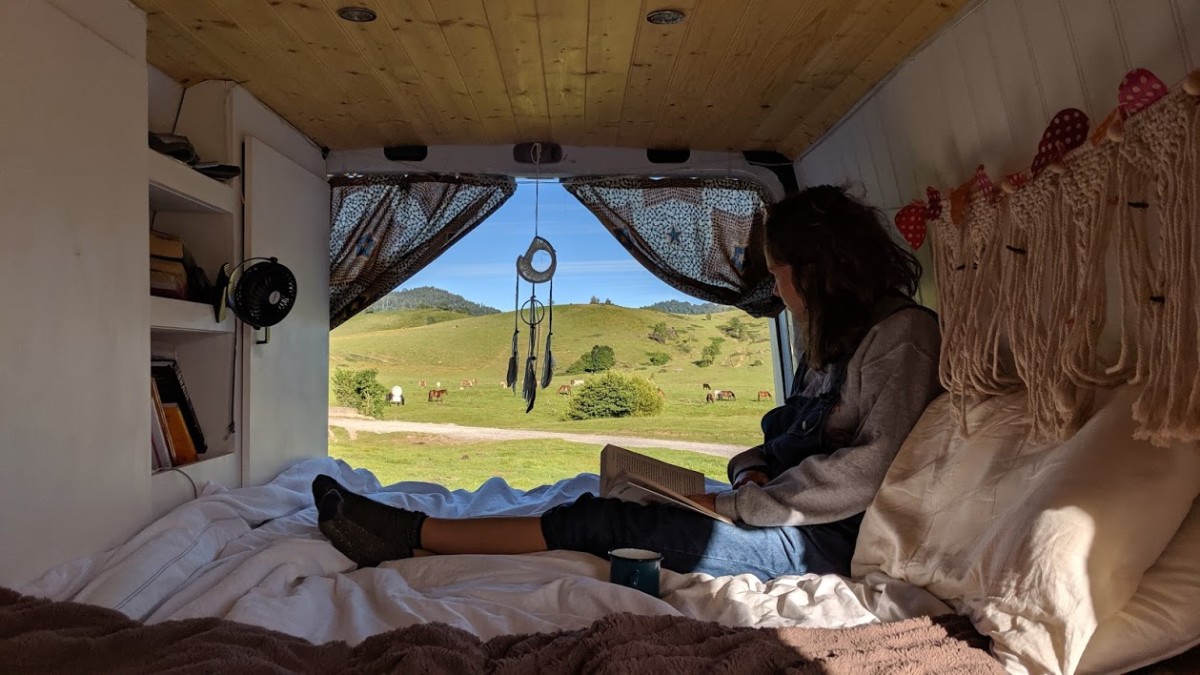 London
3 Belted seats 2 Adult berths
Coq O'Van is a lovely campervan hire based in London, and waiting to take you on a romantic escape from the city. Imagine waking up in the fixed double bed and throwing open the back doors to take in a view that is yours, and yours alone. This really well-designed Mercedes Sprinter van means that you get loads of living space, as well as tonnes of storage for all your campervan holiday essentials! The kitchen, (as you would expect of a van with this name) is really well equipped with a 2-burner gas hob, large sink and fridge. There is lots of worksurface space for chopping, prepping and cooking, leaving one of you to chill out on the comfy rear bench seat or on the deckchairs outside.

Coq O'Van also comes complete with solar power for extended your off-grid wilderness campervan adventure, and the diesel heater means that this is a camper for all seasons! We love the crisp light finish to this beautifully hand-crafted camper, but we absolutely adore the eclectic pops of colour and fabrics that truly make this home on wheels a dream to take on a road trip. The only question is; where will you go?
Essential Information
Hob
Heater
Dining Table
Refrigerator
Kitchen Sink
Outside Shower
Ceiling Fan
Awning
Solar
Extra Storage
CD Player
Radio
Pet Friendly
Queen Beds: &nbsp1
Gas Capacity: &nbsp50 litres
Water Tank Capacity: &nbsp70 litres
EU Travel Allowed
About the Campervan
Description of Beds: Coq O'Van sleeps 2 adults in the fixed rear double bed.

Description of Seating: Three belted seats in the front (including driver) with head rests and three-point belts. There is a bench sofa seat in the main living area for chilling out on.

About the area: Coq O'Van lives in Muswell Hill, North London and is parked on a quiet residential street

Parking: If you drive to collect Coq O'Van, you are welcome to leave your car in her normal spot. We will provide you with the necessary parking vouchers.

Cooking Equipment: Coq O'Van has everything you could need to cook up a feast on the two gas hobs.

Water Facilities: There is a 70-litre water tank that supplies water to the kitchen. You can also use an outdoor shower if you're not staying on a camp site.

Audio Equipment: CD/radio.

Type of Heating: A diesel heater will keep you super warm and toasty throughout the seasons!

Extra Information: A portable chemical toilet is included as standard.
Pick up / Drop off Times
| - | Pick up | Drop off |
| --- | --- | --- |
| Sunday | 12:00PM - 6:00PM | 11:00AM - 3:00PM |
| Monday | 1:00PM - 6:00PM | 11:00AM - 3:00PM |
| Tuesday | 1:00PM - 6:00PM | 11:00AM - 3:00PM |
| Wednesday | 1:00PM - 6:00PM | 11:00AM - 3:00PM |
| Thursday | 1:00PM - 6:00PM | 11:00AM - 3:00PM |
| Friday | 1:00PM - 6:00PM | 11:00AM - 3:00PM |
| Saturday | 1:00PM - 6:00PM | 11:00AM - 3:00PM |
Note: Campervan Hire prices are per 24 hours. The default pick up and drop off time is 2pm. If you request a pick up or drop off outside of this, the owner will quote you for the additional time. Typically this is £12.50 per additional hour.
When would you like to go?
Sorry, there was a problem...
Vehicle Spec
Vehicle Type: Campervan
Make: Mercedes-Benz
Model: Sprinter
Year: 2009
Vehicle Length: 7 metres
Vehicle Height: 2.85 metres
Length with hitch: 7 metres
Max Laden Weight (MAM): 3500 kg
Payload: 1,000 kg
Transmission: manual
Fuel Type: diesel
Fuel Efficiency: 34 mpg
Registration: emailed when you book
Note: The hire of this vehicle is arranged by Quirky Campers ltd acting as the agent on behalf of Coq O'Van's owners. We make every effort to ensure that all the vehicles listed with us are of a high standard but cannot guarantee the condition of the vehicle. If you experience any problems please notify us as soon as possible.
Reviews
See Full Reviews...

July 2022

Jane

From Guy Morris...
Thanks Jane. Point about an additional saucepan duly noted!

May 2022

Chris

From Guy Morris...
Thanks Chris. Delighted that you had fun. See you when you're ready for your next trip!