Mont Blanc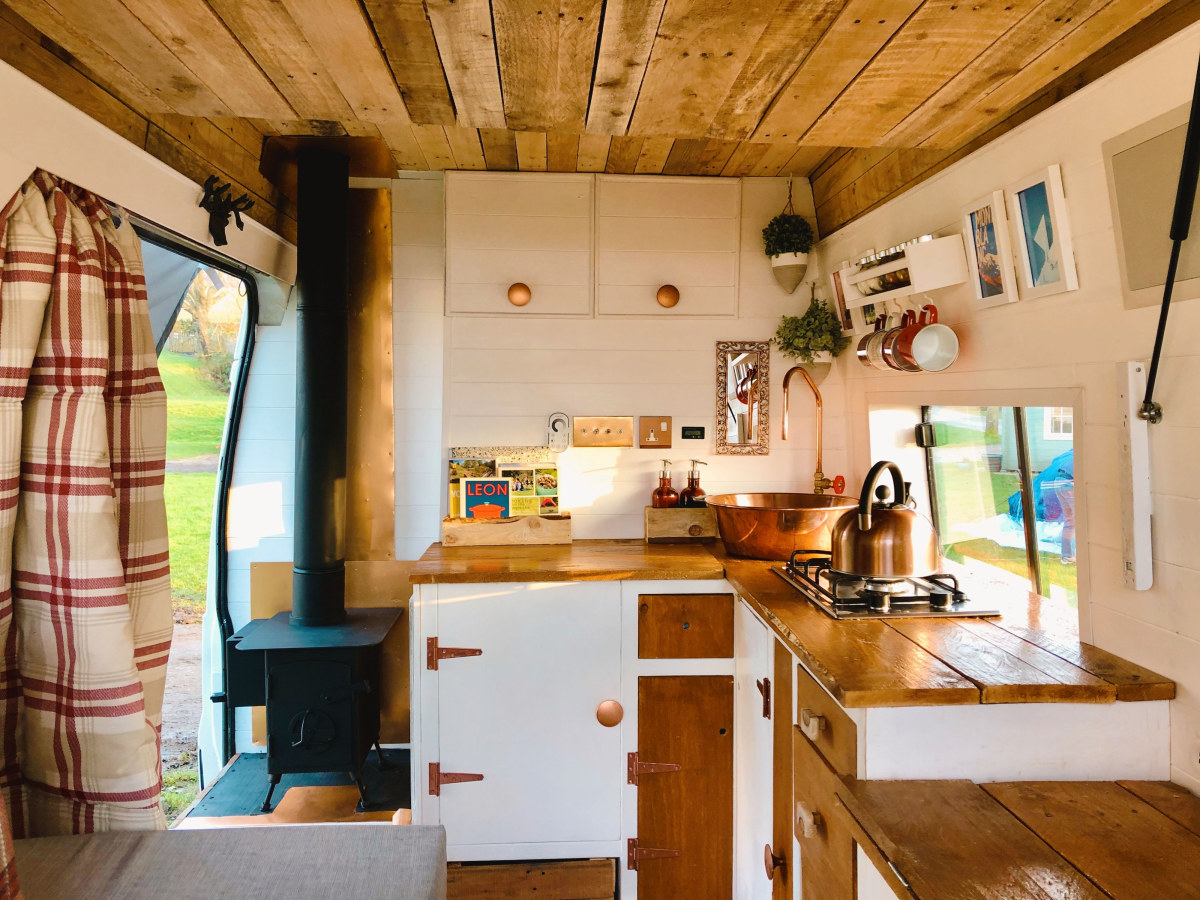 Sheffield
3 Belted seats 4 Adult berths
Mont Blanc is the kind of campervan that #vanlife is made for! This cool and sleek camper with an alpine vibe will give you both the perfect Instagram photo, as well as the absolute perfect rolling home for your off-grid road trip! This campervan hire in Sheffield has been designed to provide a super spacious living area with loads of storage for all your adventure kit. Inside this beautiful camper you get the best of both worlds, with a comfy l-shaped sofa during the day, and a double bed which pulls down from the ceiling at night, so you don't have to faff with moving cushions and making a bed up morning and night! There is still standing room throughout the entirety of the van. Combine this A* level of practicality with the homely and cosy wood-burner which will keep you toasty in the colder months, Mont Blanc delivers a hand crafted home from home you might not want to leave! Also, this quirky campervan rental has 120 Watts of solar power on her roof which means you can go out in the wild and explore some of the roads less travelled on your amazing camper van holiday! Where will you go?!
Essential Information
Hob
Dining Table
Refrigerator
Kitchen Sink
Inside Shower
Outside Shower
Toilet
Ceiling Fan
Awning
Tow Bar
Solar
TV / DVD
CD Player
Audio Inputs
Inverter
Pet Friendly
Double Beds: &nbsp2
Toilet Capacity: &nbsp10 litres
Waste Tank Capacity: &nbsp20 litres
Water Tank Capacity: &nbsp40 litres
EU Travel Allowed
About the Campervan
Description of Beds: Mont Blanc sleeps up to four people; two downstairs on a pull-out sofa and two above on a double bed which is pulled down from the ceiling when required and easily stowed away during the day.

Description of Seating: Three belted seats in the front (including driver) with head rests. Enough sofa space in the back to seat four to five people comfortably.

About the area: Mont Blanc lives near The University of Sheffield.

Parking: If you drive to collect Mont Blanc, you are welcome to leave your car in her parking spot. If you come by train or plane, Mont Blanc's owners will be able to arrange a pick up that works for both of you.

Cooking Equipment: In addition to the fridge and built-in two-ring gas hob, lighting the wood burner provides an ideal slow cooker. Mont Blanc has everything you could need to cook up a feast including: 4 enamel mugs and 2 espresso cups | 4 dining plates and bowls | cutlery for 4 | 2 wine glasses and 2 copper mule mugs | Chopping boards | stove-top kettle | small frying pan | large saucepan | large casserole dish | Ridge Monkey grill pan | AeroPress coffee maker | all usual cooking utensils supplied as well as a washing up bowl and a small dustpan and brush.

Water Facilities: There are two 20 litre removable water tanks supplying water to the sink via an electronic pump. There is also a clever pop-up indoor shower.

Audio Equipment: Mont Blanc has an in-wall Speaker Craft sound system in the living accommodation, with Aux plug-in and Bluetooth capabilities. The cab has a standard issue radio with CD player.

Type of Heating: Wood burning stove.

Conversion Story: Mont blanc began life as a humble builders' Transit. We bought her after a long and careful hunt. She was hand-converted by the owners with inspiration from alpine chalets. The conversion started with the dream of taking her on a ski trip for the maiden journey, which we did (for 3 weeks!) in December 2019. Her cosy wood burner, quaint decor and painted mountain scenes are combined with clean bright white so she looks good all year round. Rest assured that Mont Blanc has been road tested in the harshest of environments and we can report that she is as comfortable as a van could ever be!

We do not recommend that Mont Blanc is off-grid until March 2021 if wanting to use the refrigerator as the solar will not be sufficient.

Please note that Mont Blanc has a new exterior look. Pease see the last picture!

Pick up / Drop off Times
| - | Pick up | Drop off |
| --- | --- | --- |
| Sunday | 2:00PM - 2:00PM | 12:00PM - 12:00PM |
| Monday | 2:00PM - 2:00PM | 12:00PM - 12:00PM |
| Tuesday | 2:00PM - 2:00PM | 12:00PM - 12:00PM |
| Wednesday | 2:00PM - 2:00PM | 12:00PM - 12:00PM |
| Thursday | 2:00PM - 2:00PM | 12:00PM - 12:00PM |
| Friday | 2:00PM - 2:00PM | 12:00PM - 12:00PM |
| Saturday | 2:00PM - 2:00PM | 12:00PM - 12:00PM |
Note: Campervan Hire prices are per 24 hours. If you request pick-up at an earlier time than your drop-off time the owner will quote you for the additional hours. Typically this is £12.50 per additional hour.
When would you like to go?
Sorry, there was a problem...
Vehicle Spec
Vehicle Type: camper-van
Make: Ford
Model: Transit
Year: 2007
Vehicle Length: 5.7 metres
Vehicle Height: 2.64 metres
Max Laden Weight (MAM): 2620 kg
Payload: 657 kg
Transmission: manual
Fuel Type: diesel
Registration: emailed when you book
Note: The hire of this vehicle is arranged by Quirky Campers ltd acting as the agent on behalf of Mont Blanc's owners. We make every effort to ensure that all the vehicles listed with us are of a high standard but cannot guarantee the condition of the vehicle. If you experience any problems please notify us as soon as possible.