Kizzy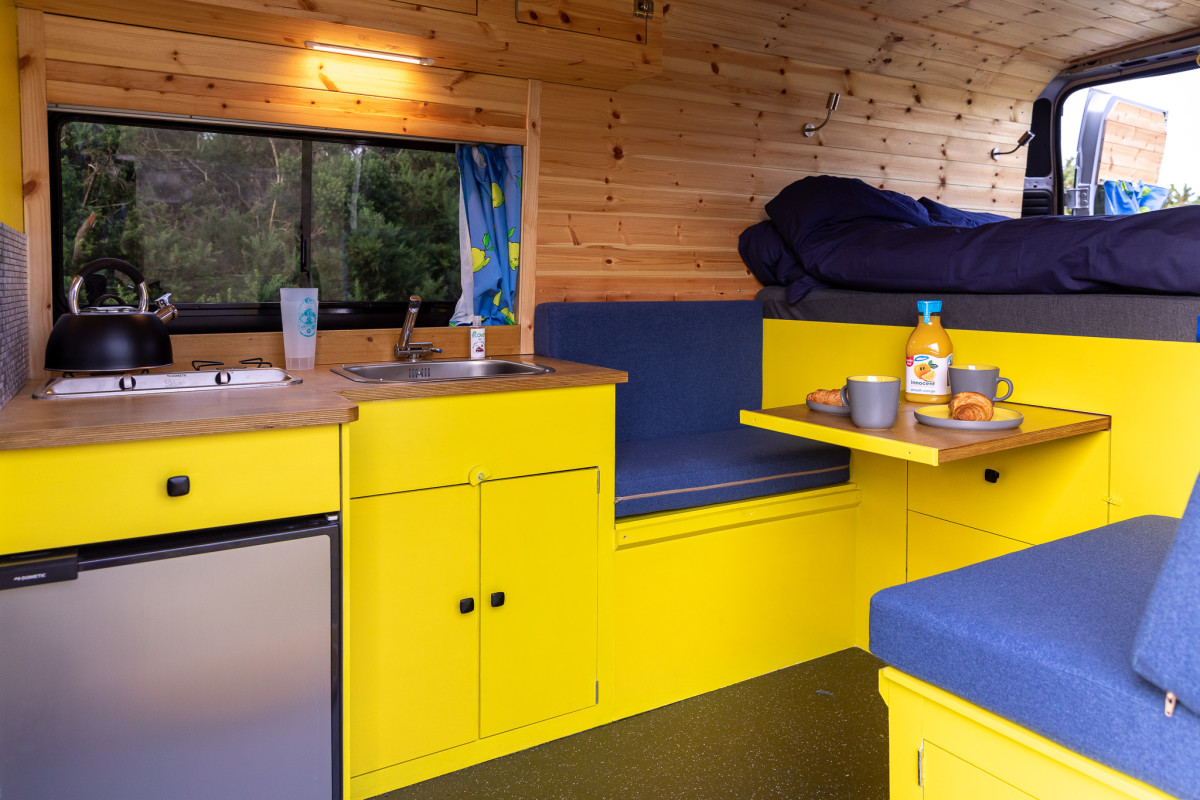 Brighton
3 Belted seats 3 Adult berths
Kizzy is a fabulously zingy lemon-yellow campervan for hire in Brighton. Freshly and professionally converted, this 3-berth camper is the most awesome rolling home for taking on a coastal adventure. With solar panels and a power inverter, Kizzy is fully set up for wild, off grid camping. She also has 240v hook up for campsite stopovers.

The layout is super practical, with a fixed rear double bed and a double sofa bench sofa which converts into a single bed if needed. There is a large storage space for all your kit in the garage space, and lots of cupboards in the main living area so you definitely won't run out of room! We love the bright, cheery colour scheme and the gorgeous fairy lights over the bed. Imagine waking up with a perfectly private seaside view, putting the kettle on to brew up a fresh coffee, and planning where the rest of your trip is going to take you!
Essential Information
Air Conditioner
Heater
Dining Table
Refrigerator
Kitchen Sink
Solar
Extra Storage
CD Player
Radio
Inverter
Pet Friendly
Queen Beds: &nbsp1
EU Travel Allowed
About the Campervan
Description of Beds: Kizzy sleeps up to three people; two on a fixed rear double bed (183cm by 136cm) and one on a single bed which converts from the bench seats (178cm by 77cm).

Description of Seating: Three belted seats in the front (including driver) with head rests. All 3-point seat belts. The front passenger seats swivel round to make 2 more seats when you are sitting in the back.

About the area: Kizzy lives in Brighton, which has easy access to the South Downs National Park and the gorgeous south coast. We can also advise on nearby beaches, away from the crowds. We work from home so pick up and drop off can be flexible.

Parking: Kizzy is parked on a quiet residential street. Unfortunately, due to parking restrictions in Brighton we cannot offer free parking. However, there is free on street parking about a mile from the pick-up.

Cooking Equipment: Kizzy has a really spacious kitchen with lots of worksurface space, a 2-burner gas hob and a fridge for chilling your beer! The fully equipped fridge has everything you could need to cook up a feast, including: 4 mugs | 4 cups | 4 bowls | 4 large dining plates | cutlery for 4 | 2 wine glasses | chopping board | kettle | small frying pan | large and small saucepan. There are two wooden spoons | 1 sharp knife | 1 bread knife | tin opener | corkscrew/bottle opener | cheese grater | potato peeler | pizza cutter | spaghetti server. Kizzy also has a colander | sieve |collapsible washing up bowl and small dustpan and brush.

Water Facilities: There is a 45-litre water tank that supplies water to the sink via a pump. A portable toilet can be hired as an optional extra.

Audio Equipment: Kizzy has a CD player and radio. Bluetooth FM radio adaptor available. There are also 2 USB ports.

Type of Heating: There is a Propex Gas powered heater which is thermostat controlled that will keep you toasty warm all year round.

Conversion Story: Kizzy is a Fiat Ducato Long Base van, converted in 2020 by Harry of SuperMoon campers. Having travelled and hired camper vans in Australia and New Zealand, we were inspired to get our very own camper conversion. We loved her so much – we wanted to share her!
Pick up / Drop off Times
| - | Pick up | Drop off |
| --- | --- | --- |
| Sunday | 8:00AM - 8:00PM | 8:00AM - 8:00PM |
| Monday | 8:00AM - 8:00PM | 8:00AM - 8:00PM |
| Tuesday | 8:00AM - 8:00PM | 8:00AM - 8:00PM |
| Wednesday | 8:00AM - 8:00PM | 8:00AM - 8:30PM |
| Thursday | 8:00AM - 8:00PM | 8:00AM - 8:00PM |
| Friday | 8:00AM - 8:00PM | 8:00AM - 8:00PM |
| Saturday | 8:00AM - 8:00PM | 8:00AM - 8:00PM |
Note: Campervan Hire prices are per 24 hours. If you request pick-up at an earlier time than your drop-off time the owner will quote you for the additional hours. Typically this is £12.50 per additional hour.
When would you like to go?
Sorry, there was a problem...
Vehicle Spec
Vehicle Type: camper-van
Make: Fiat
Model: Ducato
Year: 2014
Vehicle Length: 6 metres
Vehicle Height: 2.5 metres
Max Laden Weight (MAM): 3500 kg
Payload: 820 kg
Transmission: manual
Fuel Type: diesel
Registration: emailed when you book
Note: The hire of this vehicle is arranged by Quirky Campers ltd acting as the agent on behalf of Kizzy's owners. We make every effort to ensure that all the vehicles listed with us are of a high standard but cannot guarantee the condition of the vehicle. If you experience any problems please notify us as soon as possible.