Frida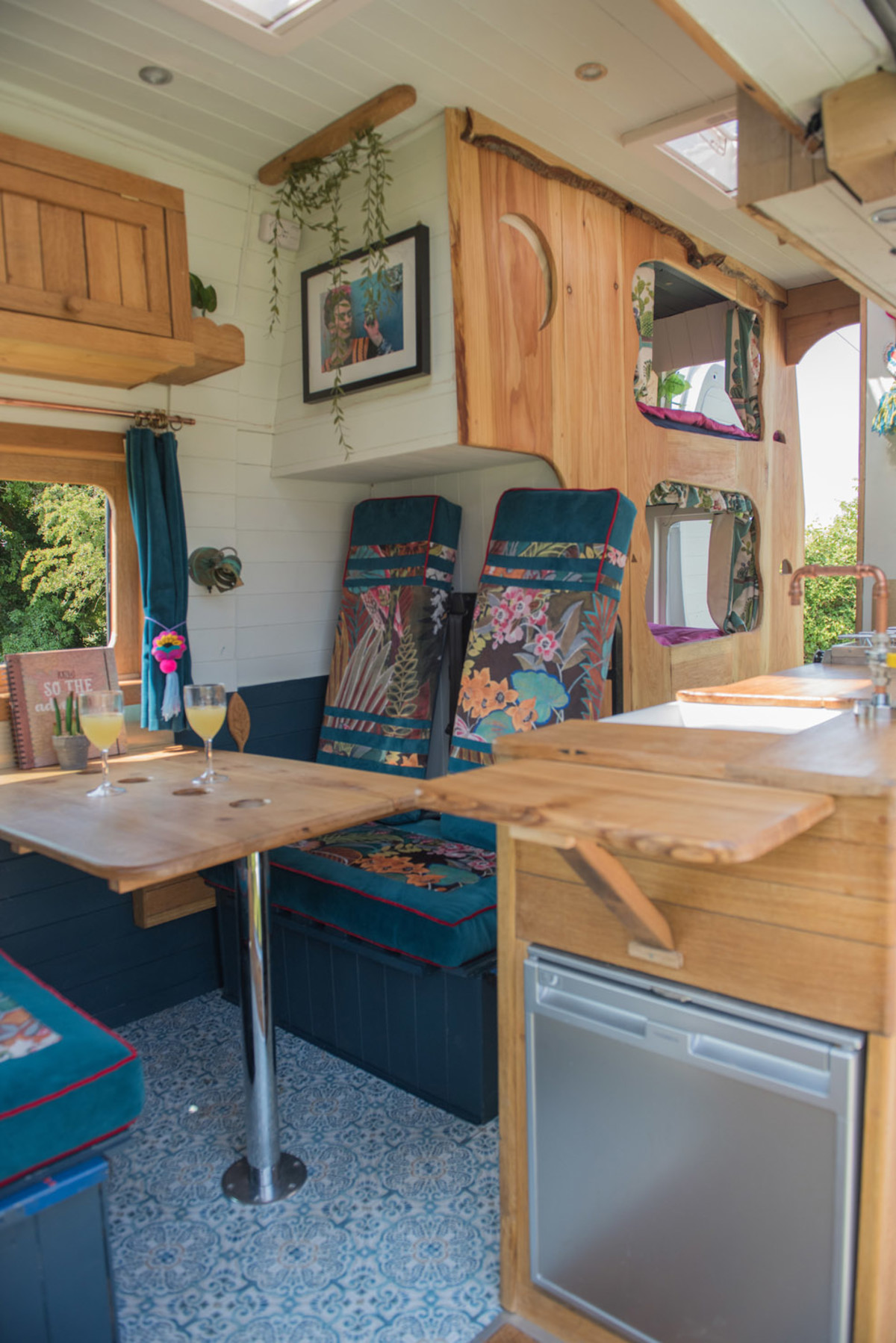 Bristol
6 Belted seats 2 Adult berths 4 Child berths
Viva La Frida! This campervan is iconic. Owned by the co-founders of Quirky Campers, Frida is the Quirkiest Camper of them all! Her design is inspired by her namesake, Frida Kahlo, full of colour and bold prints featuring plants and animals. Utilising everything they have learned about layout, functionality and interiors, to create what they believe to be the ultimate family campervan.

Fixed triple bunks for the kids with curtains and individual reading lights make bedtime a doddle. They will be delighted with all the little details, including miniature cupboards to store away any treasures they find. The design also features 4 belted seats around a table, allowing for easy snacking, colouring and lego on the move. After a day spent splashing in puddles, you can pop the little ones to bed and enjoy your own date night. Experience dinners like never before. With Frida's abundance of worktop space, 2 gas hobs and large dining area, it's like eating out at a top notch family restaurant every night with an ever changing view.

Not only is Frida aesthetically pleasing, she's practical too. Containing everything you'd need to feel comfortable from home, including a toilet stowed away under the wardrobe, which can be used inside the van or in a toilet tent outside, an external shower which can be used with pre-warmed water and a heater to keep you warm through the winter. So, what are you waiting for? It's time to paint your own reality!
Essential Information
Hob
Heater
Dining Table
Refrigerator
Kitchen Sink
Outside Shower
Toilet
Solar
Extra Storage
Leveling Jacks
CD Player
Radio
Gas Capacity: &nbsp4 litres
Toilet Capacity: &nbsp21 litres
Waste Tank Capacity: &nbsp15 litres
Water Tank Capacity: &nbsp29 litres
EU Travel Allowed
About the Campervan
Description of Beds: Frida sleeps up to 6 people in the following beds:
Double bed made up of the bench seats and table - 190cm x 128cm. Top bunk - 190cm x 70cm (max. 75kg) . Middle bunk - 150cm x 75cm. Bottom bunk - 150cm x 55cm. Cab hammock - 150cm x 90cm (max. 60kg)

Description of Seating: Two front seats with 3-point seatbelts. Two rear-facing back seats with 3-point seatbelts (and ISOfix). Two forward-facing back seats with 3-point seatbelts (and ISOfix)

About the area: Frida lives in Easton, Bristol. She is situated a 10-15 minute drive or 30-40 minute walk from Bristol Temple Meads train station and a similar distance from the central bus station. Or a 10 minute walk from the local Stapleton Road train station. Bristol is the gateway to Cornwall, Devon and South Wales.

Parking: If you drive to collect Frida, you are welcome to leave your car in her normal spot on the street.

Cooking Equipment: Frida features a good-sized double hob and roomy 65l fridge with small freezer compartment. She has everything you need to cook and serve a feast, including: Non-stick frying pan and 3 non-stick saucepans of varying sizes | 2 large serving/salad bowls and a colander | Cooking utensils | 6 large plates, 6 side plates and 6 bowls | Cutlery for 6 | 6 tumblers, 2 wine glasses and 2 mugs | Kettle | Cooking knives | tin opener | bottle opener | peeler | Stove-top espresso maker.

Water Facilities: There is a 19 litre and a 10 litre removable water tank that supplies water to the sink via a pump.

Type of Heating: Automated Diesel Heater with temperature control, which uses a tiny quantity of fuel direct from the tank to heat the camper.

Conversion Story: Frida is a long-dreamed of van created by the co-founders of Quirky Campers, Lindsay and David. They owned their previous self-built van, Bella, for 13 years. Over time their needs and priorities had changed as they had gone from a young couple to parents of 3 growing children.

They knew they wanted their next van to be designed to maximise the ease and comfort of campervanning with kids, but were keen not to own anything too large that made country lanes challenging and parking in Easton almost impossible. So, they set out to create the perfect family layout in a medium sized van.

The thing that enabled them to have 4 belted seats around a table that can transform into a double bed was these magic seat frames from Leisure Vehicle Services .

Although they had built their previous van (and their house) themselves, with 3 kids aged 4, 4 & 6 and busy jobs running Quirky Campers, they figured it would take them a decade to complete it. So, they enlisted the help of talented craftspeople James and Anita from Rustic Simplicity whose work they had admired for many years. They had a lot of fun thinking through how to make it practical, beautiful and fun! Detailed 3D drawings were created and shared and many an evening were spent in long skype sessions!

The interior was inspired by her namesake, Frida Kahlo. They wanted the van to embody her love of colour and her spirit of non-conformity and living life on her own terms. They enlisted Lindsay's cousin, interior designer Hannah Redden, to help turn Lindsay's dreams into reality. Many an hour was spent looking for the perfect combination of colours, fabrics and flooring.

Thanks to lockdown they didn't have a single glimpse of her in the flesh until she was delivered, finished and ready to go, to their door in late June. Luckily, she was just perfect.
Pick up / Drop off Times
| - | Pick up | Drop off |
| --- | --- | --- |
| Sunday | 8:00AM - 8:00PM | 8:00AM - 8:00PM |
| Monday | 8:00AM - 8:00PM | 8:00AM - 8:00PM |
| Tuesday | 8:00AM - 8:00PM | 8:00AM - 8:00PM |
| Wednesday | 8:00AM - 8:00PM | 8:00AM - 8:00PM |
| Thursday | 9:00AM - 5:00PM | 9:00AM - 5:00PM |
| Friday | 8:00AM - 8:00PM | 8:00AM - 8:00PM |
| Saturday | 8:00AM - 8:00PM | 8:00AM - 8:00PM |
Note: Campervan Hire prices are per 24 hours. The default pick up and drop off time is 2pm. If you request a pick up or drop off outside of this, the owner will quote you for the additional time. Typically this is £12.50 per additional hour.
When would you like to go?
Sorry, there was a problem...
Vehicle Spec
Vehicle Type: Campervan
Make: Citroen
Model: Relay
Year: 2019
Vehicle Length: 6 metres
Vehicle Height: 2.35 metres
Max Laden Weight (MAM): 3500 kg
Payload: 640 kg
Transmission: manual
Fuel Type: diesel
Fuel Efficiency: 38 mpg
Registration: emailed when you book
Note: The hire of this vehicle is arranged by Quirky Campers ltd acting as the agent on behalf of Frida's owners. We make every effort to ensure that all the vehicles listed with us are of a high standard but cannot guarantee the condition of the vehicle. If you experience any problems please notify us as soon as possible.
Reviews
See Full Reviews...

January 2022

Claire & Kris

From David and Lindsay...
This is a test response from the owner

March 2022

Laura & Chris

From David and Lindsay...
Thank you for taking the time to leave a review Laura. Frida had a wonderful adventure in Yorkshire with your lovely family. Thanks for sending the pics - we love seeing what she gets up to! Hope to see you again :)

October 2021

Lu and Family

From David and Lindsay...
Thank you for taking such good care of Frida and thank you for the photos of that amazing sunset from the Lake District. It has inspired us to go on more winters trips! We are thrilled that all four of you enjoyed the experience.

September 2021

The Garland Family

From David and Lindsay...
Thank you for your wonderful review Anna. It really was an absolute pleasure to have you as customers and you have inspired us to be more ambitious in our adventures too! We would love to welcome you all back any time. Lindsay