Rudy The Randger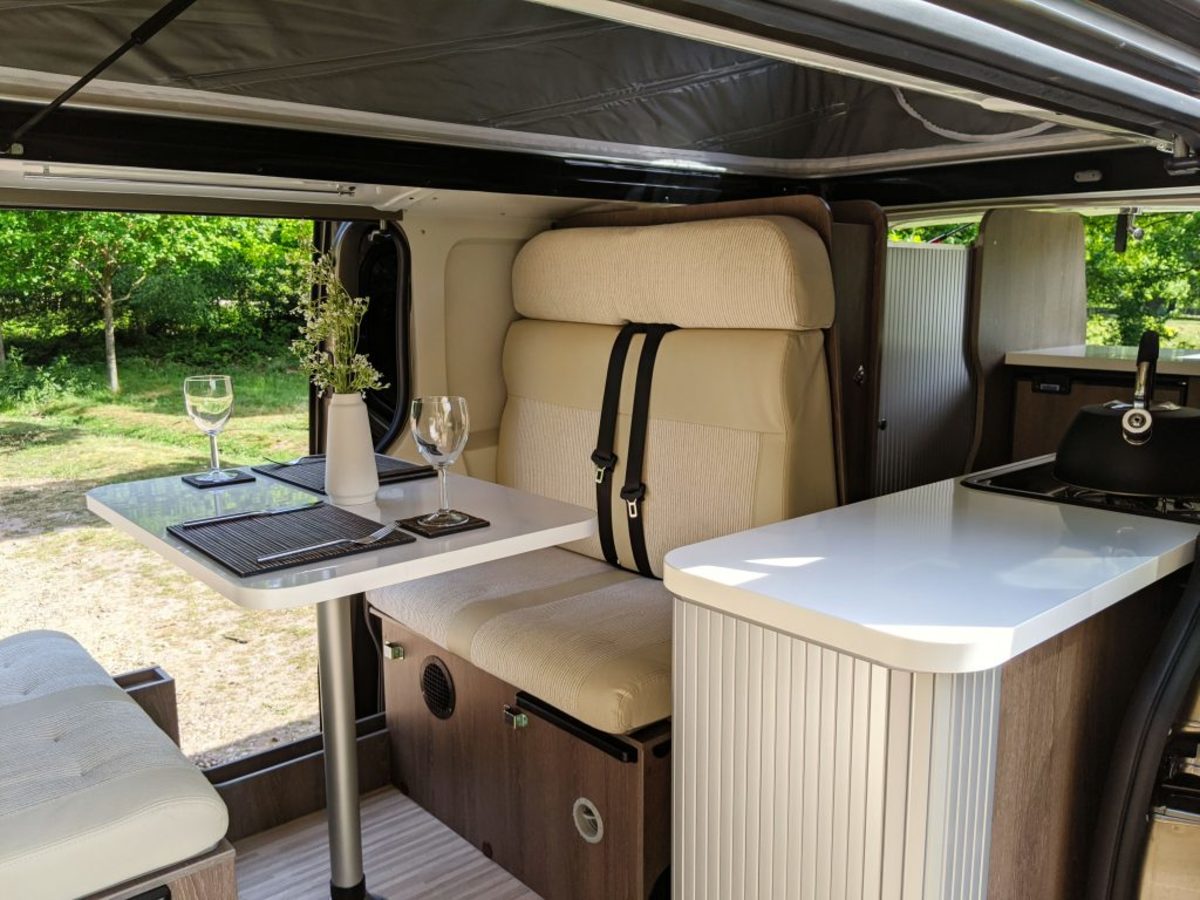 London
4 Belted seats 2 Adult berths 1 Child berths
Rudy the Randger is a classy, high spec, fully self-contained campervan for hire in London with onboard shower and toilet facilities and stylish touches, creating a complete boutique hotel experience on wheels! A modern, sleek and bright camper, Rudy provides everything you need for an easy and comfortable pet-friendly campervan holiday, giving couples and small families complete freedom to hit the road and escape the city on a UK campervan adventure.

Barely wider than a car, Rudy is the ideal choice for novice campervan drivers eager to get on a road-trip. Rudy's compact size, combined with all the gadgets you might expect of a 2019 van, allows him to be easily navigated from the streets of London to country lanes that larger vans often can't reach.

A toasty diesel heater makes Rudy an all year-round campervan, keeping you lovely and warm in winter and on chillier British summer nights. The stylish seating area, perfect for a romantic dinner or an old-fashioned board game, transforms into a double bed at night, whilst the pop top roof offers extra headroom during the day and a further double bed, giving you a choice of where to sleep.

Rudy's impressively equipped kitchen has everything you need to cook up a feast, whilst the cleverly compact washroom comes complete with a separate washbasin, flushing toilet and a shower that you can use either inside or out!

This dog-friendly London campervan allows for a road-trip with all the comforts of home. Pack light and start planning your London escape on your 2021 staycation adventure of a lifetime!
Essential Information
Hob
Heater
Dining Table
Refrigerator
Kitchen Sink
Inside Shower
Outside Shower
Toilet
Tow Bar
Reversing Camera
Audio Inputs
Radio
Pet Friendly
Double Beds: &nbsp1
Gas Capacity: &nbsp4.75 litres
Toilet Capacity: &nbsp18 litres
Waste Tank Capacity: &nbsp59 litres
Water Tank Capacity: &nbsp68 litres
About the Campervan
Description of Beds: Rudy is a comfortable sleep for two, with a choice of sleeping either downstairs in the converted seating area or up in the pop top. Rudy can also accommodate one child (up to 13) in addition to two adults - he's just more comfortable with two adults! The upstairs bed is a comfy double mattress and access up and down is via a nifty ladder. Bring your own bedding or add on our brand new, hotel-standard pillows and double duvets with Orla Kiely bedding as an extra for ease and comfort.

Description of Seating: Rudy has four belted seats with headrests in total – 2 in the front and 2 in the back. There is direct access from the cab to the van's interior, which is handy in case you need to easily get to your furry friend or use the facilities without going out in the rain. All 4 seats have three-point belts and 3 out of the 3 passengers' seats are suitable for a child car seat using the belt. The table and chairs area seats 5 in total as there is a small non belted seat to the side. The table can be left up or handily stowed away. It becomes the base of the downstairs bed. The front seats in the cab are very comfortable and recline for additional seating while not on the move.

About the area: Rudy lives in South West Central London in Oval, equidistant between Stockwell (Victoria Line) and Oval (Northern Line) stations, 5-10 minute walk. Alternatively, Vauxhall mainline station is approx. a 20 minute walk. Rudy has a dedicated parking space in a secure, covered car park with security fob access.

Parking: If you drive to collect Rudy, you are very welcome to leave your car in his normal spot at a nominal charge for central London of £5 per day. If you come by tube, (Stockwell or Oval), Rudy's owners will provide walking directions dependent on whichever station you are coming to. Generally you will meet us at our house rather than the car park and Rudy will be ready to go and parked outside. Pick up is from outside our home. alre

Cooking Equipment: Rudy has a very snazzy, fully equipped kitchen, complete with a sink, two burner hob and a fridge freezer, which we will always make sure comes complete with ice cubes so you can enjoy a cold drink on arrival at your first stop! Rudy contains everything you could need to cook up a feast, including: 4 traditional tin camping mugs | 2 china mugs | 4 melamine bowls | 4 small plates | 4 large plates | proper stainless steel cutlery for 4 | 2 melamine wine glasses | 2 champagne flutes | 2 tall water glasses | 2 medium water (or gin) glasses | 2 pint glasses | 3 Joseph Joseph chopping boards | collapsible kettle | frying pan | 2 saucepans (large & small) and colander. Moka pot (for fresh coffee brewed on the stove top!) and a hob toaster.

There are wooden & silicone spoons, silicone spatulas and tongs, large and small sharp knives, a tin opener, corkscrew/bottle opener, grater, kitchen scissors, barbecue tongs (for use on external BBQs). Rudy also has a small dustpan and brush, mini vacuum cleaner and a 12V hairdryer that you can use in the van.

Water Facilities: Rudy carries a 68 litre fresh water tank on board that supplies hot and cold water to the kitchen and washroom. Water is heated by a Truma diesel heater, which is fed from the main diesel fuel tank, so great news - having a hot shower doesn't use up your cooking gas! Rudy's toilet is an electric flushing Thetford cassette toilet with an 18-litre wheeled holding waste tank, which is very easy to empty.

Audio Equipment: Rudy has a DAB Radio/CD with MP3 player with USB and Bluetooth handsfree connections, meaning that you can play your own music.

Type of Heating: A Truma Diesel Heater ensures you will never get cold.

Conversion Story: Rudy is a 2019 professional factory-fitted campervan conversion, based on a Fiat Talento chassis. He caught our eye with his stylish finish and smart attire and, impatient to discover a new world of domestic travel, and to get out on the road straight out of lockdown with our pup, when Rudy popped up for sale on Quirky Campers in June 2020, we couldn't resist him!

Just two years old, Rudy's newness and slick livery combine with clever, compact design, including an onboard toilet and shower allowing you to be totally self-sufficient. Rudy is perfect for novice campervan drivers. Small but perfectly formed, driving Rudy is like driving a brand new car, super comfortable and complete with all the latest safety and navigation technologies, including reversing cameras.

We love the stylish finishes to the upholstery and the kitchen/dining area, which lends itself to creating the perfect cocktail to be served from the bar – it has that kind of vibe! We wanted to make a stay in Rudy feel like staying in a boutique hotel on wheels, giving you the option to simply rock up with your luggage, knowing that everything else is taken care of, ready for you to drive off into the sunset. For example, as standard, the kitchen is fully equipped to cook up a feast, serve fresh coffee in the morning and keep your fizz fizzy in the evening, or if you would like an enhanced boutique wheels experience, simply add optional extras, such as luxury hotel quality bedding, breakfast provisions, etc. for the ultimate upgrade.

For all that Rudy has on board, the one compromise is storage space, so light packing gives you maximum comfort. Rudy offers pet-friendly campervan hire for well-behaved pets. The cleaning fee does become a required charge when your pet comes too. A second pet on board is at our discretion and potentially subject to an additional cleaning fee. Please let us know at the time of booking and feel free to ask any questions.

Rudy is our first foray into campervan ownership and we are delighted to share him. Drive Rudy out of London on a splendid adventure, like Lisa did with her son, Archie in September 2020 - see what she had to say:

"Hired Rudy for 3 nights and Charlotte made the whole process very smooth. Rudy is a lovely compact van and an absolute pleasure to drive - even for newbies like us! Everything was spotlessly clean and beautifully equipped: every utensil you might need in the kitchen has been thought of, and everything from wine glasses to table mats and lovely mugs and coasters are provided to ensure your adventure is a civilised one - however off-grid you decide to go. Thoughtful touches such as supplying the fridge basics along with a couple of welcome G&Ts was very much appreciated. Cheers to more Rudy adventuring in the future - highly recommend!
Lisa & Archie"

Tash and Jason took Rudy and their 10 year old daughter on a road trip through France in August 2020 before no one could any more!:

"Would thoroughly recommend Rudy and Boutique Wheels Campervan Hire UK. Rudy took us on a tour across France to the Dordogne and to the Ardeche. He's a pleasure to drive and really comfy and spacious on the road, but then also compact enough to take the more scenic routes and drive through smaller villages and towns. We could pull off with ease and really enjoy the views or a swim!! Despite it being super hot when we were away we could always keep cool, the onboard fridge and ice compartment was a definite bonus as was the immaculately stocked kitchen which covered every need. It was so lovely to have the starter hamper including the bottle of fizz - very welcome on our first night. The pop up bed was a complete winner with our daughter who got into it whenever the opportunity and again despite the heat it was a very comfy sleep. Rudy's owners have really thought about every need - being married to a tea addict it was vital to be able to get a brew on the go whenever required and the quality kit (right down to the very cool mugs) made sure everyone was happy. Having washing facilities on board was a key consideration for us when we booked as we weren't sure how open facilities would be during Covid times, but in the end we didn't use them as everywhere we ended up making home had facilities - but it was great to know they were there if required. Tips from us would be pack light, hire the bedding (great pillows!!) and plan your adventure - we will definitely be back!!"
Pick up / Drop off Times
| - | Pick up | Drop off |
| --- | --- | --- |
| Sunday | 9:00AM - 7:00PM | 9:00AM - 7:00PM |
| Monday | 9:00AM - 7:00PM | 9:00AM - 7:00PM |
| Tuesday | 9:00AM - 7:00PM | 9:00AM - 7:00PM |
| Wednesday | 9:00AM - 7:00PM | 9:00AM - 7:00PM |
| Thursday | 9:00AM - 7:00PM | 9:00AM - 7:00PM |
| Friday | 9:00AM - 7:00PM | 9:00AM - 7:00PM |
| Saturday | 9:00AM - 7:00PM | 9:00AM - 7:00PM |
Note: Campervan Hire prices are per 24 hours. If you request pick-up at an earlier time than your drop-off time the owner will quote you for the additional hours. Typically this is £12.50 per additional hour.
When would you like to go?
Sorry, there was a problem...
Vehicle Spec
Vehicle Type: camper-van
Make: Randger
Model: 535
Year: 2019
Vehicle Length: 5.4 metres
Vehicle Height: 2.06 metres
Max Laden Weight (MAM): 3010 kg
Payload: 490 kg
Transmission: manual
Fuel Type: diesel
Registration: emailed when you book
Note: The hire of this vehicle is arranged by Quirky Campers ltd acting as the agent on behalf of Rudy The Randger's owners. We make every effort to ensure that all the vehicles listed with us are of a high standard but cannot guarantee the condition of the vehicle. If you experience any problems please notify us as soon as possible.