Homer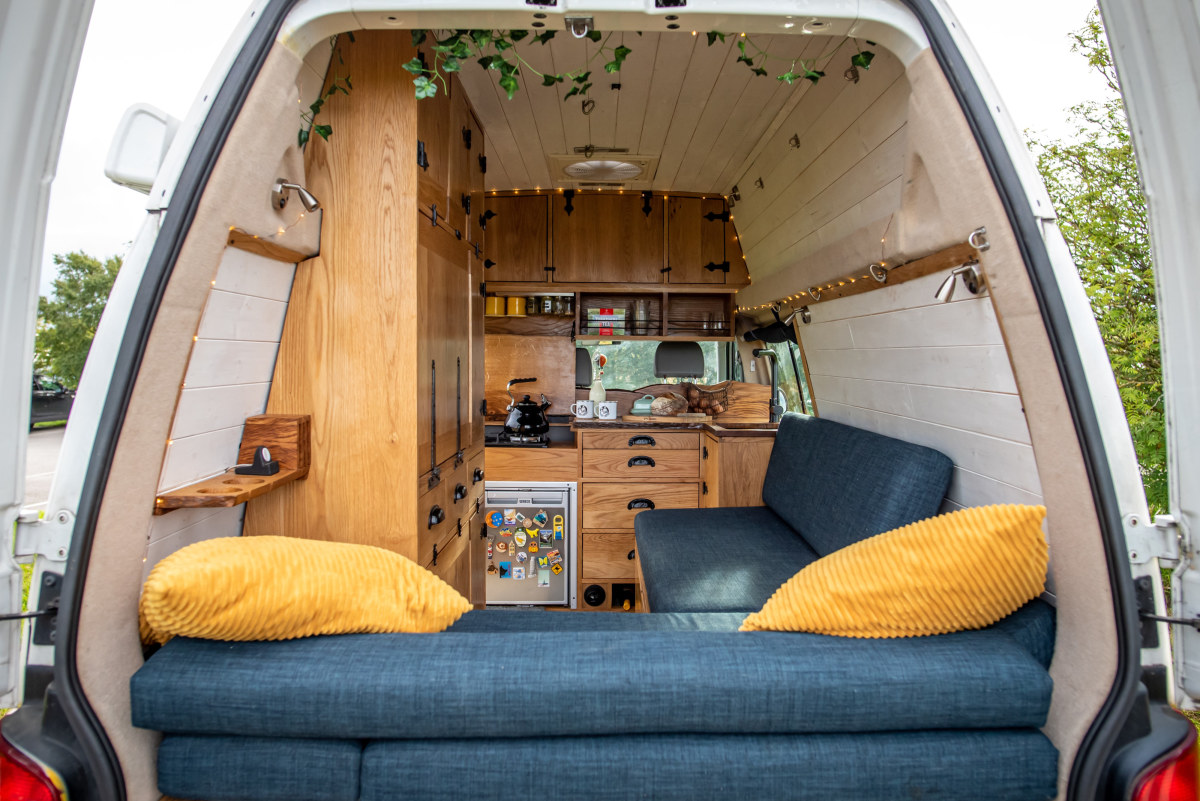 Leeds
3 Belted seats 3 Adult berths
Homer is the absolute epitome of a quintessential camper van. This stunning Volkswagen T5 has been professionally converted into a totally bespoke, practical, quirky and downright Instagram ready campervan. Ready to hire in Leeds, Homer is set to whisk you away to the Yorkshire Dales, the crags of the Peaks District or maybe the wilds of Scotland?

Homer is a little van but he packs a punch! The solid oak cupboards are incredibly practical and give you masses of storage for all your kit. Having a high-top roof means you get plenty of head room and also allows for the optional 3rd berth that lowers from the ceiling should you want to use it. He is a total adventure camper with 4WD (with diff lock), upgraded suspension and all terrain tyres, so he's ready for any driving conditions. His impressive 300W solar means you can immerse yourself in a wild camping holiday and the portable toilet and outside shower will keep you off grid for as long as you want.

We know you will fall in love with Homer's cheeky charm, and have an incredible holiday with the family and the dog, taking in the rolling hills of the UK or venturing further afield. Wherever you take this beautiful campervan, you'll turn heads along the way and you probably won't want to give him back!
Essential Information
Air Conditioner
Hob
Heater
Dining Table
Refrigerator
Kitchen Sink
Outside Shower
Bike Rack
Toilet
Ceiling Fan
Awning
Solar
Reversing Camera
Extra Storage
Radio
Pet Friendly
Gas Capacity: &nbsp12 litres
Waste Tank Capacity: &nbsp70 litres
Water Tank Capacity: &nbsp74 litres
EU Travel Allowed
About the Campervan
Description of Beds: Homer can sleep 3 adults in the main living area. The main bed measuring 190cm x 120cm is very simple to convert from the L shaped sofa. It is also possible to further extend the main bed out of the back doors by 60cm utilising heavy duty rails. Perfect for sleeping under the stars on a warm night! The second bed hangs from the ceiling using heavy duty cord and carabiners, it's been weight tested to 200kg. It measures 190cm x 60cm and we supply a self-inflating camping mattress. If you prefer not to take it down each morning then it is possible to hoist it up to the ceiling out of the way.

Description of Seating: Homer can legally carry 3 people while travelling, with all seat belted seats in the front cab. The living area will comfortably seat 4 people. A sturdy table folds down from the side cupboard units to create a dining or working space.

About the area: Homer lives a 5-minute drive from the Chevin country park and Caley Crag; probably the best gritstone climbing area in the UK. Ilkley Moor is only 15 minutes away and you can be in the Yorkshire Dales within 30 minutes.

Parking: There is free on street parking available for the duration of your stay. There is also a local train station a short walk away and Leeds Bradford airport is only 5 minutes in a taxi.

Cooking Equipment: Homer has a 2-burner gas hob built on heavy duty rails. The unique inside/outside mechanism means it is possible to slide it out of the side door for outside cooking when weather permits, or you can simply lift the lid and cook indoors. We provide various pots, pans and cooking utensils, and enough plates, bowls and cutlery for 4 people. There is also a large Moka Pot for fresh espresso, an additional milk frother for creamy lattes, and a 1 litre kettle for the essential Yorkshire Tea.

Water Facilities: Homer has a winter proofed 50-litre fresh water tank under the main bed, plus an additional 24 litre tank connected to the filtered drinking water system. The 70-litre grey water tank is underneath the van. There is a cold-water shower that connects to the kitchen tap and extends out of the side window; hot water is from the kettle only. A portable toilet can be provided as an optional extra; it is stored underneath the bed. All chemicals will be included.

Type of Heating: Homer has a top of the range 2kW Eberspacher D2L diesel heater that takes fuel from the main tank and can run 24 hours a day if needed. The thermostat controller maintains a constant temperature inside the van.

Extra Information: We built Homer to be an adventure van, capable of going off grid for weeks at a time in both Winter and Summer. We've taken him on an 8-week long ski trip at temperatures down to minus 20 degrees, and driven across Turkey in a sweltering 40! There are therefore lots of additional features that you won't find on other campervans including retrofitted AC in the cab and added 300W of solar, a large bank of batteries, diesel heater and separate internal drinking water tanks.
Pick up / Drop off Times
| - | Pick up | Drop off |
| --- | --- | --- |
| Sunday | 8:00AM - 8:00PM | 8:00AM - 8:00PM |
| Monday | 8:00AM - 8:00PM | 8:00AM - 8:00PM |
| Tuesday | 8:00AM - 8:00PM | 8:00AM - 8:00PM |
| Wednesday | 8:00AM - 8:00PM | 8:00AM - 8:00PM |
| Thursday | 8:00AM - 8:00PM | 8:00AM - 8:00AM |
| Friday | 8:00AM - 8:00PM | 8:00AM - 8:00PM |
| Saturday | 8:00AM - 8:00PM | 8:00AM - 8:00PM |
Note: Campervan Hire prices are per 24 hours. The default pick up and drop off time is 2pm. If you request a pick up or drop off outside of this, the owner will quote you for the additional time. Typically this is £12.50 per additional hour.
When would you like to go?
Sorry, there was a problem...
Vehicle Spec
Vehicle Type: Campervan
Make: Volkswagen
Model: Transporter T5 4Motion
Year: 2011
Vehicle Length: 5.3 metres
Vehicle Height: 2.5 metres
Length with hitch: 6 metres
Max Laden Weight (MAM): 3350 kg
Payload: 650 kg
Transmission: manual
Fuel Type: diesel
Registration: emailed when you book
Note: The hire of this vehicle is arranged by Quirky Campers ltd acting as the agent on behalf of Homer's owners. We make every effort to ensure that all the vehicles listed with us are of a high standard but cannot guarantee the condition of the vehicle. If you experience any problems please notify us as soon as possible.