EX - Baobab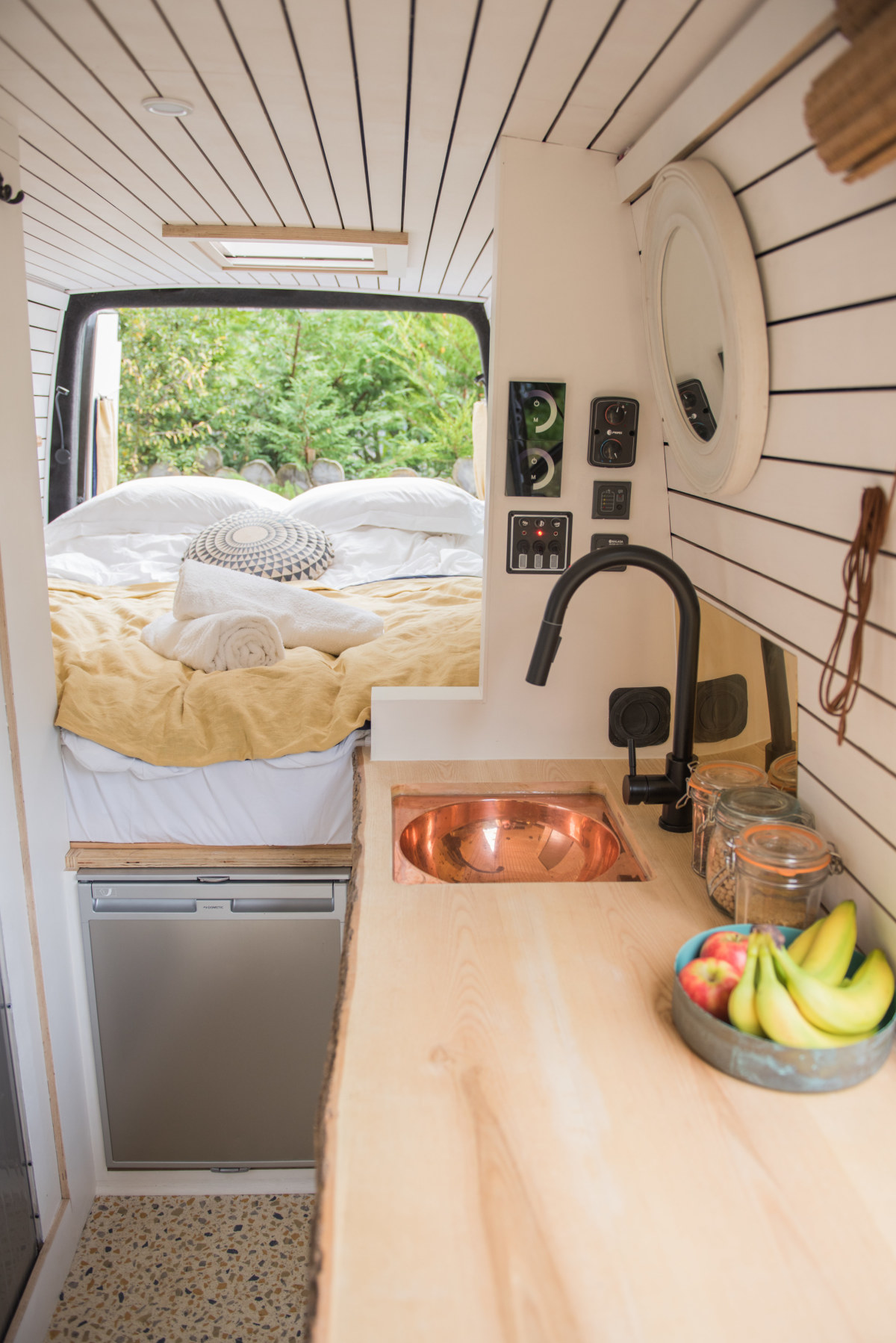 East Sussex
3 Belted seats 2 Adult berths
Freshly and professionally converted, this absolute stunner of a campervan for hire in East Sussex is the perfect option for a romantic getaway vehicle for two people, or perhaps a family holiday for three.

The quality of, and attention to detail in Baobab's incredibly high spec conversion is a total delight. Inside, you will find a huge fixed king-sized bed at the back, with lots of storage underneath in very handy pull out drawer. The fresh white and copper interior showcases an incredible kitchen which manages to fit in hob, oven, grill and fridge, as well as a stunning living edge worksurface to prepare your al fresco feast upon.

Completely self-contained, Baobab has an internal shower with hot water fed from the 70-litre fresh water tank, as well as a portable toilet and solar power. This means that off grid, wild camping adventures are all yours for the taking!

Baobab, in our opinion, really has it all! If you are new to van life then this will be a really easy, pretty luxury option to get you started. If you're old hands at roaming on wheels, you will appreciate every design feature that has been hand crafted into the conversion. Whether you take her to see a beach sunset, a mountain sunrise or camp up in a woodland retreat, you will have a totally epic campervan holiday in this glorious campervan!

p.s. Baobab's owners supply crisp fresh white linen and soft fluffy large white towels with each booking, so no need to book these as an extra!

You'll also find a cheeky bottle of Prosecco in the fridge!
Essential Information
Hob
Heater
Dining Table
Oven
Refrigerator
Kitchen Sink
Inside Shower
Outside Shower
Toilet
Solar
Reversing Camera
Extra Storage
Leveling Jacks
Radio
King Beds: &nbsp1
Gas Capacity: &nbsp35 litres
Waste Tank Capacity: &nbsp70 litres
Water Tank Capacity: &nbsp70 litres
About the Campervan
Description of Beds: Baobab sleeps 2 adults in a luxurious fixed king-sized bed. If you are happy to share with a small child, they would also fit very comfortably.

Description of Seating: There are 3 belted seats in the front (including driver) all with head rests. The 2 passenger seats don't have iso fix but are suitable for a child's car seat using the seat belt.

About the area: Baobab lives in Cowbeech, East Sussex in a quiet woodland paradise.

Parking: There is plenty of off-road parking to leave your car whilst you take Baobab on an adventure.

Cooking Equipment: The internal kitchen in Baobab is fully equipped for cooking up an absolute banquet! She has a 2-burner gas hob as well as a gas oven and grill. Within Baobabs many storage drawers you will find all the pots and pans you will need as well as tin camping mugs | melamine large and small dining plates | bowls and salad bowls. Cutlery for 4 people | sharp knives | corkscrew/bottle and tin openers as well as a stove top espresso machine and toast racket. Under the copper Belfast sink you will find 3 separated rubbish bins for your waste, food waste and recycling as well as cleaning products and a dust pan and brush.

Water Facilities: Baobab has 2x 70ltr fresh and waste underslung water tanks, filled and emptied through external points. The hot water is delivered to the tap and both indoor and outdoor shower points via a pressurised pump, expansion tank and water filter. There is also a portable toilet option.

Audio Equipment: Baobab has a Pioneer head unit and two pod speakers in the rear of the van. USB plug-in and blue-tooth are both available so you can play your own music as well as using the inbuilt navigation system.

Type of Heating: Baobab has a Propex gas blown air heater and water heater to keep you warm and toasty on a chilly evening.

Conversion Story: Baobab came into this world as a UPS delivery van but after only 3 short years in service she decided that a career change was needed and one where she could see the world and lounge in the sun.

Baobab has been expertly converted by Right to Roam Campervans Ltd who have put their heart and soul into her conversion. She has been designed to showcase the best of their work, incorporating modern interior design, high end carpentry and practical technical solutions to become the ultimate luxurious adventure vehicle.
Pick up / Drop off Times
| - | Pick up | Drop off |
| --- | --- | --- |
| Sunday | 9:00AM - 5:00PM | 9:00AM - 5:00PM |
| Monday | 9:00AM - 5:00PM | 9:00AM - 5:00PM |
| Tuesday | 9:00AM - 5:00PM | 9:00AM - 5:00PM |
| Wednesday | 9:00AM - 5:00PM | 9:00AM - 5:00PM |
| Thursday | 9:00AM - 5:00PM | 9:00AM - 5:00PM |
| Friday | 9:00AM - 5:00PM | 9:00AM - 5:00PM |
| Saturday | 9:00AM - 5:00PM | 9:00AM - 5:00PM |
Note: Campervan Hire prices are per 24 hours. If you request pick-up at an earlier time than your drop-off time the owner will quote you for the additional hours. Typically this is £12.50 per additional hour.
Vehicle Spec
Vehicle Type: camper-van
Make: Mercedes
Model: Sprinter
Year: 2015
Vehicle Length: 6.9 metres
Max Laden Weight (MAM): 3500 kg
Payload: 240 kg
Transmission: manual
Fuel Type: diesel
Registration: emailed when you book
Note: The hire of this vehicle is arranged by Quirky Campers ltd acting as the agent on behalf of EX - Baobab's owners. We make every effort to ensure that all the vehicles listed with us are of a high standard but cannot guarantee the condition of the vehicle. If you experience any problems please notify us as soon as possible.