Tikaani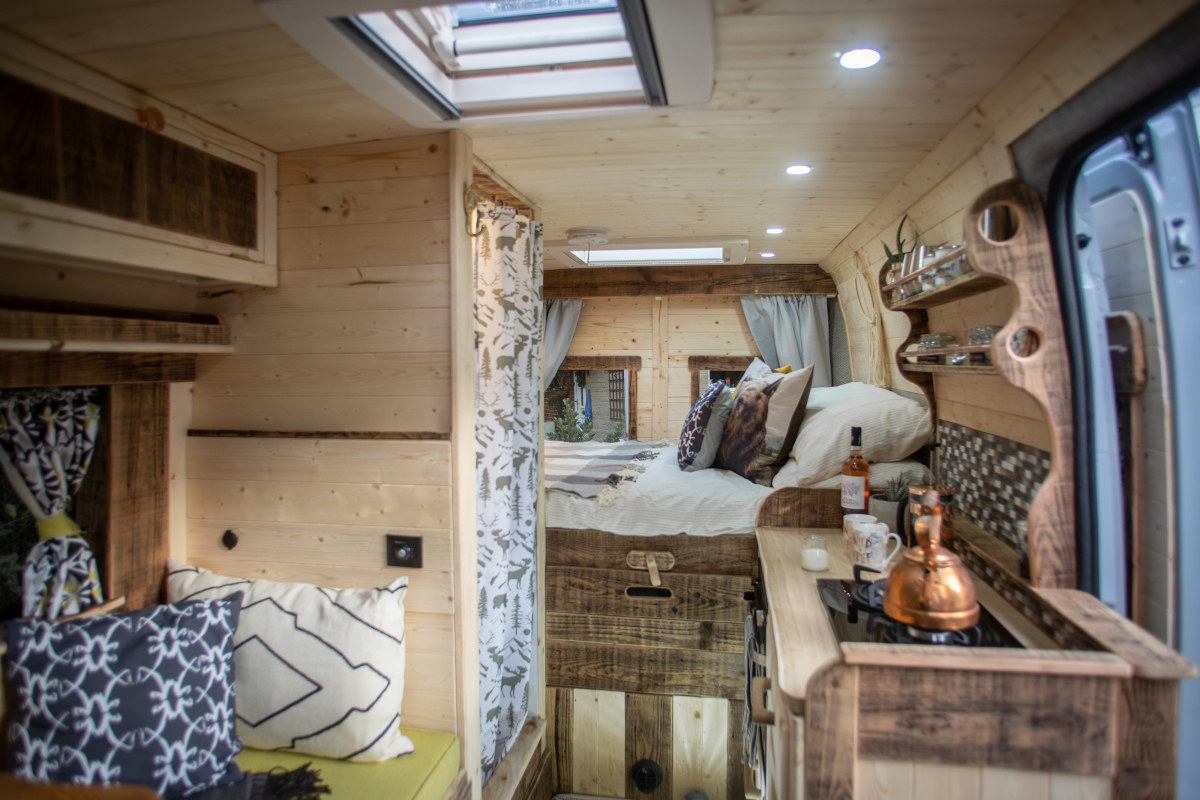 Glasgow
2 Belted seats 2 Adult berths
Tikaani is an Inuit name meaning 'Wolf'.
We have just unleashed our new luxury two-berth ... she's leader of the pack now.


**BRAND NEW** The best of all worlds?? We certainly think so, off-grid never looked or felt so good.

Modern comfort, efficiency and reliability meets exquisite handcrafted wooden beauty and style.
Tikaani is a freshly converted, brand new camper van for hire based in Glasgow. A huge investment she's just been completed ready for adventures in 2021 !

Bold, brave and beautiful, she strikes the perfect balance between modern luxury and rustic charm. This stylish beauty has been handcrafted with reclaimed timber and has added touches such as a vintage copper sink to create a cool, quirky yet super practical, totally off-grid camper van.

** Fully Insulated **
** Hot blown heating at the touch of a button **
** Hot full size power shower and sink tap at the touch of a button **
** Full size large double bed **
** Full size two-burner hob, grill and oven **
** Fuel efficient and clean modern engine **

This high spec, pet friendly camper van has everything you need to have a luxury rolling home away from home adventure! Tikaani is completely self-contained with new Truma boiler fed sink hot and cold tap, and fully heated power shower, oven and grill, 2 ring gas burning stove, new blown-air Eberspacher diesel heater - superheat at the touch of a button, and hidden compressor fridge. She has full LED mood and ceiling lighting throughout, and a huge solar panel and engine split-charging feeding two large new leisure batteries for plenty of power storage, all self- managing and automatic.

Did we mention she's completely brand new?! Air Con in the cab, bluetooth connectivity and Sat Nav, she's fully equipped! With the option of a brand new Thule 2-bike rack on the rear, and she's ready for her first wild adventure ..... will it be you to tame her?

Her full size fixed double bed at the rear has a memory foam mattress and lies underneath an extra-large skylight for bedtime stargazing! That's not all, underneath the bed you will find a huge garage space to store all your gear.

A bright and spacious seating area at the front of the van provides you with a comfy place to enjoy your meals, the driver's seat rotates 180 degrees into the rear for super-comfortable dining space. Also the other extra large seat opposite means you can both put your feet up with a good book and enjoy the views next to the sliding window and opposite the side door. There's even room for the wolf-dog on there with you!

Wherever you take Tikaani on your road trip, we know you will have an off-grid adventure with added bite.
Essential Information
Air Conditioner
Hob
Heater
Dining Table
Oven
Refrigerator
Kitchen Sink
Inside Shower
Bike Rack
Toilet
Solar
Extra Storage
Audio Inputs
Radio
Inverter
Pet Friendly
Double Beds: &nbsp1
Water Tank Capacity: &nbsp65 litres
EU Travel Allowed
About the Campervan
Description of Beds:. There is a full size fixed double bed with memory foam mattress at the rear of the van. Underneath the bed is a generous garage area.

Description of Seating: Two belted seats in the front (including the driver seat) both with head rests. The driver seat has a swivel base allowing the seat to turn around to the dining/seating area.

About the area: Tikaani lives in Glasgow and is parked in a secure car park. There is easy access from all main routes via road. Also via train to Glasgow central and a quick stop on the city underground link to Cessnock,( there is only one line and its a circle for Glasgow so very easy) Car park is 500 yards from station at Brand street..

Parking: If you drive to collect Tikaani, you are welcome to park in the street outside car park; alternatively, as an optional add-on you can utilise secure parking in a CCTV secure locked car park. obviously both locations are the usual caveats,' park at you own risk.'

Cooking Equipment: .Tikaani has a fully equipped kitchen for all your cooking needs! There is a 2-burner gas hob as well as a full-sized cooker, grill and fridge. All the utensils you will need are included, as well as: 2 mugs | 2 bowls | 2 large dining plates | 2 side plates | cutlery for 2 | 2 egg cups | 2 glasses | 2 stainless steel wine tumblers and champagne flutes | kettle | pot | colander | multipurpose pan and griddle set | oven tray and roasting and tin. Tikaani also has a salt and pepper set. There is a dustpan and brush, waste bin, dish cloths, tea towels and oven gloves.

Water Facilities: Tikaani has boiler fed hot water and a power shower. There is a 65-litre water tank that supplies water to the sink via an electric pump, and a large gas bottle. You can hire a portable toilet as an optional extra.

Audio Equipment: Tikaani has a DAB radio, Bluetooth Connectivity, USB ports, links to phone for all media and sat navigation.

Type of Heating: Tikaani has a really efficient brand new Eberspacher Pro diesel heater which means that this is an all-season camper van!

Conversion Story: Tikaani is a brand-new van with no previous life! She was bought specifically to convert for hire. This is our third van and the first we have built from scratch for ourselves not others. We wanted to create a van that had all the modern luxuries, but that still retained character and was unique. Under-bed storage was carefully considered as we know from our hire's last year, that having plenty of space to store all your gear is key. Many hours have gone into her handcrafted interior and we have used reclaimed timber where possible to create a stylish, solid and practical living area. Light and ventilation have been carefully thought through. There are 3 skylights. One in the living area, one above the shower and an extra-large one above the bed. We also fitted 2 front windows and 2 in the back doors, all of which are beautifully wood framed. Tikaani has everything you need for off-grid adventures but clever use of space such as a sliding fridge that stows away under the bed have allowed us to get everything in, without compromising space and comfort!
Pick up / Drop off Times
| - | Pick up | Drop off |
| --- | --- | --- |
| Sunday | 9:00AM - 6:00PM | 9:00AM - 6:00PM |
| Monday | 9:00AM - 6:00PM | 9:00AM - 6:00PM |
| Tuesday | 9:00AM - 6:00PM | 9:00AM - 6:00PM |
| Wednesday | 9:00AM - 6:00PM | 9:00AM - 6:00PM |
| Thursday | 9:00AM - 6:00PM | 9:00AM - 6:00PM |
| Friday | 9:00AM - 6:00PM | 9:00AM - 6:00PM |
| Saturday | 9:00AM - 6:00PM | 9:00AM - 6:00PM |
When would you like to go?
Sorry, there was a problem...
Vehicle Spec
Vehicle Type: camper-van
Make: Fiat
Model: Ducato
Year: 2020
Vehicle Length: 6 metres
Vehicle Height: 2.52 metres
Box Length: 6 metres
Length with hitch: 6 metres
Class / Floorplan: LWB
Max Laden Weight (MAM): 3500 kg
Payload: 780 kg
Transmission: manual
Fuel Type: diesel
Registration: emailed when you book
Note: The hire of this vehicle is arranged by Quirky Campers ltd acting as the agent on behalf of Tikaani's owners. We make every effort to ensure that all the vehicles listed with us are of a high standard but cannot guarantee the condition of the vehicle. If you experience any problems please notify us as soon as possible.