Scottie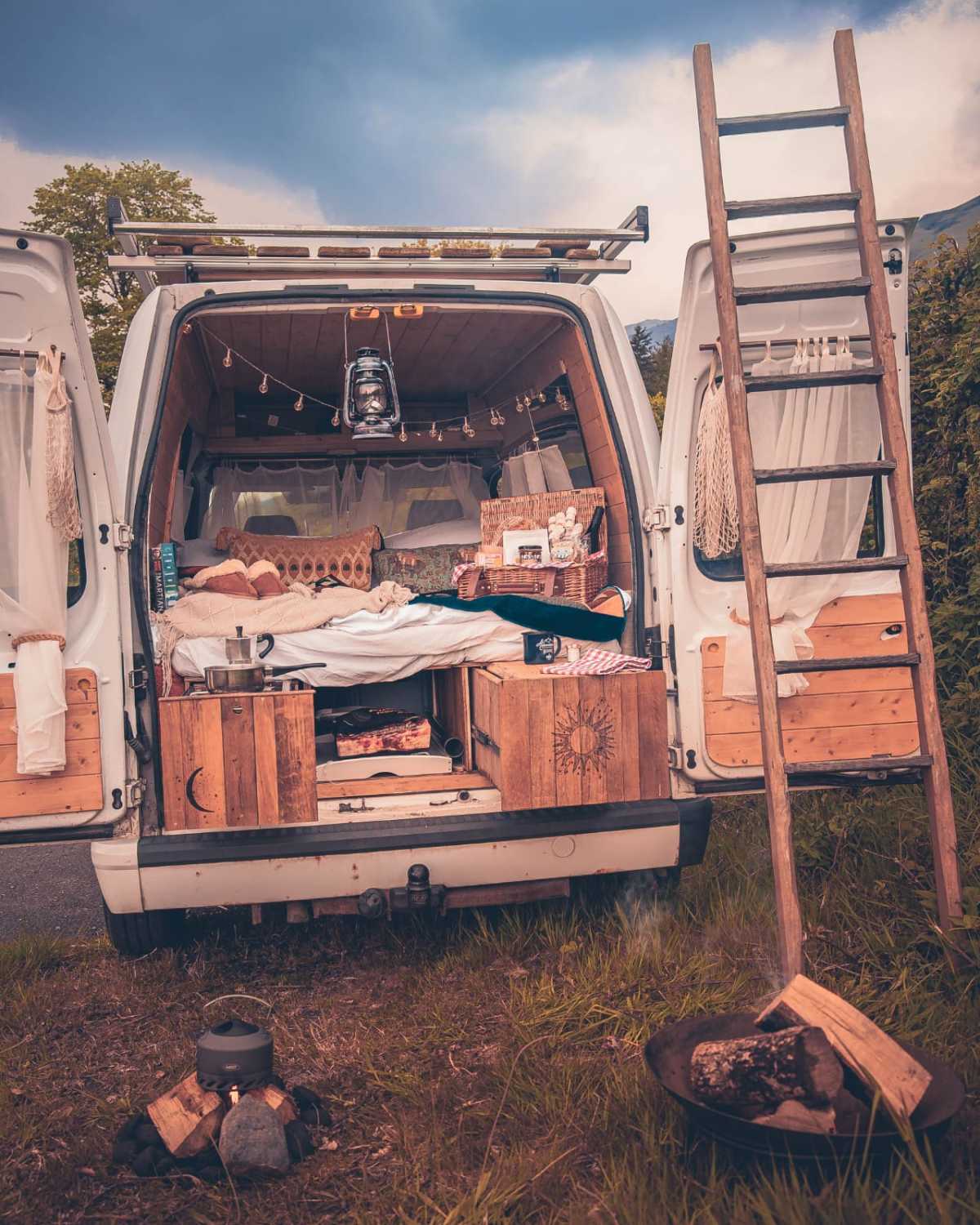 London
2 Belted seats 2 Adult berths
Cute, cosy and romantic, Scottie is the perfect weekender for just the two of you. For a little van, she's been on some big adventures. From the hidden coves of Cornwall, to the snow capped peaks of the Swiss alps, to the sun soaked Portuguese coast, Scottie's up for just about anything.

She's not only charming, but practical too. Her clever design means that she can be easily transformed from a dining area hosting a candlelit dinner for two to a cosy and inviting double bed. There are also plenty of clever storage spots to store away books and wine. Best of all, you can climb up the ladder onto the roof rack in evenings spent soaking in the sunsets and snuggle underneath the stars.

Once a rural Scottish lass, Scottie is now an inner East Londoner who can be found parked just off the vibrant Columbia Road. Her size means she can go places bigger campers can't, and that she's easy to park and navigate around busy cities and tight country roads.

No matter whether your plans are for a romantic getaway to the coast, a weekend partying at Glastonbury, or the trip of a lifetime in Europe, Scottie is your perfect compact companion.
Essential Information
Hob
Dining Table
Extra Storage
CD Player
Radio
Double Beds: &nbsp1
Water Tank Capacity: &nbsp25 litres
EU Travel Allowed
About the Campervan
Description of Beds:. Scottie sleeps up to two people in a convertible boot jump bed, equivalent to a standard double. Custom cushions form the mattress of the bed and a mattress topper is provided to make it extra cosy.

Description of Seating: There are two belted seats in the front (including driver).

About the area: Scottie lives in trendy East London, parked on a quiet residential street just off the bustling Columbia Road (you might know it from the famous flower market held there every Sunday). There's plenty of public transport nearby and it's only an easy 15 minute drive to the A12 so you can start your adventure.

Parking: If you drive to collect Scottie, you are welcome to leave your car in her normal spot. We can provide you with the necessary parking vouchers for an extra cost.

Cooking Equipment: The back drawers pull out to reveal a 2-burner gas hob and a fully equipped kitchen that has all the equipment and utensils you will need to cook up a feast, including: 2 cups | 2 mugs | 2 dinner plates | 2 bowls | cutlery | chopping board | kettle | coffee percolator | frying pan | 2 pots | kitchen knives | tin opener | bottle opener | grater and a toasting rack that can be used on the gas hob. Scottie also comes with washing up equipment, kitchen towels, and all the basics such as salt, pepper, oil, sugar, tea and coffee.

Water Facilities: There is a 25-litre removable water tank that supplies water via a hand pump. We can also provide an outdoor cold water bag shower that pins up to the back door.

Audio Equipment: She is fitted with a CD player and radio, and we will also provide a portable bluetooth speaker which can be easily charged from one of the multiple USB ports.

Type of Heating: Scottie does not have a heater that can be used when the engine isn't running, but she is very compact and well insulated and we have spent many comfortable nights in her in the middle of winter. It is worth noting that the doors need to be open to access the stove or storage, so if you really don't like the cold Scottie may be a better companion for summer adventures!


Conversion Story: In 2018, we were two young Aussies with the dream of travelling Europe in our very own campervan. When we thought about our ideal camper, we wanted something small enough that we could go on truly wild adventures, but still with the charm and care of a custom build. It turns out something like this was hard to come by, but after months of searching we were put in touch with James and Anita Peggie (legendary Quirky Campers converters). We sent James and Anita our designs and worked with them to find a vehicle and start a long-distance conversion. Thanks to their dedication and talent, our beautiful Scottie was finished just a few months later and we flew from Melbourne to the UK to begin our adventures. And never flew back!

Our favourite parts of Scottie are the custom additions that were so lovingly crafted, especially the wood burning artwork on the back drawers and the roof rack where we have spent countless summer evenings soaking in the sunset. Some of the best times of our lives have been spent on adventures in this little van, and we hope that yours are too.

Note on dates: Numerous weeks are marked as unavailable for owner use. However, these are flexible and if you would like these dates, or a longer hire, please let us know and we'll see what we can do.

Pick up / Drop off Times
| - | Pick up | Drop off |
| --- | --- | --- |
| Sunday | By arrangement | By arrangement |
| Monday | By arrangement | By arrangement |
| Tuesday | By arrangement | By arrangement |
| Wednesday | By arrangement | By arrangement |
| Thursday | By arrangement | By arrangement |
| Friday | By arrangement | By arrangement |
| Saturday | By arrangement | By arrangement |
Note: Campervan Hire prices are per 24 hours. If you request pick-up at an earlier time than your drop-off time the owner will quote you for the additional hours. Typically this is £12.50 per additional hour.
When would you like to go?
Sorry, there was a problem...
Vehicle Spec
Vehicle Type: camper-van
Make: Ford
Model: Connect
Year: 2012
Vehicle Length: 4.59 metres
Vehicle Height: 2.1 metres
Box Length: 4.59 metres
Max Laden Weight (MAM): 2340 kg
Payload: 2,340 kg
Transmission: manual
Fuel Type: diesel
Registration: emailed when you book
Note: The hire of this vehicle is arranged by Quirky Campers ltd acting as the agent on behalf of Scottie's owners. We make every effort to ensure that all the vehicles listed with us are of a high standard but cannot guarantee the condition of the vehicle. If you experience any problems please notify us as soon as possible.