Ida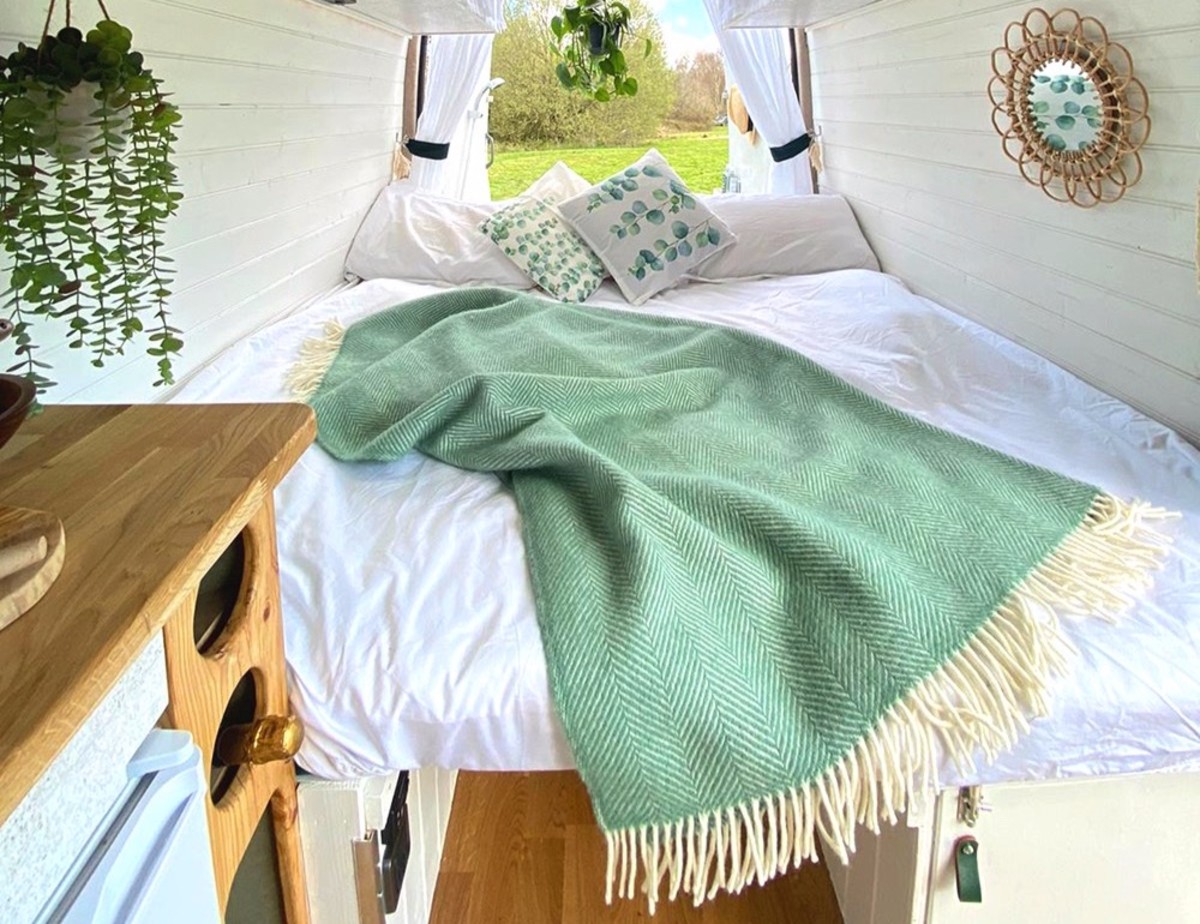 Brighton
4 Belted seats 2 Adult berths 2 Child berths
WARNING - you're about to fall in love! Ida is a gorgeous 4 berth campervan located in the sunny seaside town of Brighton. Cameras at the ready, her sleek whitewashed design is enough to complete any Instagram feed. Converted with all types of adventures in mind, Ida is the perfect base for friends, couples or families. You can choose to snuggle up in your very own queen bed or for those that prefer to sleep alone, settle down in two singles - eliminating the risk of duvet stealing! the queen size bed fits two adults and a child and another child can be accommodated in a hammock style bunk that fits inside the drivers cab.

Invite the whole crew round for a feast, with enough cutlery and dishes for eight, Ida caters for all. She is incredibly versatile when it comes to indoor and outdoor dining. There are two gas hobs, tons of kitchen storage and a refrigerator to keep your drinks cold. Burgers anyone? In addition to her indoor kitchen, Ida comes with a portable BBQ. Simply pull up to the beach, crack open the Prosecco, light the grill and you've got the perfect evening! Not even rain can stop Ida from bringing the party as she comes with an attached sun shade. And if you're feeling chilly after dinner, no need to worry - just pop the heater on.

For those that love to venture off-grid, Ida is equipped with solar power, a toilet and her very own outdoor shower. Imagine whipping off your kit in the sunshine and showering with a mountain backdrop (Just make sure no one's around!)

There really isn't anything Ida can't do...so grab your coat, you've pulled!
Essential Information
Heater
Dining Table
Refrigerator
Kitchen Sink
Outside Shower
Toilet
Awning
Solar
Radio
Inverter
Queen Beds: &nbsp1
Gas Capacity: &nbsp3 litres
Waste Tank Capacity: &nbsp60 litres
Water Tank Capacity: &nbsp65 litres
About the Campervan
Description of Beds:Ida has one queen size bed that can sleep 2 adults and one child. Alternatively each bench seat can be used as two singles. There is also a hammock style bunk for another child that fits inside the drivers cab. The bed is easy to assemble and during the day deconstructs to make a very spacious seating area for chilling or dining.

Description of Seating: Three belted seats in the front (including driver) with head rests and one further belted seats in the rear. All seats have three point belts.

About the area: Ida lives in Brighton and is parked on a residential street.

Parking: If you drive to collect Ida, you are welcome to leave your car in her normal spot. We will assist you with information about parking if free space is not available. If you come by train, Ida's owners will be able to pick you up from Brighton station.

Cooking Equipment: In addition to two a double hob ida has a portable outside BBQ. Inside Ida has everything you could need to cook, including:  8 traditional tin camping mugs | 8 dinner plates | 8 small plates | 8 bowls | cutlery | stainless steel wine glasses | chopping board | kettle, large frying pan | wok | 3 saucepans | sharp knifes | tin opener | corkscrew/bottle opener | serving spoons and wooden spoons | a set of bowls suitable to salads and snacks | cafeteria | a tea pot and a toasting rack that you can use over the gas hob as well as a colander | washing up drainer | and small dustpan and brush. The van has a lovely sunshade sail, two camping chairs and a large picnic rug.

Water Facilities: There is a 50 litre water tank that supplies water to the sink and outside shower via a pump. Hot water is 15 litres. Heating and hot water is via the diesel heater and the outside shower has a curtain for private showering in the outdoors.

Audio Equipment: Ida has a blue-tooth BOOM speaker so you can play your own music. She has two usb sockets and a 120w solar panel and set up for off grid adventures or classic hook up.

Type of Heating: Diesel Heater

Conversion Story: Ida began life as a UK Power Network van. She is newly converted -Ida became our passion for the three months it took to convert her! Much of the work was managed by two amazing friends and myself. The van is stylish and welcoming. We used natural materials wherever possible like cork and solid oak and it has a wonderfully stylish stainless steel sink.
Pick up / Drop off Times
| - | Pick up | Drop off |
| --- | --- | --- |
| Sunday | By arrangement | By arrangement |
| Monday | By arrangement | By arrangement |
| Tuesday | By arrangement | By arrangement |
| Wednesday | By arrangement | By arrangement |
| Thursday | By arrangement | By arrangement |
| Friday | By arrangement | By arrangement |
| Saturday | By arrangement | By arrangement |
Note: Campervan Hire prices are per 24 hours. The default pick up and drop off time is 2pm. If you request a pick up or drop off outside of this, the owner will quote you for the additional time. Typically this is £12.50 per additional hour.
When would you like to go?
Sorry, there was a problem...
Vehicle Spec
Vehicle Type: Campervan
Make: Ford
Model: Transit
Year: 2014
Vehicle Length: 5.52 metres
Max Laden Weight (MAM): 3500 kg
Payload: 480 kg
Transmission: manual
Fuel Type: diesel
Registration: emailed when you book
Note: The hire of this vehicle is arranged by Quirky Campers ltd acting as the agent on behalf of Ida's owners. We make every effort to ensure that all the vehicles listed with us are of a high standard but cannot guarantee the condition of the vehicle. If you experience any problems please notify us as soon as possible.