Art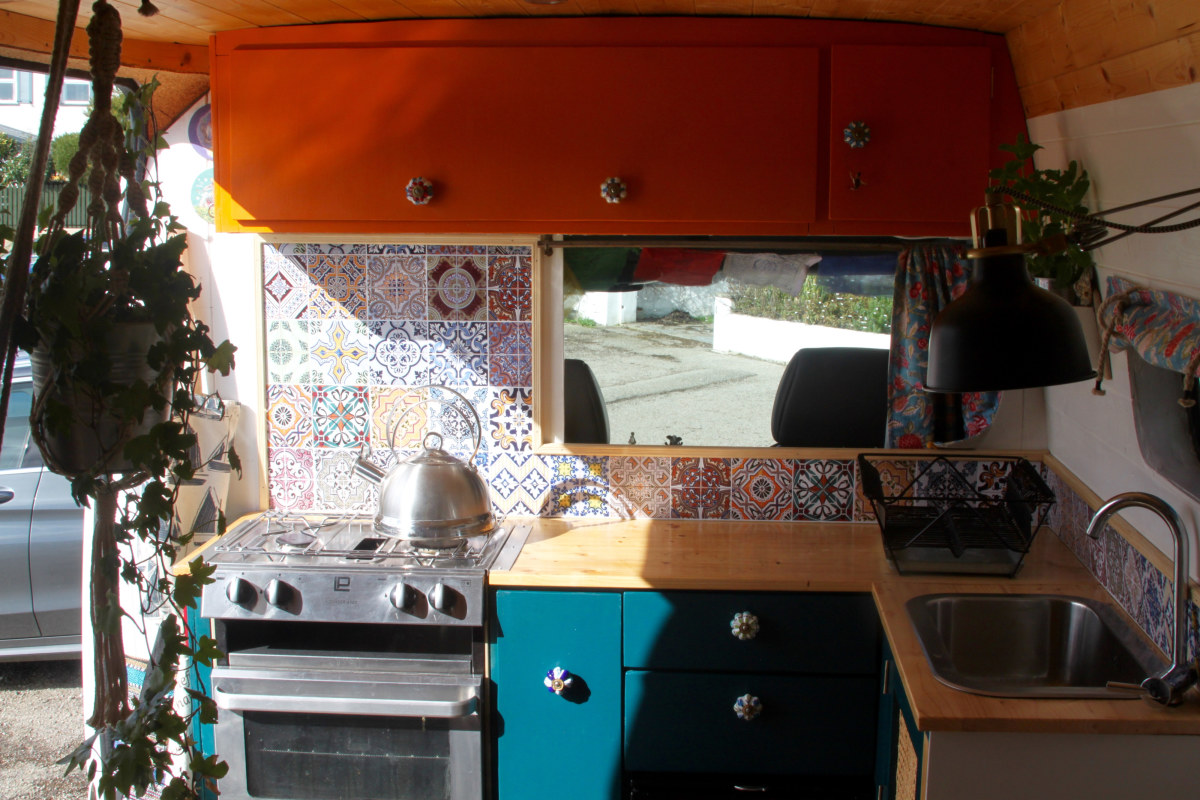 Bangor
3 Belted seats 2 Adult berths 1 Child berths
Art is a quirky campervan conversion with an eclectic, vintage design vibe for hire in Bangor. His owners have hand crafted this bespoke camper into an off-grid, 4-season home on wheels. With ample solar power, you can stay off grid without worrying about charging or plugging in.

This van was designed with the outdoors in mind, with heaps of storage for your climbing ropes, wetsuits, crampons or dive-gear. Your furry friends won't need to be left behind, as there's even plenty of comfortable space for them! Art is the perfect retreat after a hard day in the mountains or on the beach. Close the doors and enjoy the cosy interior, turn on the heater and curl up on the sofa with a good book and a cuppa before cooking your favourite post-hike feast in the well-equipped kitchen.

All that's left for you to do is to pack your kit, pick a mountain, let Art take you there in comfort and style, and then look after you when you're down!
Essential Information
Hob
Heater
Dining Table
Oven
Refrigerator
Kitchen Sink
Outside Shower
Ceiling Fan
Solar
Extra Storage
Leveling Jacks
CD Player
Radio
Inverter
Pet Friendly
Gas Capacity: &nbsp38 litres
Waste Tank Capacity: &nbsp20 litres
Water Tank Capacity: &nbsp40 litres
EU Travel Allowed
About the Campervan
Description of Beds: Art is a 3-berth campervan – he comfortably sleeps two people in a semi-fixed rear double bed; the bench seating also pulls out to make an extra bed, suitable for a child or small adult.

Description of Seating: Three belted seats in the front (including driver) with head rests.

About the area: From the summer onwards, Art will live near Bangor which is the perfect location for exploring Snowdonia, or even getting the ferry over to Ireland. Pickup from the train or bus station can usually be arranged with the owners.

Parking: If you drive to collect Art, you are welcome to leave your car in his normal spot.

Cooking Equipment: Art has a fully-equipped kitchen that can manage anything that you'd normally cook up at home. There are two gas hobs, an oven, a grill, a fridge/freezer that runs off the solar, as well as ample space for storing food. You'll find Art stocked with basics like spices, seasonings, oil, tea and coffee as well as 3 plates | mugs | bowls | glasses | sets of cutlery | knives | chopping boards | cooking utensils | frying pan | large and small saucepans | sieve | oven trays | kettle | percolator for coffee | coffee grinder | stick-blender.

Water Facilities: There are two 20-litre water containers which can easily be removed to refill. The grey water tank is also 20-litres and is similarly removable to empty and rinse.

Audio Equipment: Art has a radio/CD player in the cab.

Type of Heating: An LPG Propex heater with thermostat will keep you toasty warm all seasons round!

Conversion Story: Art's owners bought him in June 2019. They started the conversion in Aberdeen, carried it on during 7 weeks in Ireland before heading off on a European adventure spending time in Spain, Portugal, locked down in Greece, and journeying up through the Balkans spending their time climbing rocks and climbing mountains. They returned with three dogs, so can vouch for the storage excess also being invaluable for giving even bigger pets plenty of space!
Pick up / Drop off Times
| - | Pick up | Drop off |
| --- | --- | --- |
| Sunday | By arrangement | By arrangement |
| Monday | By arrangement | By arrangement |
| Tuesday | By arrangement | By arrangement |
| Wednesday | By arrangement | By arrangement |
| Thursday | By arrangement | By arrangement |
| Friday | By arrangement | By arrangement |
| Saturday | By arrangement | By arrangement |
Note: Campervan Hire prices are per 24 hours. The default pick up and drop off time is 2pm. If you request a pick up or drop off outside of this, the owner will quote you for the additional time. Typically this is £12.50 per additional hour.
When would you like to go?
Sorry, there was a problem...
Vehicle Spec
Vehicle Type: Campervan
Make: Volkswagen
Model: Crafter
Year: 2013
Vehicle Length: 5.5 metres
Vehicle Height: 3.2 metres
Max Laden Weight (MAM): 3500 kg
Payload: 720 kg
Transmission: manual
Fuel Type: diesel
Fuel Efficiency: 30 mpg
Registration: emailed when you book
Note: The hire of this vehicle is arranged by Quirky Campers ltd acting as the agent on behalf of Art's owners. We make every effort to ensure that all the vehicles listed with us are of a high standard but cannot guarantee the condition of the vehicle. If you experience any problems please notify us as soon as possible.
Reviews
See Full Reviews...

May 2022

Justin and Wendy

From Patrick Kelly...
I'm so glad you had such a nice trip! I'm 6'2" as well, it's why I chose to convert a Crafter! Lovely to meet you and thanks for the feedback :)