Chip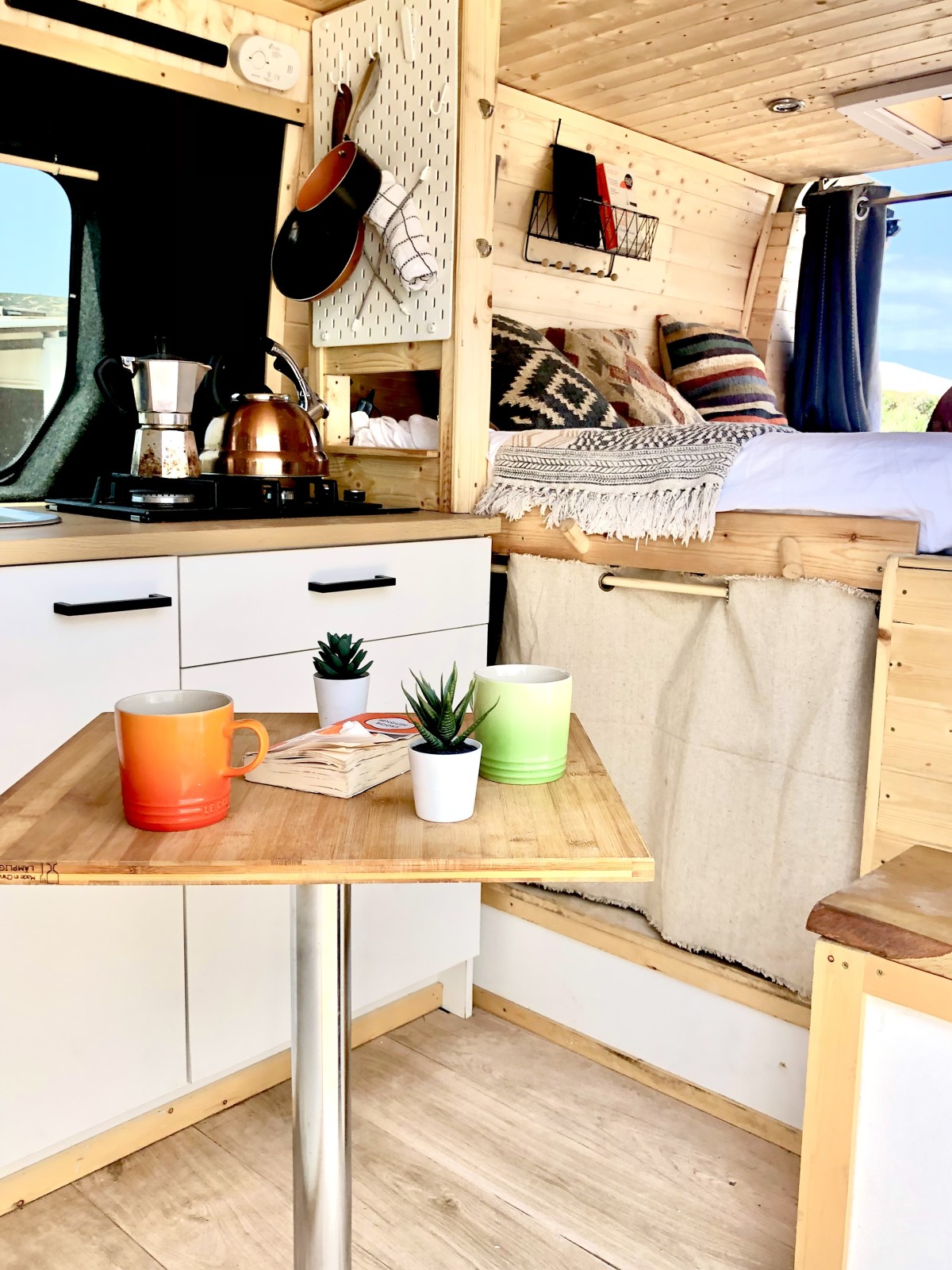 London
3 Belted seats 2 Adult berths 1 Child berths
Chip is an awesome, professionally converted campervan for hire in South East London with a super cool layout for flexible living and a fresh Scandi design vibe that makes you feel right at home.

With a front seating set up, Chip has the best layout for brewing up a coffee on the kitchen stove, sliding open the doors and chilling out watching the world go by, parked up with a beachside view ready to head out for a day's adventure! Chip is a 3-berth camper that is totally set up for off -grid camping. She has solar power and an inverter as well as 240v hook up for camp site stop overs. With a portable power shower and portable toilet, Chip is fully self-contained, which means you can head off for a fantastic wild camping van life experience.

Whether you're heading out of the city for a weekend by the beach, going on a family campervan holiday to the mountains of Snowdonia, or planning a longer road trip – Chip really has everything you could possibly need to enjoy an easy, faff free and totally amazing van life experience!
Essential Information
Air Conditioner
Hob
Dining Table
Refrigerator
Kitchen Sink
Outside Shower
Awning
Solar
Extra Storage
TV / DVD
Radio
Inverter
Pet Friendly
King Beds: &nbsp1
Water Tank Capacity: &nbsp40 litres
EU Travel Allowed
About the Campervan
Description of Beds: Chip sleeps up to three people; two in a king size bed at the top and one single bed below, which can also be used for extra storage.

Description of Seating: Three belted seats in the front (including driver), 2 of which have headrests.

About the area: Chip lives in South East London and is parked on a quiet residential street.

Parking: If you drive to collect Chip, you are welcome to leave your car in her normal spot.

Cooking Equipment: Chip has a fully equipped kitchen, complete with two gas-burner hob and fridge. She comes with everything you need to cook up a great al fresco dinner that you can eat under the awning including: 3 traditional tin camping mugs | 3 melamine cups and 3 bowls | 3 large dining plates | cutlery for 3 | 2 wine glasses | chopping board | kettle | large and small frying pan | large and small saucepan. There are two wooden cooking spoons | 3 sharp knives | tin opener | corkscrew/bottle opener. Chip also has a stove-top espresso machine as well as a colander, washing up bowl, and small dustpan and brush.

Water Facilities: There is a 10-litre removable water tank that supplies water to the sink via a pump. Chip also comes with a portable electric shower for you to use outside, so you can have a nice warm power shower.

Audio Equipment: Chip has speakers in the front of the van with Bluetooth available so you can play your own music. She also had a tv and DVD player, which is powered by the solar panels up top, and comes with a range of family friendly DVDs (in case of any rainy days).

Conversion Story: Chip began life as a super stealth van, with the previous owner being ex-Military. And you will see this by the receiver we have left in the cab. We found a converter with years of experience down on the south west coast of England and we think they did a fantastic job. Chip is fitted with solar panels so no need for a campsite, Chip can go off grid for several days whilst the sun is shining. Chip has loads of storage space, enough for 2 adult bikes and a kids bike too!
Pick up / Drop off Times
| - | Pick up | Drop off |
| --- | --- | --- |
| Sunday | By arrangement | By arrangement |
| Monday | By arrangement | By arrangement |
| Tuesday | By arrangement | By arrangement |
| Wednesday | By arrangement | By arrangement |
| Thursday | By arrangement | By arrangement |
| Friday | By arrangement | By arrangement |
| Saturday | By arrangement | By arrangement |
Note: Campervan Hire prices are per 24 hours. If you request pick-up at an earlier time than your drop-off time the owner will quote you for the additional hours. Typically this is £12.50 per additional hour.
When would you like to go?
Sorry, there was a problem...
Vehicle Spec
Vehicle Type: camper-van
Make: Vauxhall
Model: Movano
Year: 2010
Vehicle Length: 6.2 metres
Vehicle Height: 2.5 metres
Box Length: 6.2 metres
Length with hitch: 6.2 metres
Max Laden Weight (MAM): 3500 kg
Payload: 620 kg
Transmission: manual
Fuel Type: diesel
Registration: emailed when you book
Note: The hire of this vehicle is arranged by Quirky Campers ltd acting as the agent on behalf of Chip's owners. We make every effort to ensure that all the vehicles listed with us are of a high standard but cannot guarantee the condition of the vehicle. If you experience any problems please notify us as soon as possible.