Roaming Delilah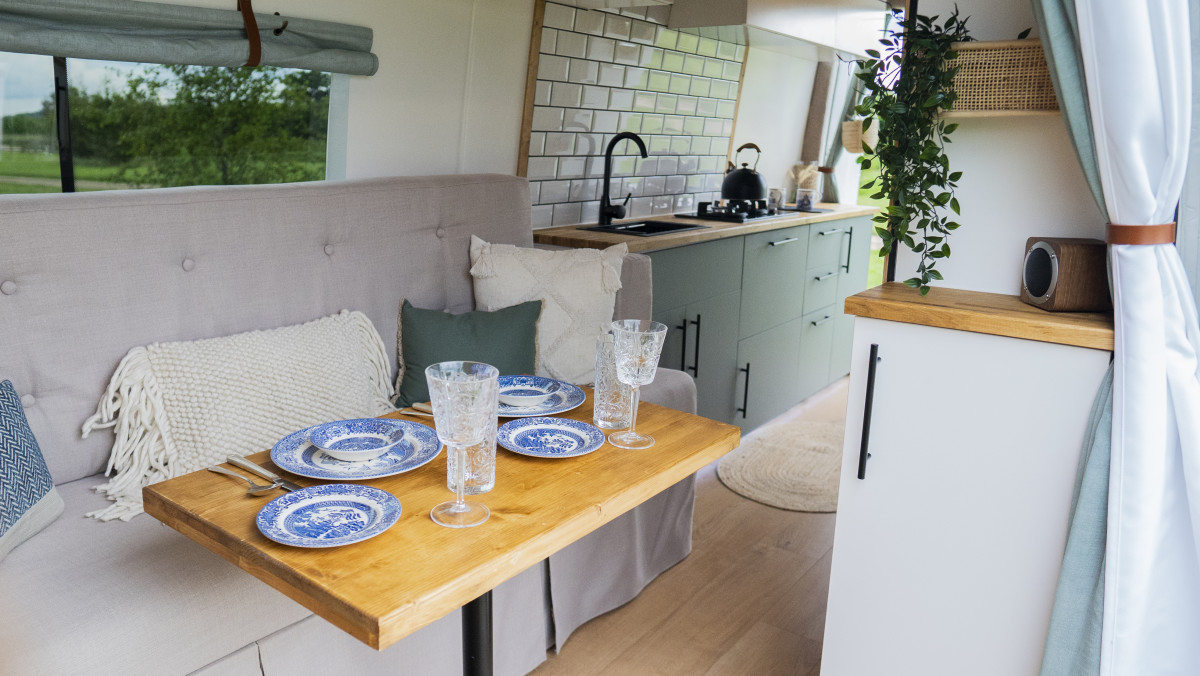 St Albans
4 Belted seats 2 Adult berths 1 Child berths
Roaming Delilah is an absolutely stunning and luxurious campervan conversion for hire in North London. She is the perfect couples camper van with a king size memory foam bed for 2 people and room and if you are can fit a cot for a small child. There is also the option to take a beautiful canvas bell tent that sleeps 3 people if you wish to take family or friends on your adventure. Delilah has a self-contained wet room with state of the art cassette toilet and with power shower with instant hot water. She comes with a fully-equipped kitchen complete with everything you could need to cook up a romantic home prepared meal. To dine under the stars where ever your journey takes you. For an added experience Delilah offers an indoor and outdoor cinema experience with projector and screen combined to snuggle under the stars on Indian inspired pillows and rugs made more romantic with a glass of Champagne. With gas, electric and solar power, Roaming Delilah is totally self-contained and off grid which is perfect for exploring areas that are off the beaten track. This is camping for those who prefer their hotel comforts but with a luxury feel. Wake up with nature outside your front door and enjoy the beauty the UK has to offer.

Roaming Delilah is perfect for Winter holidays just as much as during the summer for staycations as she is equipped with the latest and greatest Whale System that is powered from solar/ battery relay or gas... so you will always have a warm cabin or a super cool one from the powerful skylight fan. For the ultimate in van life experience, no matter what your experience, Delilah is like no other camper. She just is a luxury VIP room on wheels. Scandi inspired and interior designed this cool urban camper gives ample space for you to enjoy a comfortable holiday or for a completely new experience of working remotely. Whether you head out of the city to the mountains, the beach or for a little bit of tranquillity in a forest haven we know you will have an absolutely epic campervan holiday in beautiful Roaming Delilah!

There are 4 belted seats and room for 2 adults & 1 child to sleep. With the addition of the bell tent 4 adults have ample room to holiday in the van.

NB: The van's are hand crafted, delicate and designed for careful and thoughtful use and driving.
There is a surcharge for gas if used off fully off grid due
Essential Information
Air Conditioner
Hob
Heater
Dining Table
Microwave
Refrigerator
Kitchen Sink
Inside Shower
Outside Shower
Toilet
Ceiling Fan
Solar
Extra Storage
Inverter
Gas Capacity: &nbsp16 litres
Waste Tank Capacity: &nbsp80 litres
Water Tank Capacity: &nbsp100 litres
EU Travel Allowed
About the Campervan
Description of Beds: Roaming Delilah sleeps up to 3 people; two inside and one child cot

Description of Seating: Three belted seats in the front (including driver) with head rests and one belted seat in the rear. 3 seats have three-point belts; the rear is a lap belt.

About the area: Roaming Delilah lives in North London/ Hertfordshire and is parked in a secure compound.

Parking: If you drive to collect Roaming Delilah, you are welcome to leave your car in her normal spot for £10 per day. If you come by train, Roaming Delilah's owners will be able to pick you up from St Albans station.

Cooking Equipment: In addition to the two gas hobs inside, there is portable BBQ and a stove top oven. Roaming Delilah has everything you could need to cook up a feast, including: all tableware | cutlery for 2-6 people | wine glasses | chopping board | stove top kettle | large and small frying pan | large and small saucepan | steamer | chopping knives | tin opener | corkscrew/bottle opener. She also has a stove-top espresso machine and a toasting rack that you can use over the gas hob as well as a colander, washing up bowl, and small dustpan and brush.

Water Facilities: A large 95-litre water tank feeds the inside shower and kitchen sink. Basic gas is included in terms of using the stove cooker but if gas is used for heating and water, then the cost of that will be deducted from your deposit or we ask you to top up before you return.

Audio Equipment: USB plug-in and Bluetooth are both available so you can play your own music.

Type of Heating: A super-efficient gas/electric heater keeps you warm all year around in this 4-season camper. But use of gas for this will be added as an extra.

Conversion Story: Roaming Delilah started life as a parcel van and has since been converted into a fabulous off grid luxury rolling home. She is easy to drive, with parking sensors and a super comfortable air-conditioned driving experience.

Warning: The payload of this vehicle is 320kg. This is below the Quirky Campers recommended payload of 370kg for a vehicle with 3 belted seats. Drivers need to be aware that the total weight of driver, passengers and baggage must be below 320kg to keep the vehicle within its legal Max Allowed Mass (MAM) of 3500kg/ NO DOGS unless agreed in person by the owner.
Pick up / Drop off Times
| - | Pick up | Drop off |
| --- | --- | --- |
| Sunday | 6:00AM - 5:00PM | 6:00AM - 5:00PM |
| Monday | Unavailable | Unavailable |
| Tuesday | Unavailable | Unavailable |
| Wednesday | Unavailable | Unavailable |
| Thursday | Unavailable | Unavailable |
| Friday | 4:00PM - 9:00PM | 4:00PM - 9:00PM |
| Saturday | 6:00AM - 9:00PM | 6:00AM - 9:00PM |
Note: Campervan Hire prices are per 24 hours. The default pick up and drop off time is 2pm. If you request a pick up or drop off outside of this, the owner will quote you for the additional time. Typically this is £12.50 per additional hour.
When would you like to go?
Sorry, there was a problem...
Vehicle Spec
Vehicle Type: Campervan
Make: Volkswagen
Model: Crafter
Year: 2016
Vehicle Length: 7 metres
Vehicle Height: 2.95 metres
Length with hitch: 6.9 metres
Max Laden Weight (MAM): 3500 kg
Payload: 320 kg
Transmission: manual
Fuel Type: diesel
Registration: emailed when you book
Note: The hire of this vehicle is arranged by Quirky Campers ltd acting as the agent on behalf of Roaming Delilah's owners. We make every effort to ensure that all the vehicles listed with us are of a high standard but cannot guarantee the condition of the vehicle. If you experience any problems please notify us as soon as possible.
Reviews
This van hasn't yet received any reviews.