Ola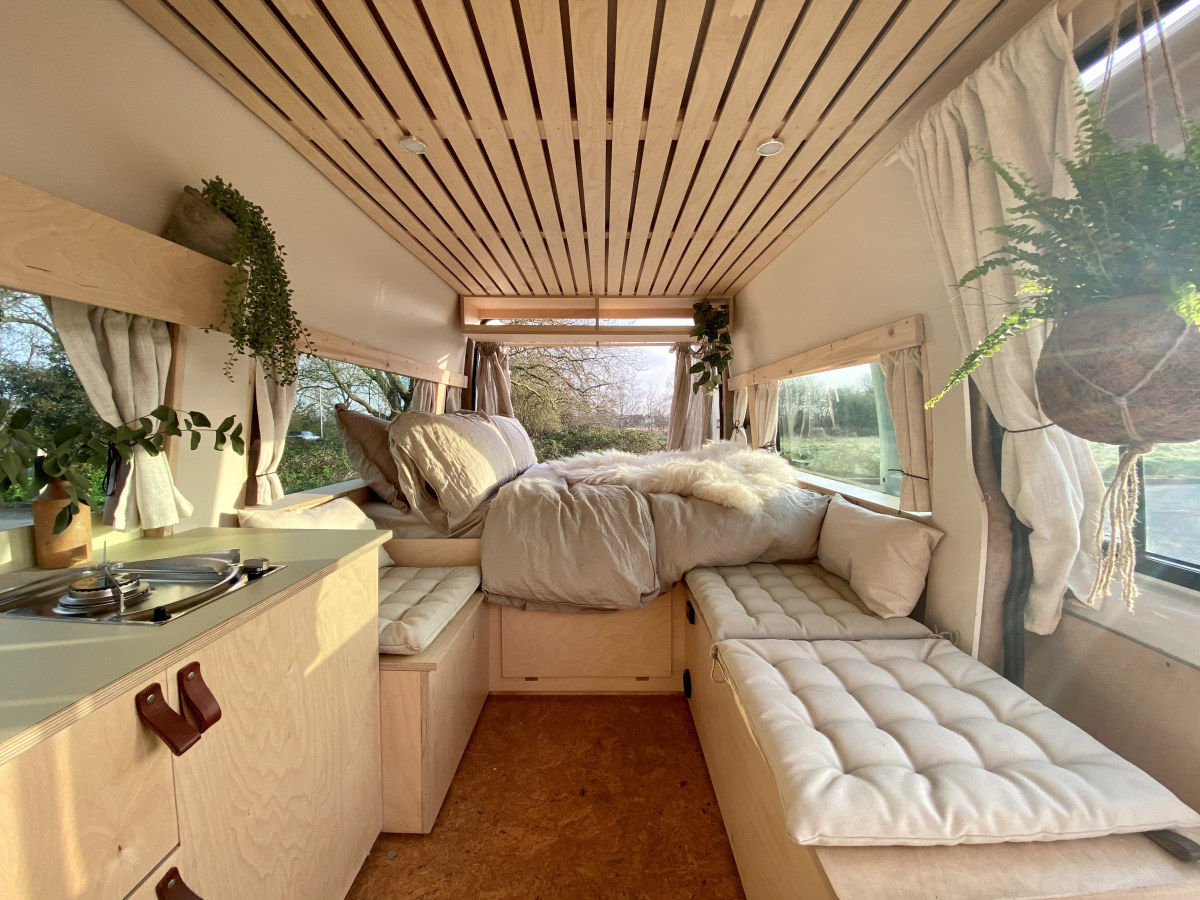 London
3 Belted seats 2 Adult berths
Ola is an absolutely gorgeous Scandi styled campervan conversion for hire in London. Freshly converted, this minimalist 2-berth camper combines a high-spec finish with a simplistic, effortless layout that has been designed for total ease of use. Ola has ample storage to keep things tidy and maintain her minimalist look; under bed storage has access from inside and outside, a bedroom storage unit and open shoe storage to the side door entrance.

With solar panel charging and a relay fitted, you will be able to live fully off-grid - you just need to keep her moving every few days. Otherwise, she has a 240v hook up. Imagine pitching up for the night, setting up the fire pit, snuggling up ready to watch a sunset over a view that's totally yours – van life bliss!

Wherever you plan your escape from the city to, this awesome, pet friendly London camper will whisk you away on an incredible, faff free road trip to remember!
Essential Information
Hob
Heater
Dining Table
Refrigerator
Kitchen Sink
Outside Shower
Toilet
Solar
Inverter
Pet Friendly
Double Beds: &nbsp1
Water Tank Capacity: &nbsp24 litres
About the Campervan
Description of Beds: Ola sleeps two people in a fixed double bed, with a memory foam mattress that measures 177cm long by 120cm wide. Located at the rear of the van, this means you can open the doors on the morning and have coffee in bed while looking out at the view.

Description of Seating: Ola has three belted seats in the front (including driver).

About the area: Based in East London, Leyton is the ideal starting point for any adventure. Just 5 miles from the M11, Ola is perfect if you're looking for a weekend away from the city, whilst also being easy to travel to if you're based out of London.

Parking: If you drive to collect Ola, you are welcome to leave your car in her normal spot (street parking on a quiet residential road), just click the 'parking add-on' at the checkout - £4 per weekday, and free on weekends. Alternatively, we are close to Leyton underground station and Stratford overground.

Cooking Equipment: In addition to the fitted gas hob inside, there's also a single stove for outdoor cooking. Ola also comes with a fridge box, which can be either plugged in or removed to keep your picnic cool on-the-go. Everything you need to cook up the perfect meal is included; hob kettle | stove-top espresso machine | toasting rack | pan with lid x 2 | frying pan | 2 large plates | 2 small plates | 2 bowls | 1 salad bowl | 1 platter | 2 place mats | 4 coasters | cutlery for 2 | sharp knife | cork screw | peeler | masher | wooden spatula and spoons | tongs | small sieves | tin opener | bottle opener | cups and mugs | 2 egg cups | chopping board | tea towels | lighter | sponge | washing up liquid | hand wash | complimentary tea, coffee & sugar | salt and pepper | small dustpan & brush.

Water Facilities: There are two 12L freshwater tanks and one 12L greywater tank. One freshwater tank and the greywater tank are located in the cabinets below the sink, meaning that they can be easily refilled and discarded even for the unseasoned camper. The spare fresh water tank is kept in the back of the van and can be replaced when necessary. The sink is connected to the freshwater tank via a hose and pump, powered from the leisure batteries, which turns on when you open the tap.

Audio Equipment: The cab comes equipped with a USB bluetooth adaptor so you can play music from your phone via the radio's speakers. For in the living area, there's an Anker Bluetooth speaker with 15 hours of playtime.

Type of Heating: Ola has a top-of-the-line 2kW Autoterm Air 2D diesel heater that will keep you warm throughout the coldest of nights. Each wall and ceiling is insulated, keeping the living space warm in the winter. And because of Ola's many windows, she also has custom made thermal window covers to not only keep the heat or cold out, but also the light.

Conversion Story: Ola was originally a minibus for a church, and was converted by Scandivan - their very first creation. Inspired by Scandinavian design principles and ethos, Scandivan's designs are centred around minimalism, simplicity and functionality along with muted colours and neutral tones. She has been well looked after and has also had a significant amount of work carried out recently as well as regular servicing, and is therefore easy and pleasant to drive.
Pick up / Drop off Times
| - | Pick up | Drop off |
| --- | --- | --- |
| Sunday | By arrangement | By arrangement |
| Monday | By arrangement | By arrangement |
| Tuesday | By arrangement | By arrangement |
| Wednesday | By arrangement | By arrangement |
| Thursday | By arrangement | By arrangement |
| Friday | By arrangement | By arrangement |
| Saturday | By arrangement | By arrangement |
Note: Campervan Hire prices are per 24 hours. The default pick up and drop off time is 2pm. If you request a pick up or drop off outside of this, the owner will quote you for the additional time. Typically this is £12.50 per additional hour.
When would you like to go?
Sorry, there was a problem...
Vehicle Spec
Vehicle Type: Campervan
Make: Ford
Model: Transit
Year: 2006
Vehicle Length: 5.6 metres
Vehicle Height: 2.3 metres
Length with hitch: 5.6 metres
Max Laden Weight (MAM): 3300 kg
Payload: 620 kg
Transmission: manual
Fuel Type: diesel
Registration: emailed when you book
Note: The hire of this vehicle is arranged by Quirky Campers ltd acting as the agent on behalf of Ola's owners. We make every effort to ensure that all the vehicles listed with us are of a high standard but cannot guarantee the condition of the vehicle. If you experience any problems please notify us as soon as possible.