Necky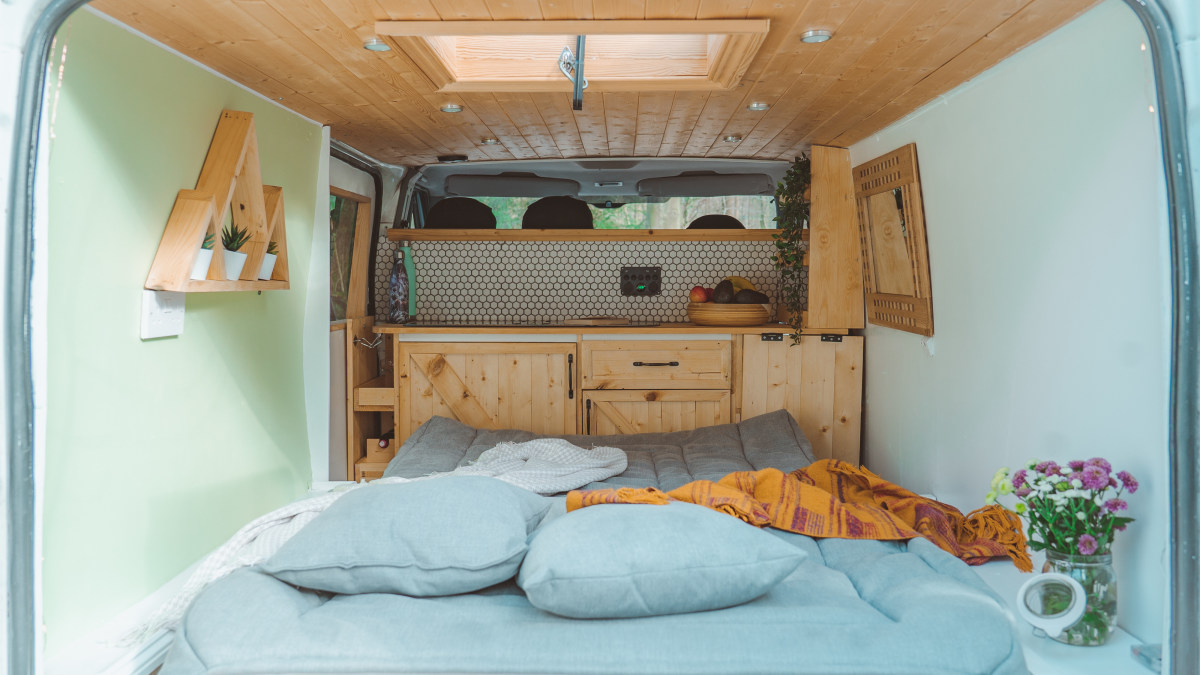 Bristol
3 Belted seats 2 Adult berths
Necky is a colourful campervan for hire in Bristol. Created lovingly by a duo of friends, she is the ideal camper for two, whether it be a romantic weekend escape or a last minute adventure with a friend. For those warmer months, there is a hammock available to hire. Just imagine snuggling up with your favourite book by the sea or falling asleep under the stars.

Enjoy breakfast in bed with a view? Then Necky will not let you down. The kitchen is fully equipped with built-in gas hobs, a selection of saucepans and a cafetière; the only thing left to figure out is the type of view you desire. Picture a full English with a mountain backdrop, surely that would class as the ultimate fry up? For those chillier mornings/evenings; there is an electric blanket which can be added on as an extra, so you can stay warm without having to compromise on the scenery.

There is plenty of space for you to store away board games, hiking boots or clothes for your trip in the storage drawer located under the sofa. Necky has also been fitted with solar power, an inverter and two 25 litre water tanks, making her off-grid compatible. The world really is your oyster, so the question is…where will you take Necky?

Essential Information
Hob
Dining Table
Kitchen Sink
Solar
Radio
Inverter
Double Beds: &nbsp1
Gas Capacity: &nbsp55 litres
EU Travel Allowed
About the Campervan
Description of Beds:. Necky sleeps up to two people on a full size pull out sofa bed (from Sofa Bed Barn - very comfy and easy to pull out and put back). There is a storage drawer under the sofa.

Description of Seating: Three belted seats in the front (including driver) with head rests. The kitchen part of the conversion means there is not as much movement in the driver's seat as usual so you may need to adjust the seat up/down if you're particularly tall.

About the area: Necky resides in a quiet neighbourhood just north of Bristol city centre: 10 and 15 minutes drive from Parkway and Temple Meads Stations respectively, or a direct bus route from either will bring you very close.

Parking: If you drive to collect Necky, you are welcome to leave your car where she was parked. There is free street parking all around in a safe and quiet area.

Cooking Equipment: Necky has the following cooking equipment: 2 gas hobs inside | a little pan | a little saucepan | a spatula, slotted spoon and solid spoon | 2 camping plates | 2 knives, forks, spoons and tea spoons | a chopping board | a sharp knife | a bread knife | a tin opener | a corkscrew/bottle opener | 2 wine glasses | 4 plastic cups | 2 camping mugs | 2 copper mugs | a kettle | a cafetière | 2 bowls that fold flat to fit into a backpack | 2 folding spoons and forks.

Water Facilities: There are two 25 litre water tanks that supplies water to the sink via a pump.

Audio Equipment: Necky has a radio in the front with an aux cable inputs so you can play your own music.

Type of Heating: Electric blanket for hire.

Conversion Story: Necky came about when best friends Nina and Becky turned to the internet to find a staycation weekend adventure. After discovering quirky campers we realised there were limited available options within our home city of Bristol, and decided to pursue the project ourselves in creating our perfect getaway moving abode.

The name Necky originates from the simple meshing of our names, friends pointed out that this is typical of older married couples who do the same for their holiday home so we feel we are sustaining the tradition!

We hope you enjoy her as much as we do!
Pick up / Drop off Times
| - | Pick up | Drop off |
| --- | --- | --- |
| Sunday | 9:30AM - 7:00PM | 9:30AM - 7:00PM |
| Monday | 2:00PM - 7:00PM | 2:00PM - 7:00PM |
| Tuesday | 2:00PM - 7:00PM | 2:00PM - 7:00PM |
| Wednesday | 2:00PM - 7:00PM | 2:00PM - 7:00PM |
| Thursday | 2:00PM - 7:00PM | 2:00PM - 7:00PM |
| Friday | 2:00PM - 7:00PM | 2:00PM - 7:00PM |
| Saturday | 9:30AM - 7:00PM | 9:30AM - 7:00PM |
Note: Campervan Hire prices are per 24 hours. The default pick up and drop off time is 2pm. If you request a pick up or drop off outside of this, the owner will quote you for the additional time. Typically this is £12.50 per additional hour.
When would you like to go?
Sorry, there was a problem...
Vehicle Spec
Vehicle Type: Campervan
Make: Ford
Model: Transit
Year: 2008
Vehicle Length: 5 metres
Vehicle Height: 2.07 metres
Length with hitch: 4.86 metres
Max Laden Weight (MAM): 3500 kg
Payload: 1,380 kg
Transmission: manual
Fuel Type: diesel
Registration: emailed when you book
Note: The hire of this vehicle is arranged by Quirky Campers ltd acting as the agent on behalf of Necky's owners. We make every effort to ensure that all the vehicles listed with us are of a high standard but cannot guarantee the condition of the vehicle. If you experience any problems please notify us as soon as possible.