Orla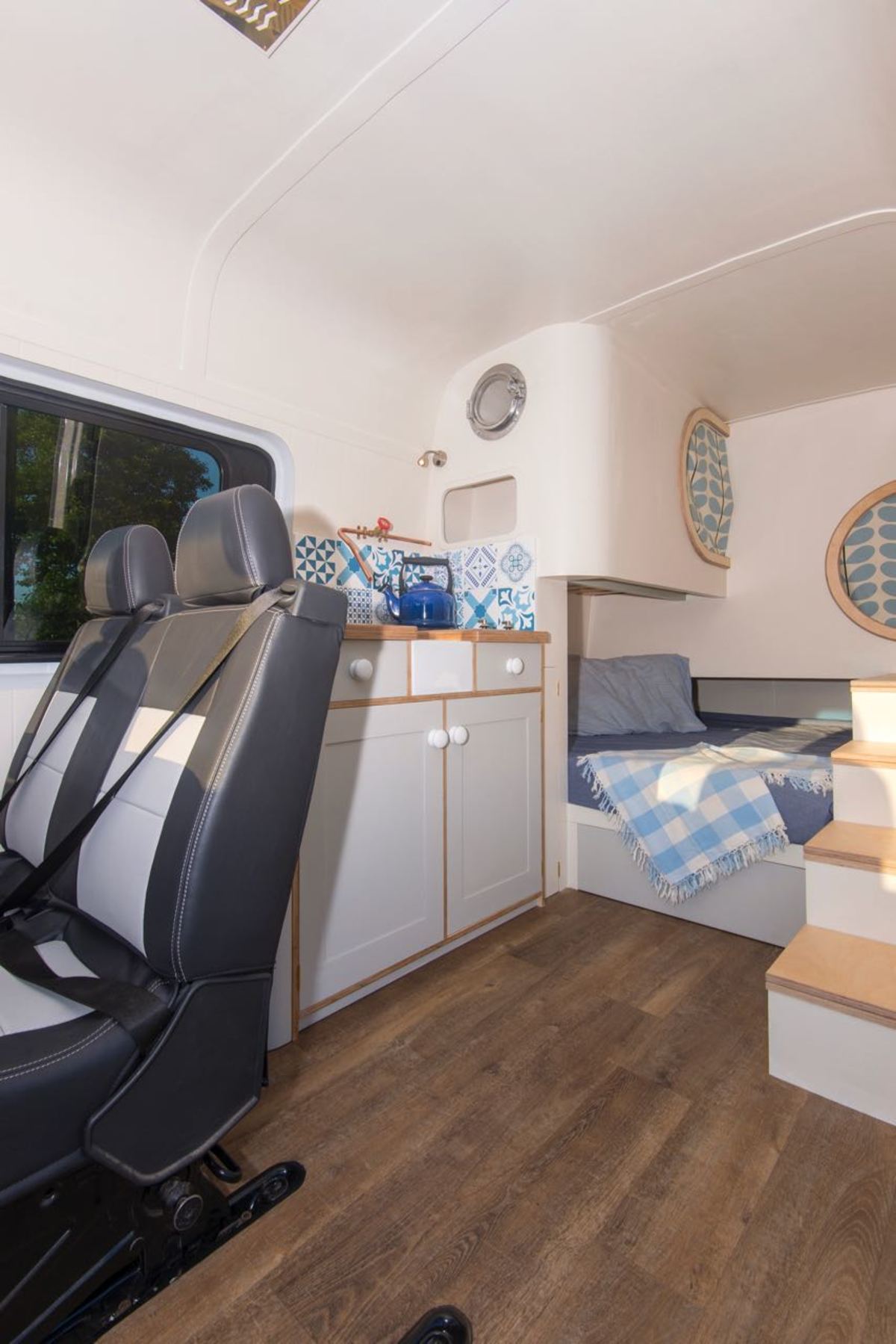 York
5 Belted seats 3 Adult berths 1 Child berths
Orla is an exceptionally well-thought-out Mercedes-Benz Sprinter, available to hire in York. Professionally converted in 2018 by well-known campervan designers 'This Moving House.' The clever design makes use of every inch of space with overlapping bunks, swivel seats and secret storage under the steps!.

If you're looking to explore the glorious Yorkshire Dales by day, then come back and kick off your walking boots in a homely base by night, this camper is for you. Perfect for families, this 5 seated, 4 berth home on wheels has optimal space and storage for all. No need to worry about faffing at night time, as all beds are fully fixed and ready for you to fall into at the end of a long day of adventure.

Fitted with an electric heating and air-conditioning system, no matter the weather, Orla has you covered. No need to splash the cash on a fancy meal out; for those looking to cook up a feast in the evening there is a fully equipped kitchen, which includes a two-ring Smeg gas hob, cooking utensils and enough cutlery for 4. The large table and captain seats will comfortably accommodate the whole family for meals, games or relaxing with a book, so your fun needn't be weather-dependent.

Imagine a camping trip with the kids, where everyone sleeps well, you can flex your programme at will and a cuppa is always at hand. Pure bliss!
Essential Information
Air Conditioner
Hob
Heater
Dining Table
Refrigerator
Kitchen Sink
Reversing Camera
Extra Storage
CD Player
Radio
Double Beds: &nbsp1
Twin Beds: &nbsp2
About the Campervan
Description of Beds:. Orla sleeps up to four people, all in fixed beds. One full double bed (135cm wide x 190cm length), one full-length single (66x190) bunk pod over the top of the double and one short single (70x165) pod across the back of the van.

Description of Seating: Two belted seats in the front cab (including driver) with head rests and three further belted seats in the rear. We usually only have two of the rear seats in to allow for more room in the van while away, so please let us know if you require the fifth seat so we can install it ready. All seats have three point belts. The rear seats are suitable for a child car seat using the belt and/or isofix.

About the area: Orla lives in York and is parked on our driveway on a quiet residential street close to the city centre and railway station. She is ideally located to explore beautiful Yorkshire - from our renowned city to the east coast, the moors, the dales, and of course further afield. There is so much to see!

Parking: If you drive to collect Orla, you are welcome to leave your car in her normal spot on our driveway. If you come by train, it is just a short walk or taxi ride.

Cooking Equipment: There is a two-ring Smeg gas hob in the kitchenette.  Orla has everything you could need to cook up a feast, including:  4 mug | 8 tumblers | 2 wine glasses | 4 large and 4 small plates | 4 bowls | cutlery for 4 | chopping board | kettle | large Tefal frying pan | large and small saucepan | cooking utensils | 3 sharp knives | bottle opener | trays | tongs and wooden spoons/spatula | Orla also has a washing up bowl, and small dustpan and brush.

Water Facilities: There is a water tank that supplies cold water to the sink via a pump.

Audio Equipment: Orla has the factory-fitted radio and stereo system in the cab, and bluetooth is available so you can play your own music.

Type of Heating: Electric Heater

Conversion Story: Orla began life as a humble fleet van (albeit an automatic one with all the mod-cons in the cab - air-con, sat-nav, bluetooth, reversing camera, lane assist.....). We bought her after a long and careful hunt for the perfect van. She was converted in 2018 by 'ThisMovingHouse' in Oxford. We had seen one of his beautiful conversions for sale online the year before and travelled down to view it. We knew straight away it was the sort of thing we wanted but with a few personal tweaks - so we agreed then to find a van ready to convert for us from scratch which is when the search started. They took on our colour scheme requests and designed around our favourite Orla Kiely fabric (as seen in the pods, and the inspiration for the name.)
Pick up / Drop off Times
| - | Pick up | Drop off |
| --- | --- | --- |
| Sunday | 8:00AM - 7:00PM | 8:00AM - 7:00PM |
| Monday | 8:00AM - 7:00PM | 8:00AM - 7:00PM |
| Tuesday | 8:00AM - 7:00PM | 8:00AM - 7:00PM |
| Wednesday | 8:00AM - 7:00PM | 8:00AM - 7:00PM |
| Thursday | 8:00AM - 7:00PM | 8:00AM - 7:00PM |
| Friday | 8:00AM - 7:00PM | 8:00AM - 7:00PM |
| Saturday | 8:00AM - 7:00PM | 8:00AM - 7:00PM |
Note: Campervan Hire prices are per 24 hours. The default pick up and drop off time is 2pm. If you request a pick up or drop off outside of this, the owner will quote you for the additional time. Typically this is £12.50 per additional hour.
When would you like to go?
Sorry, there was a problem...
Vehicle Spec
Vehicle Type: Campervan
Make: Mercedes-Benz
Model: Sprinter
Year: 2014
Vehicle Length: 7.1 metres
Vehicle Height: 2.7 metres
Length with hitch: 7.1 metres
Max Laden Weight (MAM): 3500 kg
Payload: 340 kg
Transmission: automatic
Fuel Type: diesel
Registration: emailed when you book
Note: The hire of this vehicle is arranged by Quirky Campers ltd acting as the agent on behalf of Orla's owners. We make every effort to ensure that all the vehicles listed with us are of a high standard but cannot guarantee the condition of the vehicle. If you experience any problems please notify us as soon as possible.