Apollo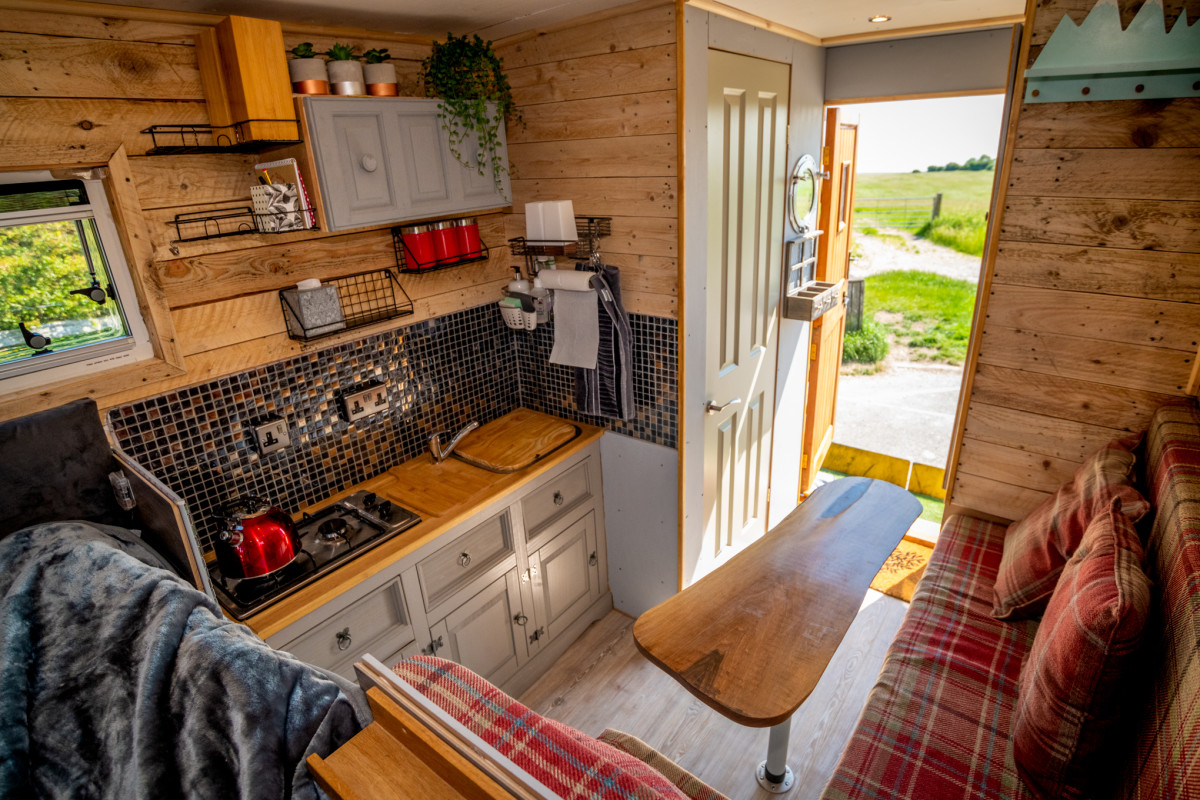 Broadbridge Heath
3 Belted seats 2 Adult berths 1 Child berths
Ladies and gentlemen, welcome to the stage Apollo. Beginning life as a London Fire Brigade demonstration vehicle, Apollo has been lovingly and thoughtfully transformed into a snug home away from home. There is plenty of room for the whole gang; this class act of a campervan is the ideal base for a family holiday, sleeping 2 in a fixed double bed and 1 in a pull out seat bed. Crafted using sustainable, recycled and reclaimed materials, Apollo holds all the benefits and freedom of a campervan, whilst providing the illusion of being snuggled up in a luxurious log cabin in the depths of Switzerland.

Cook up a storm in Apollo's versatile kitchen which includes a 2 ring gas hob, an abundance of worktop space and cupboards to store your ingredients. There is also a refrigerator for your leftovers which can be used to fuel your hike the next day. Enjoy dinner with a view as you open up the fabulous stable door and allow the natural light to seep through. On a glorious sunny day, feed the gang outside using the outdoor stove provided. Kick back in the evenings on your very own raised decking with a glass of wine whilst watching the sunset. Apollo also has a gas heater to keep you toasty and warm, no matter the weather.

Leave no pup behind as Apollo is entirely pet-friendly and has a pawsitively wonderful area for your dog to relax after a day of climbing mountains and paddling in the lake. Equipped with everything you need to go off-grid, the world really is your oyster. Apollo has been fitted with solar power, toilet and an indoor shower, supplied by a dual fuel water heater - now that deserves a standing ovation!

*Please note, Apollo requires a Category C1 or equivalent driving licence, allowing the driver to drive vehicles OVER 3.5T.*
Essential Information
Air Conditioner
Hob
Heater
Dining Table
Refrigerator
Kitchen Sink
Inside Shower
Toilet
Solar
Reversing Camera
Extra Storage
CD Player
Audio Inputs
Radio
Inverter
Accessible
Pet Friendly
Double Beds: &nbsp2
Slide Out Sections: &nbsp1
Gas Capacity: &nbsp15 litres
Toilet Capacity: &nbsp35 litres
Waste Tank Capacity: &nbsp70 litres
Water Tank Capacity: &nbsp70 litres
About the Campervan
Description of Beds:Apollo sleeps up to three people; two in the fixed double bed and one in the pull out seat bed. The double measures 210cmx122cm and the pull-out is 175cmx90cm

Description of Seating:There are three belted seats in the front (including driver) with headrests. The accommodation boasts an L-shaped seating area and additional seating on the raised bed, which has headboards on three sides for comfy lounging.

Location:Apollo lives in Horsham and is parked on a quiet residential street.

Parking:If you drive to collect Apollo you are welcome to leave your car in his normal spot. If you come by train, Apollo's owner will be able to pick you up from Horsham station.

Cooking equipment:Apollo has a brand new double gas hob inside, there is a single gas burner that you can use to cook outside.

Apollo has everything you need to cook up a feast, including: 4 camping mugs | 4 melamine cups | 4 bowls | 4 dining plates | cutlery for 4 | 4 plastic wine glasses | chopping board | kettle | large and small frying pan | large and small saucepan.
There are various plastic cooking utensils | 2 sharp knives | a tin opener and a corkscrew/bottle opener. Apollo also has a stove-top espresso machine and cafetiere, as well as a sieve, colander, washing up bowl, and small dustpan and brush.

Water Facilities:There is a 70 litre water tank that supplies water to the sink and shower via a pump. The water is heated via a Truuma dual fuel water heater - providing electric heat via hook-up and gas when off-grid.

Audio Equipment:Apollo has a radio and CD player in the cab and a bluetooth speaker in the rear of the van. USB plug-in and blue-tooth are both available so you can play your own music.

Heating:Heating is provided via a brand new propex gas heater, with thermostat on the wall.

Conversion Story:Apollo began life as a London Fire Brigade Demonstration Vehicle, carrying equipment to events to educate the public on fire risks and show how the firefighters would tackle a blaze.

After languishing in the corner of a commercial vehicles yard for a year, I bought him in the summer of 2020, to convert as a lockdown project with my friend, Chris Garman.

With inspiration from George Clarke's Amazing Spaces, I wanted to create a shepherd's hut on wheels, built mostly from sustainable, recycled or reclaimed materials.

Most of the wood inside Apollo came from The Wood Store in Brighton, which recycles wood from builder's yard and house clearances; the insulation is Supasoft (recycled plastic), a few old beds and other items were renovated for the furniture and there are two 100w solar panels on the roof providing power for the lights and sockets. The removable table is made from a piece of waney edge walnut which was sanded, shaped and varnished.

The old sliding rear door was removed to be replaced with a glazed stable door and composite cladding and the tail lift has been covered in astro turf, for a raised rear deck seating area, with matching chairs and table to add to the comfort.

Apollo also boasts a 3-way 40 litre fridge, a wet room with shower, sink and toilet and acres of storage in a large wardrobe, an under-seat cupboard and large area under the bed. This is also a great spot for your dog to rest their weary paws after a hard day of walking and playing...as my spaniel, Storm, would agree!

The storage space can also fit an outdoor pop-up fire pit, 4 man tent and picnic blanket, as desired.

Apollo is a large vehicle, with a big engine and a big heart - perfect for open spaces, off-grid adventures and campsites. He may struggle on narrow winding roads, but is ready for his next big mission this summer....

*Please note, Apollo requires a Category C1 or equivalent driving licence, allowing the driver to drive vehicles OVER 3.5T.*
Pick up / Drop off Times
| - | Pick up | Drop off |
| --- | --- | --- |
| Sunday | By arrangement | By arrangement |
| Monday | By arrangement | By arrangement |
| Tuesday | By arrangement | By arrangement |
| Wednesday | By arrangement | By arrangement |
| Thursday | By arrangement | By arrangement |
| Friday | By arrangement | By arrangement |
| Saturday | By arrangement | By arrangement |
Note: Campervan Hire prices are per 24 hours. If you request pick-up at an earlier time than your drop-off time the owner will quote you for the additional hours. Typically this is £12.50 per additional hour.
When would you like to go?
Sorry, there was a problem...
Vehicle Spec
Vehicle Type: camper-van
Make: Citroen
Model: Relay
Year: 2008
Vehicle Length: 6 metres
Vehicle Height: 3.1 metres
Box Length: 4 metres
Length with hitch: 6 metres
Class / Floorplan: C1
Max Laden Weight (MAM): 4500 kg
Payload: 750 kg
Transmission: manual
Fuel Type: diesel
Registration: emailed when you book
Note: The hire of this vehicle is arranged by Quirky Campers ltd acting as the agent on behalf of Apollo's owners. We make every effort to ensure that all the vehicles listed with us are of a high standard but cannot guarantee the condition of the vehicle. If you experience any problems please notify us as soon as possible.