Alice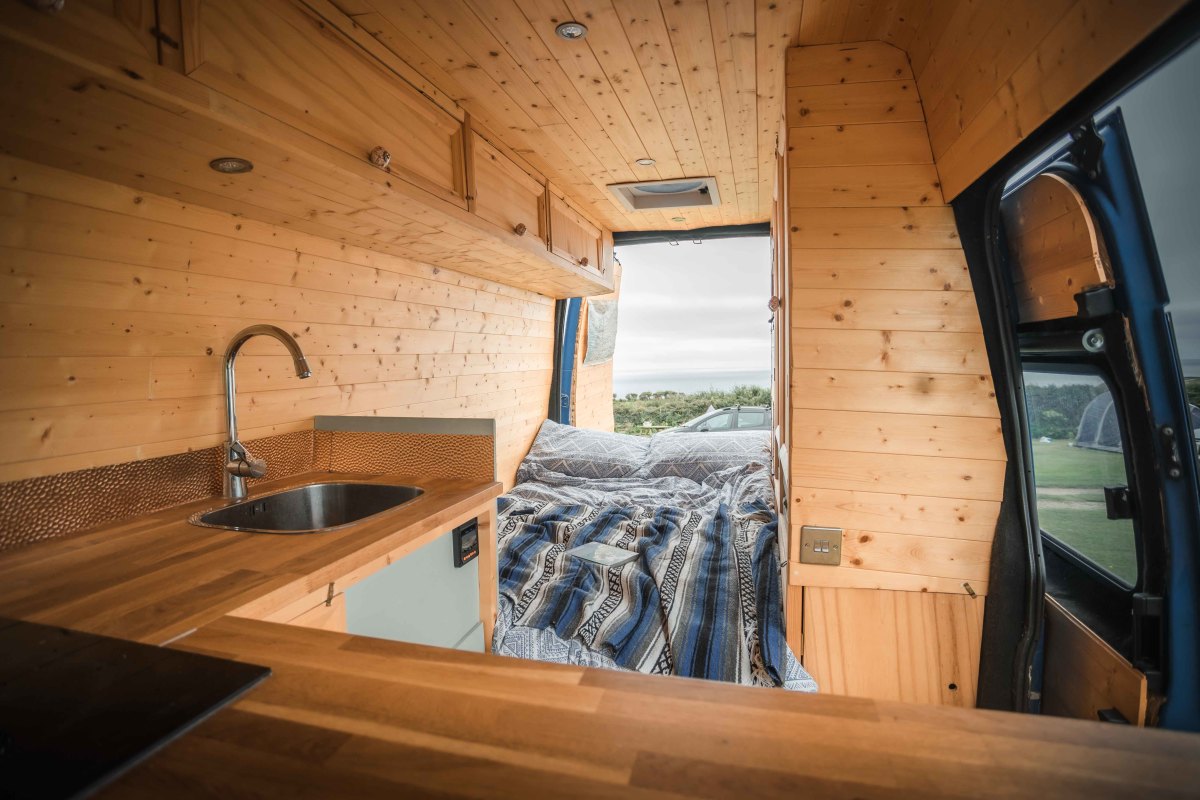 Canterbury
3 Belted seats 2 Adult berths
Ever dreamt of going off-grid for a simpler life? Well now you can! Alice is a magnificent wood cabin on wheels, located in a small idyllic Kentish village. Designed with long term off-grid escapes in mind, Alice gives you everything you could wish for including bookshelf with extra storage for all your favourite reads, outdoor shower and a coffee press. Not only does Alice hold everything you'd want, but she also has everything you need, with solar power, 3 leisure batteries and 100 litre water tank linked to the kitchen tap and shower.

This 2 berth, pet-friendly home away from home is ready to take you on the romantic getaway of your dreams. Picture snuggling up in your very own double bed, opening the back doors and watching a flaming red sunset flood through the trees. Whether you enjoy the freedom of alfresco dining or the comfort of an indoor banquet, Alice is prepared with an indoor gas stove that can be taken outside for alfresco cooking or brought in for warm comfort on a rainy day. There is also a fold out dining table made from reclaimed wood, which offers you the flexibility to have a romantic meal followed by your very own games night for two. For those longer trips there is an abundance of storage for you to store away clothes, food and drinks, anything your heart desires!

So what are you waiting for? Turn your dream into a reality with Alice today and let her show you the real meaning of the great outdoors!

Essential Information
Hob
Heater
Dining Table
Refrigerator
Kitchen Sink
Outside Shower
Toilet
Solar
Reversing Camera
Extra Storage
CD Player
Audio Inputs
Radio
Pet Friendly
Double Beds: &nbsp1
Water Tank Capacity: &nbsp100 litres
EU Travel Allowed
About the Campervan
Description of beds: Alice has a pull out sofa that turns into a full size double bed with an extremely comfortable foam mattress.

Description of Seating: Three belted seats in the front (including driver) with head rests. Both passenger seats are suitable for a child car seat using the belt.

About the area and parking: Alice lives in a small, quiet Kentish village. If you drive to collect Alice you can park in the village square which is overlooked by many houses for security. We can also arrange to meet you at the train station in Chilham.

If you live in Kent then delivery can be arranged, please contact us for details.

Cooking Equipment: Alice comes equipped with a portable cooking stove that can be used indoors or out. Alice has everything you could need to cook up a feast, including: 2 mugs | 2 bowls | 2 large dining plates | cutlery for 4 | 2 wine glasses | chopping board | kettle | frying pan | large and small saucepan | cooking spoons | 1 sharp knife | 2 pen knives | tin opener | corkscrew/bottle opener | coffee press | colander | washing up bowl | and small dustpan and brush. There is also a pull-out cabinet fridge.

Water Facilities: There is a built in 100 litre water tank that supplies water to the sink via a pump as well as the outdoor shower. This is more than enough to last two people over a week.

Audio Equipment: Alice has the original Ford sound system with aux input and a Bluetooth speaker is provided in the rear of the van so you can play your own music.

Type of Heating: A small electric heater is all you need in this cosy well insulated space and heats the van in minutes.

Toilet Facilities: Alice has a pull out emergency chemical cassette toilet. This is included as an extra to reflect the cost of chemicals and cleaning between rentals.

Electrics: Alice is a fully off-grid camper! All power is generated by a 300w solar panel and stored by 3 leisure batteries providing 330 AH. The batteries can also be charged from the alternator while driving if an additional power boost is needed. She's spent weeks in Scotland, Wales and even Norway and Sweden and has never had a problem with the power the solar panels generate. Alice is 12V only for peace of mind, no potentially dangerous 240V electrics. USB charging is installed to charge phones and tablets.

While off-grid, in the UK the solar and batteries give enough power for us to use the lights, charge tablets/ phones and run the fridge.

Conversion Story: Alice is our super stealthy secret squirrel. The outside completely hides the cosy well thought out interior which is more than spacious enough for two people, and has enough height so that a 6ft person can stand with space to spare.
Well designed with:
– A separator which slides up between the kitchen and the cab at night, completely disguising camper from the outside and providing additional insulation. It feels extremely warm, safe and cosy.

– Extremely thoroughly insulated – this van maintains its temperature very well, even on cold nights. We've had sub zero nights in him and have been warm and cosy. Equally, it never gets overly hot in the summer.
– Clad interior treated with danish oil.
– Durable wood laminate floor, easy to clean.
– Electric fan in the roof, reversible so can be air in or air out.
– Fold-down table, made from reclaimed wooden floorboards. Can be opened up to be more than big enough for 2 to eat and play a boardgame comfortably.
– Fold-down exterior table, made from reclaimed wood.
– Handmade cupboard doors with custom handles.
– Lighting – spotlights in the ceiling and above the sink. Warm light LED strips under cabinets for a cosy feel in the evenings
– Lots of storage for clothes (including hanging rail), cooking utensils, food and drinks. Space under the bed for camping chairs and bigger items. Was ample storage for a 6-month trip. This could be a great camper if you need to go to a wedding.
– Bookshelf with extra storage.
– Bulkhead storage for bedding.
Pick up / Drop off Times
| - | Pick up | Drop off |
| --- | --- | --- |
| Sunday | By arrangement | By arrangement |
| Monday | By arrangement | By arrangement |
| Tuesday | By arrangement | By arrangement |
| Wednesday | By arrangement | By arrangement |
| Thursday | By arrangement | By arrangement |
| Friday | By arrangement | By arrangement |
| Saturday | By arrangement | By arrangement |
Note: Campervan Hire prices are per 24 hours. The default pick up and drop off time is 2pm. If you request a pick up or drop off outside of this, the owner will quote you for the additional time. Typically this is £12.50 per additional hour.
When would you like to go?
Sorry, there was a problem...
Vehicle Spec
Vehicle Type: Campervan
Make: Ford
Model: Transit
Year: 2013
Vehicle Length: 5.9 metres
Vehicle Height: 2.7 metres
Length with hitch: 5.5 metres
Max Laden Weight (MAM): 3500 kg
Payload: 900 kg
Transmission: manual
Fuel Type: diesel
Registration: emailed when you book
Note: The hire of this vehicle is arranged by Quirky Campers ltd acting as the agent on behalf of Alice's owners. We make every effort to ensure that all the vehicles listed with us are of a high standard but cannot guarantee the condition of the vehicle. If you experience any problems please notify us as soon as possible.