Wheely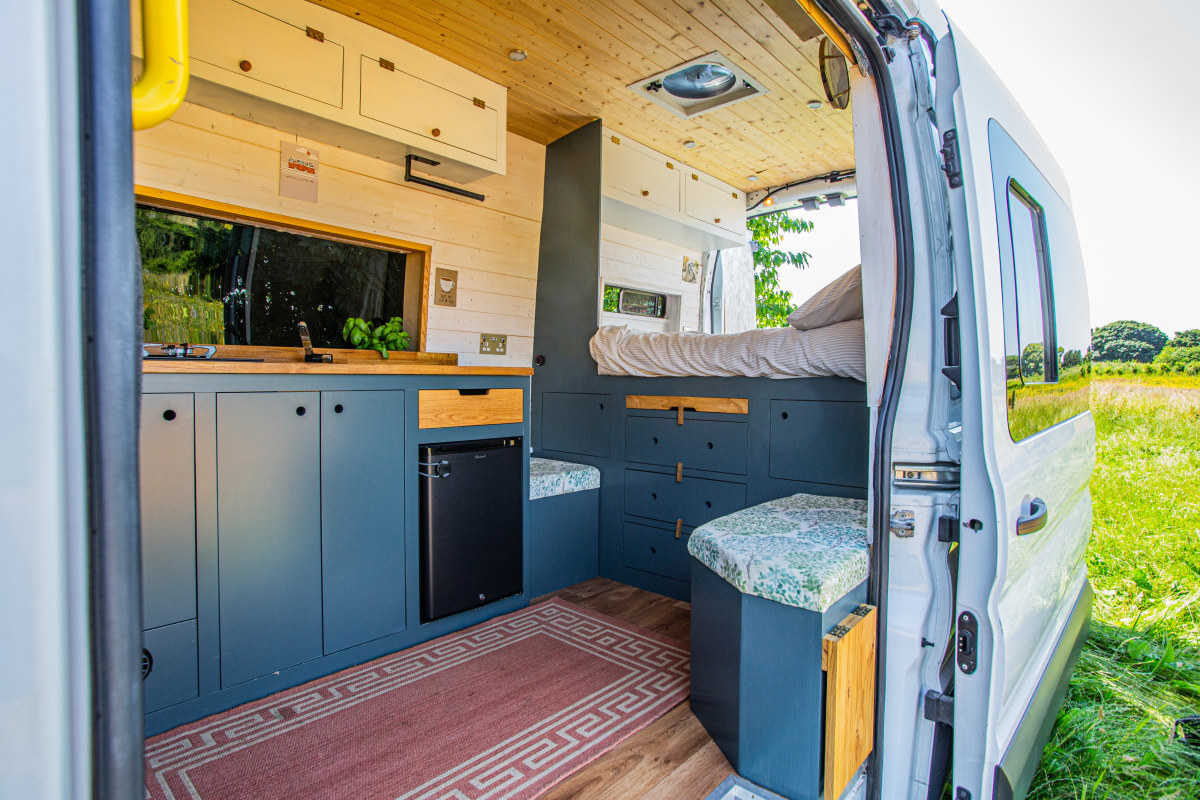 Eynsham
3 Belted seats 2 Adult berths
In this camper you're guaranteed to have a 'WHEELY' good time! Located in Nottinghamshire, Wheely is perfectly located to explore the picturesque Peak District and Yorkshire Dales. It's whitewashed design has been complimented with blue cabinets and printed soft furnishings to create a fresh beach hut style finish. Sleeping 2 in a fixed double bed, there will be no time wasted making the bed in the evening, instead you can slide right in and settle down for a comfortable night sleep. For those chilly nights when a duvet just doesn't cut it, there is a diesel heater that will make the van warm and cosy within minutes.

Open up your own beach style cafe and cook up a storm in Wheely's versatile kitchen which includes a single ring gas hob, abundance of worktop space and various kitchen accessories. There is even a portable gas hob, providing you the opportunity to take your feast outside. Simply roll up to the beach, crack open a bottle of bubbles and you have the perfect date night. Wheely is fully equipped to take you off grid comfortably with solar power, outdoor shower and plenty of storage for you to tidy away games, wetsuits and food.
Essential Information
Hob
Heater
Dining Table
Refrigerator
Kitchen Sink
Outside Shower
Ceiling Fan
Solar
Audio Inputs
Radio
Inverter
Double Beds: &nbsp1
Gas Capacity: &nbsp3.75 litres
Waste Tank Capacity: &nbsp10 litres
Water Tank Capacity: &nbsp10 litres
About the Campervan
Description of Beds: Fitted double bed, with underneath storage and cupboards above. Purpose made mattress, double layered for comfort; first layer foam, second layer memory foam. 155cm wide and 176cm long. 6ft and taller will need to sleep corner to corner. As there are 3 seat belts, if a 3rd person or child wants to join, there is enough room on the floor to sleep a 3rd person. Contact to arrange so we can organise bedding etc.

Description of Seating: Three belted seats in the front (including the drivers) with headrests. There is seating in the back for 3 people when not driving and when the front passenger chair is turned around the van can fit a sociable amount of 5 people. Passenger seats are suitable for a child car seat using the belt.

Description of Electrical Setup: This campervan is set up with the electrical ability to be off grid. It has a 1300w solar panel which keeps the two 110ah and 12v batteries topped up. Furthermore when you drive this will also charge the batteries. There are two USB charging points in the back next to the bed, and two power outlets; one in the front, one in the back. Next to the USB outlet in the back is a digital panel which displays your voltage - so you can always be sure on how much electricity you have. Bear in mind the fridge and the heater will demand a lot of electricity, so when not in use, keep them turned off.

When at a campsite you can hook up to the mains from underneath the rear of the van (It has been placed here to be more unrecognisable as a campervan). This will then give the ability to use whatever appliance you wish from the double plug socket to the right of the counter top. Being hooked up to the mains will also keep the batteries charged.

There is a bluetooth connection in the front of the van so you can play your own music and answer calls, hands free, when on the move. Wheely also has a portable speaker for when you are in the rear of the van.

About the area: Kept in Lowdham, a village in Nottinghamshire. The area is easily accessed off the A46 and a walking distance from Lowdham Train station. Wheely is kept on a gated drive and off a single-track road.

Parking: If you drive to collect Wheely, you are welcome to leave your car in her normal spot. The drive is gated and very secure. If you come by train, Wheely's owners will be able to pick you up from Lowdham station.

Cooking equipment: Chopping board | ladle | spatula | bread knife | sharp knife | pot and lid | strainer and two non-stick pans | Cutlery and crockery for 2 people (request for a 3rd) | 2 knives | 2 forks | 2 tablespoons | 2 teaspoons | 4 bamboo bowls | 2 plates | 2 mugs and some spare paper cups.

Other kitchen accessories include: Scissors | bottle opener | corkscrew | washing up bowl | washing up sponge | cloth and liquid | 2 tea towels | rubbish bags | shopping bags and a dustpan and brush.

Along with essentials: coffee | tea bags | salt and pepper.

In addition to the gas hob inside there is a portable single gas hob for you to use outside.
If you are hooking up to the mains, feel free to bring your own kettle and toaster to feel home from home!

Water and Sanitation: There is an outdoor solar shower bag, which holds 5 gallons of water. It has 20L Solar Heating and can get up to temperatures of 45°C. It can be easily filled up and then hung up off one of the back doors to have your shower. There is a 10litre removable water tank underneath the sink that supplies water to the sink via a pump.

Type of Heating: Wheely has a Webasto Diesel heater, providing up to 2000 watts of heat and is whisper-quiet when operating at full power.

Conversion Story: Designed and created by the owners of Wheely, (Ashley and Harry - Designer and Carpenter) functionality and mobility was the driving force of the layout. With enough floor space to put out a yoga mat if you wish, and enough storage space neatly hidden away. The materials and colour palette were chosen in order to feel non cluttered and fresh. Meanwhile, where possible, materials and woods were off-cuts or reclaimed, adding a recycled element to the building. Wheely feels Homely and cosy at the same time as still feeling light and airy!

Originally inspired in 2018 for the purpose of doing a ski season in the French Alps, Wheely is well insulated and has long storage space in the back for skis/boards. The thick insulation also means that she stays nice and cool in the summer.

Alternative Collection: For those travellers heading south, arrangements can also be made to collect Wheely from Oxford.
Pick up / Drop off Times
| - | Pick up | Drop off |
| --- | --- | --- |
| Sunday | By arrangement | By arrangement |
| Monday | By arrangement | By arrangement |
| Tuesday | By arrangement | By arrangement |
| Wednesday | By arrangement | By arrangement |
| Thursday | By arrangement | By arrangement |
| Friday | By arrangement | By arrangement |
| Saturday | By arrangement | By arrangement |
Note: Campervan Hire prices are per 24 hours. The default pick up and drop off time is 2pm. If you request a pick up or drop off outside of this, the owner will quote you for the additional time. Typically this is £12.50 per additional hour.
When would you like to go?
Sorry, there was a problem...
Vehicle Spec
Vehicle Type: Campervan
Make: Ford
Model: Transit
Year: 2015
Vehicle Length: 6 metres
Vehicle Height: 2.8 metres
Length with hitch: 6 metres
Max Laden Weight (MAM): 3500 kg
Payload: 460 kg
Transmission: manual
Fuel Type: diesel
Fuel Efficiency: 20 mpg
Registration: emailed when you book
Note: The hire of this vehicle is arranged by Quirky Campers ltd acting as the agent on behalf of Wheely's owners. We make every effort to ensure that all the vehicles listed with us are of a high standard but cannot guarantee the condition of the vehicle. If you experience any problems please notify us as soon as possible.