Hoots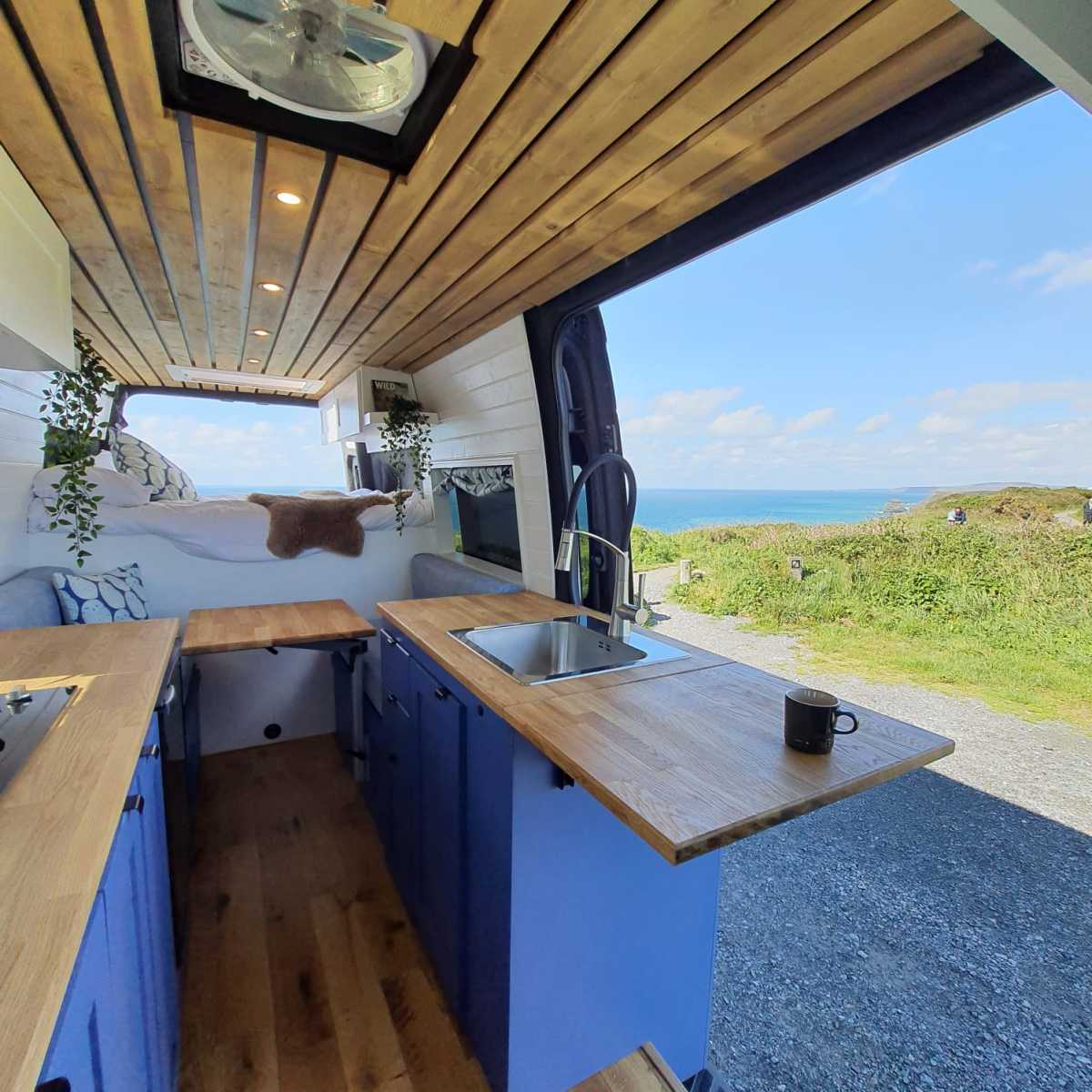 Mayfield
3 Belted seats 2 Adult berths
It's near impossible not to have a hoot in Hoots! This lovingly converted 2 berth campervan has been fully kitted out by the team at Slow Road Campers with a number of high spec features to keep you comfortable through the summer and winter months. It's sleek white-washed design has been complimented with a calming shade of royal blue to create a romantic and relaxing atmosphere. The attention to detail is to be highly admired with a number of thoughtful touches throughout including a hanging fruit & vegetable holder, matching soft furnishings and hanging plants.

Stick the kettle on and enjoy breakfast in your very own king size bed, which is entirely fixed, allowing you to spend less time faffing and more time adventuring. Leave nothing to be desired in Hoots's spacious and adaptable kitchen which has been equipped with a 2 ring gas hob, abundance of food storage and refrigerator to keep your ingredients fresh and drinks cold. Serve up panoramic views with dinner; with Hoots's many windows, you can dine inside or out, rain or shine!

Hoots is the definition of 'off-grid ready' with solar power, a comprehensive heating and cooling system and toilet. There is also an outside shower, allowing you to be at one with nature in the best possible way!

Please note: Hoots is not a child-friendly campervan, as Hoots' owner has designed Hoots for adult customers only.
Essential Information
Air Conditioner
Heater
Dining Table
Refrigerator
Kitchen Sink
Outside Shower
Bike Rack
Toilet
Ceiling Fan
Solar
Reversing Camera
Extra Storage
Radio
Inverter
King Beds: &nbsp1
Slide Out Sections: &nbsp2
Waste Tank Capacity: &nbsp25 litres
Water Tank Capacity: &nbsp100 litres
EU Travel Allowed
About the Campervan
Description of Beds: Fixed king size bed (195cm long x 150cm wide) with side extension pods (for tall adventurers!) with a high end, deep memory foam mattress.

Description of Seating: Hoots has 3 belted seats, (with headrests) including double passenger bench swivel seat.

Local Area: Hoots lives on a farm in a beautiful, rural, unspoilt area of East Sussex, near the charming village of Mayfield in the heart of the High Weald Area. We are only just over an hour away from London, South Downs, Eastbourne, Hastings, Brighton, Ashford Int'l Railway Station - so very accessible.

Parking: We live in a rural area and have plenty of space! You are very welcome to park your vehicle a mile off the main road, next to our house!

Cooking Equipment: Hoots will facilitate the cooking up of a feast! Equipment includes: 2 x knives | 2 x forks | 2 x dessert spoons | 2 x teaspoons | 2 x large plates | 2 x smaller plates | 2 x bowls | 2 x mugs | 2 x wine glasses | 2 x beakers | spatula | scissors | whisk | wooden spoon | can opener | bottle opener | bread knife | garlic crusher | cooking knife | salad bowl | salad servers | egg cups | chopping board | placemats & coasters | coffee machine | measuring jug | frying pan | colander | ridgemonkey | cheesegrater | variety of dishes | saucepans | kettle | toast rack (for toasting over the hob) | washing up bowl (with cloths, dish rack, washing up liquid, soap etc.) | tea | coffee | sugar & salt.

Hoots also has an efficient "dust buster" that will easily clear up any mess!

Water Facilities: Hoots has a huge 105L freshwater tank in the under bed garage, giving 
plenty of capacity to enjoy hot showers on the road.

With a quick 2 minute set up, you'll have the rear door to door shower curtain up and ready to enjoy a piping hot & private al fresco shower!

Electrics: Hoots has a fully off-grid electrical system with a 110Ah lithium battery bank, topped up by a powerful 340W solar panel as well as a DC to DC charger, givingyou the capacity to remain off the grid indefinitely!

The system has a 2000W inverter with one single (kitchen) and one double (sitting area) outlet to power your laptop/blender/whatever - along with quick charge USB charging conveniently positioned next to the bed.

Audio Equipment: Hoots has been fitted with a top-of-the-line Alpine Halo display. To use, simply plug your phone into the dash USB and activate Android Auto/Apple Carplay on your device - from there everything on your phone can be displayed & used through the 9" floating display! Sat Nav, Spotify (tunes for cruising!) and hands-free calls & messaging giving you effortless entertainment on the road...

Storage: Offering huge storage flexibility, the massive pull out gear drawer can happily accommodate all of your toys. With 2 heavy duty adjustable bike fork mounts - it is designed specifically to easily & safely transport your valuable bikes + all your cycling gear. No need to worry about leaving your pride & joy outside the van for transport & storage - everything can now live inside the van, under the bed!

Heating: For your comfort, Hoots has a Truma Combi LPG heater & hot water boiler - giving instant heat for those chilly days, with a number of outlets around the van to heat the space quickly & efficiently. The digital control panel makes using the Truma simple - giving options for a timer function (wake up to a toasty warm van!) and thermostatic control. This works perfectly in combination with the Maxxfan Deluxe,
giving total temperature control in the van to heat and to cool.

Extra Information: The awning is the top-of-the-range Fiamma F80S, fully motorised with LED light bar. It's 4m long x 2.5m wide when fully extended & links the space immediately outside the van with the interior - almost doubling the 'living space'. Equally perfect for a long lazy (and shaded) afternoon nap, or for defining the space for evening entertainment.

Then the huge Dometic rooflight is the feature for you! Positioned directly above the comfy king sized bed, you can take full advantage of those clear nights, without even getting out of bed! The rooflight has 3 opening positions for ventilation - as well as a fly screen & insulated blackout blind.

Conversion Story: Hoots has had an easy life as a long wheel base, has low miles, FSH and was perfect to convert. It had an extremely high spec for conversion and includes air conditioning in the cab, cruise control, reversing camera & parking sensors. It is fantastic to drive. The van was converted in the knowledge that it was to be used in all weathers 12 months a year - it is equally comfortable in the heat of the summer or in the more chillier, winter months.

It has been hand painted in fresh blue and white colours, and is extremely light, airy, spacious and the owl theme is reflected throughout the van. You can dine in style either inside or out, and if wished the awning can be set up at the "touch of a button".
With a powerful solar panel on its roof, Hoots will never need to be "hooked up" for power, it is totally self-sufficient, giving you masses of freedom.

The purpose built heavy duty drawer in the garage area means that Hoots is the perfect van to take on cycling adventures, or indeed any adventures big or small. It has been designed for pure comfort on and off the road for the novice adventurer or the more experienced - it is top end, very well maintained & equipped and is super cool!

Warning: The payload of this vehicle is 280kg. This is below the Quirky Campers recommended payload of 370kg for a vehicle with 3 belted seats. Drivers need to be aware that the total weight of driver, passengers and baggage must be below 280kg to keep the vehicle within its legal Max Allowed Mass (MAM) of 3500kg
Pick up / Drop off Times
| - | Pick up | Drop off |
| --- | --- | --- |
| Sunday | By arrangement | By arrangement |
| Monday | By arrangement | By arrangement |
| Tuesday | By arrangement | By arrangement |
| Wednesday | By arrangement | By arrangement |
| Thursday | By arrangement | By arrangement |
| Friday | By arrangement | By arrangement |
| Saturday | By arrangement | By arrangement |
Note: Campervan Hire prices are per 24 hours. The default pick up and drop off time is 2pm. If you request a pick up or drop off outside of this, the owner will quote you for the additional time. Typically this is £12.50 per additional hour.
When would you like to go?
Sorry, there was a problem...
Vehicle Spec
Vehicle Type: Campervan
Make: Volkswagen
Model: Crafter
Year: 2016
Vehicle Length: 6.9 metres
Max Laden Weight (MAM): 3500 kg
Payload: 280 kg
Transmission: manual
Fuel Type: diesel
Registration: emailed when you book
Note: The hire of this vehicle is arranged by Quirky Campers ltd acting as the agent on behalf of Hoots's owners. We make every effort to ensure that all the vehicles listed with us are of a high standard but cannot guarantee the condition of the vehicle. If you experience any problems please notify us as soon as possible.