Moana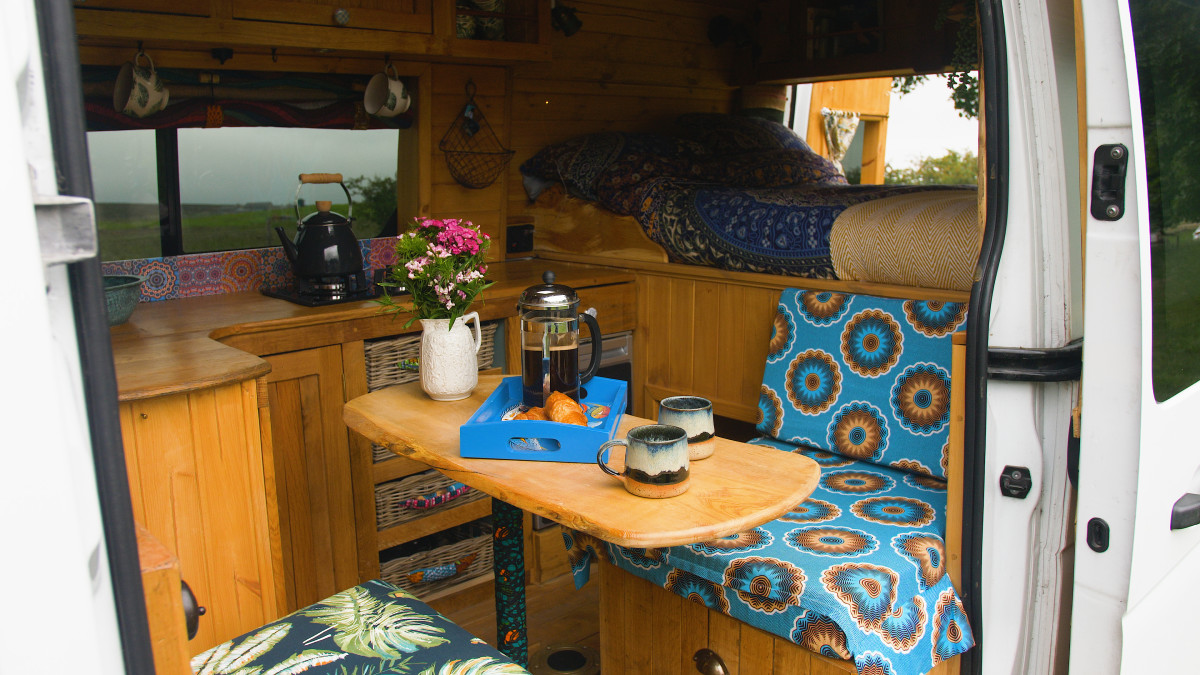 Stroud
3 Belted seats 2 Adult berths 2 Child berths
Searching for the perfect companion to accompany you on a tropical escape? Well what can I say except you're welcome! Ocean and wild adventures await in Moana the campervan. Moana is inspired by adventures in, on, near or next to water…although she is just as happy in forests, fields, woods or mountains. Moana means ocean in Tahitian so a journey in her is like a trip to a tropical and faraway land, as reflected in her choice of eclectic interior fabrics.

Like the independent and adventurous Disney character, Moana embodies the power and independence of those who like to travel or simply those who crave a safe, calm space to escape the stresses of the everyday. Moana is perfect for a couple, those with a young child and those wishing to travel with their 4-legged friend. With a comfy fixed double bed, a small single and a cab hammock - there really is room for the whole family.

From the moment you enter Moana, you will be taken care of. Recycled materials have been used where possible, such as recycled coffee sacks, whisky barrel wood, reused wine corks and African kitenge; be ready for a soulful adventure!

Access to a firepit, kayak and provision for a surfboard to be carried on board is also available. Although Moana is a smaller van she is packed full of everything of a larger van, while maintaining the ease of driving a smaller more compact vehicle. She fits into car park spaces with ease!

Complete with a hammock swing, a nook for a dog (or extra storage), fully equipped kitchen and plenty of garage storage, the owner has worked hard to cater for a range of needs.

Moana has a toilet stowed under the sofa, which can be accessed from the van or put into a toilet tent. She has an external shower which can use pre-heated water, and a sofa that can be extended into a third bed suitable for a child or smaller adult. There is also the option for an additional tent and an additional hammock bed for the cab area. So the question is, how far will you go?

*Discounts available for single parent families.

Essential Information
Air Conditioner
Hob
Heater
Dining Table
Refrigerator
Kitchen Sink
Outside Shower
Toilet
Awning
Solar
Extra Storage
Radio
Inverter
Pet Friendly
Gas Capacity: &nbsp12 litres
Water Tank Capacity: &nbsp60 litres
EU Travel Allowed
About the Campervan
Description of Beds: Moana sleeps up to 4 people in the following: small double fixed bed at the back of the van, complete with reading lights and cupboard storage – 184cm x 120cm, single bed made up of the sofa and fold down single seat – 158 x 60cm. Cab hammock – 153cm x 51cm (max.60kg).

Description of Seating: Three front seats with 3-point seatbelts. Please be aware, that while Moana can sleep up to 4, she only has 3 belted seats! No travelling on the roof I'm afraid!

About the Area: Moana lives in Brimscombe (just outside of Stroud). She is situated 10-12min drive or a 50min walk from Stroud Station. Pick ups can be arranged from the station at a small additional cost.

Parking: If you drive to collect Moana, you are welcome to leave your car in her spot on the driveway.

Cooking Equipment: Moana features a good-sized double hob and roomy 48L fridge with small freezer compartment. She has everything you need to cook and serve a feast, including: Sauté pan with lid, casserole pan, non-stick frying pans (large and small), 3 non-stick saucepans of varying sizes, ridge monkey (to toast bread)| 2 serving bowls/colanders | Cooking utensils | 4 large plates, 4 cereal bowls, 2 dinner bowls | Cutlery for 4 | 4 tumblers, 2 wine glasses and 4 mugs | Kettle | Cooking knives | tin opener | bottle opener | peeler | cafetiere (small and large) | grater | chopsticks | pizza slicer | a range of herbs and spices

Water Facilities: There is a 12 litre removable water tank that supplies water to the sink via a pump with another 4x 12L tanks to use. There is an outdoor shower which can use pre-heated water.

Heating: Automated Diesel Heater with temperature control and remote. The heater can be set on a timer so you can come back from a wintry walk to a nice warm van!

Description of electrical setup: Moana is off grid and runs on a very simple 12v system. She has 200 w of solar panels which trickle charge her leisure barrery. She also has a split charge system which means that the battery charges whilst driving. This simple set up creates enough power to run the compressor fridge, the lights, and charge up any phones or tablets

Extra Features: There is a little dog nook which doubles up as extra storage if not in use, and also gives access to the garage space. There is also a hammock swing where you can while away the hours staring at the ocean, or whatever beautiful scape you land in. There is a sunroof which can be opened for full views of the stars.

Conversion Story: Moana began life on the South Coast where she was used to transport granite tops. With only one previous owner, Moana was discovered in pristine condition and was a dream to drive.

Moana is the younger sister to Morag (who may one day feature on here!) and is the only sister van created by the uniquely talented van converters, Rustic Simplicity. Not long having finished converting Frida (owned by the co-founders of Quirky Campers), Anita and James (of Rustic Simplicity) got to work on Moana.

I don't think a day went by when we weren't hatching van ideas- there was a real wow moment when we designed the kitchen blind! Working with Anita and James was anything but a business transaction, it was a creative, magical journey that has since transformed into a friendship that supersedes far and beyond purely van chat!

Due to the lockdown being declared just before Christmas, my plan to go and collect her in person never happened. However, when she was delivered to my house, Anita and James were on the phone awaiting my reaction. When I finally managed to locate the light switch -it was 5am on a pitch-black December morning- what awaited me was…simply magic!


Pick up / Drop off Times
| - | Pick up | Drop off |
| --- | --- | --- |
| Sunday | By arrangement | By arrangement |
| Monday | By arrangement | By arrangement |
| Tuesday | By arrangement | By arrangement |
| Wednesday | By arrangement | By arrangement |
| Thursday | By arrangement | By arrangement |
| Friday | By arrangement | By arrangement |
| Saturday | By arrangement | By arrangement |
Note: Campervan Hire prices are per 24 hours. If you request pick-up at an earlier time than your drop-off time the owner will quote you for the additional hours. Typically this is £12.50 per additional hour.
When would you like to go?
Sorry, there was a problem...
Vehicle Spec
Vehicle Type: camper-van
Make: Vauxhall
Model: Movano
Year: 2016
Vehicle Length: 5.4 metres
Vehicle Height: 3 metres
Max Laden Weight (MAM): 3500 kg
Payload: 600 kg
Transmission: manual
Fuel Type: diesel
Registration: emailed when you book
Note: The hire of this vehicle is arranged by Quirky Campers ltd acting as the agent on behalf of Moana's owners. We make every effort to ensure that all the vehicles listed with us are of a high standard but cannot guarantee the condition of the vehicle. If you experience any problems please notify us as soon as possible.