Gerty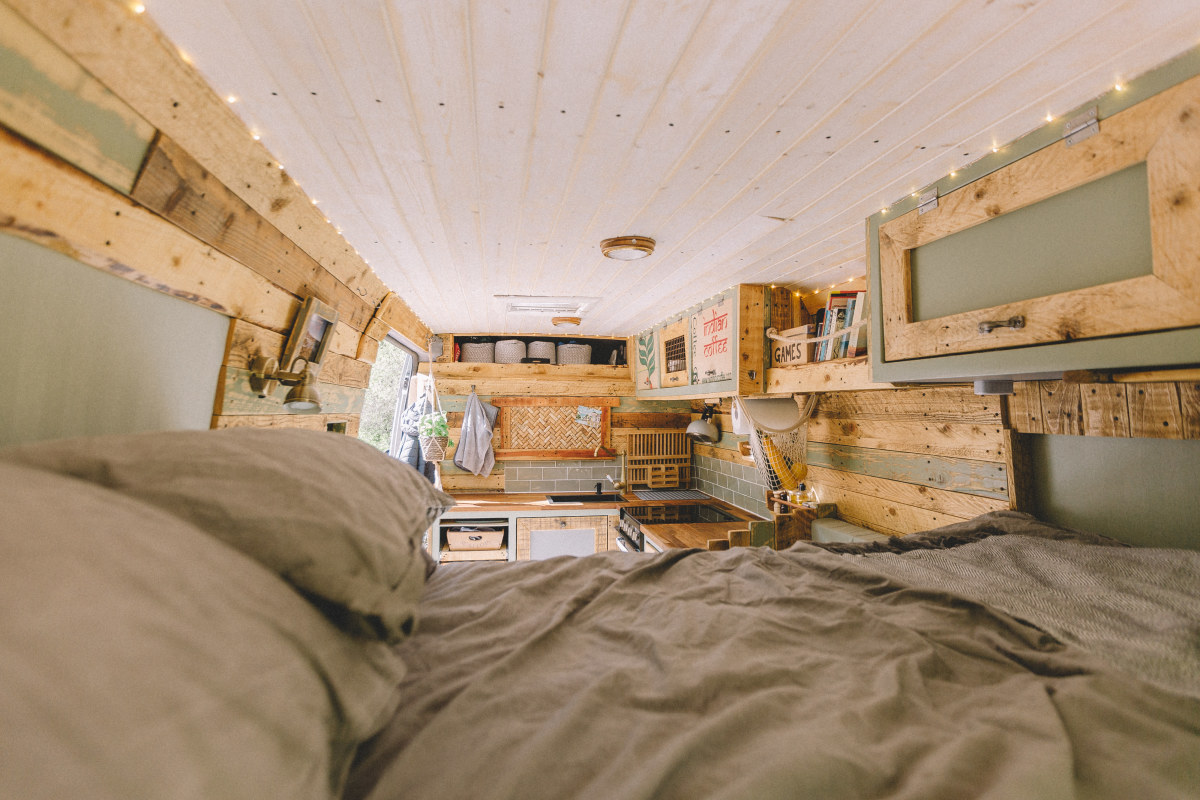 Bristol
3 Belted seats 3 Adult berths
Make sure you're somewhere comfortable because you're about to fall in love! Gerty has been lovingly converted using mostly reclaimed materials to create a rustic-chic style cabin on wheels, the perfect third wheel to your romantic getaway or companion on your family trip. She has been designed to enable you to be self-sufficient so that you can have more flexibility in where you camp with a large solar panel, water and wastewater tanks and plenty of storage space. Gerty has been incredibly well thought out to provide a practical but beautiful and cosy living space. She has also been cleverly designed to optimise space with everything from the drawers made from old wine crates to the slide out table hand crafted to ensure a bespoke fit. The double bed is fixed so you can roll straight into it after a long day of exploring, and in the morning one of you can make breakfast, while the other has a lie in or admires the view out of the porthole window or rear doors.

Gerty is a high specification, luxury campervan with all the home comforts you could possibly need on your roadtrip. She has excellent cooking facilities, with a three-ring hob, oven and grill as well as a roomy fridge, loads of storage, a heater, the ability to have a private outdoor shower and also a portable toilet! She has ample garage space at the back for all wet and muddy gear, including a pull-out tray for easily and securely storing up to three bikes.

Whether the sun is shining or it's blowing a gale, whether you are touring the country, walking the coast path, or biking across Dartmoor and you want a luxurious and private time away, Gerty provides everything you need to enjoy your days, love your evenings, and get a great night's sleep - whether on campsites or off-grid.
Essential Information
Hob
Heater
Dining Table
Oven
Refrigerator
Kitchen Sink
Outside Shower
Bike Rack
Toilet
Ceiling Fan
Awning
Solar
Extra Storage
Audio Inputs
Radio
Gas Capacity: &nbsp25 litres
Waste Tank Capacity: &nbsp55 litres
Water Tank Capacity: &nbsp70 litres
EU Travel Allowed
About the Campervan
Description of Beds: Gerty has beds to sleep three people. There is a full size fixed double bed at the rear of the van (186 x 135cm) and also the bench seats convert in to a third bed (182 x 74cm) for an additional adult or child.

There are shelves on both sides of the bed for storing your phone, book and a drink – one of which cleverly converts from a picture on the wall, folding down to a shelf. There is a slide-out shelf so that you can set up a laptop or tablet and watch films when in bed, or hiding from the rain. Charging points are located both sides of the bed, and near to the laptop shelf.

Description of Seating: The seating in the living area comprises two bench seats, opposing each other, which can comfortably seat three adults. There is a large slide-out dining table between the benches so that you can all sit around the table for meals, drinks, games and to work. The larger of the two benches can also be used as a chaise lounge for ultimate off-grid luxury!

The vehicle cab is equipped with a single driver's seat and a double passenger seat, all belted with headrests.

Electrics: The electrical set up is powered by high-capacity AGM leisure batteries, charged by both the huge 320w solar panel and vehicle engine via a smart charge controller. There is no need for an external hook up, as the van is designed to be fully off-grid with sufficient capacity to give you power even when the sun isn't shining. There are numerous USB and 12v charging points throughout the van and also the ability to charge laptops with a set of adapters included in the rental. We have fitted a wide range of lights throughout the van, so that you can have plenty of lighting when chopping veggies on the worktop, reading lights by the bed and bench seat, and can also create a relaxed atmosphere with the fairy lights during the evening.

About the Area: Gerty lives in Knowle in Bristol, and is parked at the back of our house on a quiet residential street. She is a 30 minute walk or 10 minute bus / taxi ride from the main train station (Bristol Temple Meads) and a 20 minute drive from Bristol airport. She is very close to the motorway network, providing easy access to your selected destination.

Parking: If you drive to collect Gerty, you will be welcome to leave your car in her normal spot on our driveway, or there is plenty of on street parking with no restrictions.

Cooking Equipment: Gerty has everything that you need to cook up a feast, with a three-ring gas hob as well as an integrated gas oven and grill. You can also hire a firepit which doubles up as a BBQ if you prefer alfresco cooking. Gerty has a fully equipped kitchen including enamel crockery, stainless steel tumblers, wine goblets, full set of cutlery numerous cooking utensils and a set of sharp knives. She is well equipped for all your food preparation, cooking and baking needs As well as a rubbish bin, recycling bin and food waste bin, washing up bowl, and small dustpan and brush. We include bin bags, composting bags and environmentally friendly washing up liquid and hand soap. She also comes equipped with basic pantry supplies such as salt and pepper, various herbs and spices, tea, coffee, sugar and cooking oils, to help you get started with your culinary creations.
She has a slide out dining table that can be used at any extension length, and it just slides back under the bed when you've finished using it.

Water and Sanitation: Gerty has a 70 litre fixed fresh water tank under the worktop which is great for off grid campervan adventures. It supplies water to the kitchen sink via the tap, and also to the shower at the rear of the van. It has an external filling point and hose so that it is easy to top up your water supplies when out and about.

There is a 55 litre wastewater tank which is stored out of the way under the vehicle. There is an electronic release button inside the van, so you can empty the tank in a suitable spot discretely without even having to go outside. We include biodegradable washing up liquid and hand soap so that the wastewater can be released to ground without causing harm to the environment.

Gerty has a shower fixed to the rear door, which has an instant water heater powered by gas. There are shower curtains that rig up at the rear of the van so that you can have a lovely warm shower with full privacy.

We have a 15 litre portable toilet that has its own enclosure in the main living space of the van. It is removable so the space can be used for storage if you prefer, but also means that it is easy to take the toilet out for emptying.

Waste: Gerty is equipped with carefully planned waste and recycling equipment to allow for segregation of recycling wherever possible. She has a slide out recycling and waste store which contains a recycling bin (for your glass, plastics, metals, cardboard and paper). She also has a food waste caddy located under the sink, out of sight but removable for when you'd like it on the worktop. Don't worry, it's equipped with a filter to prevent any smells escaping! Gerty also has a bin for any non-recyclable waste, located in the slide out store.

Audio Equipment: Gerty's living space is equipped with a Bose bluetooth speaker, offering great sound quality from your mobile devices. The speaker is USB chargeable for endless entertainment, and is portable so can be taken out to the campfire.

In the cab we have installed a new 7" Sony touchscreen audio system with Apple CarPlay and Android Auto so that you can play your own music in the cab and use navigational apps such as Google Maps or Waze. We have also upgraded the speakers so you can fully enjoy some great tunes when on your roadtrip.

Type of Heating: Gerty has an efficient Propex heater which uses LPG gas from the 25 litre underslung tank. It can be run off grid and can be controlled with the thermostat so that you can set your preferred temperature.

Extra Information: As well as all the funky lights in Gerty, she also lets in plenty of natural light through the large window on the sliding door, the roof light / fan and also a quirky porthole window at the rear so that you can sneak a peak outside when you wake up, without having to leave the comfort of the duvet.

She also comes equipped with a reversing camera in the cab, to help when parking, and a spirit level to aid when finding a level spot when setting up for the night.

Conversion Story: We hired one of the Quirky campervans in Scotland in 2019 and had an amazing adventure, so when lockdown hit the following year, we decided it was time to create our own. Gerty was about to be used in Cardiff for helping people move house, but during lockdown, there was less need for her in that capacity, so we rescued her from that fate and gave her a new lease of life. We have tried to stay true to our aim of minimising the environmental impact (as far as you can with a diesel van!) by kitting her out with recycled and reclaimed materials and ensuring that she can fully operate off grid from the power of the sun. We have included quirky features like old wine crates, recycled coffee sacks, corks, plenty of pallet wood and even a vintage crate rescued from our next-door neighbours skip, that is now used to store drinks bottles! She is a rustic-chic cabin on wheels and has plenty of storage space for your outdoor adventure gear, clothes, food and drink. We have designed her with convenience and comfort at the heart so she is fully equipped, easy to use and also a lovely space to relax in.
Pick up / Drop off Times
| - | Pick up | Drop off |
| --- | --- | --- |
| Sunday | 12:00PM - 5:00PM | 12:00PM - 5:00PM |
| Monday | 12:00PM - 5:00PM | 12:00PM - 5:00PM |
| Tuesday | 12:00PM - 5:00PM | 12:00PM - 5:00PM |
| Wednesday | 12:00PM - 5:00PM | 12:00PM - 5:00PM |
| Thursday | 12:00PM - 5:00PM | 12:00PM - 5:00PM |
| Friday | 12:00PM - 5:00PM | 12:00PM - 5:00PM |
| Saturday | 12:00PM - 5:00PM | 12:00PM - 5:00PM |
Note: Campervan Hire prices are per 24 hours. If you request pick-up at an earlier time than your drop-off time the owner will quote you for the additional hours. Typically this is £12.50 per additional hour.
When would you like to go?
Sorry, there was a problem...
Vehicle Spec
Vehicle Type: camper-van
Make: Fiat
Model: Ducato
Year: 2008
Vehicle Length: 6.37 metres
Vehicle Height: 2.5 metres
Length with hitch: 6.37 metres
Max Laden Weight (MAM): 3500 kg
Payload: 460 kg
Transmission: manual
Fuel Type: diesel
Registration: emailed when you book
Note: The hire of this vehicle is arranged by Quirky Campers ltd acting as the agent on behalf of Gerty's owners. We make every effort to ensure that all the vehicles listed with us are of a high standard but cannot guarantee the condition of the vehicle. If you experience any problems please notify us as soon as possible.