Fern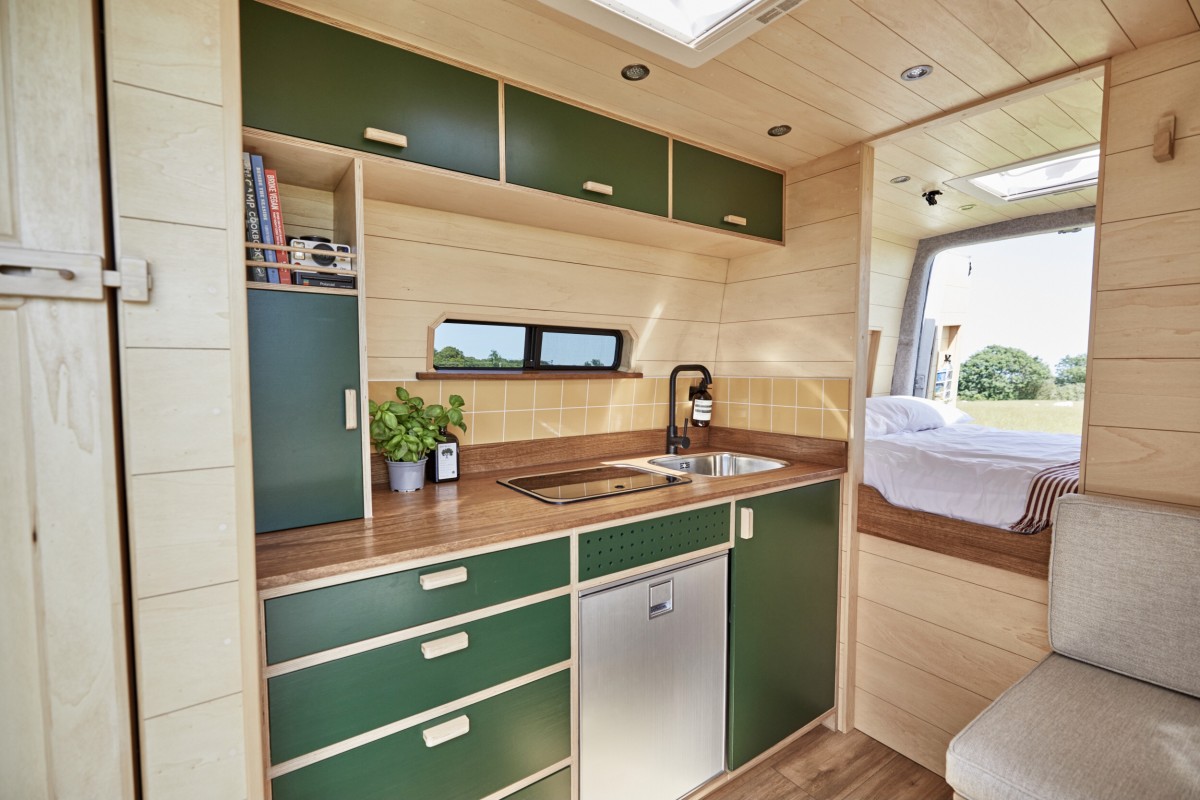 Hastings
3 Belted seats 3 Adult berths
Seeking an all year round home away from home? Say hello to Fern. Located in the sunny seaside town of Hastings, this 'FERN''omenal pet-friendly 3 berth camper is prepared for any type of adventure, come rain or shine. For those looking to venture further afield, Hastings is only an hour's drive from the Eurotunnel, meaning you could be hitting french soil within a couple of hours!

Whether you're travelling solo, as a couple or a small family, Fern's spacious and versatile interior allows you to feel open and free. Sleeping 2 in a luxurious double bed and one in a cosy single bed. There will be no faffing at night time as the double bed is entirely fixed, so after a long day of exploring nearby towns you can come back and settle in immediately and prepare for a comfortable night's sleep. Fern has been expertly fitted with a 2 ring gas hob, refrigerator and dining area suitable for 3 people, so following a long hike you can fuel up with your favourite pasta dish. There's even a freezer for you to store away ice creams on a hot summer's day.

Off-grid locations are always an option with Fern. Fully equipped with a toilet, heated shower and diesel heater means you can enjoy all the benefits of being in nature without having to compromise on those home comforts. There is even a projector available for those evenings you just want to snuggle up and watch your favourite film. Inspired and designed with nature in mind, using all sustainably sourced materials, Fern really is a one of a kind camper and she's ready to take you on the adventure of a lifetime!
Essential Information
Air Conditioner
Hob
Heater
Dining Table
Refrigerator
Kitchen Sink
Inside Shower
Toilet
Solar
Reversing Camera
Extra Storage
CD Player
Audio Inputs
Radio
Inverter
Pet Friendly
Gas Capacity: &nbsp4.16 litres
Waste Tank Capacity: &nbsp50 litres
Water Tank Capacity: &nbsp70 litres
EU Travel Allowed
About the Campervan
Description of Beds: Fern sleeps up to 3 people with sleeping accommodation comprising of one fixed double bed to the rear of the vehicle with a luxury foam mattress (please note the bed length measures 180cm & is therefore shorter than a conventional double bed) and one single bed which is made up by dropping the table in the seating area. The double bed measures 135cm x 180cm and the single bed measures 58cm x 182cm.

Description of Seating: There are 3 belted seats in the front (including driver). The 3 seats are all fitted with three point belts. 2 out of the 3 passenger seats are suitable for a child car seat using the belt. The living space accommodates 3 around the table with 2 fixed seats as well as a 3rd seat which pulls out when needed and tucks back away when not in use.

About the area: Fern is located in the sunny seaside town of Hastings. Hastings itself is a very well linked town with direct trains running to and from London regularly. There is plenty to see, do and eat right on your doorstep! Just a short drive away you will find the historic town of Rye with its quaint cobbled streets and gift shops galore. Beyond that you'll find Camber Sands, a beautiful stretch of coast line with white sandy beaches. If you carry along the east coast you will find the famous White Cliffs of Dover.

For those looking to venture further afield, the Eurotunnel Le Shuttle is just 1 hour on from Hastings and just a 30minute train ride on to France, the gateway to Europe where opportunities to explore are endless!

Parking: If you plan on driving to collect Fern, you are welcome to leave your car in her normal space. For those arriving by train, we will bring Fern to meet you at St Leonard's Station (one stop before Hastings)

Cooking Equipment: Fern is well equipped with all the essentials to cook up a feast including pots and pans, mixing bowls and a full set of kitchen utensils with an array of serving and stirring utensils along with a whisk, basting brush. Other items include a kettle for the hob, the all important coffee percolator, 3 sets of cutlery, 3 sharp knives, 1 bread knife, 1 bottle opener/ corkscrew, 1 peeler, 1 tin opener, a grater, 3 mixing bowls and 3 chopping boards. All plates and mugs are Falcon enamelware. You will find 3 mugs, 3 tumblers, 3 small plates, 3 large plates, 3 cereal bowls, 3 pasta bowls, 2 large pie dish style serving dishes and 2 small pie dish style serving dishes.

Water and Sanitation: Fern is fitted with an inside shower. The hot water is powered by the diesel heater system which is straightforward to control using the heater console. There is a Thetford PortaPotti which is housed in the shower but can be easily removed when the shower is in use. There is a 70L fresh water tank located under the van which is easily filled via the filling cap to the rear of the vehicle.

Type of Heating: The van is fitted with a diesel heater which is easy to operate and will keep you nice and toasty on a chilly winters evening.

Conversion Story:
The second creation in a series by Project Yonder, Fern is a one of a kind off-grid camper, freshly converted and carefully designed for adventuring far and wide… A concept that was born through adventure itself, Project Yonder is the brainchild of Charlie & Grace, two individuals who chose to experience the wonders of the great outdoors through the comfort of their very own tiny home.

Travelling from the UK in search of the midnight sun, they reached the very tip of Norway before winding their way back down as far as the crystal clear waters of the Adriatic Sea. Following steep, tree lined roads to the highest mountain peaks before freewheeling back down dusty tracks, to once again feel the sand between their toes.

Experiences, memories & knowledge, which they believe must now be shared by all through the creation of beautiful one of a kind, adventure vehicles!

Designed with nature in mind, Fern features natural materials such as sustainably sourced wood, cork and natural linens alongside 'Duck Green' units, a coloured inspired by the deep green plumage of a mallard. She is very well equipped to adventure in style with a large shower, hot water, heating and a luxury foam mattress for maximum comfort on the road! Fern's 80L fridge/ freezer will keep your beers ice cold on a hot summer's day whilst the heating, secluded sleeping area and projector screen will set you up for the perfect cosy winters night in!

Follow us on Instagram @projectyonder_ & tag us in your travel snaps!

Curious to find out more about Project Yonder? Check out our website www.projectyonder.co.uk
Pick up / Drop off Times
| - | Pick up | Drop off |
| --- | --- | --- |
| Sunday | 9:00AM - 6:00PM | 9:00AM - 6:00PM |
| Monday | 2:00PM - 2:00PM | 2:00PM - 2:00PM |
| Tuesday | 2:00PM - 2:00PM | 2:00PM - 2:00PM |
| Wednesday | 2:00PM - 2:00PM | 2:00PM - 2:00PM |
| Thursday | 2:00PM - 2:00PM | 2:00PM - 2:00PM |
| Friday | 2:00PM - 2:00PM | 2:00PM - 2:00PM |
| Saturday | 9:00AM - 4:00PM | 9:00AM - 4:00PM |
Note: Campervan Hire prices are per 24 hours. The default pick up and drop off time is 2pm. If you request a pick up or drop off outside of this, the owner will quote you for the additional time. Typically this is £12.50 per additional hour.
Vehicle Spec
Vehicle Type: Campervan
Make: Volkswagen
Model: Crafter
Year: 2016
Vehicle Length: 6.93 metres
Vehicle Height: 3 metres
Length with hitch: 6.94 metres
Max Laden Weight (MAM): 3500 kg
Payload: 460 kg
Transmission: manual
Fuel Type: diesel
Registration: emailed when you book
Note: The hire of this vehicle is arranged by Quirky Campers ltd acting as the agent on behalf of Fern's owners. We make every effort to ensure that all the vehicles listed with us are of a high standard but cannot guarantee the condition of the vehicle. If you experience any problems please notify us as soon as possible.
Reviews
This van hasn't yet received any reviews.