François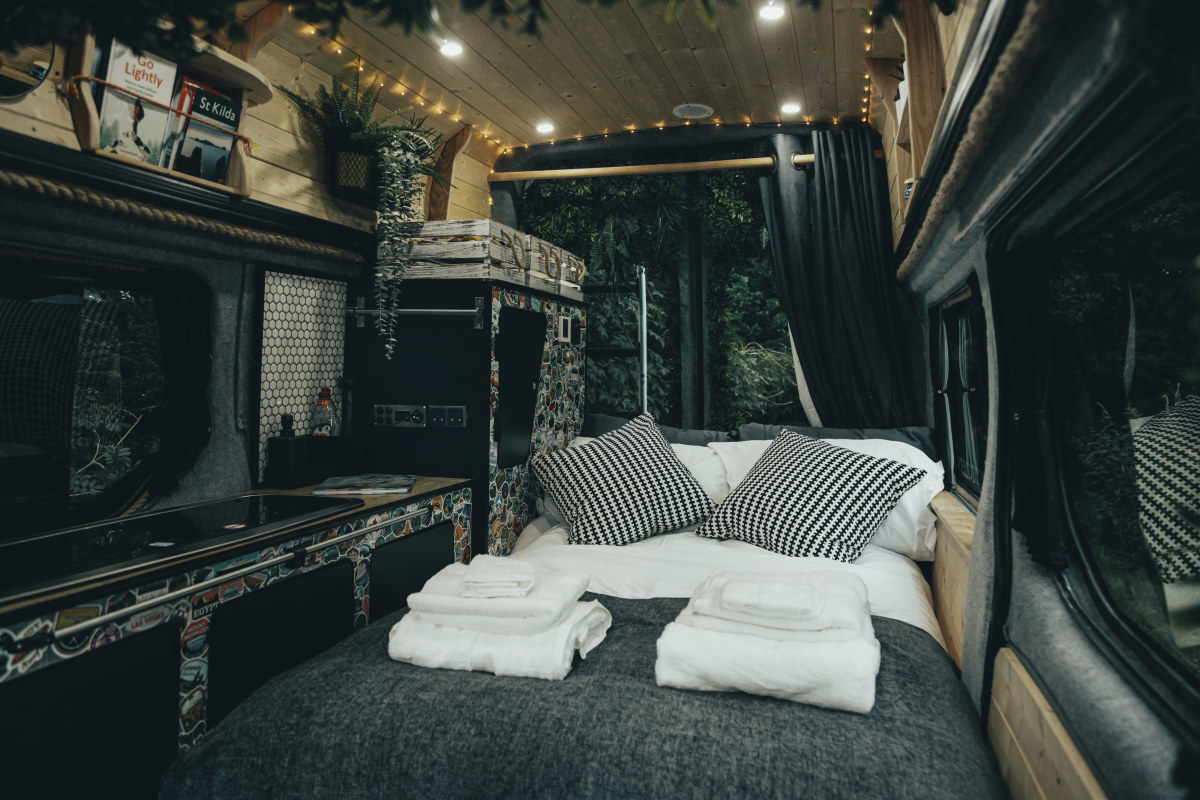 Houghton-On-The-Hill
5 Belted seats 2 Adult berths
You are cordially invited to hang out with one of the coolest campers in the Quirky fam - say bonjour to Francois! Lovingly crafted by his owners to create one of a kind accommodation, Francois has a number of well-thought out design features which showcase his fun, yet warm personality. Francois owners have expertly brought the outside in by using a number of natural materials including wood and jute rope. Arguably the most impressive and jaw dropping feature is the green wall on the rear backdoors, which will trick your mind into believing you're sleeping in your own private rainforest.

Live your best chef fantasy and create your very own romantic french bistro on wheels. Francois's kitchen is the perfect stage to create a show-stopping meal for 2, fitted with two gas hobs inside, a bamboo dinner set and a large dining table. Francois also has everything to keep you comfortable on the road, including battery power for keeping your phone charged and a 20 litre water tank. So the question is, will you choose to head north and hike the many hills across the English countryside or cross the water and explore the picturesque landscapes of Southern France?
Essential Information
Hob
Dining Table
Kitchen Sink
Extra Storage
Leveling Jacks
CD Player
Audio Inputs
Radio
Waste Tank Capacity: &nbsp15 litres
Water Tank Capacity: &nbsp40 litres
EU Travel Allowed
About the Campervan
Description of Beds: Francois sleeps two adults in a bed 120cm wide and 190cm long. This can be folded back up in the day into a sofa for extra room and seating in the van.

Description of seating: There are three belted seats in the front (including the driver) and two further belted seats in the rear all with headrests. All five belted seats have three point belts. Four people would be able to socialise in the rear of the vehicle as there is a seat swivel on the front passenger seat.

Description of Electrical Setup: Francois has 100 A/hr battery for off-grid power and a mains electric 240V inlet for site hook-up. There are two USB sockets and three plug sockets.

About the area: Francois lives in the beautiful Leicestershire rolling countryside and is parked in a quiet country setting looking across towards the Coplow.

Parking: There is ample space to park your vehicle on collection of Francois with plenty of room for unloading and loading up your luggage. Garage parking if desired for your vehicle. If you want to make your way to Houghton-on-the-Hill by bus, Francois' owners will be able to pick you up with no additional charge.

Cooking Equipment: In addition to the two gas hobs inside, Francois has everything you will need to cook up your campervan feast, including: bamboo plates, bowls and cups, cutlery for 2, 2 reusable plastic wine glasses, chopping board, kettle, frying pan, saucepan, a sharp knife, tin opener, bottle opener/corkscrew and further cooking utensils. Francois also has a toasting rack that you can use over the gas hob as well as a washing up bowl and mini dustpan and brush.

Water and Sanitation: There are two 20 litre removable water tanks in Francois that supply water to the sink via a pump. A large bottle of mineral water is supplied on handover.

Audio Equipment: Francois has a newly fitted Kenwood head unit in the cab with Bluetooth, Aux and USB capability. There are two new speakers in the cab as well as two additional speakers in the rear living area. The head unit runs off the leisure battery, so you can listen to music for hours whilst parked up in wild camping locations without flattening the van battery.

Type of Heating: The owners can provide an oil heater and a storage heater can be switched on when plugged into a campsite hook-up. Perfect for those cold rainy camping days or coming straight out the sea into a cosy van.

Conversion Story: Francois began his life as a turf layers van. We found this particularly fascinating, and this was the inspiration behind his striking green wall on the back doors- we wanted to incorporate some of his history into the design.

Francois actually had two former lives, as well as being a turf layers van, he was also used for a short time as a humble builders van. Prior to being purchased by us, he lived in Glossop at the edge of the stunning peak district national park and had been converted to a usable campervan. As soon as we saw him we knew that he could be made into something really special with lots of exciting design features. We really wanted to bring an outdoorsy, natural feel to Francois by incorporating plenty of natural materials in the van including our feature wood clad ceiling right through to the jute rope details used throughout Francois. One of our favourite features is the travel/camping inspired units that we painstakingly stuck over 300 individual stickers to and who could forget Francois' green wall inspired by his former use as a turf van.

Warning: The payload of this vehicle is 510kg. This is below the Quirky Campers recommended payload of 550kg for a vehicle with 5 belted seats. Drivers need to be aware that the total weight of driver, passengers and baggage must be below 510kg to keep the vehicle within its legal Max Allowed Mass (MAM) of 3500kg
Pick up / Drop off Times
| - | Pick up | Drop off |
| --- | --- | --- |
| Sunday | 9:00AM - 5:00PM | 9:00AM - 5:00PM |
| Monday | 9:00AM - 5:00PM | 9:00AM - 5:00PM |
| Tuesday | 9:00AM - 5:00PM | 9:00AM - 5:00PM |
| Wednesday | 9:00AM - 5:00PM | 9:00AM - 5:00PM |
| Thursday | 9:00AM - 5:00PM | 9:00AM - 5:00PM |
| Friday | 9:00AM - 5:00PM | 9:00AM - 5:00PM |
| Saturday | 9:00AM - 5:00PM | 9:00AM - 5:00PM |
Note: Campervan Hire prices are per 24 hours. The default pick up and drop off time is 2pm. If you request a pick up or drop off outside of this, the owner will quote you for the additional time. Typically this is £12.50 per additional hour.
When would you like to go?
Sorry, there was a problem...
Vehicle Spec
Vehicle Type: Campervan
Make: Renault
Model: Trafic
Year: 2004
Vehicle Length: 5.9 metres
Vehicle Height: 2.7 metres
Box Length: 5.18 metres
Max Laden Weight (MAM): 3500 kg
Payload: 510 kg
Transmission: manual
Fuel Type: diesel
Fuel Efficiency: 28 mpg
Registration: emailed when you book
Note: The hire of this vehicle is arranged by Quirky Campers ltd acting as the agent on behalf of François's owners. We make every effort to ensure that all the vehicles listed with us are of a high standard but cannot guarantee the condition of the vehicle. If you experience any problems please notify us as soon as possible.
Reviews
See Full Reviews...

May 2022

Dawn

From Glenn Tracy...
Wow! What an amazing review! Thank you so much Dawn :)