Kaya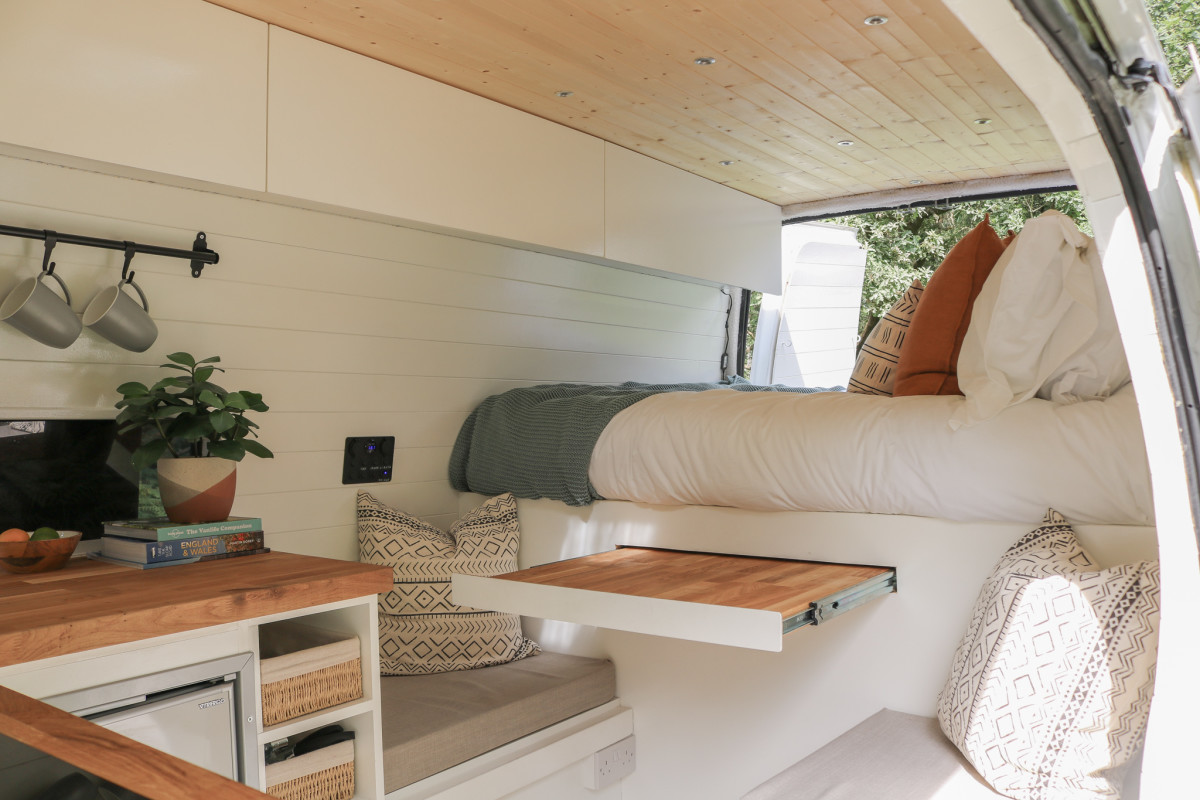 London
3 Belted seats 3 Adult berths
If Kaya doesn't inspire you to open Google Maps, pick your destination, and hit the road, then we don't know what will! The epitome of style and charm, her luxurious whitewashed design has been further enhanced with beautiful houseplants, wicker storage baskets and solid oak work surfaces. If you love the freedom and adventures of camping, but enjoy a few creature comforts then look no further.

This camper is not only undeniably gorgeous, she's practical too, with a number of clever touches to create space, storage and comfort. Kaya sleeps up to 3 people, two in a double bed and one in an optional bed seat. The two comfortable bench seats in the rear can be modified to one long seat, ideal for enjoying a family movie night or snuggling up to watch your favourite series with your significant other.

Looking to cook up a family feast? Or perhaps you're wanting to treat that special someone to a romantic meal for two under the stars? Kaya's versatile and spacious kitchen is the perfect place to fulfil all your cooking desires. Fully equipped with a twin gas hob, large counter space, kitchen sink and melamine dinner set. For off-grid adventures, Kaya has everything you need to feel comfortable on the road including solar power, toilet and outdoor shower. There is even a diesel heater so you can stay warm, no matter the weather.
Essential Information
Hob
Heater
Dining Table
Refrigerator
Kitchen Sink
Outside Shower
Toilet
Solar
Extra Storage
Leveling Jacks
CD Player
Inverter
Pet Friendly
Waste Tank Capacity: &nbsp25 litres
Water Tank Capacity: &nbsp25 litres
EU Travel Allowed
About the Campervan
Description of Beds:. Kaya camper comfortably sleeps three people. There is a double bed with a pull out extension making it 170 x 160 cm. There is also an optional bench seat that can be used as a third bed. The double bed has a memory foam mattress and premium linen. No "roughing it" in this camper!

Description of Seating: There are three belted seats in the front (including the driver). In the back, there are two comfortable bench seats that can be modified to a one long bench seat for movie night or additional seating. There is a handy, hidden, pull-out table between the seats for mealtimes, office space, and board game tournaments.

Description of Electrical Setup: Kaya is fully equipped for your electricity needs. It has four outlet plugs, two in the kitchen and two under the table, and two USB ports on the control panel for charging phones, etc. There are warm white downlights and adjustable under-counter lighting to set the right mood for you. All this runs from the 200 amp hour leisure battery powered by the vehicle's engine while driving or by a large solar panel. The solar panel provides more than enough energy for the wild campers out there and there is also a hook-up socket and cables to plug straight into a campsite's mains. This widens your choice of campsites, to suit your preference.

About the area: Kaya lives in Wimbledon, a well-connected area in London. We are conveniently positioned between Wimbledon station and South Wimbledon station on the Northern Line if using the underground. Both are a 10-minute walk away.

Parking: There is parking available on our road, all you'll need is an e-permit for £10 a day which we can organise for you.

Cooking Equipment: If there is one thing Kaya is great for, it's cooking. It has a larger than average counter space, twin gas hob and matt black kitchen sink. There are premium melamine dinner sets, cutlery, glassware, pots, pans, knives, kitchen utensils, stovetop Moka pot, and travel coffee (or wine) mugs for your use. Cleaning supplies are also provided.

Water and Sanitation: There is a 25-liter cold, drinking water tank connected to the kitchen tap. Kaya also has an outdoor shower connected to the back door. It is enclosed between two shower curtains and has a groundsheet and temporary flooring to keep your feet nice and clean. The shower is run by a portable pump submerged in a collapsible bucket of warm water. The water can be heated on the gas burner and poured into the bucket for a hot outdoor shower. Don't be fooled, the pressure is better than some houses! This space can also double up as a WC to use the portaloo provided.

Audio Equipment: There is both Bluetooth or aux cable to play your road trip tunes. Or a CD player if you remember what those are.

Type of Heating: On chillier nights there is an almost too efficient diesel heater to use.

Conversion Story: Our Kaya was a fruit and veg delivery van in her last life but has been transformed into the laid-back luxury camper you see today. Both beautiful and functional, Kaya was built with a lot of love and we hope that is what shines through during your adventures.
Pick up / Drop off Times
| - | Pick up | Drop off |
| --- | --- | --- |
| Sunday | 8:00AM - 6:00PM | 8:00AM - 6:00AM |
| Monday | 8:00AM - 6:00PM | 8:00AM - 6:00PM |
| Tuesday | 8:00AM - 6:00PM | 8:00AM - 6:00PM |
| Wednesday | 8:00AM - 6:00PM | 8:00AM - 6:00PM |
| Thursday | 8:00AM - 6:00PM | 8:00AM - 6:00PM |
| Friday | 8:00AM - 6:00PM | 8:00AM - 6:00PM |
| Saturday | 8:00AM - 6:00PM | 8:00AM - 6:00PM |
Note: Campervan Hire prices are per 24 hours. If you request pick-up at an earlier time than your drop-off time the owner will quote you for the additional hours. Typically this is £12.50 per additional hour.
When would you like to go?
Sorry, there was a problem...
Vehicle Spec
Vehicle Type: camper-van
Make: Ford
Model: Transit
Year: 2012
Vehicle Length: 5.2 metres
Vehicle Height: 2.6 metres
Length with hitch: 5.2 metres
Max Laden Weight (MAM): 3500 kg
Payload: 800 kg
Transmission: manual
Fuel Type: diesel
Registration: emailed when you book
Note: The hire of this vehicle is arranged by Quirky Campers ltd acting as the agent on behalf of Kaya's owners. We make every effort to ensure that all the vehicles listed with us are of a high standard but cannot guarantee the condition of the vehicle. If you experience any problems please notify us as soon as possible.